>

Custom careers - more choice for your working Sim!
Sims 3 Veterinary Career
MTS has all free content, all the time. Find out how YOU can help to keep it running.
Tell me how...
88,824

Downloads
1,472

Thanks Thanks
327

Favourited
216,410

Views

Uploaded: 23rd Dec 2011 at 4:15 PM
Updated: 13th Aug 2020 at 7:34 PM - Additional strings added
Before you download this career you need to download the Careers mod from Twallan here:
NRAAS Career mod
so that the career shows up in-game!
Updates:
This works fine with game version 1.33
26.5. Updated with Polish and Dutch translations, thanks to SilencioLove and flore_rainbows!
Choose only one version of the career! You don't need the extra string file, this is just for translators!
---
I so hoped that there will be a veterinary career when pets comes out, but as it turned out, there was no veterinary career.
I began to try making my own and after a lot of work, it's here: A veterinary career for the Sims 3! (You don't need the Pets EP, it also works with the basegame only!)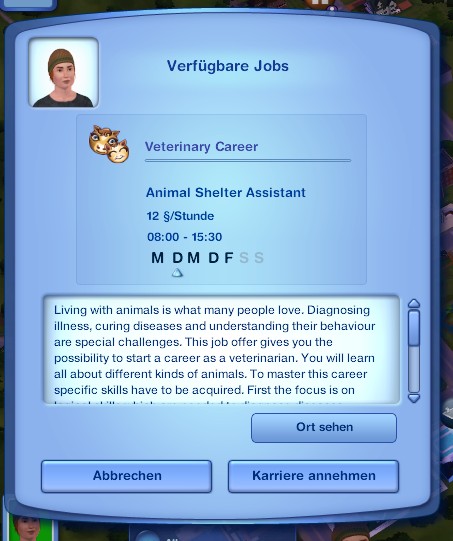 (I have a German game, so you see some translations on the pics in German. They are in English, when you have the game in English or any other language. When you have the game in German, they will appear in German.)
The career is based at the hospital and has 10 levels. It concentrates on logic and handiness skills, which you also can focus on during your working shift (they are custom tones). At some stages charisma skills and the relationship to the co-workers and the boss become important.
The career uses EA-uniforms, mostly from the science and medical career.
It includes no opportunities, but I want to learn how to make ones, so stay tuned, I may update the mod to include custom opportunities.
---
The levels
(if you want to be surprised during gameplay I suggest not reading this text)
1. Animal Shelter Assistant
§12/per hour 8AM-4:30PM, MO,TUE,WE,THU,FRI
You like all the animals at the shelter in your neighbourhood? Taking care of them is what makes you happy? In this job, you will have many opportunities to care for animals that were abandoned, in need of help or even treated badly in their past. Sometimes they are in very bad condition and you will need to take them to a veterinary clinic for getting advice on how to treat their injuries and diseases. You will also have to do much simpler tasks like going for a walk with the dogs. But in general it's a tough job. The thankfulness of the animals will be your reward.
2. Veterinary Student
§18/per hour 9AM-4PM, MO,TUE,WE,THU,FRI
The work in the animal shelter was very satisfying but you want to understand more about animals, their diseases and behaviour and have decided to become a veterinarian. This wish made you apply for a scholarship at the Simmington University which was finally granted to you. Congratulations! Now you have to pour over many books… Animals are very complex, considering many different species and you must understand their specific anatomy, physiology, and also behaviour and instincts. As a veterinary student you have to extensively improve your logic skills.
3. Aquarist
§25/per hour 9AM-4:30PM, MO,TUE,WE,THU,FRI
So you got your veterinary diploma and think you know everything about animals? This is, for sure, not the case. Your theoretical knowledge is just the basis for your career entry. You start with an internship at the local fish station to study them and learn how to cure specific diseases and abnormalities. Your patients are local fishes, frogs, goldfishes that were injured from cats, and many more water loving animals. Besides logic, you also have to focus on your handiness skills since you have to repair broken fish tanks too. That's what interns are for.
4. Bird Watcher
§36/per hour 8AM-2PM, MO,TUE,WE,THU,FRI
As a bird watcher you have to... watch birds. It sounds quite simple but it will get tricky. Birds are very complex, not only anatomically but also on a psychological basis. Think of a budgie couple, one dies and the other one can't cope with the loss and dies too. Maybe you can find access to these fragile animals and understand their feelings and behaviour.
5. Personal dog trainer
§55/per hour 9AM-3PM, MO,TUE,WE,THU,FRI
Your first job at the animal shelter gave you impressions about dogs that were treated badly or abandoned by persons who underestimated their responsibility in raising a puppy. Now, as a personal dog trainer, you can train dogs and their owners to become a successful team. But as we all know, it is generally the owner that should have the therapy... So you need much tact and sensitivity as well as a lot of patience. Charisma skills are useful at this point.
6. Horse Whisperer
§75/per hour 9AM-4PM, MO,TUE,WE,THU,FRI
There are lots of stories about horse whisperers and rumor has it that it is possible to build a very deep relationship with a horse and to understand its feelings and needs. Now you have the chance to prove that the rumor is true. Often, horses do have health problems which can't be easily diagnosed. As a horse whisperer you will have to learn to assess their inner needs. It's a very difficult part of your career. Many people need a lifetime to become professional horse whisperers. At this stage you have to at least combine your charisma skills with your diagnostic skills to understand possible psychological and physiological health issues of the horses you treat.
7. Dr. Dolittle
§110/per hour 9AM-6PM, MO,TUE,WE,THU,FRI
We all know stories about Dr. Dolittle who is able to communicate with every animal from small and tame ones to large and dangerous ones. Congratulations – you reached this stage in your career! Your experiences with many specific species finally paid off. Talking to animals and understanding their specific sounds, gestures and instincts is a very big step in becoming a successful veterinarian. When you have not already done it you should get either an aquarium with fishes, or collect birds for watching them or adopt a dog or a horse. You certainly can get all of these animals but keep in mind that you won't have so much time for them once you reach the final stage of your career. The advantage of having them at home is that they can be studied and talked to throughout the day with possible night shifts included.
8. Veterinary Assistant
§150/per hour 9AM-5PM, MO,TUE,WE,THU,FRI
Well – finally you made it! Welcome to the vet hospital! No, you are not an independent, well paid veterinarian, but you can assist one. You have to care for the animals in the laboratory, clean their cages, prepare their food and carry out minor medical treatments. Your boss challenges you… but particularly in making the coffee and doing desk work. You can try to raise your relationship with the boss, maybe you will earn more advanced responsibilities. Or even more annoying desk work...
9. Surgeon for animals
§200/per hour 10AM-5PM, MO,TUE,WE,FRI
After a lot of exhausting work as a veterinary assistant you finally arrived in the surgery room where narcotised animals lie in front of you on the table. Remember their specific anatomy and you will certainly do the right things with your little sharp instruments. Well, if not then you should beyond doubt degrade to the personal dog trainer you once had been. Or do you have the strength to tell the holders that their beloved pets died under your knife?
10. Renowned Veterinarian
§330/per hour 10AM-2PM, MO,TUE,THU,FRI
You made it to the top. Congratulations! You know all about animals, their behaviour, how to communicate with them and how to treat their minor and major health problems properly. However, as a renowned veterinarian there are many other things you have to do. You are a professor at the Simmington University and hold guest lectures at the University in Simvard. Your publications in high ranked journals and your presentations at international conferences have made you a role model for prospective veterinarians.
The descriptions may change because of gender differences.
---
Language Strings
This mod will show up in English or in German, when you have a German game. For every other language it will use the English strings. Feel free to translate it into your language, I will provide you the string file.
How you can do this shows this example:
<KEY>Gameplay/Excel/Careers/himawaraVeterinary:RenVet</KEY>
<STR>Renowned Veterinarian</STR>
-->
<KEY>Gameplay/Excel/Careers/himawaraVeterinary:RenVet</KEY>
<STR>WRITE YOUR TRANSLATION HERE</STR>
I would be happy if you could provide us your translations. I would include them in this career.
---
Language updates:
28.12. Portuguese strings (Brazilian) have been added thanks to hernan666!
26.12. Italian strings have been added thanks to quir98!
25.12. French and Spanish strings have been added thanks to crinury and coto39!
25.3. Updated the mod to include Swedish and Finnish strings, thanks to antiflaga and homermiil!
Addition:
06.01. Added file himawara106_VeterinaryCareer_request_hernan666: this version offers more pay and longer working hours at the top of the career
---
Finally:
Just place the career in your mods folder and here you go: a Veterinary career for the Sims 3!
Additional Credits:
Twallan for his mods and his and DeeDawg help in the careers forum. The team who made S3PE. Without this program it wouldn't be possible to create such a mod. I also want to thank heaven from the creator issues forum who was so nice to help me with grammar and spelling.