Sims 3

>

>

Fireplaces, Pool Accessories, Columns, Fences & Gates
Medieval Fireplaces - Ye Olde Kingdom of Pudding
26,023

Downloads
702

Thanks Thanks
103

Favourited
48,225

Views
Uploaded: 14th Jan 2012 at 1:52 PM
Updated: 16th Nov 2012 at 1:19 AM
Ye Olde Kingdom of Pudding - Medieval Fireplaces
Campfire and Floor Torch
Greetings, good gentles/ladies. We are The Merrye Makers - a group of eleven creators spanning all disciplines (clothing, lots, objects, etc.) offering for thy downloading pleasure a collection of medieval things most beauteous from Ye Olde Kingdom of Pudding -- otherwise known as "Simdom Pudding".
A major technical advance in heating was used in Ye Olde Kingdom of Pudding: the fireplace, an invention of deceptive simplicity. The fireplace provided heat both directly and by radiation from the stones at the back, from the hearth, and finally, from the opposite wall, which was given extra thickness to absorb the heat and warm the room after the fire had burned low.

Dangerous on an upper level, especially with a timber floor, some castles in Simdom Pudding had a fireplace set into a wall in a second story great hall. They were best avoided by those who were clumsy or unlucky. A funnel or hood collected and controlled the smoke. These fireplaces were arched and set into the wall at a point where it was thickened by an external buttress, with the smoke venting through the buttress. Later, fireplaces were protected by a projecting hood of stone or plaster which controlled the smoke more effectively and allowed for a shallower recess. Flues ascended vertically through the walls to a chimney, cylindrical with an open top, or with side vents and a conical cap. Tending the fires in Ye Olde Kingdom of Pudding not only fulfilled pyromaniacs' wishes but also gave them lifetime happiness.

Source: http://www.castlewales.com/life.html

The Floor Torch and the Campfire both function as fireplaces so be sure to have fire alarms on the lot! Made by Hekate999 for The Merrye Makers. The Merrye Makers heartily thank Hekate for making many fabulous medieval objects!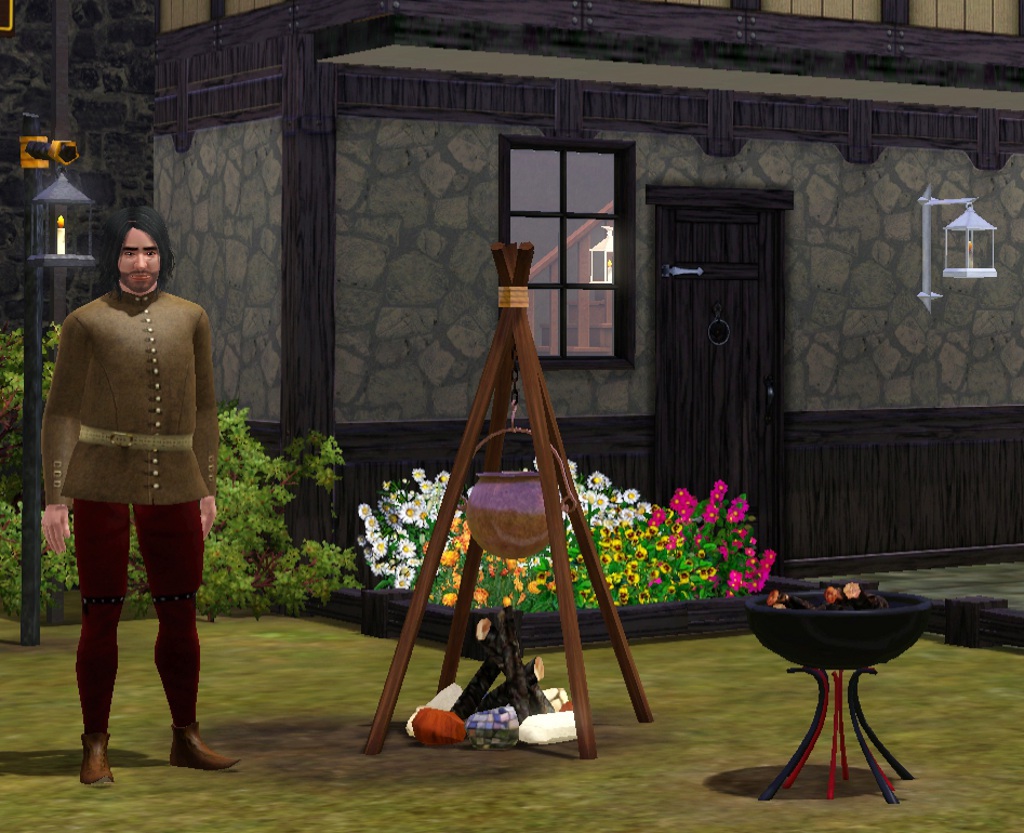 Credits:
Find the medieval lanterns at the Ye Olde Kingdom of Pudding - Lighting upload:
http://www.modthesims.info/d/463025
. Some sims are wearing clothing from upcoming Ye Olde Kingdom of Pudding Medieval Male and Female clothing uploads. To go with the campfire, download the Market Stalls and Decorative Cooking Pot at the Miscellanous Decorative Ye Olde Kingdom of Pudding Medieval Objects upload here:
http://www.modthesims.info/d/462944
.
| ITEM | PRICE | CHANNELS | POLYGONS | CATALOG LOCATION | FOOTPRINT | CREATOR |
| --- | --- | --- | --- | --- | --- | --- |
| Medieval Floor Torch | 250 | 3 | 1730 | Build Mode > Fireplaces | 1 tile wide x 2 tiles deep | Hekate999 |
| Medieval Campfire | 100 | 4 | 944 | Build Mode > Fireplaces | 2 tiles wide x 3 tiles deep | Hekate999 |
Known Issues:
The chimneys on the campfire and floor torch have been made invisible. So, if you place them last on a building with a high roof, then the smoke will float where the chimney cap used to be. We recommend that you use these on single storey buildings, or outdoors, or with an open roof on top.
Polygon Counts:
See Table
Additional Credits:
Many thanks to the MTS staff - especially Leesester - for their guidance and assistance!
Grammarcy to all The Merrye Makers for their fyne contributions to said project!
The Merrye Makers
Ahh, wanderers, welcome. Art thou merrye? If thou art not merrye thou art soon to be. What wares hast thou come here looking for? Clothing for thy entire family? Furniture for thy house? Maybe thou art simply in need of a house in general! Well sir, we are most glad to let you know that we have all that and more.
This has been a big undertaking for everyone involved, our skills range from featured creators to never having uploaded anything before. Everyone has enjoyed watching the project grow, meeting new people and learning new skills.
The Merrye Makers would like to thank a number of people for getting us here. First off is the staff of MTS. The staff were so supportive of us and it's definitely no easy matter to get 100+ things approved! There are also numerous other people who were going to participate but, for various reasons, were not able to upload with us. We would like to thank Rylandholmes, Whiterider, dramamine213, hudy777DeSign, Freshprince and Kitty Paine for their feedback and support. Thank you to SimmyRN for providing the narratives found in
italitics
throughout the posts. Thank you to jje1000 for the medieval world in the pictures, Praaven. Find out more about Praaven here:
http://www.modthesims.info/showthre...ghlight=praaven
.
Policy
Please follow the policy provided by the individual creator. Please credit the individual creator and not us as a group.