>

Mods that replace game resources other than the script core.
Katy Perry Hair Available in All CAS Categories & Fruit Dress As A Formal Outfit
MTS has all free content, all the time. Find out how YOU can help to keep it running.
Tell me how...
8,251

Downloads
379

Thanks Thanks
59

Favourited
65,484

Views

Uploaded: 8th Mar 2012 at 5:55 PM
Updated: 19th Oct 2013 at 1:39 PM


No Update Is Required For Patch 1.63 and Into the Future



THIS MOD REQUIRES THE KATY PERRY ITEMS THAT YOU DOWNLOAD FROM THE OFFICIAL SIMS 3 STORE: http://www.thesims3.com/incentive/CollectorsRedeem.html FOLLOWING SUBMISSION OF THE REDEEM CODE RECEIVED WHEN A COPY OF THE KATY PERRY EDITION OF THE SHOWTIME EXPANSION PACK HAS BEEN PURCHASED, AND DOWNLOADING AND INSTALLING THESE BONUS ITEMS/OBJECTS INTO YOUR GAME. THESE BONUS ITEMS ARE "NOT" INCLUDED IN THIS UPLOAD!

What This Mod Does
This mod is a simple CASP edit/recategorizer mod that enables the bonus Katy Perry Hair that you redeem and download from the Sims 3 Store (if you purchased the Katy Perry edition of the game) to be available for use in ALL major CAS categories
(e.g. Formal, Sleepwear, Athletic and Swimwear, which was previously restricted to just Everyday and Career CAS Categories)
and also enables the Fruit Dress that comes in that same bonus content Store Download to also be selected and used in the Formal CAS category
(which was also previously restricted to just Everyday and Career CAS Categories)
. Both items are available for Female Sims aged Young Adult and Adult. No changes were made to the RomperSuit as I felt it was fine for Everyday and Career given that to me, it just doesn't seem quite as formal as the Fruit Dress.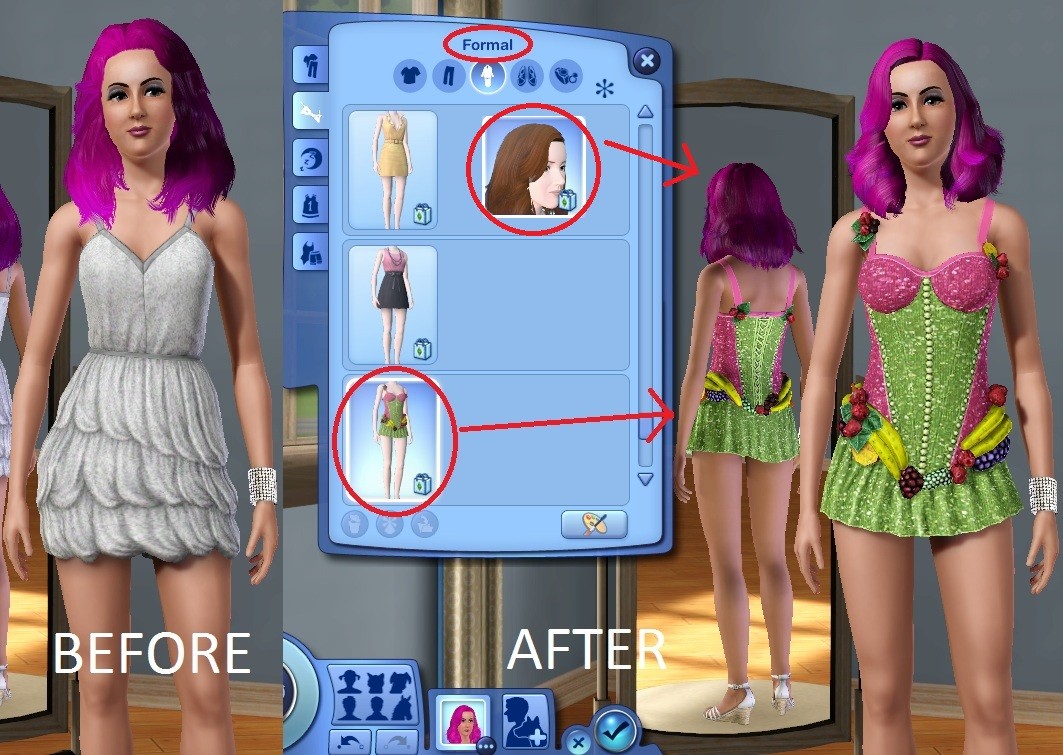 What's The Point Of This Mod Exactly?
There are two reasons for making this particular CASP mod. First, the Katy Perry Hair that comes with the bonus download is a nice, stylish hair and it didn't make sense for it to be restricted solely for use in Everyday and Career CAS outfits. This is especially true if, like myself, you downloaded the official Katy Perry Sim from the Official Sims 3 Website (refer to the main picture attachment) or any other Katy Perry Sim where when you get changed into clothing into a category other than Everyday or Career, her appearance is compromised by the hairstyle change (see main screenshot on the left), not ideal. The other reason for this mod relates to the distinctive Fruit Dress itself. If you say, wanted to take your Sim to a formal venue like the Prosper Room in Bridgeport to perform musical instrument gigs as opposed to Singing, in that scenario, the Sim would change to another Formal outfit and wouldn't in fact be wearing the distinctive Fruit Dress despite the fact of you possibly wanting the Sim to wear that very Fruit Dress. The Fruit Dress is extravagent and formal in nature and therefore, I felt it was appropriate to make it available for use in the Formal CAS clothing category also.
In short, this mod gives you the possibilty to use the Katy Perry Hair for other outfits and the Fruit Dress as a formal outfit as you wish. More choice is better than no choice.
Compatibility/Conflicts
This mod was made with the latest
1.31 patch/Showtime
, but in order to get proper use out of this mod, you MUST have purchased the Katy Perry edition of the Showtime Expansion, redeemed the bonus code received with the game and downloaded the bonus Katy Perry content and installed it into your game. As mentioned at the very top of this thread, this mod DOES NOT include the bonus items!
This mod edits the
afHairEP6KP (instance number: 0xA52EE3BCC14AF29E) and afBodyEP6KPFruitDress (instance number: 0x6D89505D67C10CA9)
CASPs and will conflict with any other mod that edits the same two CASP's and instance numbers.
Installation
Simply drag and drop/cut & paste/copy & paste the .package file into your Mods\Packages as normal.
Additional Credits:
S3RC and its developers,
S3PE
and its developers & MTS for hosting said program and this upload.
About Me
***I am current not taking requests for mods for The Sims 3 at this time and will permanently shift my attention towards The Sims 4 when it releases in September 2014.***

I'm relatively new to Sims modding, only discovering it in late 2011 (very late to the party, but better late than never I suppose). I make mods to satisfy my own personal needs filling in gaps (whether they be new or updating existing mods), and then offer to release them publicly for others to use as well.

MOD UPDATE POLICY:

I give permission for anyone here to update the mods i've uploaded for the latest expansion packs/patches on the condition that I am inactive (i.e. not having logged on) for at least one month, I haven't stated in any capacity that I plan to update said mod either via the mod thread or in my journal, the updater states it's not their original work/is an update, and gives me credit by linking back to the original mod at the beginning of the main text description for the updated version.