Sims 2

>

>

Pixel dollhouses/For sims to live their lives in/Nice houses for sims
-Foundation Challenge- Log Cabin by the Lake
9,983

Downloads
632

Thanks Thanks
145

Favourited
66,710

Views
Picked Upload! This is a picked upload! It showcases some of the best talent and creativity available on MTS and in the community.

Uploaded: 8th Apr 2012 at 9:30 PM
Updated: 16th May 2017 at 5:12 PM
Twins Todd Oliver and Alisa May Jenson both love the outdoors. They've always dreamed out having a beautiful log cabin home they can come back to after a long day of hiking and insect collecting. They've realized their dreams after their Nana died and left them some money. It wasn't much but together they were able to afford their little cabin. What really sold them on this house in particular, is their little rock-quarry lake off the back porch. They adding a diving board and ladder and love cooling off in the lake. They also have a small hot springs in one corner and the lake is stocked full of fish.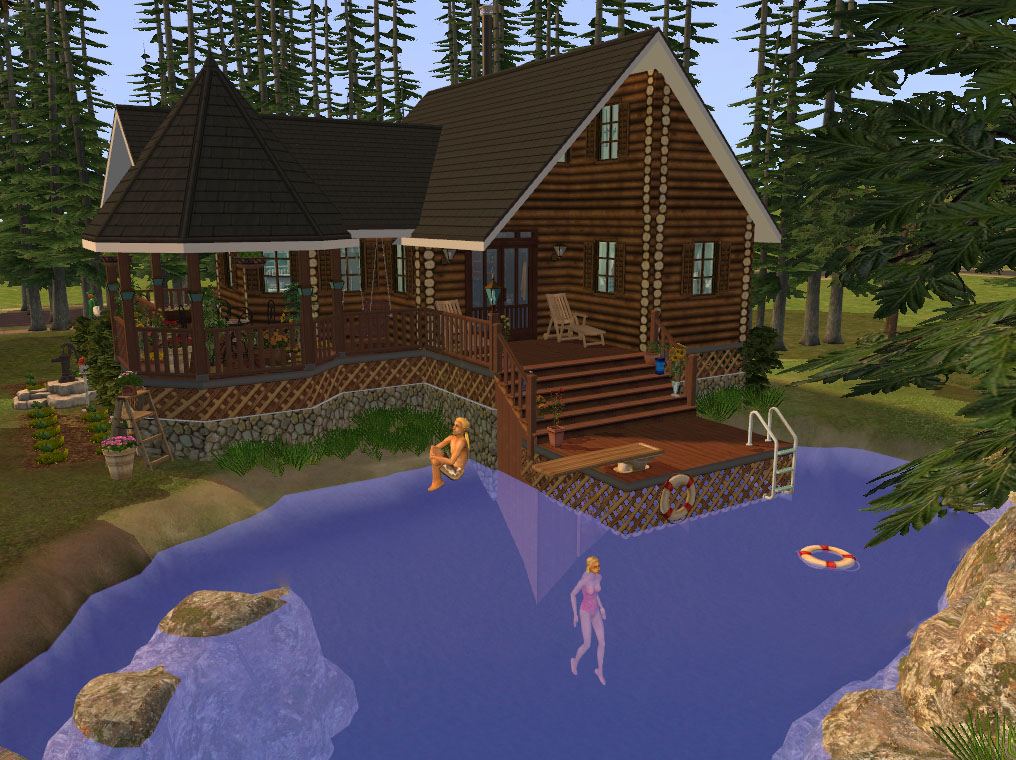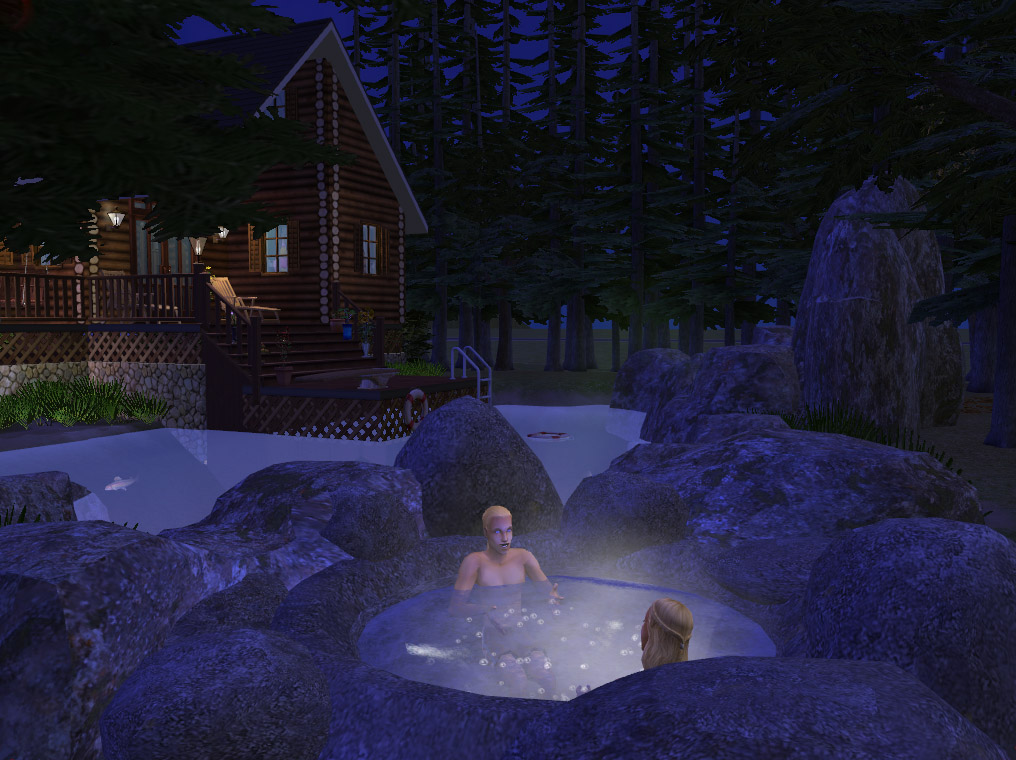 The twins enjoy gardening and are trying to live as off the grid as possible.They have a small garden on the side of the house, and there are solar panels on the roof. They do have a station wagon because its quite a hike to get back to town. Now they both love a good hike, but not so much when it is part of a grocery run. Newspapers and kitchen scraps get composted to help the plants grow.
They love that their house is a traditional pine cabin, with a small but gorgeous fireplace in the living room. The cozy little cabin didn't have much room for a giant hearth, but Todd Oliver is thrilled that the woodstove is an original from the 1800s. The previous owners of the cabin had real class. The bookshelves are full of trinkets they've picked up on their trips and a few things from Nana. They each have their own easy chair to curl up in next to the fire. Sometimes Alisa May will do embroidery there while Todd Oliver reads. The bathroom is simple and in-keeping with the style of the house, and they each have their own rooms with quilts Alisa May made. Todd Oliver has his bug collection and a TV to keep up to date on events and sports. Alisa May has a lovely little sewing nook which she uses constantly in the evenings. She made both their quilts and the curtains throughout the cabin. She doesn't have much interest in sewing clothes for them, but as part of their dream to be entirely self-sufficient, she is learning. Making fitted shirts is much harder than just sewing back on the occasional button.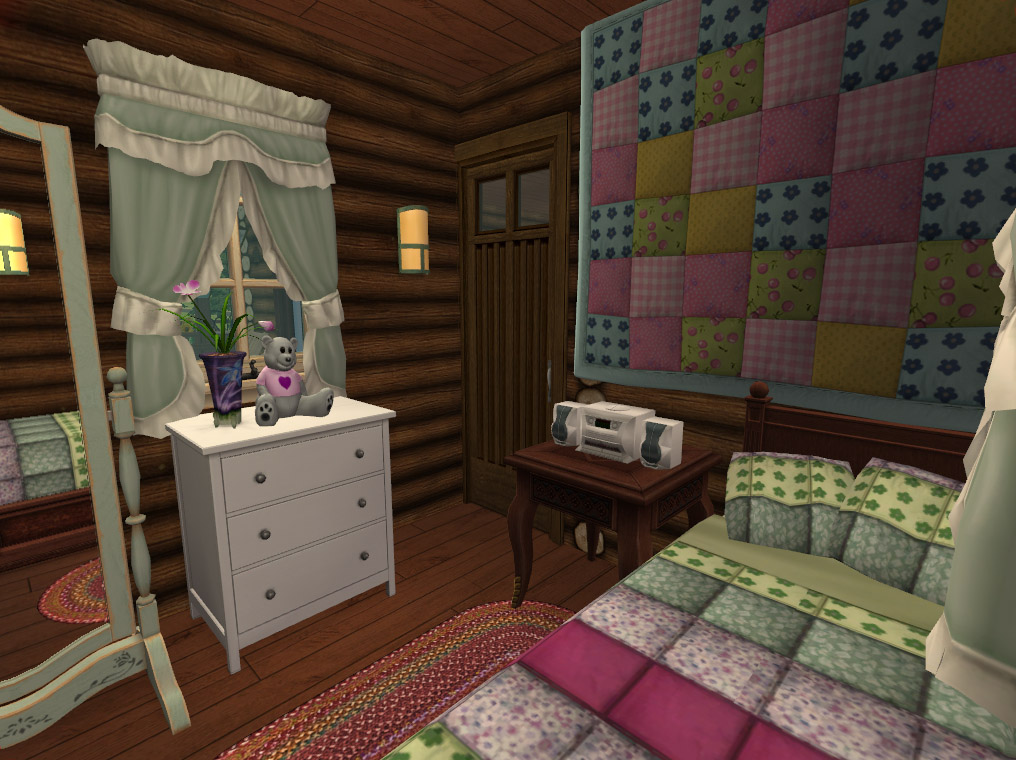 Their kitchen is a lovely little gem. Its just big enough for the two of them and they grow and cook organic as often as they can. Alisa May loves spreading flowers, home-made quilts and decorations all throughout the house. Once a month, they go into town for the local farmers market and their favorite is homemade jam - strawberry and apricot. When the weather is nice, they can eat outside on their flower porch. After dinner a porch swing overlooking the lake is nice for winding down in the evenings and just listening to the forest.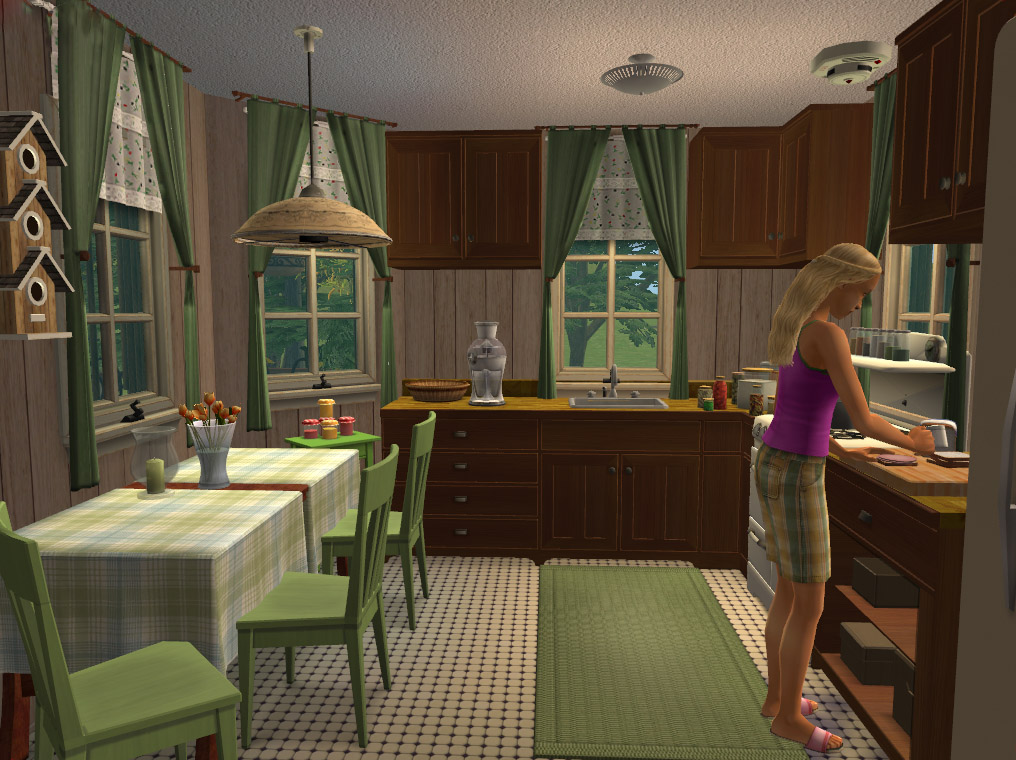 The twins go hiking every chance they get, and take camping trips on the weekends. They are very happy that they don't have to go far to the trail heads or have much time blocked out anymore to enjoy their outdoor activities. They are just getting settled in, but with the house entirely paid for, they are considering going jobless and just living life as they believe it should be lived - as close to nature as possible.
Enjoy!
-Phae
Lot Size:
5x3
Lot Price:
$72,832
Custom Content NOT Included:
- Modular Fence by
Huge_Lunatic
- Master for Itty Bitty Birdy Houses by
Phaenoh
- Master for Waterfall Matching Rocks by
Marvine
- Invisible Garden Plot Bases by
fway
(pictured by not needed)
- White Roof Trim by
Phaenoh
(pictured by not needed)
Custom Content Included:
From MTS:
- Itty Bitty Condo House and WoodPlayground-Wall-Maple by
Phaenoh
- Rocks Fence by
TheJim07
- Country Window with Shutters 1 and 2 tiles by
plasticbox
- Giant Shrubby Shrub by
HystericalParoxysm
- "Bodacious Bonsai Bonanza" for tables by
fway
- Potted Mini Arum by
ShanOw
- Stand-aloneTV-27in, and OutdoorLantern by
Numenor
- Ceiling SmokeAlarm by
Targa
- Coco's Quiltshop Fabricbolt2 and Recolor, Vertical Fabricbolt2 and Recolor, and Fabricbolt3 by
Cocomama
- Modern/Deco Style Umbrella Stand and Recolor by
Boblishman
- Decorative Throw - Silversong Creations by
Reyn
- Club Wall Cabinet by
CTNutmegger
- FestiveTablecloth_PlaidRC8 by
Grito
- Waterfall Matching Rock 2, 3, 7, and 10 by
Marvine
- Mission Style Porch Swing and Recolor by
cokenasmile
- Shakerlicious Curvy Cooker and Recolor, Kettle by
Buggybooz
- 1978 Ford Fairmont Wagon by
Fresh Prince
- Fun-Kadelic Bookshelf Stereo System by
Honeywell
- Arts and Crafts Door and Recolor, and Double Arch; Short Stewart Curtains by
leesester
- "Ultra Funky Curtain Clothes" on 2 tiles by DJLee @ MTS2 by
DJLee
- HEMNES 3 Drawer Dresser Recolor by
Menaceman44
- OMSP Stairs and Recolor by
JohnBrehaut1
- OMSP Endtable and Recolor, OMSP Useable Counter and Recolor by
Lord Darcy
- ShiftableShelf2 and Recolor by
SilentLucidity
- Invisible Tile by
Frillen
From Off-site:
- "Woodcutters" Log Pile by
Kate
- Country Kitchen Marmelade pots, Condiments and recolor; Sleigh Bedroom Alarm Clock; Ibiza Outdoor Tray with glasses; Fashion Studio Deco set, Dummy, Patterns, and Sewing Machine by
Sandy
- 'Mountain Retreat' Tub by
Holy Simoly
- Rustic Water Pump by
lmhwjs
From Dead Sites:
- SimpleKitchenCurtain, Rock Spa, and FestiveTablecloth by
Nengi65
- Lil' Teddybear by
fairywitch
- Spx Abandoned coatrack and recolor by
Xiomara
(dead site)
Additional Credits:
wgroome
for the
foundation contest
Packs Needed







+
4 SPs
For a full list of packs with names, see the Packs Needed popup.
Other Information
Number of bedrooms
:
– 2 Bedrooms
Custom Content Included
:
– Build and Buy Mode Content : Furniture, decorations, etc.
Furnishings
:
– Fully Furnished : Lot is completely decked out in furnishings
Special Flags
:
– Not Applicable
Packs Needed
| | Base Game |
| --- | --- |
| | Sims 2 |
| | Expansion Pack |
| --- | --- |
| | Nightlife |
| | Open for Business |
| | Pets |
| | Seasons |
| | Bon Voyage |
| | Free Time |
| | Apartment Life |
| | Stuff Pack |
| --- | --- |
| | Family Fun |
| | Glamour Life |
| | Ikea Home |
| | Mansion and Garden |
Blurb and Updatez:
Please don't reupload my work anywhere else. Just point them back here, I'm not going anywhere! :)
Please ask permission before using my work as a base for your project. I almost always say 'yes' and often times I will help you with your project! :bunny:
If you make something (like a story or a video) and it has something of mine in it, send me the link, I love to see my stuff 'in action'!
Sadly, but honestly, I can't take on requests. You can ask if it's something already related to one of my current projects, but I'm not likely to take on your project for you. MTS has lots of wonderful tutorials ;)