MTS has all free content, all the time. Find out how YOU can help to keep it running.
Tell me how...


Professional Teens for Showtime and Ambitions
by
Sgloomi
Posted 13th May 2012 at 11:45 AM - Updated 10th Aug 2012 at 7:18 PM by Sgloomi : Yet another thing I missed - asking Proprietors.
515
Thanks
Thanks
133
Favourited
- Allows your Teen Sims to join Ambitions and Showtime Professions. Works with either; you don't need both.
- Built with Base Game 1.33.2.015, Ambitions 4.7.4.010, Showtime 12.0.273.015
- Almost certainly compatible with Base Game 1.31 onwards
- Add-on for the Daycare Profession. See below.
Specifically, this very simple Mod lets your Teen be a Ghost Hunter, Firefighter, Stylist, Interior Designer, Private Eye, Singer, Acrobat or Magician as they see fit. That's all it does - if you don't want the challenge of fitting all that between School and Curfew, there are other mods out there which modify those.
My first intention was to track down the resources mentioned in Groosalugg's 'Teens Join Professions & Bands Too' (
http://www.modthesims.info/d/431120
) and fix em for 1.33 - but since they share the same Joining interactions, I thought I'd go the whole hog and include the Showtime Professions.
All I've done, basically, is hunt down every Performance-related resource I can find without Teens in, and put Teens in. It all seems to work okay. Here's some pictures of my Teen Singer playing a Gig: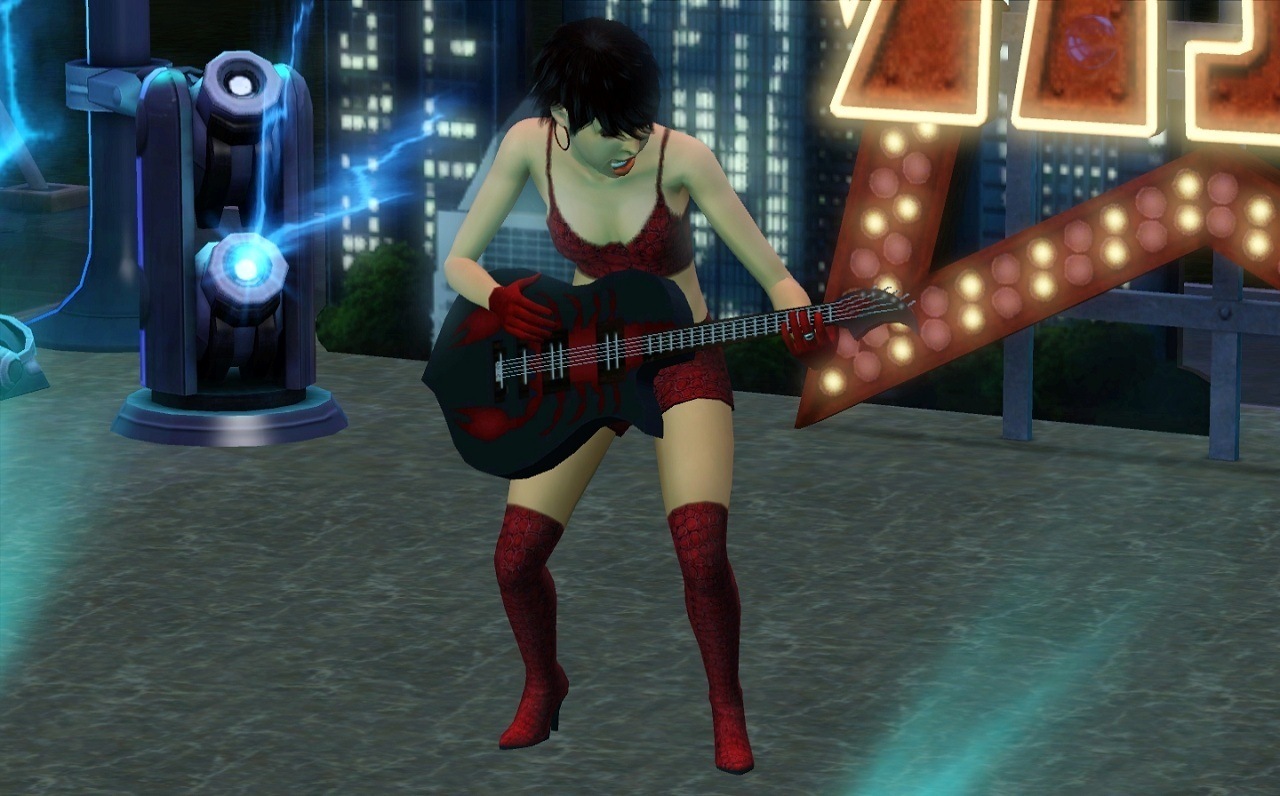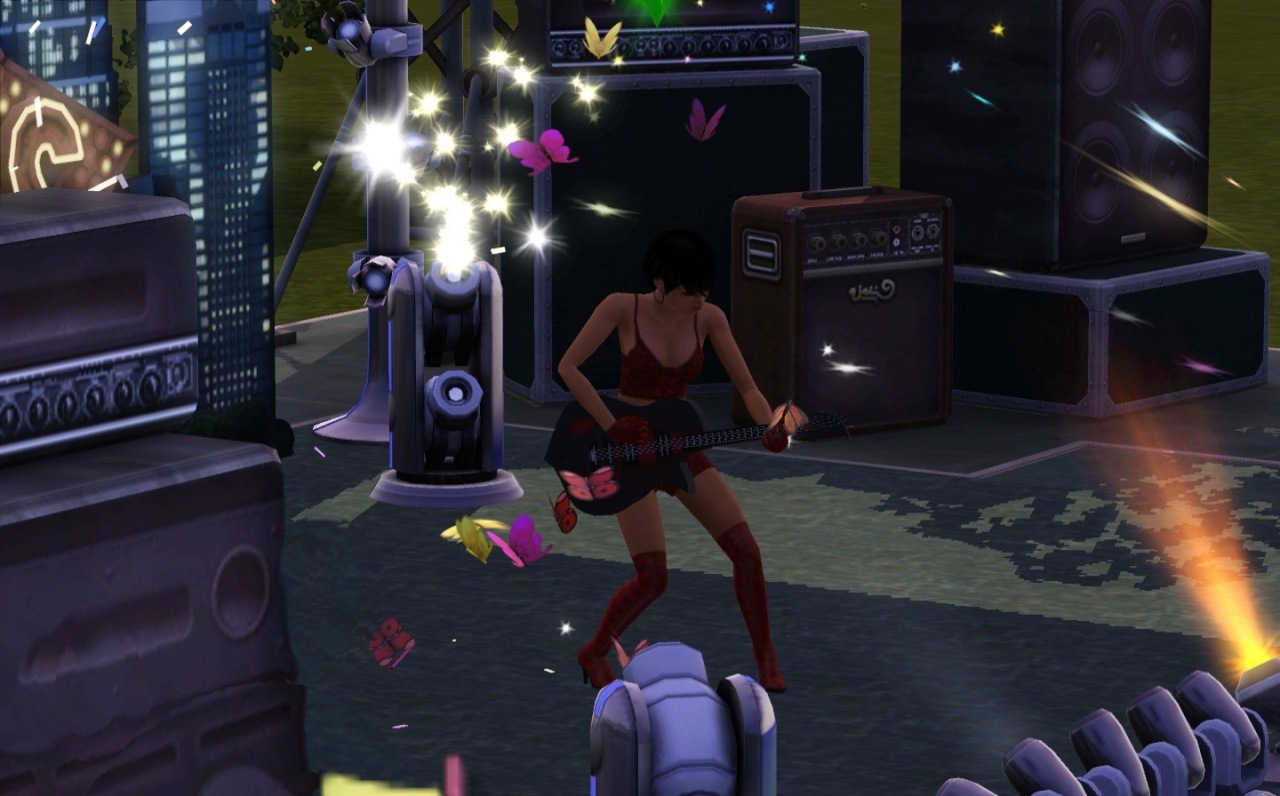 The only annoyances are that Teens get horrible random Career Outfits that you need to fix with Master Controller or the like. (You can unlock Adult Outfits for Teens, but it just looks even sillier.) And, presumably, the Ring of Fire for Acrobats will look a bit odd. SimFests are borked, of course, but they were borked before anyway so no change there.
I've also included my little tweak to stop the bloody Limo turning up at Level 8. There's a flavour with Limos, too, for those who actually like the damn things.
DAYCARE PROFESSION:
The changed joining-interactions mean that the Daycare Profession is available on the computer and newspaper, and the Gameplay Data File contains several Daycare-related resources that can be changed to allow Teens. However, this can
only
work if you have some other Mod - like NRaas Careers - which means your Teen Sim doesn't have to go to school. I've therefore split those Daycare resources as an add-on. This will only function with the main Mod installed. And it's also experimental; I make no promises.
This Mod alters the following resources, and will conflict with others that do the same. All I've done is open them up and added T and a comma in front of wherever it says Y,A,E. Truly complicated things like changing the Want Trees, etc, were unnecessary because they already had Teens in - no doubt in anticipation of a tuning such as this.
Common:
0x87AD735664814D7C_FindActiveCareer_Computer
0x472917D9730842A4_FindActiveCareerNewspaper_HeldNewspaperInteraction
Ambitions:
0x3B3AADADC76DB5A6_CaptureSpirit
0x2BB11F2D7F1A69EB_SellSpiritChoose_ScienceLab
0x9A5D527CFC691EFB_Release_SpiritJar
0x012E36D590371922_ToggleStatus_SpiritPositioningDevice
0x58E5CED9AFAB8302_SellSpirit_ScienceLab
0x923FD6C9962A5383_SolicitJob_Sim
0x1449F195353AB714_JoinActiveCareerGhostHunter_ScienceLab
0x2652D879298333C1_JoinStylistActiveCareer_Lot
0x2761ADB29D1149A3_SearchHouse_Sim
0xD4F118C8AE6C4168_JoinFirefighterActiveCareer_Lot
0xD494EBD3194BB442_JoinActiveCareerStylistSocial_SocialInteraction
0xD320370ED36CF2DA_JoinActiveCareerPrivateEye_PoliceStation
0xE5B2DF8E15B10EC7_ReapSoul_Urnstone
0xE05463FD556F39ED_JoinActiveCareerInteriorDesigner_CityHall
0xF37D40163C8D5FF1_ScanForSpirits_Terrain
0x4A58252EEA3C6B0A_SocialData_Ep2
Showtime:
0xA9AF5A701C35196F_AskToJoinPerformanceCareer_Definition
0x015F9F2AAF6ED0D3_PerformerPerformForTips_Sim
0x269D91B171EA50FD_PerformanceArtistPerformHumanStatue_IGameObject
0x793F8FF74D45F50E_PerformanceArtistTwirlFire_Sim
0x4315E597B995D26F_BalanceBall_BalancingBall
0xB2F21A2BFB1E4393_DoTrick_BoxOfDanger
0xAF6459A26D3771EF_MagicianStageTricks_IGameObject
0xB9585357C37AAE73_PerformTrick_BoxOfMystery
0xCE3A5779B6E54069_MagicianSocialTricks_SocialInteraction
0xDA10269090F319D2_PerformanceArtistPerformContortion_Sim
0xF1D57852FCDB49BF_PerformanceArtistJuggleClubs_Sim
0xF2E52BC18A9322FB_PerformanceArtistPerformMime_Sim
0xF538B1461A6B636C_PerformOn_GiantRingOfFire
0xFA3465719B05EC7C_MagicianSoloTricks_IGameObject
0x4A58252EEA3C6B0E_SocialData_EP6
Daycare Add-on:
0x8E936D13E804313C_TellTale_Sim
0x3E4ED41D0B6CB69A_TalkAboutProblems_Sim
And for the No Limos version:
0x15B71F1242766F23_PerformanceCareer
This download has custom installation instructions!
In addition to the normal installation instructions, this download also has a custom instruction, as follows:
Install Instructions - Panties:
Please read to ensure correct installation of this item!
Download files
Filename
Size
Downloads
Date
TeenProfessionsNoLimos_v4.zip |

The REALLY 'final' version with all things found, honest.


Size: 25.0 KB · Downloads: 3,513 · 7th Jul 2012

TeenProfessions_v4.zip |

The REALLY 'final' version with all things found, honest.


Size: 22.1 KB · Downloads: 8,304 · 7th Jul 2012

DaycareAddon.zip |

EXPERIMENTAL Daycare Resources. Requires the main Mod to work.


Size: 1.6 KB · Downloads: 2,970 · 5th Jul 2012
Key: - File was updated after upload was posted
Tip: You can click the magnifying glass to see the archive contents
Need help with downloading or installing content? Click here!
45 Comments / Replies (
Who?
)