Sims

>

>

Big eyes and blue hair/All the boys look like they're girls/DESU DESU YO
Pollination Technician #9 Smith
MTS has all free content, all the time. Find out how YOU can help to keep it running.
Tell me how...

Created by Esmeralda View Policy / About Me View Downloads Home
Uploaded 22nd Jul 2012 at 4:45 PM · Updated 30th May 2016 at 12:47 PM by Esmeralda : Minor update to text
After I bought Lucky Palms, I couldn't help thinking how much it looked like Strangetown from The Sims 2, and knew just the guy I wanted to migrate there.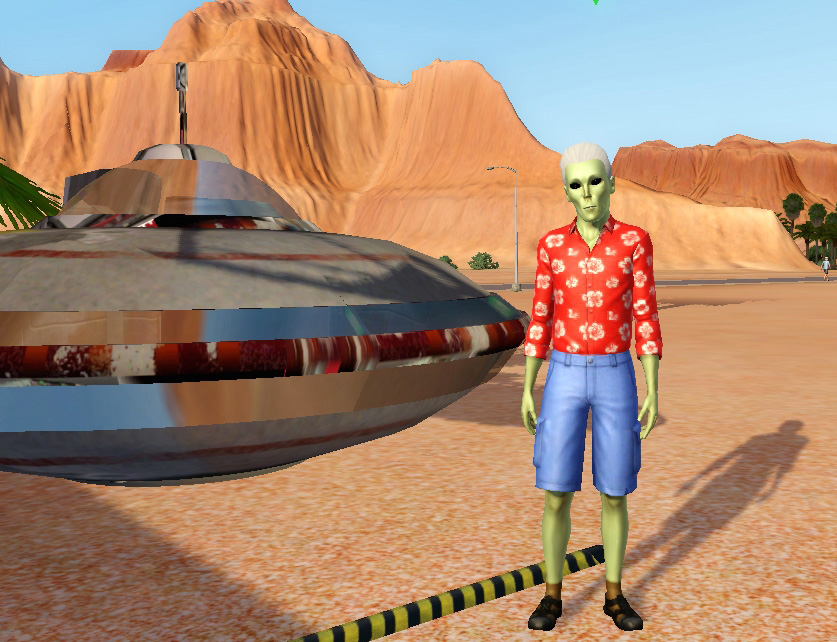 For those who have not played The Sims 2, the original Mr Smith is on left in the pic below, as compared to his new incarnation middle and right. (Also, for those who have not played Sims 2, some bio info about him here:
http://sims.wikia.com/wiki/Pollination_Tech_9_Smith
)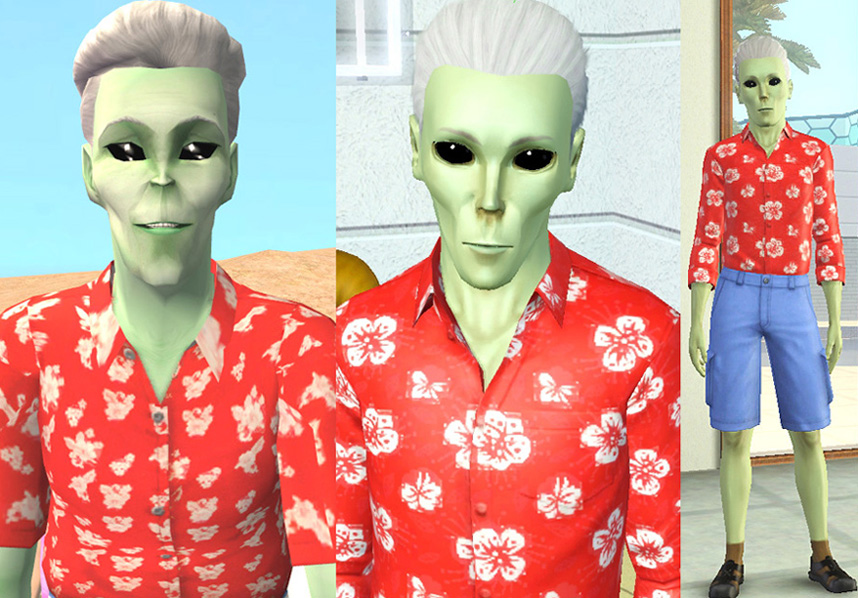 In The Sims 2, he starts off as an Elder. I made my version an Adult, so that you can have more time to play with him before he gets old. So,
he will be found in the Adult section in CAS
. The black alien eyes should be on him when you view him in CAS, but if not, they are contact lenses and are in the Costume Makeup section in CAS, with a thumbnail of a black eye.
Traits: Family-Oriented, Genius, Computer Whiz, Party Animal, Good Sense of Humor.
His career choice is, of course, to join the Science career and to become a Creature-Robot Crossbreeder.
As in The Sims 2, he's still the family man and loves to dance, as evidenced in the pic below (Sims 3 version top, Sims 2 version bottom) (
UPDATE:
For those who requested the rest of the family used as models in these pictures, they can be downloaded
from this blog post
.)
And still enjoys a nice smooch with his missus (Sims 2 version on left, Sims 3 middle and right):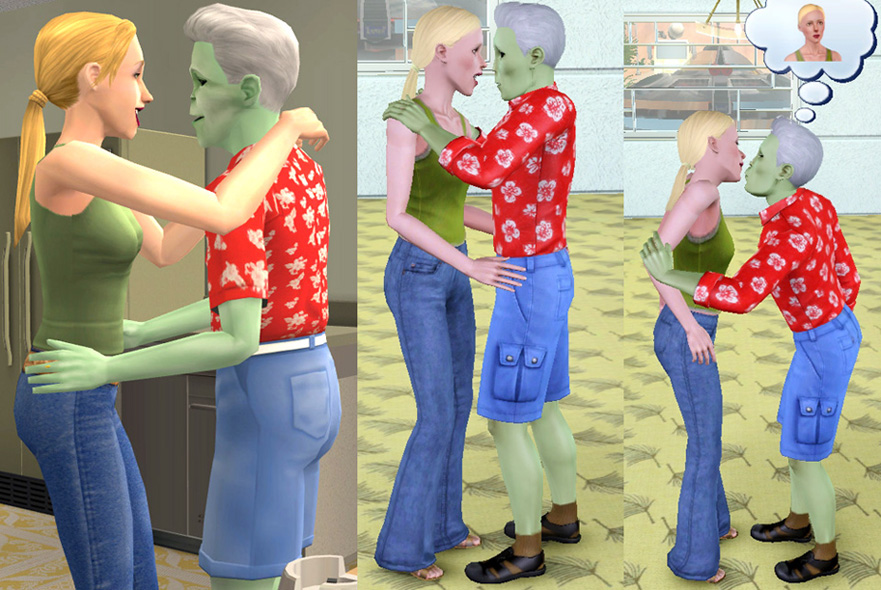 PLEASE NOTE THAT YOUR GAME NEEDS TO BE PATCHED TO AT LEAST 1.26 (OR THE PETS EXPANSION PACK) TO USE THIS SIM.
Pets and/or patch 1.26 changed the way CAS works, and sims made with with patch 1.26 upwards, as this one was, will not show up in games that have not had that patch or later. This sim was made with patch 1.36.
He is packaged without custom hair or skin.
His hair is a base game hair, and his skin in these screenshots is the default replacement skin I use for all my sims, 234jiao's 'Asian' skin:
http://www.modthesims.info/d/411747
- there is also a non-default version on that same page, in case your own default skin makes him look different and you want to use the same skin I used. The colour is just the default TS3 green shader.
I've tried to copy his outfits from The Sims 2 as closely as possible using Sims 3 equivalents - see below thumbnails. All are base game items, and
no cc is used for Mr Smith except for his black eyes, which are included in the download
. The black eyes were part of my old 'Assorted Sci-Fi Eyes' set, and if you already have them, you don't need to install them again.
As with all of my sims, no custom sliders were used to create this sim, so you don't need to download any custom sliders.
I only use the increased slider range (set to x4) that comes with Master Controller and Awesomemod. He should still retain his facial sculpt if you don't have either of those mods, as long as you don't try to edit it. Whether you have a slider range mod or not, though, I strongly suggest not attempting to edit his face, because who knows what sort of monstrosity you might end up with. (And please note it was not possible to get his nose or the shape of his jaw in profile exactly the same as the TS2 sim due to TS3 facial sculpt limitations, had to do the best I could!)
Sims 2 UFO conversion in first pic is by me (Driveable UFO
http://www.modthesims.info/d/409735
), other sims used as models in the pics are by me.
Thank you for looking, hope you'll enjoy this cute alien!
INSTALL INSTRUCTIONS:
Unzip the .zip file and you'll have one file that ends in .sim and another which ends in .package. Simply copy the .sim file to your 'Saved Sims' folder which is in your Documents folder under Electronic Arts\The Sims 3\SavedSims, then copy the .package file to your Mods\Packages folder.
If you don't have a Mods\Packages folder and/or don't know how to install .package files, please see full instructions here:
http://www.modthesims.info/wiki.php...g_Package_Files
If you don't have a SavedSims folder, you need to just create one yourself in the \Documents\Electronic Arts\The Sims 3 folder.
Custom Content by Me:
- Black Alien Eyes
Additional Credits:
Black Eyes were made with CAS Texture Unitool
http://www.modthesims.info/d/364926
Thank you to Maxis for making aliens for The Sims 2 - and in the base game, no less. And alien abductions too, also in the base game.
Tags: #pollination, #technician, #smith, #alien, #sci-fi, #science fiction, #sci fi, #sims 2
~ * ~ RETIRED CREATOR ~ * ~
Retired to move to Fallout 4 creation but I'll still check here for PMs or questions. Thank you to those who liked my Sims stuff, love all of you.
My Fallout 4 creations: www.nexusmods.com/fallout4/users/38171995 . And some more of my Fallout 4, TS4 and TS3 stuff: http://colorfulcommonwealth.proboards.com/
~ * ~ POLICY ~ * ~
I'm pretty easygoing, please just don't steal or copy my work.
You may recolour my meshes, just please credit me and give a link back here to the item(s).
You may include my creations with your sims, lots, storytelling, etc - just please credit me and give a link back here to my item(s).
Don't claim my creations to be your own work, don't re-upload my stuff to paysites, adfly sites or similar, or to The Gallery.
And, please don't copy my work and upload it here. I learned that's allowed when someone duplicated my Sims 2 Servo conversion and got Featured for it. But, as happened with that person, you'll be disrespected by other Simmers for copying. Because of that, I now ask that if you choose to duplicate my work, you must credit me for having done it first and give a link to my item.
Thanks!