>

Multi-family homes/For Apartment Life EP/Annoying neighbors.
The Amstelkade Apartments
MTS has all free content, all the time. Find out how YOU can help to keep it running.
Tell me how...
2,479

Downloads
155

Thanks Thanks
41

Favourited
28,693

Views
Picked Upload! This is a picked upload! It showcases some of the best talent and creativity available on MTS and in the community.
Personal Picked Upload!
This is a personal favourite of the creator!

Uploaded: 28th Mar 2013 at 1:47 PM
Updated: 28th Mar 2013 at 6:27 PM by karen lorraine
The Amstelkade Apartments
This is a terrace of seven houses, typical of the kind that you might find if you visited Amsterdam. The houses are very tall and narrow, which makes them very difficult to build in Sims, I'm hoping that I've succeeded.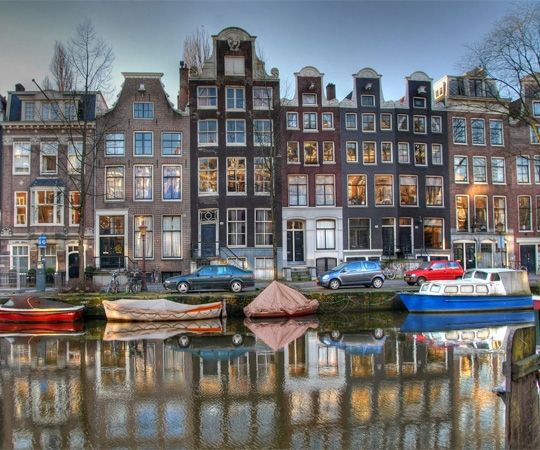 Each house is decorated in different colours and styles and has a different combination of rooms to appeal to every type of person from the family minded to the professional.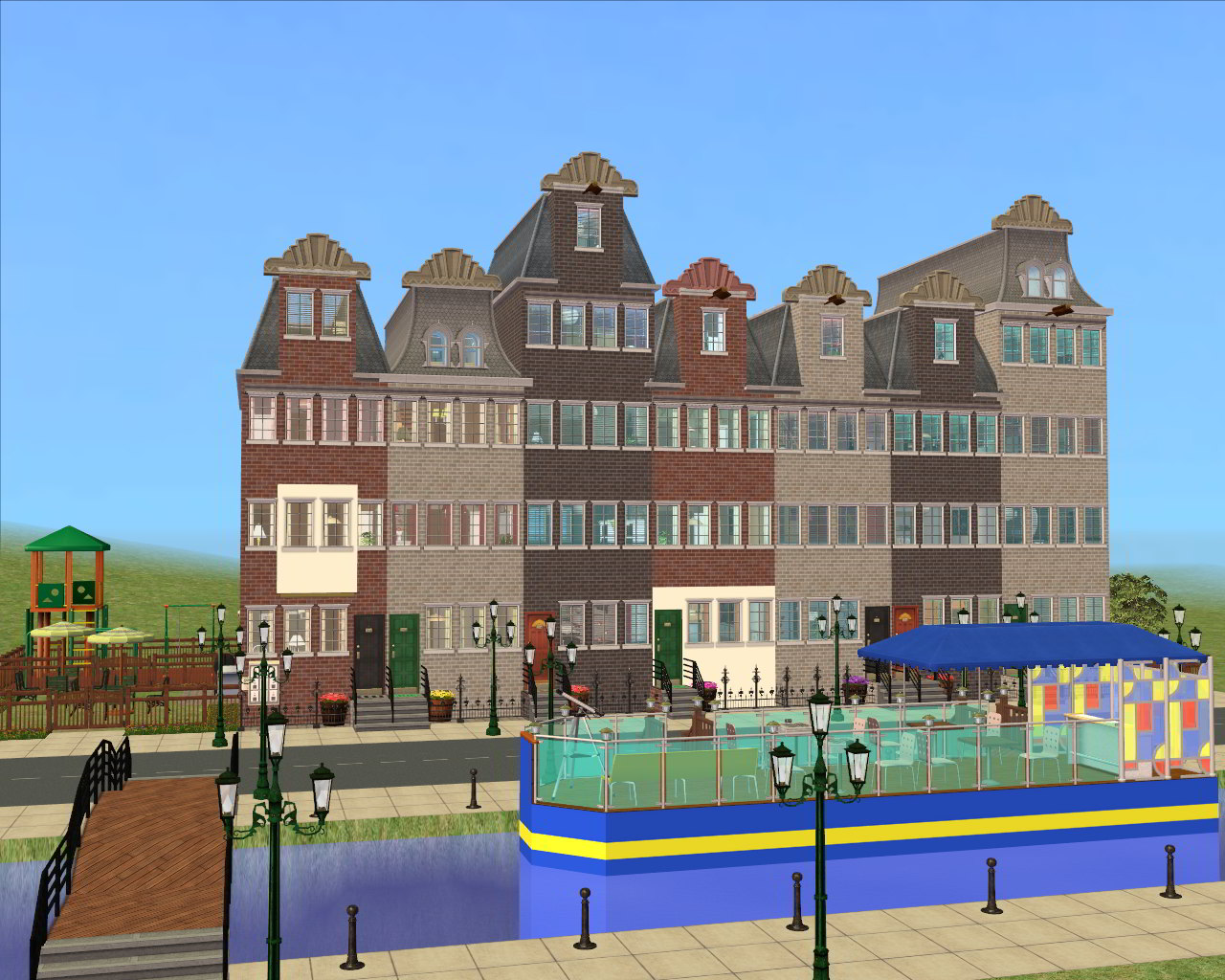 Amsterdam is a city of canals so I created a canal and barge. There is also a false road.
Working from the left of the terrace each house has:
House 1
Bathrooms 2
Bedrooms 3
Lounge areas 1
Office space 1
House 2
Bathrooms 2
Bedrooms 2
Lounge areas 2
Office space 1
House 3
Bathrooms 2
Bedrooms 3
Lounge areas 2
Office space 0
House 4
Bathrooms 2
Bedrooms 3
Lounge areas 1
Office space 1
House 5
Bathrooms 2
Bedrooms 1
Lounge areas 2
Office space 1
House 6
Bathrooms 1
Bedrooms 2
Lounge areas 1
Office space 1
House 7
Bathrooms 2
Bedrooms 2
Lounge areas 3
Office space 1
Custom Content not Included
Belhooven Maroo Standard height window by Marylou @ MTS
http://www.modthesims.info/download.php?t=214621
Independent Expression Set single door by Marylou @ MTS
http://www.modthesims.info/download.php?t=246861
Kitchen basic by buggybooz @ MTS
http://www.modthesims.info/d/278085
Shakerlicious dining table by buggybooz @ MTS
http://www.modthesims.info/d/342880
Slak TV table, Bookcase, sofa, sofa table by feenwald.de
http://feenwald.de/en/zimmer/wohn.php
Phoenix loveseat green, yellow by HolySimoly
http://holysimoly.com/index.cfm?go=...&pagestartrow=4
Phoenix chair yellow by HolySimoly
http://holysimoly.com/index.cfm?go=...&pagestartrow=4
1 tile coffee table by HolySimoly
http://holysimoly.com/index.cfm?go=...&pagestartrow=4
HolySimoly curtains, Beige, Blue, Green, Pink floral, Off white, Dark blue, Red, Tan
http://www.holysimoly.com/index.cfm...155E30DEF43F44B
Turq/orange circles, Red swirly/toile, Dark brown square/circles by himawara106 @ MTS
http://www.modthesims.info/download.php?t=289264
Turquoise floral bedding by Lady Angel @ SFUK
http://www.simfansuk.com/sims/downl...5/#.USkNxVcV_7M
Hemnes round table recolour dark brown by Galliano @ MTS
http://www.modthesims.info/d/444819
Apartment door brown wood recolour by InouKai @ MTS
http://www.modthesims.info/download.php?t=381719
Apartment door green paint recolour by Moune999 @ MTS
http://www.modthesims.info/download.php?t=427134
Invisible fence by niol @ MTS
http://www.modthesims.info/download.php?t=219292
Lot Size:
4x5
Lot Price:
Rent: 2,427-3,697
Custom Content Included:
- French pale gold paint from the Gold Collection based off Behr Paint by
Danikat @ MTS
- winter hedge green paint from the Green Collection based off Behr Paint by
Danikat @ MTS
- Lady 2 black & white from a wallpaper mural by
ekrubynaffit @ SFUK
- Lady3 black & white from a wallpaper mural by
ekrubynaffit @ SFUK
- Lady 1 black & white from a wallpaper mural by
ekrubynaffit @ SFUK
- white on beige wallpaper by
freyahun @ MTS
- Bathroom bliss beige tile by
HugeLunatic @ MTS
- Mosaicality in blues tile by
HugeLunatic @ MTS
- study in black & white full tile by
HugeLunatic @ MTS
- study in black & white three quarter tile by
HugeLunatic @ MTS
- Tiny blue full tile by
HugeLunatic @ MTS
- brown three quarter tile by
HugeLunatic @ MTS
- Tiny blue three quarter tile by
HugeLunatic @ MTS
- classy neutrals 2 (pink) wallpaper by
Kims*Designs @ MTS
- classy neutrals 3 (green) wallpaper by
Kims*Designs @ MTS
- red toile wallpaper by
Kims*Designs @ MTS
- noah's ark wallpaper by
Kims*Designs @ MTS
- wild animal wallpaper by
Kims*designs at MTS
- ironstone brick from Simply Brick Collection by
kittyispritty69 @ MTS
- midnight black brick from Simply Brick Collection by
kittyispritty69 @ MTS
- platinum brick from Simply Brick Collection by
kittyispritty69 @ MTS
- Flowers with Cream wallpaper by
zerographic @ MTS
- Epikouros Wall Cabinet by
CTNutmegger @ MTS
- Surfaco Wall Cabinet by
CTNutmegger @ MTS
- x4 Stair wall fix by
JRW @ MTS
- Canal - Bollard by
Sandy @ ATS2
- Canal - Lock Door closed by
Sandy @ ATS2
- Steadfast Stairs Open Underneath by
crocobaura @ MTS
- closet clothing recolour by
donaldb01 @ MTS
- Closets are for clothes by
donaldb01 @ MTS
- blue roof floor tiles by
Guardgian @ MTS
- Toilet Paper Holder for broken bathroom by
guatla @ MTS
- Missionaire Desk 1 Tile by
HugeLunatic @ MTS
- Round Lost and found round PJATTERYD Picture by
HugeLunatic @ MTS
- lost & Found IKEA square picture by
HugeLunatic @ MTS
- medium wood for 4swf stairs by
JRW @ MTS
- Small Empty Dahlen Bookcase by
leesester @ MTS
- Supa Fridge by
Targa @ MTS
- Fitted Blinds by TNW AL Dark Wood by
Michelle @ Leefish
- Fitted Blinds by TNW Black by
Michelle @ Leefish
- fitted Blinds by TNW Dark Green by
Michelle @ Leefish
- Fitted Blinds by TNW Grass green by
Michelle @ Leefish
- Fitted Blinds by TNW White wash by
Michelle @ Leefish
- Fitted Blinds by TNW Yellow Green by
Michelle @ Leefish
- Fitted Blinds - fits any window by
The Ninth Wave Sims
- Painting 21 Karin Valk by
Shoukeir
- Painting 21 by
Shoukeir
- autumn mist (tan) white baseboard paint from the Fall Collection based off Behr Paint by
Danikat @ MTS
- bedford brown (dusky pink) paint from the Dusty Collection based off Behr Paint by
Danikat @ MTS
- birthday candle pink from the 100C Collection based off Behr Paint by
Danikat @ MTS
- Chez Moi Bookcase by
phoenix_phaerie @ MTS
- Chez Moi Task Chair by
phoenix_phaerie @ MTS
- Chez Moi Daybed by
phoenix_phaerie @ MTS
- Chez Moi Bedside Table by
phoenix_phaerie @ MTS
- Manor House Garden Pendant Lantern by
phoenix_phaerie @ MTS
- Manor House Garden Pendant Lantern bronze by
phoenix_phaerie @ MTS
- Manor House Garden Pendant Lantern gold by
phoenix_phaerie @ MTS
- Place Anywhere LCD TV by
ShanOw @ MTS
- Painting 13 Alan Blaustein by
Shoukeir
- Painting 13 Black Frame by
Shoukeir
- Painting 13 by
Shoukeir
- Painting 13 Shan Kelly by
Shoukeir
- 3 Paintings - Painting 14 by
Shoukeir
- Painting 14 Recolor 2 by
Shoukeir
- Painting 14 Recolor 4 by
Shoukeir
- Painting 16 Luffarelli 4 by
Shoukeir
- Painting 16 by
Shoukeir
Additional Credits:
Lot Adjuster: Mootilda
http://www.modthesims.info/download.php?t=384656
My husband for his help in creating the barge

About Me
I'm a creative type of person. I do lots of things in my spare time, for example I sing in a local choir (I'm also their Web and Publicity Manager, which includes creating all the posters and programmes for the concerts), craft - especially card making, and of course Sims!
I work part time too. And when I'm not working I have to do the cleaning, shopping, cooking, ferrying and lots of other things too!
I'm a busy person, but that's the way I like it!

Creation requests (Lots only):
I will consider requests, but before you ask me take a look at what I've already built. If you have something in mind and it fits in with what I already build then ask away. Please do not ask me to build weird and wonderful things eg gothic, cemeteries, creepy/grungy or fantasy. You can read a more detailed policy on creating for you here http://www.modthesims.info/showthread.php?p=3963603&posted=1#post3963603

Please be aware that I'm very busy and don't have that much free time so it might take a while, but if you're prepared to wait...:)

Most of my creations are here at MTS but you can find a few exclusives at www.leefish.nl and at www.simfansuk.com