>

Mods that replace game resources other than the script core.
Resources for IslaParadiso.world's various Fixes [update 2013.12.01]
MTS has all free content, all the time. Find out how YOU can help to keep it running.
Tell me how...
9,651

Downloads
319

Thanks Thanks
76

Favourited
68,359

Views

Uploaded: 5th Oct 2013 at 9:28 AM
Updated: 21st Dec 2013 at 7:02 PM - fixes as reported by Trickai
What is this?
Game Help:World Routing Lags
wiki
If you have never read that wiki article before, I suggest to read it first and then come back to this Download. Everything is explained there because I had to repeat the Instructions for many worlds.
Isla Paradiso is another world that has not been exempted from routing errors. For a full accounting of all the routing holes that have been corrected, please take a look at the Dotted map. The
wiki version (expand the "Map Gallery of Fixed Worlds" section)
would be in a higher resolution.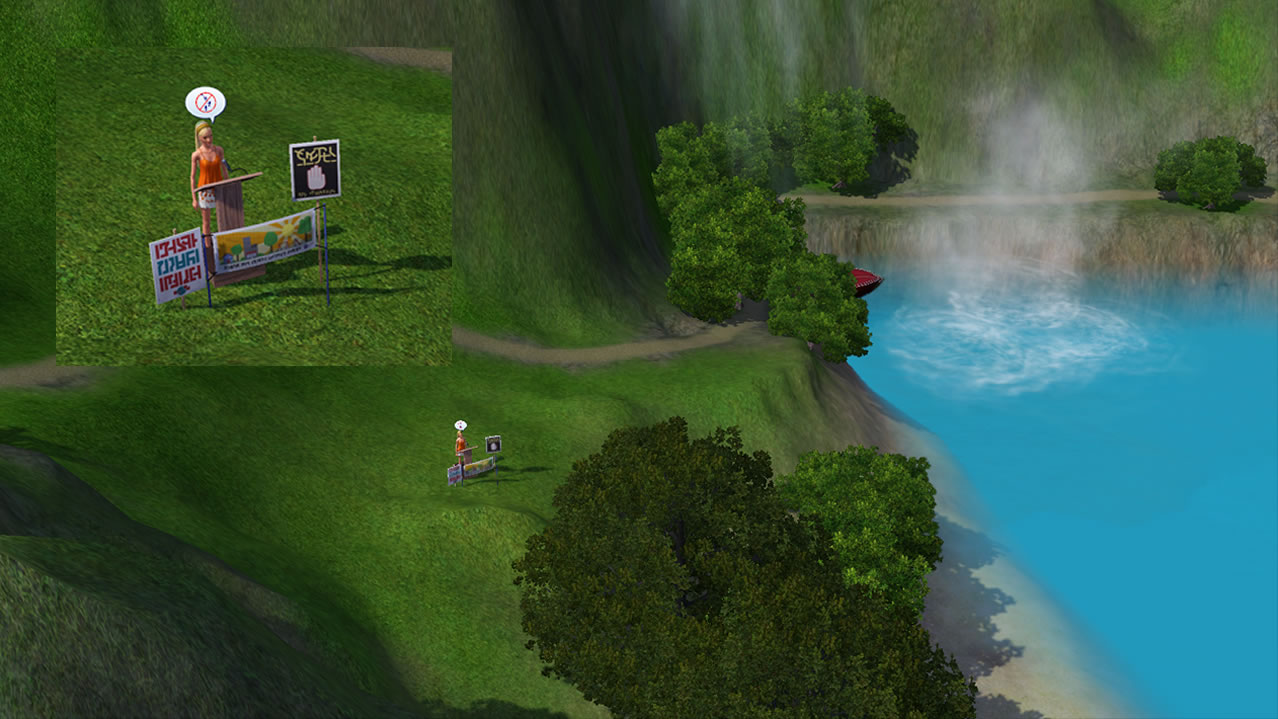 What has been done?
3_Manzano_8f300527e43d7f0 : Adobe Abode, 11 Ocean View Road

The Lone Artist Household. Front door set.
6_Alto_8f3005284fc98b0 : Luxury Villa, 1 Alto Road

Alto Household. Front door set to the main double doors facing the street. Set front of Lot. Platform on the right: I applied the pool wall paint to the platform facing the pool and the path leading up to the front door. I left the right side facing the driveway alone, as it has been painted with "Fully Framed Wall with Rivets" which I thought fitting for a driveway.
5_Ichtaca_8f30051b70f18d0 : Castillo de Ichtaca, 1 Camino del Ray

Ichtaca Household. Fix 1. If you have Pets EP, small stray pets tend to spawn at the side of the lot (see image). I have painted all of that area of the lot with non-routing paint.

Fix 2. In order to be able to set the main door accessible to visitors, the vestibule area is enlarged. I've added archways to use as a visual indicator for this world as there are no disconnected Road Intersections for me to correct. The changes on the main floor is propagated to upper levels of the Lot, to ensure there are no gaps in the roofing, especially if you have Seasons.
8_Hamada_8f3005343eb3f60 : The Spanish Queen, 7 Sea Spray Lane

Hamada Household. Set front of Lot. Front door already set is confirmed. Other then setting the front of the Lot, I didn't change anything else, as my play testing show the household moving about, while controlling another Household, and Overwatch's Stuck Check does not get triggered by this household much. But, then again I only let the game run for two Simweeks in each of my testing phases.
13_Collins_8f300533282ebe0 : Colonial Casa, 76 Civic Center

Collins Household. Front door set.
15_Alvarez_8f30051ae995e50 : The Modern Hideaway, Dry Land, Kraken Island

The Siren Household. Front door set on double door.
18_Vidal_8f300533282ec00 : The Painted Lady, 74 Civic Center

Vidal Household. Front door set.
25_HashiniGoldMat_8f30052bf12f680 : Holiday House - 25 Riviera Road

Babes on the Beach Household. Front door set. Deck to Front door expanded. Double-wide staircases moved to the right because somehow the Paper Boy refused go up the stairs to deliver the paper if the stairs were unchanged, and instead dropped the paper at the bottom of the hill to the right of the front door deck.
52_StoryProgression_8f30052d7b71a60 : Modern Marvel, 10 Modern Mile

Unoccupied. Front door set. Front of Lot set. Front of Lot leveled with road and terrain's rough pointy edges smoothen a tad. Lot was also "Conformed Edges" in CAW since the terrain was touched.
54_StoryProgression_8f30051ae9960f0 : Personal Paradise, 9 Sea Spray Lane

Unoccupied. Front door set.
63_SpaBistro_8f3005353628570 : Spa/Bistro Rabbithole, 10 Sunshine Street

Rabbithole. Trees and objects were most likely placed with MoveObjects On cheat, I just moved them to be visible at ground level instead of underground. Small pets tend to get stuck at the edge of the Lot near the cliff falloff; area has been painted with non-routing.
105_Starter_3a7a00554bd6f550 : Floating Fortress, docked at Pleasing Port

Unoccupied. Bathtub in the left bathroom was inaccessible. Bathroom rearranged to accommodate the Bathtub being turned around the correct way.

111_Port_8f300536f64ea00 : Port Pleasant, Surf Island

Unoccupied. A boulder and bush was moved to accommodate Sims going into the water without having to make one big round to reach the beach via the street.

There are no disconnected roads in IslaParadiso (that I can find). If I missed it, do let me know with an image
Some of the Lot terrain had been smoothed as they appear to be too pointy and unnatural - there are no straight lines in nature. This jaggy pointy bits seem to trap small strays.
I'll have images of each Lot here on my blog - mainly as a reminder to myself as I recall visuals easier than text, but also because there's a limited number of images we can have inline.
I forgot if I set the front of Lot for each of those edited Lots just to ensure they are set properly, but the ones I remembered doing so has been mentioned. If there's any that I missed, let me know, please.
Before you begin
Make a Backup! Game Help:TS3 Back Upswiki

Store this backup away from the user Documents path - like an external USB stick, external HDD, sync it to your cloud, give it to your friend to store. Anything that is outside of the computer system, in case you need it back and you messed up the one in <world path> so bad there's no recovery possible!

Prepare the Porter! Porterize your favorite Households before you do the steps below.

Reminder that I don't guarantee that the transplanting procedure would be successful in a fixed world. So if you run legacy games you might want to test this in a different AGS profile
Requirements
Island Paradise EP
game patched to 1.57
s3pe
7-zip (or any Archive tool that can process .7z files)
Twallan's Porter @NRaas
Links to any 3rd-party tools, and further information provided in
Game_Help:World_Routing_Lags/How
wiki
, under "
Tools needed to Import Resources
".
How to install?
Please be sure to read and follow the instructions under "
Edit in S3PE
" in full in
Game Help:World Routing Lags
wiki
The rest of the info is the same, pretty standard - backup, read and follow instructions to the letter, provide feedback, etc etc. All is in the wiki - READ it!
Download the .7z file(s) and extract all the contents into a temporary folder onto your Desktop, then import all the Resources in
S3PE
by selecting all files (Ctrl+A).
For this world, the changes done to the Lots may be subjective and not to everyone's liking. So, I have packaged them in separate folders and you can pick and choose which Lot you want to import. I would strongly suggest you import one Lot at a time (in separate IslaParadiso.world files) and then load the game after each Lot is imported. To check that you like the changes done. If you make the proper backups, you'll be fine; just always ensure there's
only one IslaParadiso.world file
in the World path at all times.
If you like the look of all the changes done as explained above, then by all means import all Lots at one go. Just note that once imported, it cannot be undone. You need to use a fresh and untouched .world file if you need to start over.
Resources modified:
IslaParadisoFixedRouting.zip containing 2 files.

0x05CD4BB3 UNKN World Routing
0x05DA8AF6 UNKN World boundaries

IslaParadisoEditedLots.zip containing 13 14 folders each having 69-81 files respectively for the Lot data that pertains to the Lots mentioned.

How to remove or restore the file before updating?
Up to the time this download was published, EA has yet to update any of the worlds released, but one can never say never with EA. So, this is here just as a precaution. In the event that a miracle happened and a patch has updated and fixed a world, you need to rollback/undo these changes and restore the original world file, otherwise you may get an "INVALID FILE FOUND" error during patching.
Go to this path

Code:

\Program Files (x86)\Electronic Arts\The Sims 3 Island Paradise\GameData\Shared\NonPackaged\Worlds

If you don't have the DVD version, please visit the Game_Help:World_Routing_Lags/Wherewiki wiki page for the path to other distribution System and/or Operating System, e.g. Origin, Steam, OSX

Delete the *.world file. Or if you want to reuse it after patching, rename it with a ".fixed" extension, so the filename becomes "IslaParadiso.world.fixed". But don't use my fixes until I can confirm if it is save to do so. My fixes could have been made redundant by the update, or may conflict with something or other.
Rename the "*.orig" copy by removing the .orig extension (or from whatever you have renamed it to).
Delete caches before starting game. Game Help:Sims 3 Delete Cache Fileswiki
FAQs
Q
: Will this show up in my existing Saves based on IslaParadiso?
A
: Sorry, no. You would need to start a totally New Game and then select the World (with the fixes imported). EA changed something in patch 1.42 onwards that disables this ability. Any changes to the .world file are only available in
New Games
. The workaround to this is to use Porter to "transplant" your favorite Households if you want to continue their storylines.
Feedback
As always, feedback is welcomed.
Please report any other areas that you get stuck Sims at that I might have missed. Unless it is on a Lot, which is not within the scope of these fixes.
Notes & Changelog
:
As and when I get reports of any issues, or new spots, or patch changes (if any).
Dec 1, 2013 update:

Issue with Alto, Dregg, ResortModern & ResortSpanish as reported by Trickai on post#28 of the fixed.world thread.
gaps from various EIG actions made Lot tears at SpaBistro & Rodel grow, and fixes now includes world terrain and roads, due to the Conform Lot steps.

Nov 21, 2013 update:

Issue with Medina lot's pool as reported by @bigfeef in post#4


10/5/2013 published.
Additional Credits:
-
S3PE
developers
- community members who contributed to the research both here on MTS and on my blog, namely fullsheet, babele44, bigfeef, and the folks @thesims3.com forum; especially those who included images have my most heartfelt thanks.
- crinrict and her ever helpful Bug thread
About Me
Game Help / Technical Help
Yes, I can help you with games problem, but I need INFORMATION! I cannot help in a vacuum. So, please specify gameversion, games you have and what triggered the issue, and post in the HELP FORUM (not via PM!). Not an essay on what the Sims were doing from when you woke them up in the morning to the time you make them sleep. Just make it as concise and relevant as you can. If there's no information and you make me chase you down by asking questions already asked in the WIKI FAQs, I'm afraid I no longer have time for such. Which means your posts get ignored. Don't be offended, though, it's nothing personal. I just have to prioritize the complete threads over incomplete ones.
I'm also not a psychic. So if you have done and work through any FAQs, MENTION IT! How am I to know you had done it if it is not stated in the post?
If you're trying to hedge your bets and post the same issue on separate forums - MATY, thesims3, TSR, or any where else - I'd also ignore it; especially if you had gotten replies elsewhere. I'm not keen on hitting my head against the wall repeatedly, you know?
And no, I don't provide Technical support for the game or your system one-on-one via PMs. So, don't even go there. These PMs would be ignored as well. Well, unless you want to pay me for my time as a Personal Technical Coach. Then, I'm all ears.
Game content
You're welcome to use, edit, take apart any content I created and share. But if you use any of my work as a base, I'd appreciate a link back to the original, and you're welcome to post your version in the comments of that upload. So that if either one of ours become outdated, there's a link to the original and vice versa.
And no, I don't provide support for my content one-on-one via PMs. Each of them has a Comments/Feedback section. Please use that.
I don't take requests, sorry. I have tonnes of ideas I haven't even started on.
Having done a mod or a fix does not mean I would do a similar mod or a similar fix. If it interests me and there's still potential for learning, I'd continue doing them like for the World fixes whenever a new world is available. But as we're all working with finite time, there's only so much I can do alone compared to the speed of release EA employs. So, if you want to do a world fix yourself, go ahead. This World fixes thing is not under my sole purview, you know. There's a whole Community of us.
And last but not least, yes any content that I share would get updated if it is warranted. You don't have to ask. As long as I'm able and can afford to buy new packs, I'll schedule any work needed for them.