Rivendell - The Last Homely House East of the Sea (No CC)
MTS has all free content, all the time. Donate to help keep it running.
15,419

Downloads
979

Thanks Thanks
415

Favourited
130,955

Views
Featured Upload! This is a featured upload! It showcases the best talent and creativity available on MTS and in the community.



Uploaded: 10th Feb 2014 at 10:58 PM
Updated: 23rd Jul 2015 at 5:30 AM - Fixing minor errors
No CC required.
And now for something completely different! All my buildings thus far have been modern, urban constructions, but I have other neighborhoods filled with buildings of different sorts as well, and I want to share them too! Hence, I present to you the House of Elrond- Rivendell, Imladris, or the Last Homely House West of the Mountains and East of the Sea. I based my design for this lot off of Rivendell as it appears in Peter Jackson's Lord of the Rings trilogy (not including The Hobbit, as they changed the designs for the valley and buildings quite a bit, and I like LOTR better!), so for those of you who want a comparison, I've included a few shots of Rivendell models- one designed for collectors, the other designed (so far as I can tell) for filming in the actual movies. To quote the epic tale of the estimable hobbit Bilbo Baggins, "[The] house was perfect, whether you liked food, or sleep, or work, or story-telling, or singing, or just sitting and thinking best, or a pleasant mixture of them all."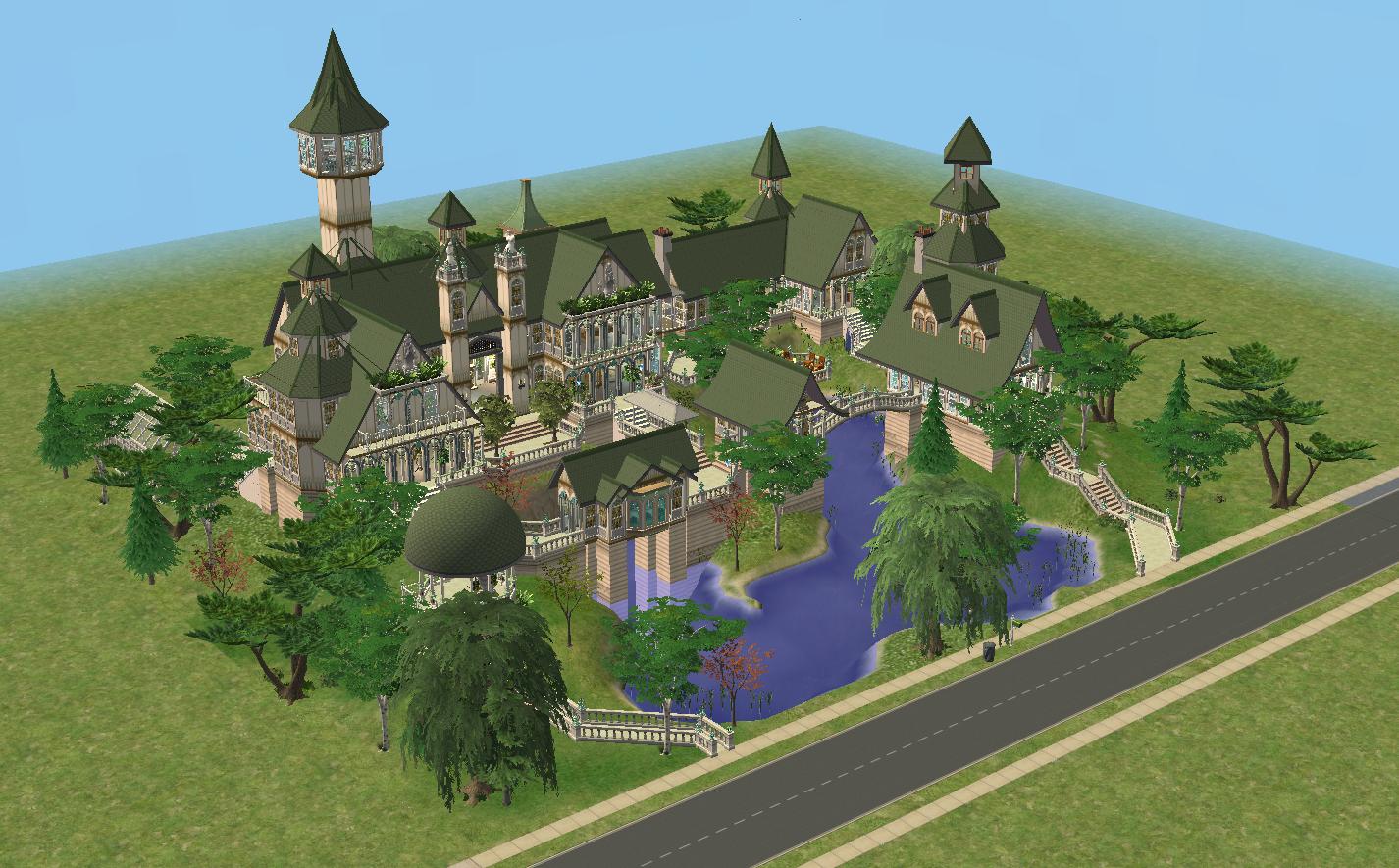 Home to both immortal Elves and mortal men privileged enough to be named elf-friend, the valley of Imladris is a home of peace and good cheer and lore, not of battle or industry. The buildings use forms found in nature and are lined all about with arches, windows, and balconies, so that whether indoors or out, one will always feel a part of the valley itself. The waters of Bruinen flow about this home, and the soft, tranquil sounds of falling water can be heard throughout the House of Elrond. The moss-and-grass covered hills lend shape to the buildings atop them, and the pathways through the trees flow naturally over the landscape rather than cutting through it.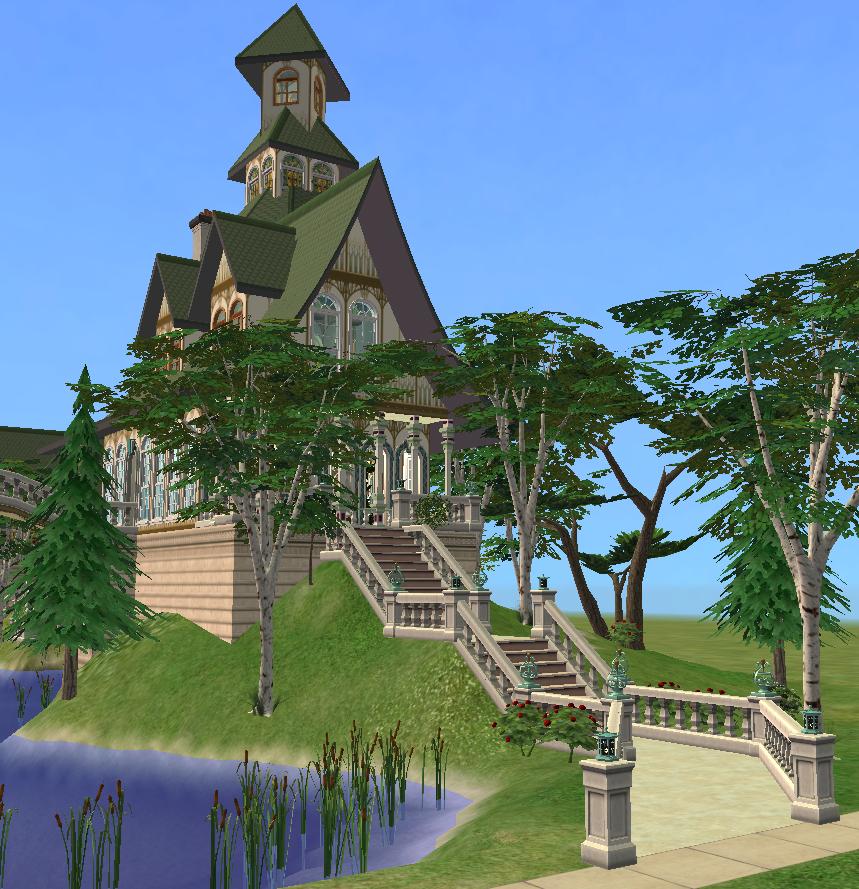 Both indoors and out, Rivendell is a place for life and growing things, with plants growing both wild and cultivated in anyplace you care to look. In designing this lot, one of my primary concerns was getting the feel of Rivendell as close to that of the films as I could, so while parts of the valley are my own design, others are designed based on scenes from the films. Thus, it is only natural that there should be an outdoor gathering place for the Council of Elrond, where beings from all corners of Middle-SimEarth can gather to discuss the greatest problems of their Age. Likewise, Rivendell would not be Rivendell without an arched bridge to allow the Fellowship to pass over the splashing waters of the valley. Other areas, like the gazebo structure or several of the alcove statues, may not be direct copies of anything from the movie, but they still bring the feel of Rivendell into the Sims. In daylight, rays of sunlight can reach nearly every part of the House of Elrond, while at night, beeswax candles and elvish lanterns ensure that none of the Fair Folk will ever have to walk in darkness.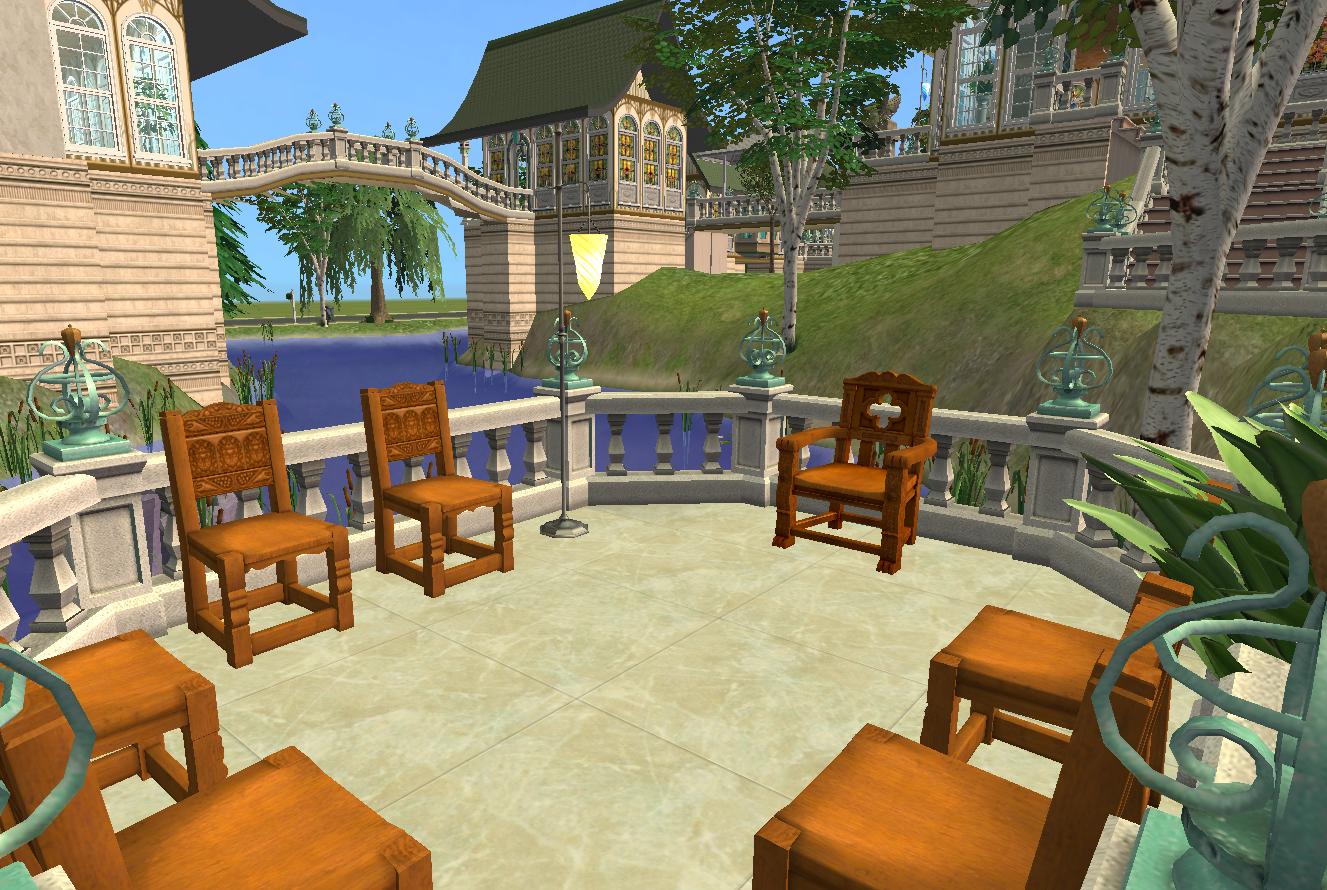 As I designed it, this lot is best suited for those aspiring to the pursuit of knowledge or for the loving environment of a large family, as there is very little here that would serve the interests of a pleasure-seeking or fortune-minded individual. Whether your Sim-Elves are of the green-skinned PlantSim variety, or just regular Sims with pointed ears, Rivendell should bring a sense of peace and calm to even the most stressed-out of Sims. A sanctuary of nature, knowledge, art, and music, this lot can serve as a guiding light in the turbulent world of a medieval neighborhood. Indoors and out, this lot is perfect for quiet contemplation and meditation, for the study of ancient texts, for the composition of soaring melodies, or for the cultivation of growing things to bring more beauty to a world dominated by stone and industry. In my own gameplay I tend towards smaller households, so I've only included two double-beds in the lot, but with as many libraries and sitting rooms as there are, if you choose to move in a larger household, you should have no trouble finding rooms to convert into bedchambers, and if you like the design I've chosen for the interior, I think there are enough examples of how I construed it that you should have no trouble making them fit in with the rest of the home. The House of Elrond is known for welcoming all who come to it.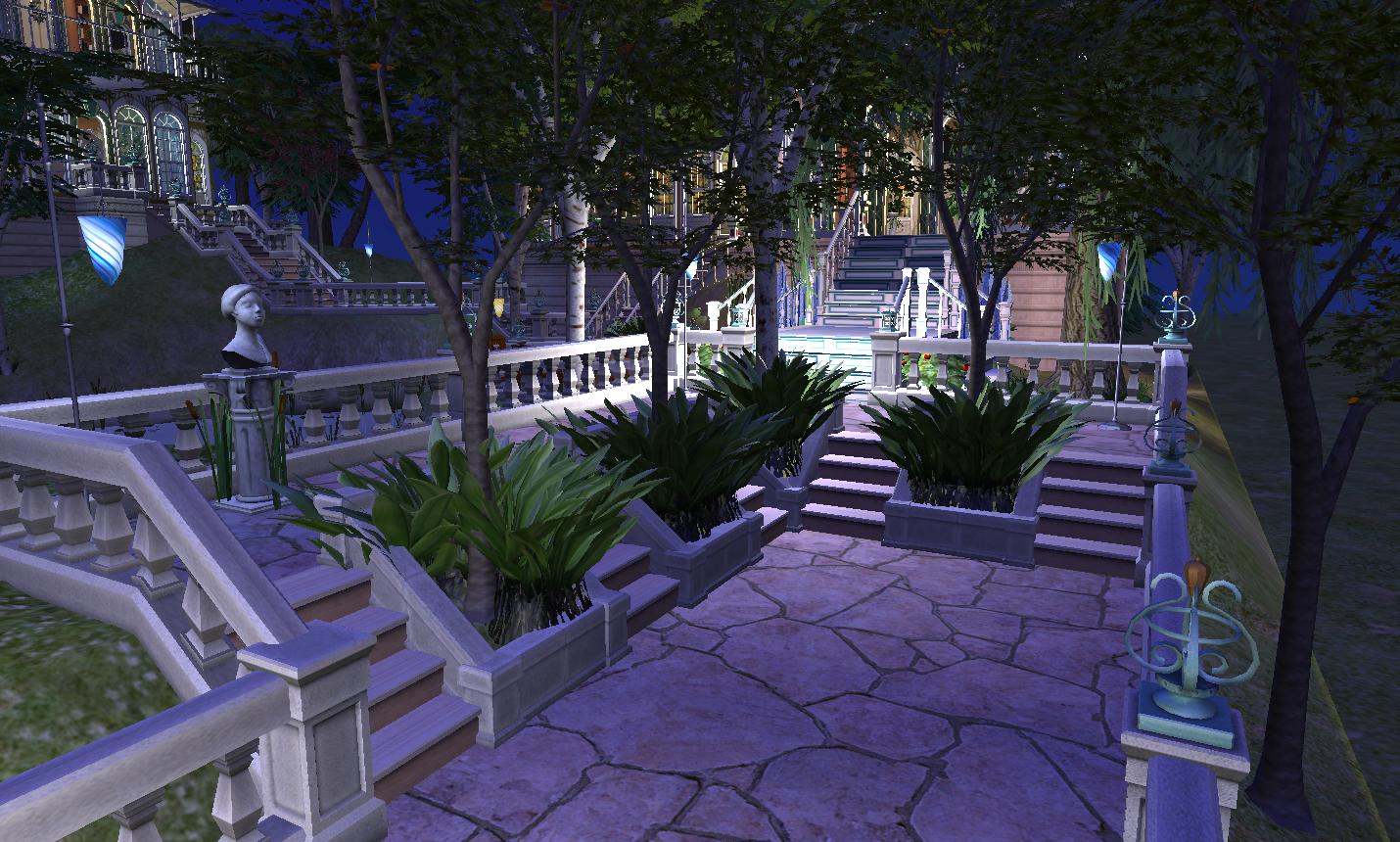 At 5X6 and over $500,000, this is a massive lot, so it will be slower on some computers, but like my skyscrapers, I DESIGNED it on an old, slow computer, so it is playable- just slower. Also like all my other lots, I designed the lot with no CC and instead just tried to find the Maxis items that best fit the aesthetic I was looking for, but I know there are a good number of uploads by other MTS members that were designed specifically after JRR Tolkien's and Peter Jackson's elvish aesthetic. For those of you who are so inclined, I will be in no way offended if you choose to play this lot with those sorts of modifications. Still, I've worked on this lot long enough that I think even without other mods, it does a pretty good job of capturing the feel of Rivendell. As far as placement goes, it should be clear that this lot looks best in a forested locale, and while it isn't necessary, for a truly Tolkien-esque Rivendell, this lot should be placed at the bottom of a valley or in the foothills of a mountain range. Also, I assume that most of you play neighborhoods with a variety of seasons as your norm, but for those of you who don't, this lot is, in my humble opinion, one of the most beautiful to watch the seasons change on, particularly in spring and autumn, as the budding leaves and flowers of springtime lend even more beauty to the elvish architecture, and fallen leaves bestow it with a feeling of timelessness in keeping with its nearly five-thousand-year history. At any rate, however you choose to play it, I hope it's something you enjoy!
Mellon, namarie.
Lot Size:
5x6
Lot Price:
$582,273
Packs Needed








+
7 SPs
For a full list of packs with names, see the Packs Needed popup.
Other Information
Number of bedrooms
:
– 2 Bedrooms
Custom Content Included
:
– None : No Custom Content included
Furnishings
:
– Fully Furnished : Lot is completely decked out in furnishings
Special Flags
:
– Not Applicable
Packs Needed
| | Expansion Pack |
| --- | --- |
| | University |
| | Nightlife |
| | Open for Business |
| | Pets |
| | Seasons |
| | Bon Voyage |
| | Free Time |
| | Apartment Life |
| | Stuff Pack |
| --- | --- |
| | Glamour Life |
| | Celebration |
| | H&M Fashion |
| | Teen Style |
| | Kitchen & Bath |
| | Ikea Home |
| | Mansion and Garden |
About Me
Sims? What are Sims? I almost always just use this game to create buildings!

You might call me a CC-atheist. While I'll use every cheat code in the book, I won't use anything that Maxis didn't ship with the game in one fashion or another. Ergo, you can rest assured that all my lots are CC-free.

Some creators describe themselves as constantly juggling projects. I suppose I do that too, except I'm really really bad at juggling, so I just throw lots of projects as high as I can, and sometimes forget all about them until they come crashing down on my head!

I won't *exactly* do requests, but since I pivot from lot to lot constantly, if there's a place you hope to see from me, there's a good chance that I've already started it! I make no promises, but feel free to ask about lots you want to see- you might inspire me to finish something!

My lots are my own work- I put a lot of effort into them, so have fun with them, use them for storytelling or making Sim movies, but please don't reupload them, in whole or in part, anywhere, including here on MTS!

One day I will rule the world with an iron fist and all will kneel before me.