>

More types of food for your hungry Sims!
Seconds Meals Part 2: Sloppy Seconds, Seafood chowder,& Breakfast Calzone
MTS has all free content, all the time. Find out how YOU can help to keep it running.
Tell me how...
45,856

Downloads
630

Thanks Thanks
93

Favourited
34,025

Views

Uploaded: 29th Jul 2014 at 8:52 PM
Seconds Meals: Part 2
This is part 2 of the "Seconds Meals". I will share 3 more meals from the seconds culinary legacy as of now. Maybe in the future, I will share more meals with you all. Below are the new additions to your sims fridge.
Seconds Breakfast Calzone
- A calzone that is made by the passionate hands of the seconds family member. Your sims will get their experience of tasting the homemade breakfast. The Seconds Calzone is made with Ham, Green Onion, Sharp Cheddar cheese, and fluffy scrambled egg.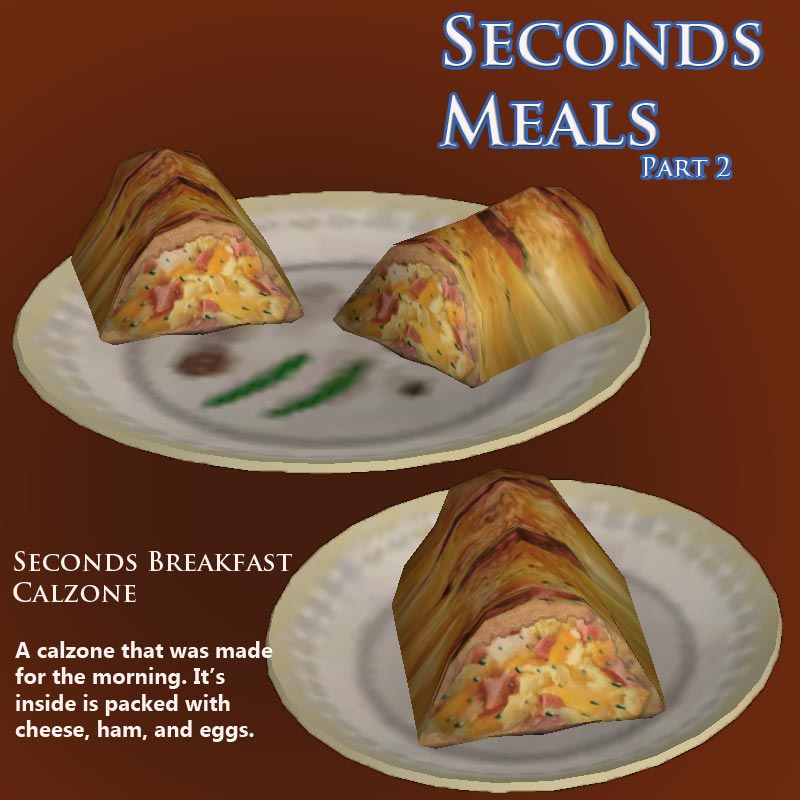 Details: To find this meal, you must search fridge or oven for the tabs " Serve Seconds Meal" or "Have Seconds Meal" during breakfast hours. The Breakfast Calzone is cloned from Lobster Thermidor and requires a cooking skill of 10.
(Polycount)
Null Model-1
InPlate-430
Package- 620
Cookstate-336
Serve-336
Eat-168
Prepare-228
Prepare cutting board-688
Rodrick Jr. Seafood Chowder
- Rodrick Jr. loves to seafood meals. One of his popular dishes is his "Seafood Chowder". This seafood chowder is packed with chunky potatoes, crab meat, clam, shrimp, thyme, and onion.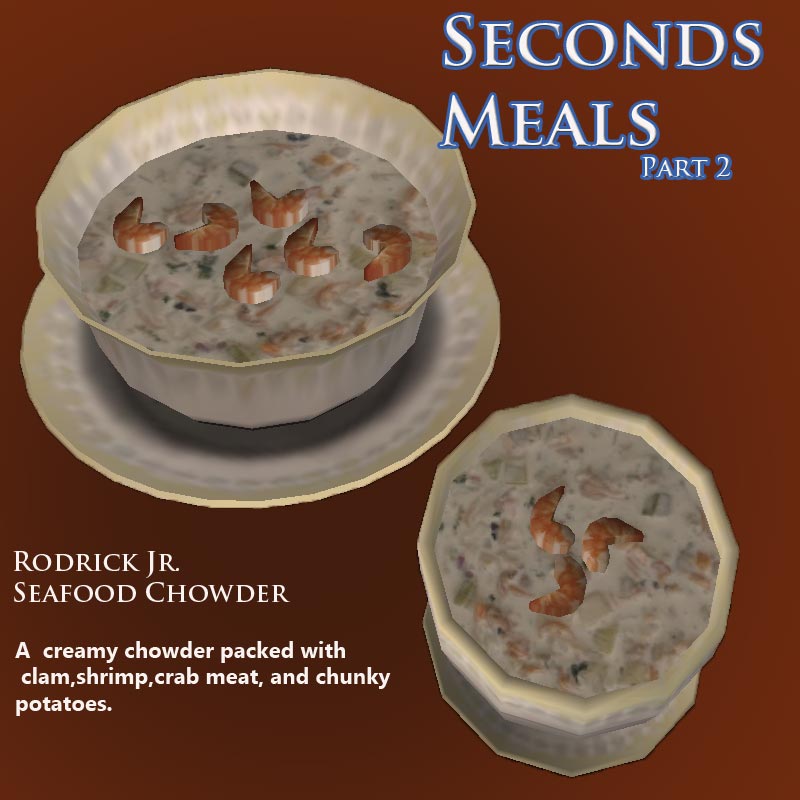 Details: This meal is cloned from macaroni and cheese and requires no skill to make. To find this meal, you must search the fridge during Lunch or Dinner hours. This meal will be found in the "Serve Seconds meal or Have Seconds Meal" tabs.
(Poly Count)
Null Model-1
Prepare cutting board-584
Eat-540
Cook In Pot-36
Serve-1040
Prep bowl-36
Food tray-370
In Plate-868
Sloppy Seconds
-A perfect meal for the weekend. The Sloppy Seconds meal is a dish served at Malerie's diner. Sims all over love to visit Malerie's diner just to chomp into the Sloppy Second. The Sloppy Second is a sloppy joe made from the unique sauce created by Malerie. Along side of the Sloppy Second, your sims will get a serving of baked beans and cole slaw.
Details: This meal is served during lunch and dinner hours. You will find this meal in the "Serve Seconds Meal/Have Seconds Meal" tab of your sims fridge or oven. The Sloppy Seconds meal requires barely any cooking skill and is cloned from spaghetti.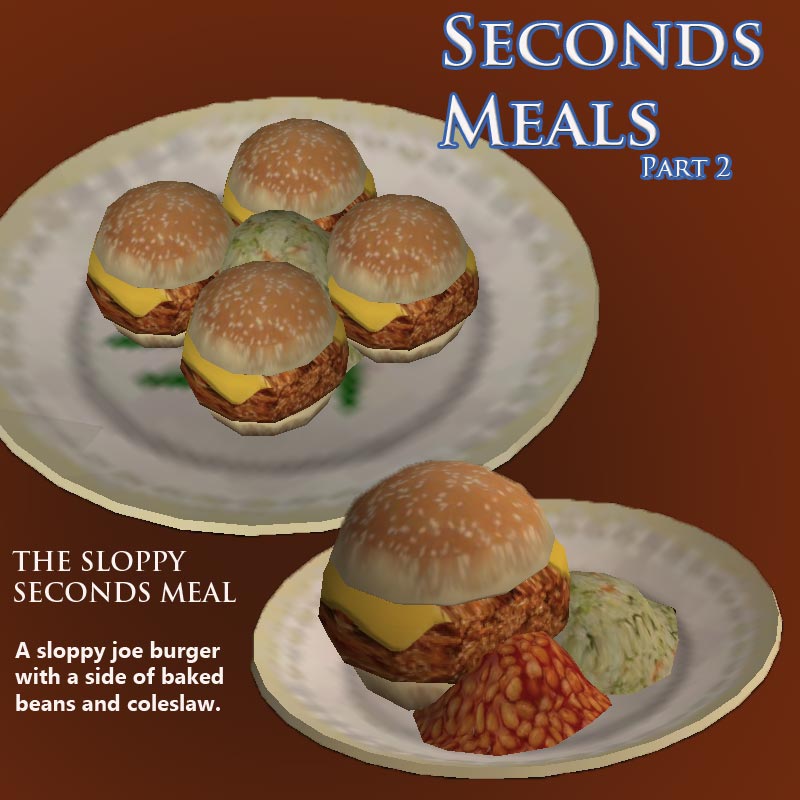 (Poly Count)
Null Model-1
Prepare cutting board-890
Eat-528
Cook In Pot-36
Serve-1524
Prep bowl-36
Food tray-628
In Plate-790
Additional Credits:
I would like to give thanks to SIMPE, Adobe Photoshop, Google and Yahoo Images, and MilkShape 3D. I would also like to thank Gazifu for their wonderful simlish fonts.
Welcome To Flare's Cove
Requesting Status: Not Accepting Any At This Time

Hi and welcome to my profile. I've been interested in the sims for some time now. Playing the sims can be challenging, entertaining, and sometimes it can get a bit dull. The only time it can get dull for me is if I'm tired of using certain items. Back then, I didn't know that there were sites that had people who created custom content stuff. I was thrilled about uploading.


**Rules and answers about using my meshes**

My MTS page welcomes all who are interested in my works. As of now, I have quite a few food meshes that might not be the best of the best. I will admit that I do take pride in the time that I put into creating meshes. I expect for others to understand the notion of respecting a person's work. If you would like to create custom foods from my meshes, you may ask to do so. Just like any other artist, I will always want credit for my effort and time I put into my works. Creating meshes isn't always easy. I do believe in respecting the time and effort people put into their art or just work period. It will be best to show your respects by not posting my meshes on any other site except for MTS. You are permitted to change the UV mapped textures or tweak the mesh how ever you like. You can also use any of my meshes how ever you like with any possible sims games)

I do take requests:

On my behalf, I do love to take on a challenge every now and then. As for requests, It will have to be a food requests. I don't mind doing a recolor. However, my signature is providing custom foods to the sims 2. To make a request, you are welcomed to send me a personal message. The message should contain the following below.

1. Name of food
2.Culture the food originated from (If possible)
3.At least one or two pictures of the food to give an idea of what you might expect.
4.A description on how it is prepared and cooked. (You can also post a link to the recipe if possible)

Things have changed with the number of requests a person can give. After AF requests 19 is posted, each person who desires to send a request is allowed to submit only two and that's it. If you like, don't be shy to join my Sims2 food creator club.

Thanks!