Sims 4

>

>

Fireplaces, Pool Accessories, Columns, Fences & Gates
Liberated Fences
41,021

Downloads
1,128

Thanks Thanks
171

Favourited
76,827

Views
Uploaded: 10th Dec 2014 at 6:59 PM
Updated: 12th Aug 2015 at 5:29 AM
Some fence objects from the game files fixed up for Buy/Build. Part 2 is available
here
, part 3
here
, part 4
here
.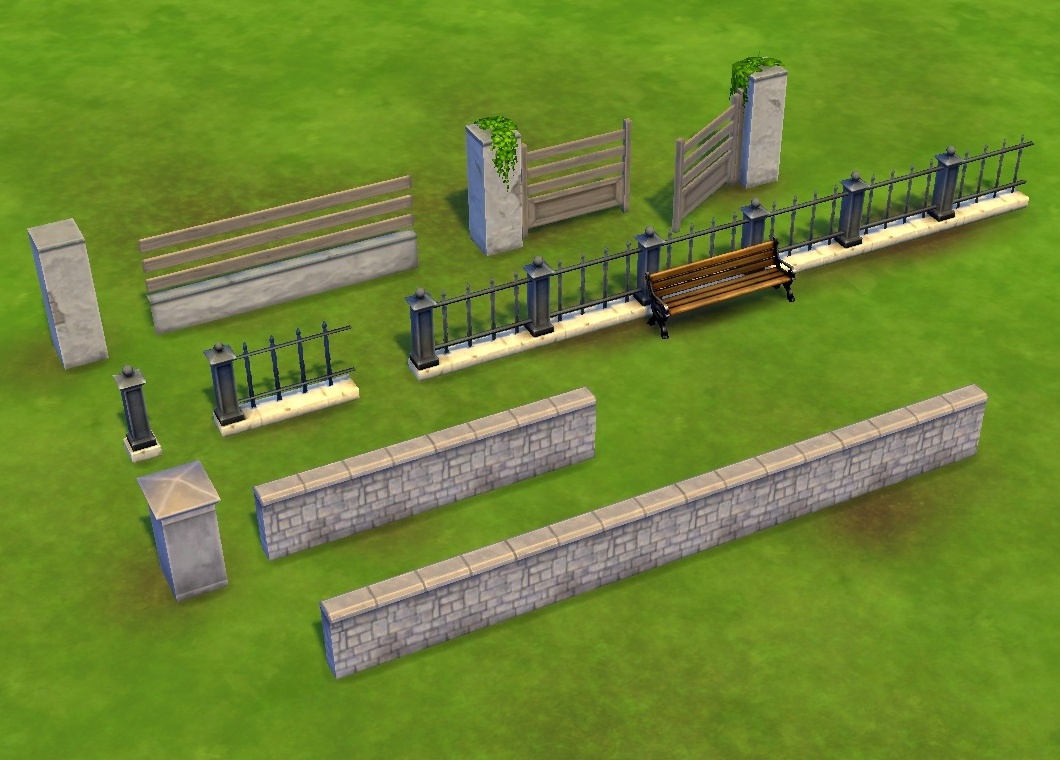 Contents and in-game prices:
Tall Stone Post – 120
Tall Stone/Wood Fence – 240
Tall Stone/Wood Gate – 400
Iron Fence Post – 90
Plaster + Iron Fence, Short – 180
Plaster + Iron Fence, Long – 1080
Low Stone Post – 120
Low Stone Wall, Short – 250
Low Stone Wall, Long – 500
How to use:
These are objects, not actual fences as far as the game is concerned (like the fence-tool ones). I put them in Fence Gates since that's what worked best for me (they sort at the end, so they're all in one place there rather than strewn all over Deco > Misc. Putting anything but fences in Fences won't work).


Not being fences means they don't know how to fence =P .. or maybe it's just because they were never finished, in any case in my testing sims could walk through (most of) these – one needs to plant e.g. a hedge on one side or put them on top of actual fences in order to make them serve their purpose.


I removed the footprint reference from all of them so that they can be placed freely (or at least, as freely as the game will allow ). That's not only useful for the fence part, but also for e.g. building porches, using the posts as column bases and so on. They have a funny way of sliding up the side of foundations, so one can probably stack them that way, too (haven't tried that yet).
This is done by way of the usual flagging and stuff, plus a custom STBL. Also, I pity the poor person at Maxis who had to come up with prices for all of their content

.. finding a scheme that (more or less) keeps these both in relation to one another and to existing fence/column prices was probably the hardest part about this. No free lunch!
When using these in lots you upload, this mod will very likely be required depending on how you use them (see: footprints).

Overrides the following COBJ/OBJD:

0x0000000000001718 fenceGCWGD_01_cap
0x0000000000001717 fenceGCWGD_01_sm
0x0000000000001719 fenceGCWGD_01_med
´
0x00000000000029ED fenceCE_Stone_Sml_01_Cap
0x00000000000029EC fenceCE_Stone_Sml_01
0x00000000000029EE fenceCE_Stone_Sml_01_Long

0x0000000000002975 fenceCE_StoneWoodTall_Post_01
0x0000000000002973 fenceCE_StoneWoodTall_01
0x0000000000002974 fenceCE_StoneWoodTall_Gate_01
s4pe + the thing formerly known as Hasher.
Packs Needed
None, this is Sims 4 base game compatible!
Sharing and recycling:
Everything I upload here is published under the current
BY-NC-SA Creative Commons
license (Attribution, Non-Commercial, Share-Alike). In practical terms:
– Feel free to recycle, you don't need to ask.
– For the attribution, please link to the upload you're using wherever possible (instead of my profile). This is particularly important with edits made for/with different games or game versions.
– If you use my stuff in something you make, please upload the result to a free, accessible, noncommercial site with no more restrictions than these. Code must remain open source; meshes and other material must remain re-usable.
Please do not redistribute any unmodified files – link to the upload post instead.