Sims 2

>

Buy Mode

>

>

Plants, sculptures, wall hangings & paintings, mirrors, curtains, and miscellaneous.
Official MTS 2015 Photo Contest Calendar -2 Versions!- + Holidays!
2,222

Downloads
183

Thanks Thanks
44

Favourited
11,903

Views

Uploaded: 2nd Jan 2015 at 4:01 PM
The
MTS Calendar Contest
was again a bit hit, and even though I've retired from being on MTS staff, I was honored to be asked again make the in game calendar. As usual, I've created 3 versions, and there isn't much of a difference between these and last years, but there are two small differences. I've moved Founders' Day to Fall 5. The holiday is loosely based on Thanksgiving and Veterans Day and such, and those are in November - after Halloween. The other difference is I was finally able to track down what was causing the calendar thumbnail to not display properly. If you have
SimPE
and want to fix your other calendars, it's a bad link in the Shape, the picturepage is listed as one from 2012. Change the 12 Day to 2013-January (or 2014) and the 20 Day to 2013-spring1 (or 2014) and they will display properly again.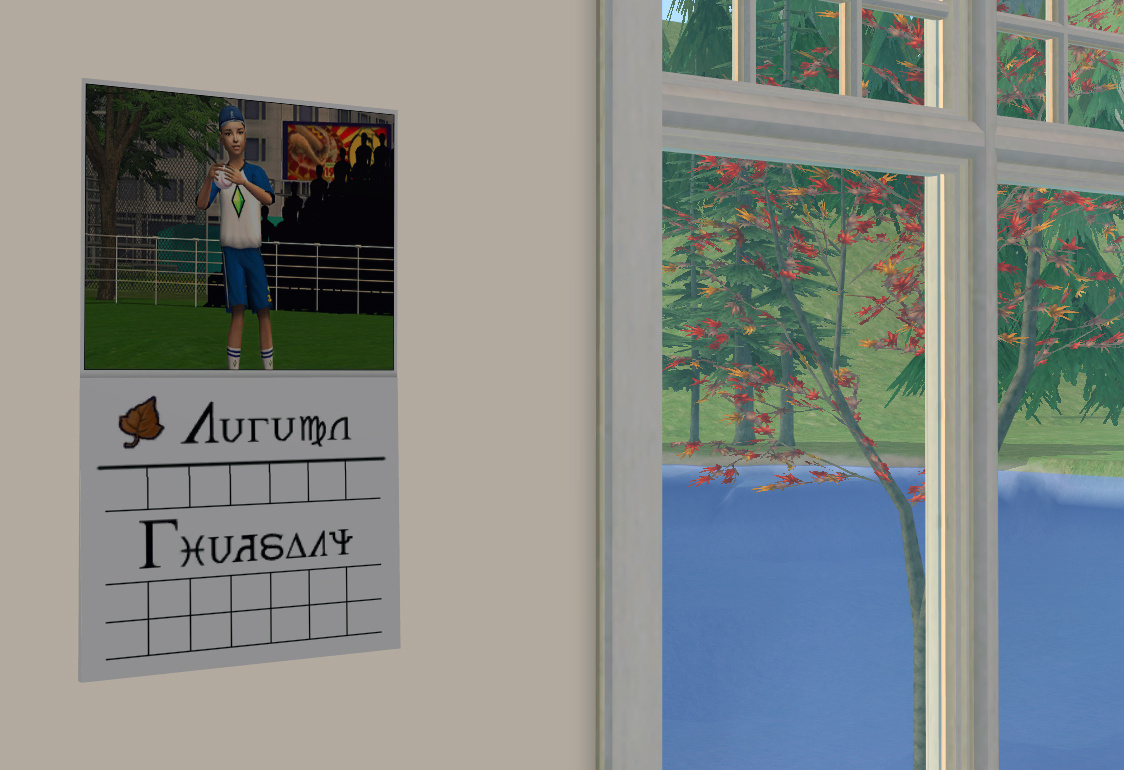 With the 12 Day calendar you can choose which month to start at and every night around midnight the photo will roll over to the next. Unfortunately, the setting will not stick after a lot reload, so you will have to remember to reset it each time you enter the lot. The calendar itself costs $100 and is in the decorative > wall hangings category.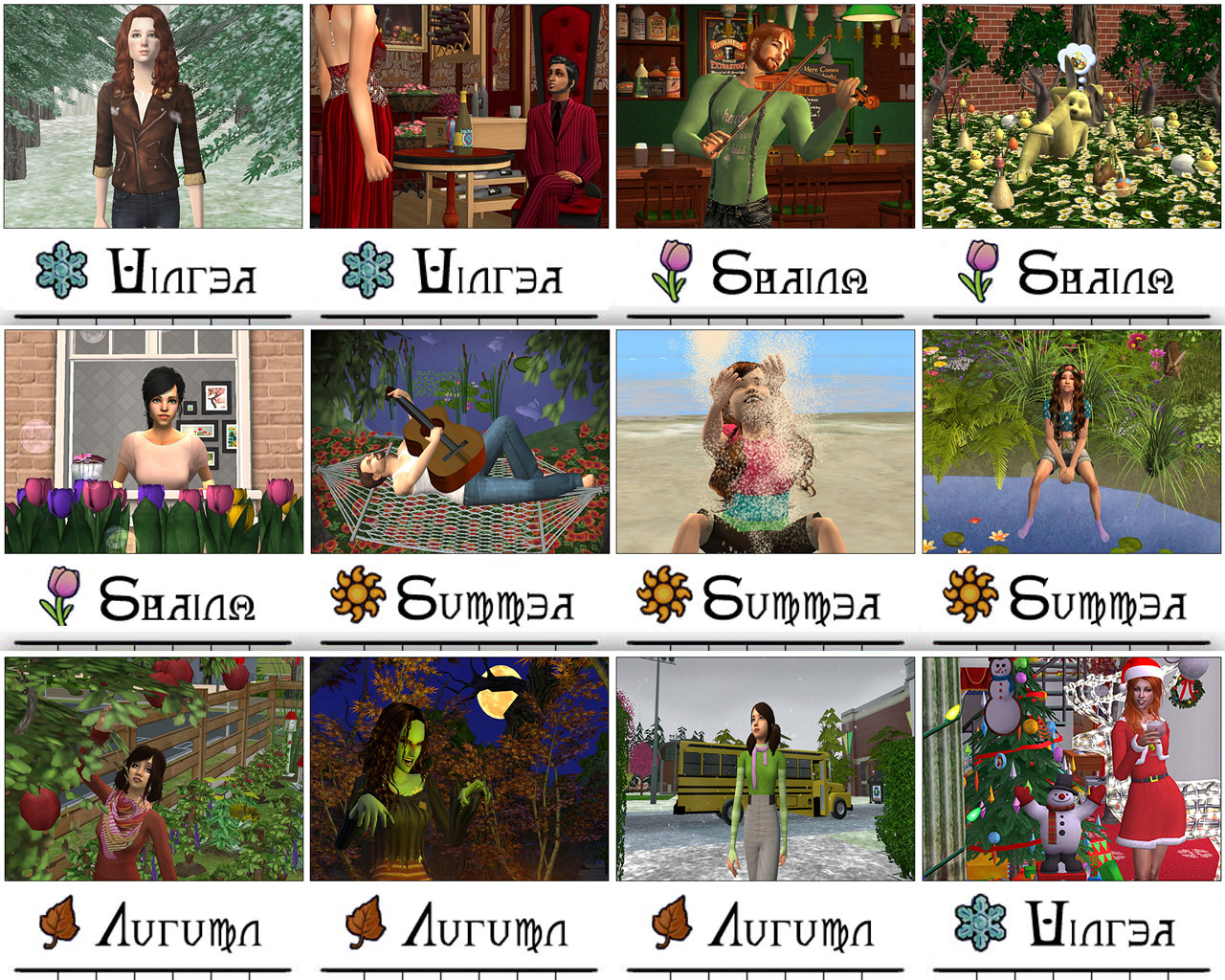 The 20 Day calendar is made for those of your with Seasons, where each season is 5 days long and your year is 20 days. As per last year's updates, this calendar does not need to be set at all. It will automatically set the day to the correct weekday (as does the 12 day one), the season to whatever season you happen to be in, and the picture to the day of the year. The 'year' starts at the top of the seasons UI, btw. In debug mode (testingcheatsenabled) you can change which day of the week it is and change the season to the first day of any season. This was done to help you sync your neighborhood up easier. It's a tad cheaty, so that's why its only in debug mode.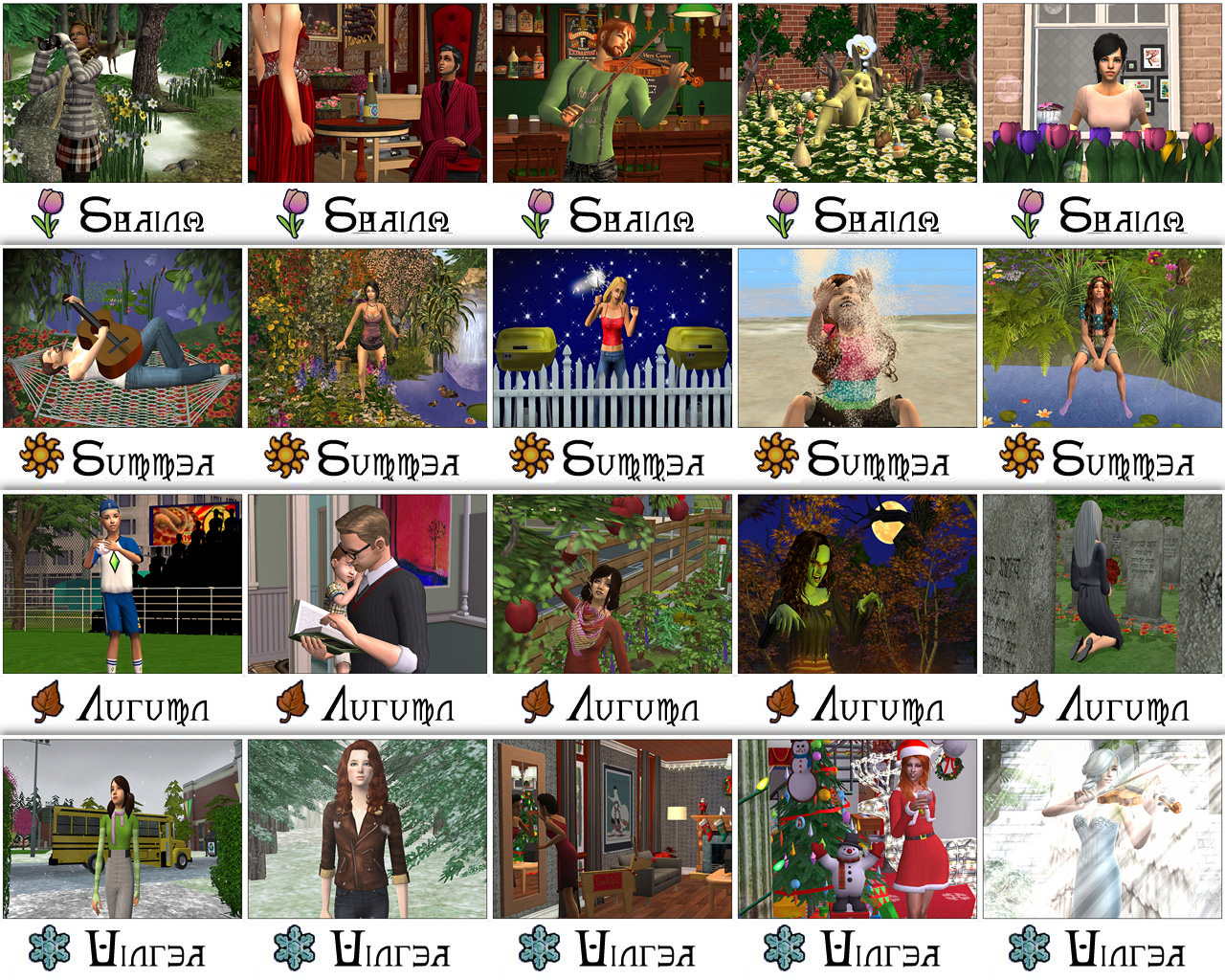 Additionally, I've also created a 20 Day calendar that includes Holidays! It is identical to the normal 20 Day calendar, but on 8 days throughout the year you will be notified via pop up message that today is a holiday and what that holiday is celebrating. It is entirely up to you to decide if you actually want your sims to observe the holiday, so it's pretty harmless. The holidays were created by doing some research on the TS3 holidays and then tweaking them, and adding in a few holidays that are already present in our games (with the Holiday Packs) and also a few things that many simmers share in common. MTS celebrates Great Ideas Day on April 1st, and every simmer whose played a Legacy or most other challenge knows you need a Founder to get started.
| Date | Holiday | Description |
| --- | --- | --- |
| Spring 2nd | Lover's Day | Today is Lover's Day! Love is in the air; make sure your sweetheart knows how much you care! |
| Spring 4th | Llama Fools Day | Today is Llama Fools Day! Pranks on llamas and pranks by llamas; don't fall for them or you'll be the butt of the joke! |
| Summer 3rd | Nation's Day | Today is Nation's Day! Today is a great day for getting outdoors having a grill-out and watching fireworks. |
| Fall 4th | Spooky Day | Today is Spooky Day! Ghosts and zombies witches and vampires - are they real or just the kids next door? |
| Fall 5th | Founders Day | Today is Founders Day! Appreciating grandparents and remembering ancestors; today is a day to be thankful. |
| Winter 3rd | Winter's Eve | Today is Winter's Eve! Make sure you have a tree and some cookies if you want Santa to come tonight! |
| Winter 4th | Winter's Day | Today is Winter's Day! Gift giving and spending time with family is what this day is about. |
| Winter 5th | New Year's Eve | Today is New Year's Eve! The best New Years' parties start at 8 so don't be late! |
It is up to you whether you intend to observe these holidays, or if different sim families celebrate different ones. I've found in my game Winter's Eve and Day gets celebrated if there are kids in the house and if not, then the adults celebrate New Year's Eve instead. Lover's Day has become a big wedding and engagement day, and the kids love Llama Fool's Day. How you play with these new days is up to you, and you can of course let some holidays go by unnoticed, like Flag Day, does anyone even know what month that is in?
Enjoy!
-Phae
P.S. Congrats to our winners!
Polygon Counts:
The calendars have 16 faces, super low poly to make up for the slightly larger texture files.
Additional Credits:
Jones
for hosting the
contest
, and the staff for judging.
Neder
for the
day changing code
.
Paladin's Palace
for the season changing debug code.
Inge
for creating the page flipping code on the
original calendar
.
Black Spirit
for the
day of the week code
.
Our lovely images were provided by (winners)
Gimbitmen
,
Charmful
,
Freelala
,
pizza
,
Vivitalia
,
Orchid
,
Peterskywalker!
,
tupelo66
,
Charmful
,
Phaenoh
,
PenelopeT
, and
Julie J
and (runner ups)
Klaartje
,
DragonflySecert
,
marli_juissi
,
loonieloose
,
leefish
,
IfIWereAZombie
,
Freelala
, and
peedieprincess
.
Packs Needed
None, this is Sims 2 base game compatible!
Other Information
Style
:
– Contemporary
– Not Applicable : None of the above
Room
:
– Kitchen
– Living : Living Room
– Dining : Dining Room
– Bedroom
– Study : Study/Office
Maxis Flags
:
– Not Applicable
Blurb and Updatez:
Please don't reupload my work anywhere else. Just point them back here, I'm not going anywhere! :)
Please ask permission before using my work as a base for your project. I almost always say 'yes' and often times I will help you with your project! :bunny:
If you make something (like a story or a video) and it has something of mine in it, send me the link, I love to see my stuff 'in action'!
Sadly, but honestly, I can't take on requests. You can ask if it's something already related to one of my current projects, but I'm not likely to take on your project for you. MTS has lots of wonderful tutorials ;)