>

Community lots/For when sims leave their houses/It's scary outside
Warner's Nursery & Landscape Co. - Flagstaff, AZ - NO CC
MTS has all free content, all the time. Find out how YOU can help to keep it running.
Tell me how...
2,729

Downloads
176

Thanks Thanks
58

Favourited
17,109

Views
Picked Upload! This is a picked upload! It showcases some of the best talent and creativity available on MTS and in the community.


Uploaded: 18th Apr 2015 at 2:19 PM
Updated: 3rd Jun 2016 at 4:20 AM - Requested Sim's-Eye View Photo
Not all real-world buildings are architectural wonders or tourist attractions- some are just the everyday businesses that allow our world (which doesn't have the benefit of a magical catalog that can deliver a nigh-infinite number of items to your home in a split-second) to function as needed. Furniture and appliance stores serve the needs of those who feel that a house without furniture isn't much use, home improvement stores provide the raw materials needed to construct a home, and for those of us who want to see some greenery out our windows, instead of just trampled dirt from the construction process, there are gardening and landscaping stores filled with all manner of beautiful flowers, shrubs, trees, and the decorations a truly exceptional garden will have as well.
My submission for this month's Green Living challenge is such a business. For a while now, I've wanted to design a Sim-owned gardening store, and rather than coming up with a completely new idea for the layout and design of a store like this, I took advantage of the fact that, since it's the right time of year for my real-world garden to be getting started, I'm spending lots of time at my local garden store, and decided to do my best to copy it over into the world of The Sims. With that said, take a look at the digital version of Warner's Nursery & Landscape Co., from Flagstaff, Arizona. (The business's website, in case any of you live in the area and decide to pay them a visit, is
http://warnercompanies.com/
)
While not a particularly striking building architecturally, the store is filled to bursting with plants of every color, and for every clime you can find in the area. The front entryway has a mix of various decorations, planters, and outdoor fixtures available (usually) at a discount, and then stepping inside the main building, you find a veritable jungle of indoor plants awaiting you. Under the greenhouse roofs in the center of the building, a number of freestanding displays show off all the room-temperature-loving plants your Sims could ever hope for, with even more greenery hanging from the roof supports crisscrossing the room.
On the righthand side of the building, you'll find a smaller portion of the room devoted to some of the smaller garden and patio decorations, for those customers who might not have acres and acres of outdoor property, but still want to add a little color to their flowerbeds. Various sculptures and animal feeders and homes are available, bringing just a bit more flair to a garden. Also on this side of the building is a small alcove for gardening supplies (fertilizers, rakes, shovels, and the like), and the entrance to the staff offices. In the office your employees will find several flower crafting stations and hydroponic gardens, allowing you to add even more variety (if you so choose) to the plants on offer in the store. The office area also includes a workspace for Sims who aren't actively working on any other projects in the store or garden.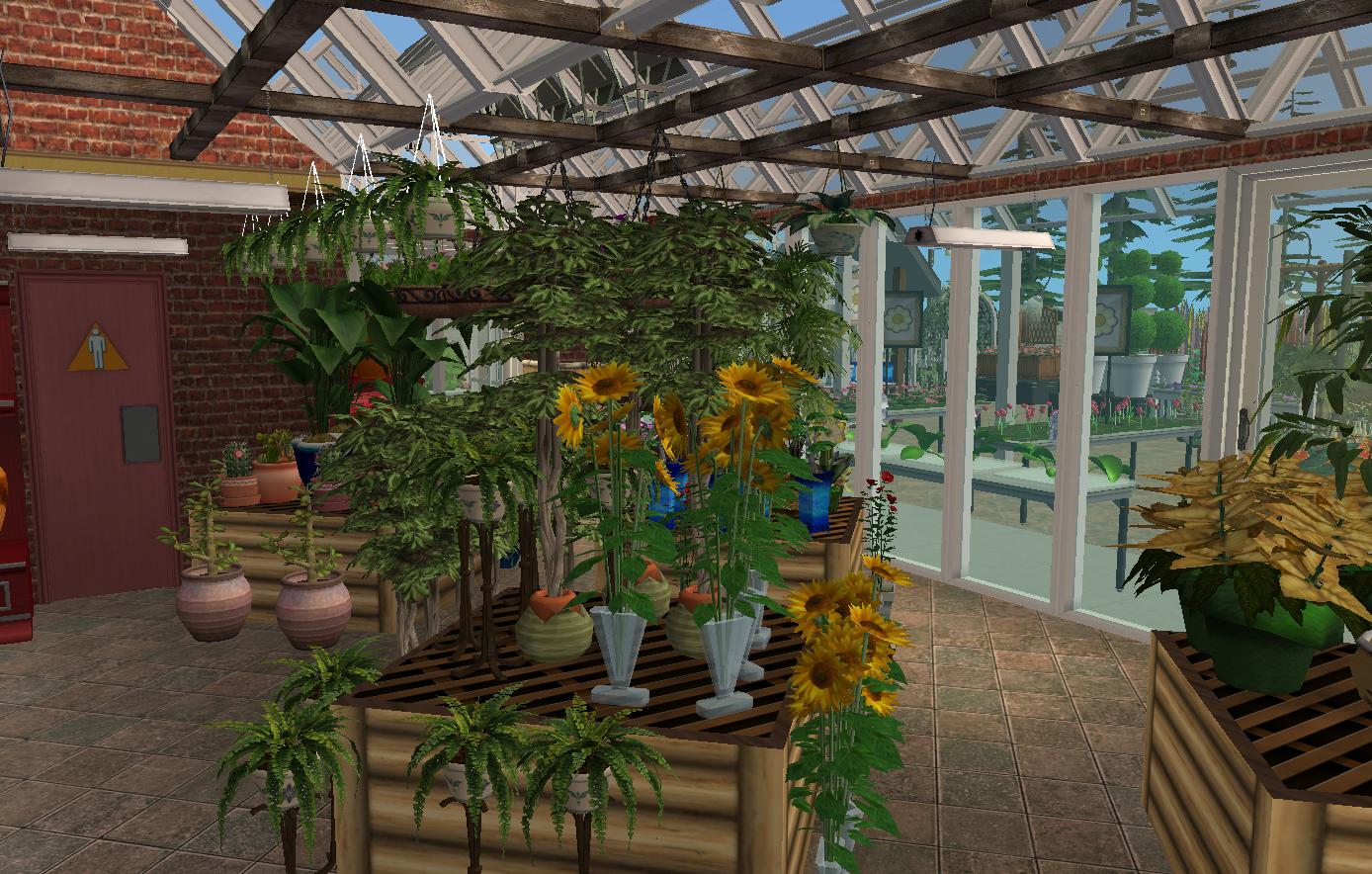 Just outside the main structure to the rear are several greenhouses, filled to bursting with larger, outdoor plants, as well as the containers Sims might want to use as planters for them. One section is devoted primarily to small shrubs and bushes, while the other is a riot of color with hundreds of floral blooms on display. Against the outside wall of the building, composting bins are available for Sims who want to create their own fertilizer instead of paying through the nose for industrially-manufacture brands, and more flowers and pots are also on display.
The patio area between the building and the large Koi pond is filled with larger plants and decorations for a garden area, so that whether you're creating an immaculately-trimmed formal garden, an overgrown vegetable patch, or a serene sculpture garden, you should have no trouble whatsoever finding what you're looking for. The pond is also a beautiful area in its own right, perfect for those times when one person is done with their shopping and wants a tranquil place to sit and wait for the rest of their party.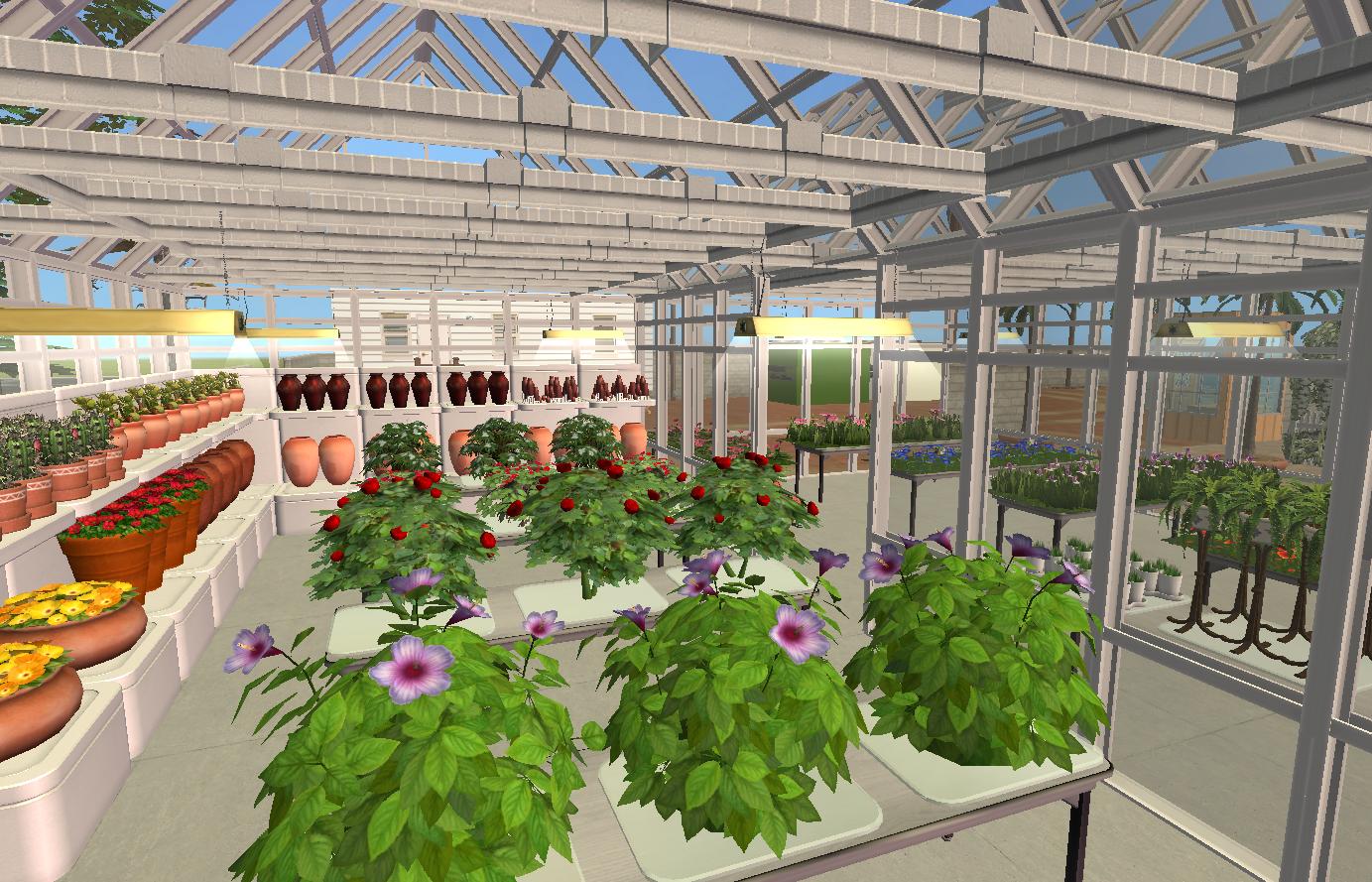 The rear of the lot is devoted to larger plants, in-ground shrubbery, and various trees, including several varieties of fruit-bearing trees for those Sims who want to get as much food as possible from their own garden. Several different sections offer a variety of shrubs, and rows of different trees mean that those whose garden dreams are a bit bigger than just a flowerbed will have no trouble finding what they've been looking for! A play area for those Sims too young to properly appreciate gardening is also found here, allowing kids something to do other than follow their parents around complaining about how bored they are!

The far lefthand side of the lot is a large dirt parking area, used primarily for landscaping and other large-scale tasks. Since there's no way to "sell" ground cover in this game, this area is mostly empty, but perfectly suited for any additional sales items you want your business to sell. At the moment, all that's on offer here is a new shipment of solar panels, perfectly suited for that brilliant Arizona sunshine. Several commercial sized dumpsters are also in this lot, and a small trailer serves as the office and breakroom for landscaping staff who are usually on assignment elsewhere in the city.
Between all the different plants and decorations available here, your Sims should no longer have any excuse for living with a lot that's anything less than spectacular! Time to break out the watering cans and give your Sims the garden they deserve!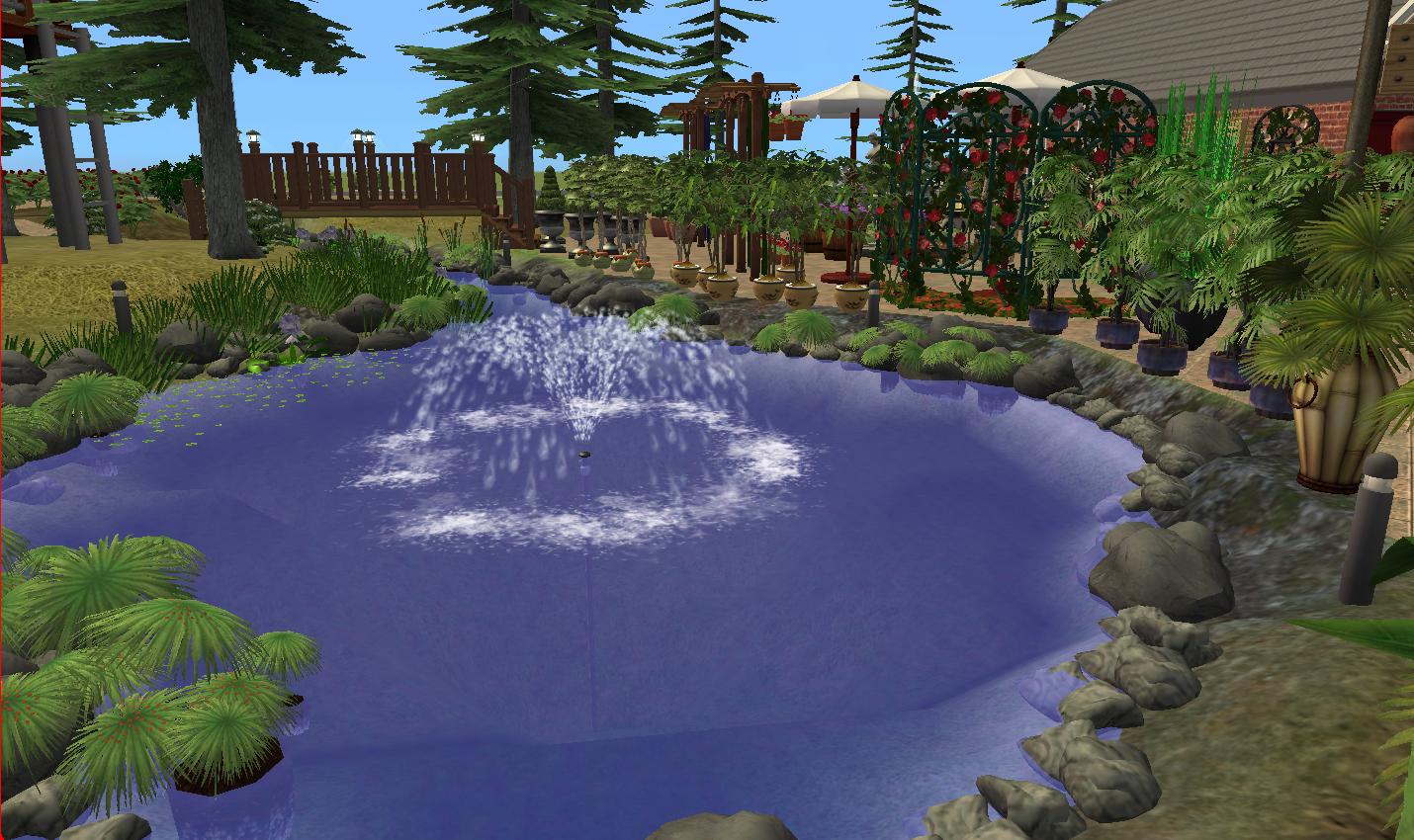 Now that the fun part is over, on to the technical and advice section of all my upload descriptions... This lot is (hopefully obviously) designed for a Sim to purchase it and run it as an owned community lot, since I don't believe there are any items that can be sold in a non-owned setup. It rings in at almost $400K, so you'll need to have a Sim with a rather sizeable bank account to afford it. As far as the items available for sale, I haven't tested all of them, since there's literally hundreds of items here, but with a few exceptions, if it LOOKS like you should be able to sell it, I think you SHOULD be able to! (The exceptions that I know of off the top of my head are those indoor plants that are on the stage-displays. I tried finding ways to set them up on tables or shelves, but nothing was really working there. Just to make sure there's still plenty for your Sims to sell indoors though, there are plenty of plants on the ground, or hanging from the supports as well. There are also plants out back that are inaccessible enough that selling them will be a headache, but since they're rendered inaccessible by other plants in front of them, you should have no trouble finding plenty of stock to sell here!)
My apologies for not providing a comparison shot, but the way the real-world building is nestled into the pines and the hill behind it makes getting a useful shot almost impossible, and while my reference photos from the design process were helpful to ME, they don't actually do much good when it comes to showing what the building looks like if you don't already know it! If you'd REALLY like to see my entirely inartistic and purely functional photos, I'll add them, but be warned- there's a reason why I don't take pictures often!
This is a large, and rather pricey lot (would you expect anything else from me at this point?

), but since it's mostly limited to one or two floors, lag is not much of an issue. I've playtested a clone of the lot and fixed all the major issues I encountered, but as per usual, if you find yourself running into any untoward problems, please let me know and I'll do what I can to address them. And with that, I'm done for this round! Enjoy!

Lot Size:
5x6
Lot Price (furnished):
$374,540
Additional Credits:
While not a perfect copy, this lot is very heavily based on Warner's Nursery & Landscape Co. in Flagstaff, Arizona (website link in the lot description above), so credit to them for the basic design and inspiration for the lot, as well as my thanks for allowing me to take reference photos as I was looking for my real-world garden plants for this season!
About Me
Sims? What are Sims? I almost always just use this game to create buildings!

You might call me a CC-atheist. While I'll use every cheat code in the book, I won't use anything that Maxis didn't ship with the game in one fashion or another. Ergo, you can rest assured that all my lots are CC-free.

Some creators describe themselves as constantly juggling projects. I suppose I do that too, except I'm really really bad at juggling, so I just throw lots of projects as high as I can, and sometimes forget all about them until they come crashing down on my head!

I won't *exactly* do requests, but since I pivot from lot to lot constantly, if there's a place you hope to see from me, there's a good chance that I've already started it! I make no promises, but feel free to ask about lots you want to see- you might inspire me to finish something!

My lots are my own work- I put a lot of effort into them, so have fun with them, use them for storytelling or making Sim movies, but please don't reupload them, in whole or in part, anywhere, including here on MTS!

One day I will rule the world with an iron fist and all will kneel before me.