Buy Mode

>

>

Dressers, children, party, and miscellaneous. Also, career & aspiration rewards are here, too.
MySims Trophies as Playable Dolls
MTS has all free content, all the time. Find out how YOU can help to keep it running.
Tell me how...
Hi,
I'm back with some more dolls for your sim kids.

Update:
Sorry it took so long, I've been having internet and computer trouble lately, but I managed a
new addition: Jenny!

All the dolls also work with the design tool now.
When I first saw the MySims Trophies I wished they were dolls the kids could collect and play with, or have as smaller deco objects without the pedestal bases. Now that I've learnt a bit about meshing I thought I'd make them.
I chopped off their bases, repaired their shoes and edited them to fit into the kids hands. To make things more interesting I decided to make them different sizes too.
The dolls are completely separate objects and don't actually change the MySim Trophies function in any way. You will have both the trophies and the dolls in your game and they won't conflict with each other or any of the other toys.
So, to start, here are Buddy, Goth Boy, Violet, her kid sister Poppy...and new additions Lyndsay and Jenny!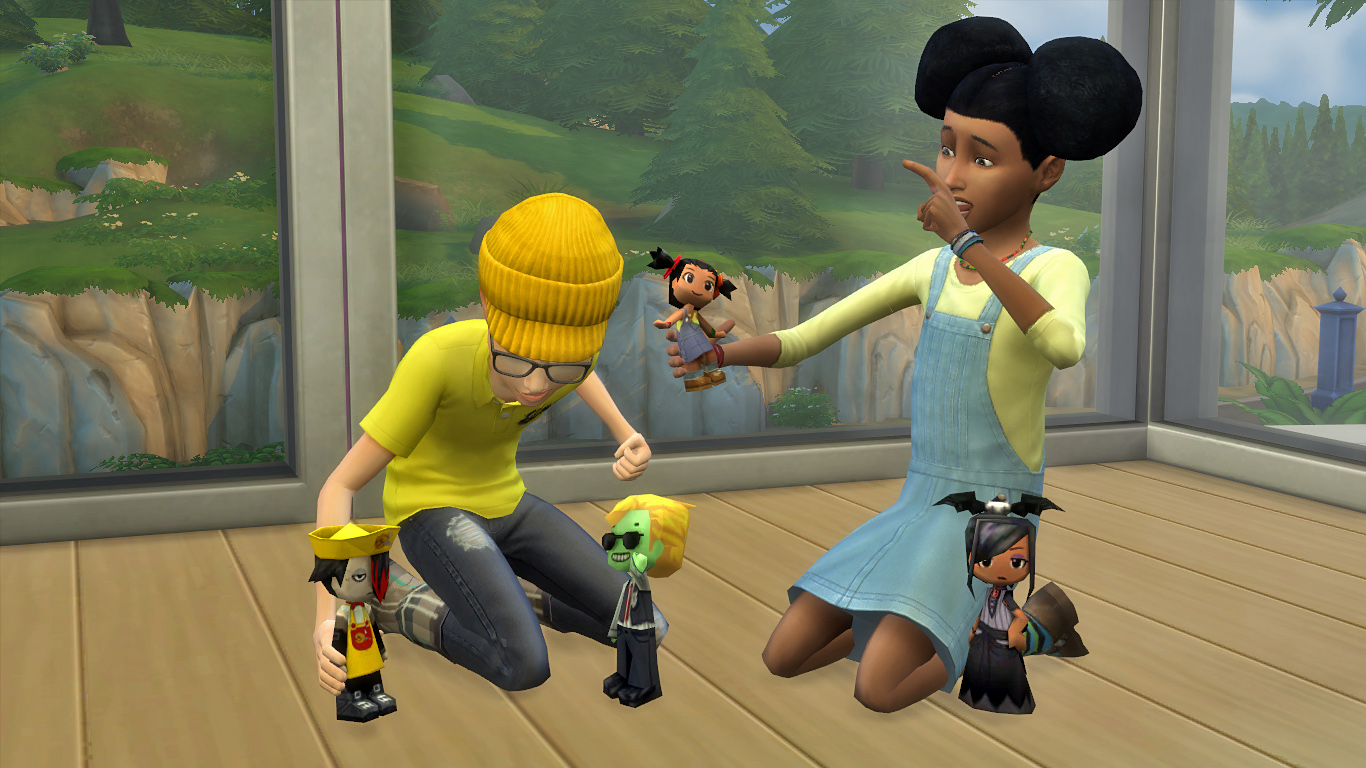 There are only six so far, these buggers are a little trickier to make so it's taking me a while. I know some of you have been wanting more dolls, and especially boy dolls too, so I didn't want to keep you and your simmies waiting to at least play with these so long. I'll be making more and adding them whenever I can, so keep a lookout for more

I've edited the speculars of each one so that they're not shiny, but have a normal doll texture instead. The only things I made shiny are their shoes, shades, jewellery, buttons, etc...whatever seemed appropriate to be shiny.
I gave each doll three skin tone recolours. Light, dark and alien skin tones.
I brighten and gave their hair and clothing more contrast and changed some of the colours when they worked better with certain skin tones.
They all have the proper sunshadows, but I decided against adding dropshadows. They really didn't do anything for these dolls anyway and I noticed that they don't enlarge with the rest of the mesh and were particularly dark, so you get a horrible black splotch in front of them. So, more useful without them if you'd like to enlarge and use them as deco dolls.
I made the polycounts as low as possible again and they are within the polycount range of the EA toys (the highest there being 738), so they shouldn't cause problems in your toy stores

(P.S.
If you'd like to use these as deco objects and don't want your sims to pick them up you can use the bb.moveobjects on cheat
:
With the cheat on, put the toy down where you want it (literally put it down), pick it up again and move it away. It will float. Hold down the alt key and move it back where you want it. Now your sims won't be able to "reach" it.
From what I've seen, they will complain about it only if you direct them to play or put it away, but will just ignore it when they're being autonomous.)
They can be found in the buy catalog under Kids/Toys:

- Buddy §125
- Goth Boy §200
- Violet §225
- Poppy §120
- Lyndsay §165

- Jenny §150

Enjoy!
Polygon Counts:
- Violet 462
- Buddy 450
- Goth Boy 448
- Poppy 439
- Lyndsay 470
- Jenny 443
Additional Credits:
Made with TSRW and Milkshape.
Special thanks to Sandy at Around the Sims for helping me find the texture files for them and helping with the design tool problem

Style: Childrens
Room: Bedroom Nursery
Maxis Flags: Not Applicable

Tags: #MySim, #Trophies, #Playable, #Dolls, #Kids, #Children, #Toys
Hi guys,
So sorry I haven't been here in so long. Haven't been doing so well, not ill from Corona, but it's been hard to get things done.
Going through my mods now...and wow, just about everything is majorly different..and I am majorly annoyed, lol! It might take a while, but I'll get it done!