Sims 2

>

>

New terrains for your custom neighborhoods & CAS screens
Shady Shores - A Small Mysterious Inhabited Neighborhood - No CC/BG Only (For Monthly theme of July - Around the World)
6,494

Downloads
232

Thanks Thanks
64

Favourited
37,487

Views

Uploaded: 31st Jul 2015 at 1:16 AM
Updated: 6th May 2018 at 3:57 PM
Hello everyone!
Once again, we were able to put together a small project for everyone! This project is also specifically created for the current monthly theme of July - Around the World! (How you ask? Well, almost all the Sims in this neighborhood are from a different ethnicity. Some recently moved in here from other places
around the world
.)

Welcome to Shady Shores!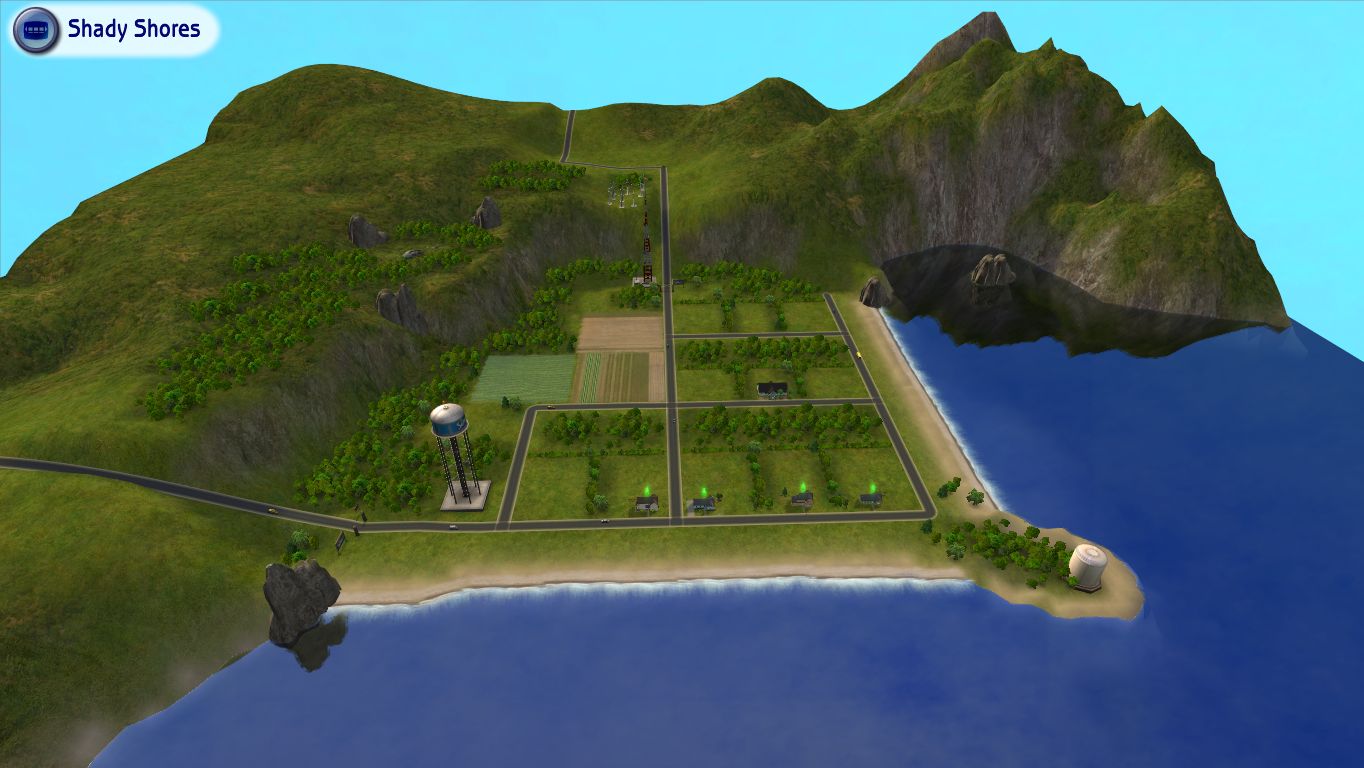 The Neighborhood Story is as follows:
Shady Shores is a very small town with a small population. It doesn't seem too inviting with it's small population, but the beautiful scenery sure is!

Just make sure you avoid contracting any form of illness or disease on your stay. Rumor has it that something isn't quite right about this seemingly quaint little town...
So, you might ask: What is going on? Is there anyone to blame?
No one knows for sure. It seems that something is causing almost all elders and adults to get ill and, eventually, pass away. It doesn't seem to be affecting the young ones... So far, the most probable cause of death is illness. So how are these once peaceful, healthy families contracting such a disease or virus? Can the 'leftovers' unite and figure out the answer? Or will their distraught emotions and anger get in the way of getting closure?

Further Information:
This neighborhood consists of four families. Each family consists of 8 Sims: 5 of which are deceased, and the remaining 3 are alive. Each household consists of an elder and two toddlers (twins). (A possible nightmare for some people!

)
It uses an edited Twikki Island SC4 terrain, so you won't be needing to install a camera mod. There is a total of five lots; four of which are residential, and one, the Shady Shores One Stop Shop, is a community lot.
This neighborhood has been created with Numenor's AnyGameStarter with no Maxis content, so there aren't any townies or any NPC. You have to generate them yourself if you want them.
All of the lots have been compressed with Mootilda's Lot Compressor.
Shady Shores is base game compatible and doesn't have any CC in it.
Install Instructions
For The Primary Hood Version:
1. Put the folder
SS01
into your
Documents\EA Games\The Sims 2\Neighborhoods
2. If you only have the
Base Game
installed, you have to copy the contents of the Storytelling folder into your
Documents\EA Games\The Sims 2\Storytelling
folder in order for it to function properly. Later EPs do not have this requirement.
For The Subhood Version:
1. Put the folder
BSS1
into your
Program Files\EA GAMES\The Sims 2 Open For Business\TSData\Res\NeighborhoodTemplate
Note:
If you have
The Sims 2 Ultimate Collection
, put it here instead:
Program Files\Origin Games\The Sims 2 Ultimate Collection\Best of Business\EP3\TSData\Res\NeighborhoodTemplate

In order to use the subhood template, please take note of the following:

-You need Mootilda's mods to fix the subhood selections, available
here
.
-To use Mootilda's mods, you will need
Pets
or a
later EP/SP
installed.

However, if you don't have
Pets
or a
later EP/SP
installed, you can temporarily remove Bluewater Village (B001) from the NeighborhoodTemplate folder and move this subhood in there. It will still be referred as Bluewater Village in the game. But the game will add Shady Shores to your neighborhood. Restore B001 after adding the subhood and you're done.
Additional Credits:
Numenor for his
AnyGameStarter
which we used to make this neighborhood base game compatible and empty.
Mootilda for her
Lot Compressor
which we used to compress all of the lots and for her helpful HoodChecker
HoodChecker
(to see whether there are any problems or not).
Compressjpeg.com
for compressing the size of the required images for the download page.
The makers of SimPE.
Packs Needed
None, this is Sims 2 base game compatible!
Tags
#Shady, #Shores, #Shady Shores, #Small, #Neighborhood, #Inhabited, #Shore, #themeworld, #Hood Building Group, #No CC, #chaotic, #mysterious, #BG only, #base game compatible