>

New terrains for your custom neighborhoods & CAS screens
Polgannon - A Complete Story Neighbourhood Whodunnit?
MTS has all free content, all the time. Find out how YOU can help to keep it running.
Tell me how...
9,856

Downloads
309

Thanks Thanks
141

Favourited
88,890

Views
Picked Upload! This is a picked upload! It showcases some of the best talent and creativity available on MTS and in the community.

Uploaded: 21st Aug 2015 at 11:58 PM
Updated: 4th May 2022 at 1:18 AM
Before We Start
Please read the installation instructions (Installation tab) carefully for this download. It is not simply a case of dumping everything in Downloads.
Also please take note of the issues and warnings section on this download page so that you are aware of potential problems which can be easily avoided. I put a lot of the information under spoiler tags since there is a hell of a lot for a single thread.
There's a lot more information about the sims and lots in the comments. Also, there's a list at the bottom of this page of successful solvers.
Update 13 September 2015
- 2nd edition of the neighbourhood released and is now the version of the file available here. Only the neighbourhood file is affected, custom content remains the same. Changes include: SimDNA files for some brown eyed sims corrected; LTW for Tamara corrected; Golf Club lot description added; James Penhaligan's name is now spelt correctly; some corrections to parts of the story including one story picture replaced; other minor adjustments.
Also, the files for the extra families have now been moved to Sims File Share and are available here:
Edgcumbe
,
Kestle
and
Grenville
. Please see bottom of post
six
in the comments section for details.
Update 11th December 2015
- 3rd edition of the neighbourhood file is now available for download. Only the neighbourhood folder is affected, downloads remain the same. Fixes include: two statement pictures in Ruan's story updated to show correct information and appearance; reset the marriage status of all married couples to try and combat a problem reported by some players that couples had the 'propose marriage' option even when otherwise showing as married; some minor tinkering with physical evidence and a couple of furniture placement issues corrected.
My policy for Polgannon
My normal policy is to allow people to share what I make freely (though no pay sites). However, Polgannon is an exception to this rule. It is a large and complex piece of work and it took me a long time to write it. As such, I would prefer not to see Polgannnon shared on any other website than this one and also I will not give permission to convert Polgannon to other uses such as making it into sub-hood or gender-swapped versions. I just don't feel that would be appropriate for what it is. Please respect my preferences here.
Having said that:
This just in: read all about it!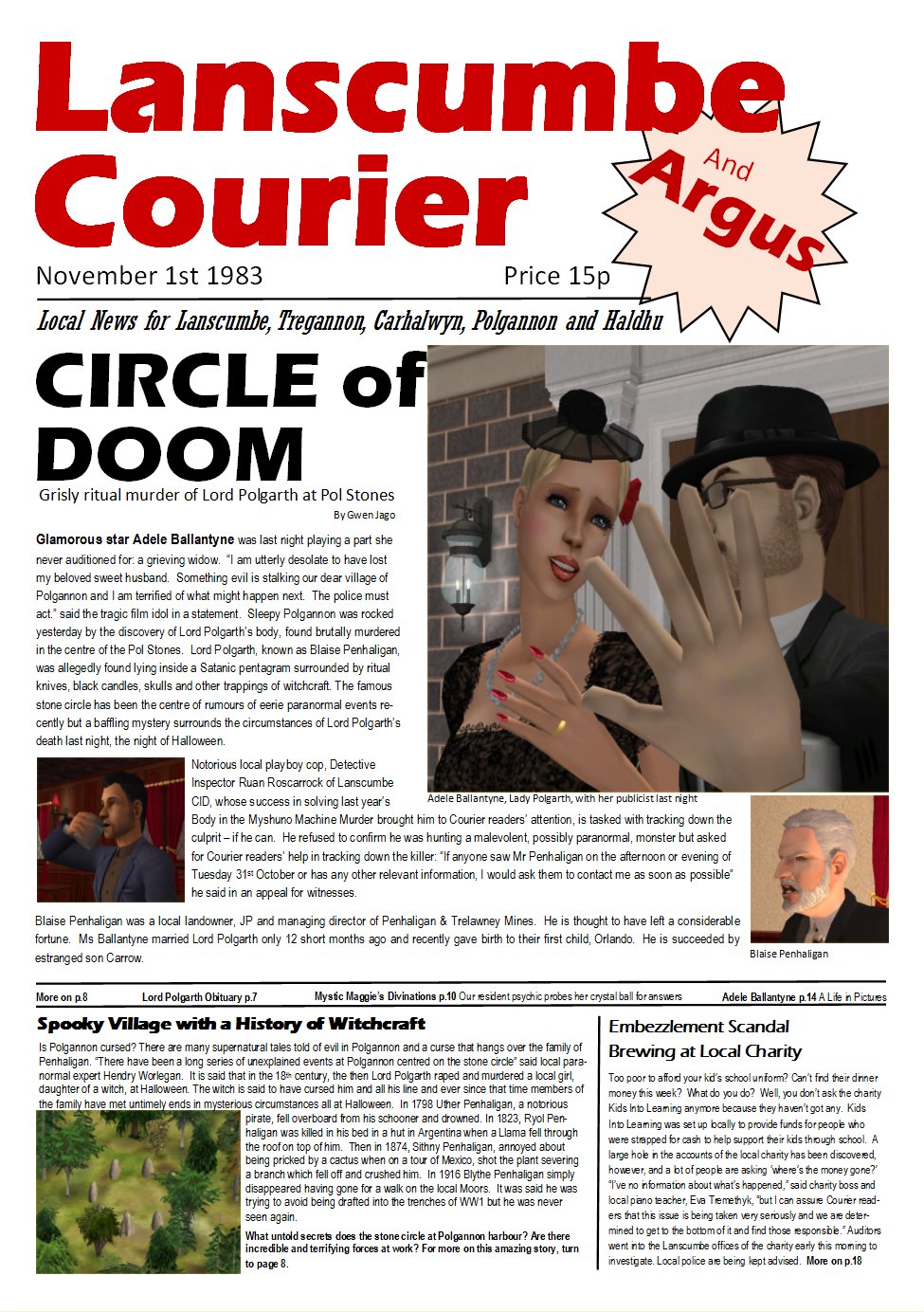 -------------------------------------------------------------------------------------------------------------------------
Blaise Penhaligan has been found brutally murdered - can you solve the mystery that surrounds his death?
What is this?
This is a complete neighbourhood for you to play. It is based around the idea of a typical murder mystery from the Golden Age of murder mysteries and thus it has elements lifted from Agatha Christie, Dorothy Sayers, Josephine Tey, Margery Allingham, Ngaio Marsh and all the rest I could think of (now you know my bedtime reading). I have included practically every whodunnit character cliche I could think of. This is why I wanted to build the neighbourhood in the first place. I wanted to see if I could write a COMPLETE mystery story with a murder, background, motives, character and detectable solution. I am quite pleased with the result, it is not perfect but I have achieved the goal I set myself.
So the neighbourhood encapsulates the first part of a murder mystery story. You have characters, their backgrounds, their histories, loves, jealousies, rivalries and life problems. You can find out how they came to be here in Polgannon and where they might be going. Though where they actually go is up to you since what we have here is effectively the first half of a murder mystery. Blaise Penhaligan is dead but no-one knows who killed him (except me, of course). The idea is, you can find the answer to that by playing out the sim's lives and finding the solution. I would say ...
There are two approaches to playing it:
1. you can play it like any other downloadable storied neighbourhood: get to know the sims resident here and play out their lives. Make your own mind up how Blaise Penhaligan came to meet his fate and let life go on from there. I hope you would find it interesting and enjoyable.

OR

2. you can set out to solve the mystery. Because, you see, there is one.
Or both, maybe.

Solving the Mystery
If you decide you want to play detective, you can attempt to solve the mystery - Blaise Penhaligan has been murdered and one of the residents of Polgannon did it. That's your starting point. There is a solution - it's just not obvious what it is and if you want to know, you'll have to work to find it (I bet someone gets it in 5 minutes). There is information and clues scattered all over the place. You will need to explore family stories and pictures, sim memories, sim bios, the neighbourhood story and more. I'm thinking you will probably need to take notes (see the documentation section in the comments for 'help' here). There are motives galore for bumping off the odious Blaise and more alibis than you can shake a stick at. And there is evidence - lots of it - though sometimes this is not clear. It's up to you to work out what information you can trust and what information is a load of old Cornish pasty. The point is though, which alibi doesn't hold up? Who was it who snuck up to Polgannon stone circle at Halloween and stabbed Blaise Penhaligan squarely right between the shoulder blades?

Information sources and 'reading' the story
If you want to play it this way, I would suggest starting with DI Ruan Roscarrock* who is a policemen investigating the case. He is staying temporarily in one of the apartments called Boathouse Lets - they are normally meant to be rented out to holiday-makers. Incidentally, there is a holiday-maker living in the next door apartment (Margaret James) who is so intrigued by the local mystery that she has decided to investigate the crime herself. DI Roscarrock has important information in his family story - his story consists of statements from all the residents of Polgannon about what they were doing on the afternoon Blaise was murdered and I'd suggest it's a good idea to find out what everybody said as your starting point (the pictures tell you who it is making the statement). Margaret has also been doing some investigating locally and has been writing to her friend back in London about it (it's in epistolary form). So her family story also has some interesting and useful information. Beyond those two, you will also find a statement by Constable Warne in the Warne family story.

Apart from these there are also various other sources of information. In particular there are items in the family stories that I have called 'gossip'. These are meant to be the inhabitants of Polgannon talking to each other after the murder and can be distinguished by the fact that they have face icons in the pictures (example below). The face icon on the left is the person speaking and the face icon picture on the right is the person being spoken to (you will always find the gossip panel in their family story). Gossip panels are always at the end of the family stories while the beginning of the story will have a brief history of the family in chronological order (as you normally would if you use this feature). There is some information in the family lot descriptions about each sim's background. Finally, in the sim's individual bios you will find a series of 'thoughts' (rather than a personal bio) - these are recent thoughts which have passed through that particular sim's head. Does anyone betray themselves?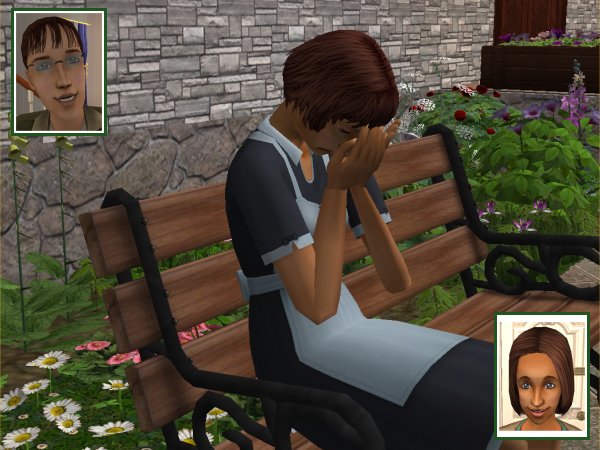 Quite a lot of the information at any given point is incomplete and you will have to hunt elsewhere to find the rest of it. Some people might not like this sort of thing. However, please bear in mind that what I set out to do was write a story using the game. If you don't like all the information, feel free to delete it and adapt the neighbourhood to suit your preferences.

That's my guidance. After this, you're on your own.

It is three days since Blaise was murdered when the neighbourhood opens: a wet Friday 3rd November. It's 6am and everyone is just starting their day. (Polgannon is set up to play rotationally but you don't have to do this).

* I may have gone a little overboard with the Cornish names. Just a little.


Solution
At some point, I will gather all the stuffs I wrote as I made this neighbourhood and compile all the bits of information into one file and make it available for download. This should (in theory) allow you to see who actually did it. However, this will not be soon since I am a. overwhelmed with the amount of work making this neighbourhood took and b. generally very busy (I have a demanding job). Needless to say, the solution is not stated directly in any of the neighbourhood sources of information.

However, if you think you have solved the mystery, you can PM me. I will simply laugh at guesses so don't send a PM saying "it was X, I know it! They have shifty eyes" - you'll need to tell me:

Who you think the culprit is
Why (what's their motive?)
What evidence you have to show they did it

If you're right, I'll tell you.
About Polgannon
Polgannon is built on a custom neighbourhood map. I was attempting to create a sense of place from a visit I made to Cornwall a few years ago. Polgannon is a village tumbling down the steep coastal margin of northern Cornwall towards the sea surrounded by isolating and bleak moors. You will find 37 living sims (plus several dead ones including Blaise), 3 cats and 3 dogs in 17 families with 24 lots (a mix of residential and community) in Polgannon - all unique to this neighbourhood (see first few posts of the comments thread for pictures and more detail). There are four townies plus 2 NPCs (a driver and a landlord). I resisted the urge to include a Chinaman BTW. Polgannon was built in an otherwise empty AGS environment, so initially, that's all the sims you get. There are no sub-hoods, no universities, no downtowns, no shopping districts and no vacation destinations - you can add those yourself.
Issues
You will need all EPs and SPs to play. If you don't have all, you may find stuff missing from lots or lots that won't load - there is nothing I can do about this. If you are missing an EP, it's likely Polgannon won't load at all. If you have missing SPs, you will find stuff missing in lots but you will possibly be able to load the neighbourhood. This neighbourhood wasn't made with the Store Edition.
The neighbourhood has been checked with the Hoodchecker and is clean.
First Load
On first load in a regular neighbourhood slot in game, the game will generate some of the hidden sub-hoods because they are at present not loaded. The game will load pets, magic, exotic destinations and various other stealth hoods (unless you have modded your game to prevent this). What it is doing is adding NPCs and townies to your version of Polgannon. This means the initial load will be slightly longer than usual as the game copies the files and folders. There is nothing wrong with the neighbourhood.
NPCs and townies
Your game will also generate NPCs as you play. What I tried to do was keep the download file size to an absolute minimum. Although I have play-tested the neighbourhood and had it play-tested by others, the version of the neighbourhood files you will get has only been played for a very short time in order to prevent the game from generating any extra sim files. Thus, there are very few NPCs in the files (there's a driver and a landlord). As you play, your game will generate these NPCs as needed (if you have the no-regen hacks, it will only generate those it actually needs). So you will find that the first time you play a lot through the morning hours, the game will make a newspaper girl/boy and a post-person. This may cause some lagging as you start to play the neighbourhood though it will not last forever - once the NPCs are there, the lagging will go away.
Lots
Many of the lots have been fiddled about with Mootilda's Lot Expander. As a result, I strongly recommend that you DON'T try to move them around. They won't go back if you do.
Recommendations
Polgannon is a complicated neighbourhood and there are large lots - it is NOT recommended for smaller, less powerful machines.
Polgannon could make a decent stab at winning the Most Beautiful British Town Gardening competition. There are a lot of plants. To keep the gardens looking like they should and to avoid too much gardening gameplay, you might consider 'Perfect Plants' and 'Perfect Gardens' from Simbology

Church Stuff
Versatile Headstones and Tomb by Gromit
http://www.modthesims.info/d/93440
CPDesign_CelticCrossGrave01
CPDesign_ObaliskGrave01
CPDesign_Tombx001

Eric at http://www.insimenator.org/ - Cemetary Theme Set - no longer available at Insim
HeadStone - Celtic Cross - MaxisBase
HeadStone - Cross — MaxisBase
HeadStone - Cross2 — MaxisBase
HeadStone - Housetop - MaxisBase
HeadStone - Housetop2 - MaxisBase
HeadStone - Roundtop - MaxisBase
HeadStone - Roundtop2 - MaxisBase
HeadStone - Roundtop3 — MaxisBase
HeadStone - Roundtop4 - MaxisBase
HeadStone - TallPoint — MaxisBase
HeadStone - TallPoint2 - MaxisBase
HeadStone - TallPoint3 - MaxisBase
HeadStone - TallPoint4 - MaxisBase

St. Pantaleon's Cemetery - 3 New Ornamented Tombstones by Jon119 http://www.modthesims.info/download.php?t=304880
JB-Gravestone-CeltCrossN
JB-Gravestone-FlowersN
JB-Gravestone-PeaceDoveN

Medieval Font by Rebecah
http://www.affinitysims.com/IPB/fil...-medieval-font/
BecksFontSinkNoEP

Pulpit from Church Set by DBCAB
http://modthesims.info/d/183075
dbcabpulpit002

Sims Design Avenue - site long since gone but SimsFreaky at Sims Cave kindly uploaded all the SDA sets here: https://www.mediafire.com/?z4j2258mijg31
Lithium_eglise_chandelier
Lithium_eglise_ensemble_ostensoir_calice
Lithium_eglise_fenetre_clocher
Lithium_eglise_fenetre_clocher_diagonal
Lithium_eglise_tombe_1

Floors
All by me

Misc
Invisible Fishing Pond by netmicro
http://www.modthesims.info/d/231324

From the Halloween Party Set by Sandy
http://sims2.aroundthesims3.com/obj...tdoors_010.html
ATS2_obj_halloweenparty_poison

Recolour - OFB-chair salon in 13 recolors by Leehom513
http://modthesims.info/d/224552
chairsalon-red

Recolour - Base Game Dining Chairs - Part 1 by Michelle
http://modthesims.info/d/504284
ContempoPennStationSideChair-ALDarkwood-ByMichelle

Ancient ceremonial dagger from Fairy Forest
http://www.feenwald.de/en/deko/skulpt_dolch01.php
FW-ODS-Dolch01_Dagger

Invisible Iron Fence by pfish
http://modthesims.info/d/179868
Invisibleironfence

Soft Recolors of Maxis Expensive Curtains by Kims*Designs
http://modthesims.info/download.php?t=247211
KC_maxis_expensive_curtain_aquafloral

Invisible Driveway & Extensions by roddyaleixo
http://www.modthesims.info/download.php?t=90875
rdrglx_invisibledriveway

shinysims_classroom_blackboard
site gone

Tatiana's Art Gallery - Winter Palace Portraits by Tatiana Dokuchic
http://modthesims.info/d/257929


Plants
My Big Hydrangea by Reica15
http://www.modthesims.info/download.php?t=228888
ajisaiR15murasaki
ajisaiR15siro

Gwenke at http://sims2artists.com/index.php?topic=3402.0
Gwenke_EA-BG_rec_HP_MidbiscusRecol-dark
Gwenke_EA-BG_rec_HP_MidbiscusRecol-olive
Gwenke_EA-BG_rec_HP_MidbiscusRecol-silvery
Gwenke_SLAVEmesh_HP_ShrubbyS_Large_seasonal
Gwenke_SLAVEmesh_HP_ShrubbyS_Small_seasonal
Gwenke_SLAVEmesh_MidbiscusLarge_seasonal

Birch Spriglet by Khakidoo
http://modthesims.info/download.php?t=229383
KhakidooBirchShrubbyLarger
KhakidooBirchShrubbyr

Shrubby Shrubs! by HP
http://modthesims.info/d/249847
OMESH_ShrubbyShrub-Jumbo_HystericalParoxysm
OMESH_ShrubbyShrub-Medium_HystericalParoxysm

Buyable low poly grass by lethe
http://modthesims.info/d/202811
lethes-grass-dark
lethes-grass-thin
lethes-grass-thindry
lethes-mesh-clumpgrass

Stockrose by Sabine
http://sim2me.de/
sim2me_stockrose4_MESH
sim2me_stockrose4_r02
sim2me_stockrose4_r03
sim2me_stockrose4_r04
sim2me_stockrose4_r05
sim2me_stockrose5_MESH
sim2me_stockrose5_r02
sim2me_stockrose5_r03
sim2me_stockrose5_r04
sim2me_stockrose5_r05

Wildflowers by Gwenke
http://sims2artists.com/index.php?topic=3361.0
all
Gwenke_WildAnemone_seasonal_MESH
Gwenke_WildAnemone_seasonal_rec01-blue
Gwenke_WildAnemone_seasonal_rec02-purplelt
Gwenke_WildAnemone_seasonal_rec03-yellow
Gwenke_WildAnemone_seasonal_rec04-pink

Gwenke_Cornflower_seasonal_MESH
Gwenke_Cornflower_seasonal_rec01
Gwenke_Cornflower_seasonal_rec02
Gwenke_Cornflower_seasonal_rec03
Gwenke_Cornflower_seasonal_rec04
Gwenke_CornflowerScattered_seasonal_SLAVE

Gwenke_ForestFoxglove_seasonal_MESH
Gwenke_ForestFoxglove_seasonal_rec_01white
Gwenke_ForestFoxglove_seasonal_rec_02yellow
Gwenke_ForestFoxglove_seasonal_rec_03purple
Gwenke_ForestFoxglove_seasonal_rec_04ltpink

Gwenke_MaidenPink_seasonal_MESH-master
Gwenke_MaidenPink_seasonal_rec01
Gwenke_MaidenPink_seasonal_rec02
Gwenke_MaidenPinkScattered_seasonal_SLAVE

Gwenke_Verbascum_seasonal_MESH
Gwenke_Verbascum_seasonal_rec01
Gwenke_Verbascum_seasonal_rec02
Gwenke_Verbascum_seasonal_rec03
Gwenke_Verbascum_seasonal_rec04

Dandelions!! by raynuss
http://www.affinitysims.com/IPB/fil...624-dandelions/
RDN_DandelionPatch1_MASTER_Mesh
RDN_DandelionPatch2_slave_Mesh

http://www.affinitysims.com/IPB/files/file/1630-fit-for-a-queen/
RDN_QueenAnneLace1_Mesh_Master
RDN_QueenAnneLace2_Mesh_slave

http://www.affinitysims.com/IPB/files/file/1631-fresh-as-a-daisy/
RDN_ShastaDaisy_Mesh

Rock Collection by Nengi65 - Nengi's Box account not currently working
N65_RockCollection_ScatteredRocks_MasterMESH
N65_RockCollection_StandingStone01_SlaveMESH
N65_RockCollection_StandingStone02_SlaveMESH

Shopping Street
Bakery
max_DecraChill_Yellow
max_halfDecra_yellow
max_pedastal_yellow
max_roedisplay_yellow
max_yellowthing
all by me

Antique Bakery Set by mdhttr323
http://www.modthesims.info/download.php?t=163210
AntBigChip
Antbreadspread
AntbreadspreadMRye
Antbreadsticks
AntCheesecake
AntCheesecake2
AntCheesecake3
AntCheesecake4
AntCheesecake5
AntCheesecake6
AntCookies
AntCookies2
AntDBLLoaves
AntDBLLoavesRaisin
AntDBLLoavesSesa
AntDecoAllegro
AntHalfDecra
AntHalfDecraDarkwood
AntJamSampler
AntJamSamplerMRye
AntMultiBread
Antrolls
AntTurn
AntWallShelfFlour
AntWallShelfJam
AuntieKsDonuts
AuntieKsDonuts2
DecraDecoBasket
DecraDecoBiscotti
DecraDecoCans
DecraDecoCookies
KDAntHighMenu2
KDAntHighMenuFrame
KDAntMenuN
Minicake
MinicakeCCreme
MinicakeChoco
Minicakegreen
MinicakeVanilla
Splitloaf

Hairdressers
"Chloe Coiffure" hairdresser shop set By Maylin
http://www.modthesims.info/download.php?t=298197
Maylin-chloe salon-Magazines-160708
Maylin-chloe salon-Magazines-Recolor01-160708

Pharmacy
Personal Care Products by Crocobaura
http://www.modthesims.info/download.php?t=181121

Pharmacy Items by Crocobaura
http://www.modthesims.info/download.php?t=189931

Pharmacy Stuff part II by Crocobaura
http://modthesims.info/d/192160

Crocobaura_Pregnancy Test
Crocobaura_Soap
Bottle_of_Pills
Cold_Pills
Cold_Pills_Generic
Cold_Pills_Panadol Baby
Cold_Pills_Panadol
Crocobaura_Body_Moisturizer
Crocobaura_Deodorants
Crocobaura_Face_Lotion
Crocobaura_Mouthwash
Crocobaura_Pamprin
Crocobaura_Pregnancy Test
Crocobaura_PreparationH
Crocobaura_Shampoo
Crocobaura_Toothpaste
Crocobaura_Xanax
Fastum_Gel

max_soap_blue
max_soap_lavender
max_soap_lemon
max_soap_rose
max_soap_unscented
by me

Pharmacy Set By Mummysim at SimsDivine. Site gone.
deepheattreatment_ms_MESH
Magic Wind_MESH_ms
vitaminsmsapril17_MESH
Wax strips_MESH_ms

Simpax Feminine Products by NikkiBailey
http://www.modthesims.info/download.php?t=58501
nikkibailey-feminineproducts-042205

Pub
Brasserie set by Sandy
http://sims2.aroundthesims3.com/obj...wntown_004.html
atssandy_obj_brasserie_decotable001

Irish Pub by Sandy
http://sims2.aroundthesims3.com/objects/downtown_001.html
atssandy_obj_irishpub_bar001
atssandy_obj_irishpub_bottlebeer001
atssandy_obj_irishpub_decorativebottles001
atssandy_obj_irishpub_decorativebottles002
atssandy_obj_irishpub_diningtable001
atssandy_obj_irishpub_glassbeer001
atssandy_obj_irishpub_hangingbottles001
atssandy_obj_irishpub_painting001
atssandy_txtr_irishpub_brasserieisland
atssandy_txtr_irishpub_decorativebottles001_more
atssandy_txtr_irishpub_glassbeer001_more
atssandy_txtr_irishpub_hangingbottles001_more
atssandy_txtr_irishpub_painting001_guinness001
atssandy_txtr_irishpub_painting001_guinness002
atssandy_txtr_irishpub_painting001_guinness003
atssandy_txtr_irishpub_painting001_guinness004
atssandy_txtr_irishpub_painting001_guinness005

Sims2 GARA's Boutique
http://oldbbs.ali213.net/viewthread.php?tid=1785439
GR_tableendbarrel01

Whisky bottles By Phelana
http://www.meshkiste.de/00000099780f5670c/index.html
Phel_whisky-sammlung-o112o5

Stylist Sims (archive)
http://www.4shared.com/archive/TwaC3hna/stylist_sims_toronto_cigarette.html
stylist_sims_toronto_cigarettes_mesh.package

Retail Sims
http://www.retailsims.com/OFB_Shops...afe/Lemons.html
WR_Lemons_GlassOfLemonade_12-15-08

Decorative Cash Register by Miaokitty
http://www.modthesims.info/download.php?t=270768
Miaokitty_Cashregister_DecorativeMESH

Skins
SourPussy's Unbeauty Parlour Wrinkles - by Sleepy Tabby
http://modthesims.info/d/527927
Sourpussy_Wrinkles-Brow-Deep
Sourpussy_Wrinkles-Brow-Light
Sourpussy_Wrinkles-CrowFeet-Deep
Sourpussy_Wrinkles-CrowFeet-Light
Sourpussy_Wrinkles-CrowFeet-Medium
Sourpussy_Wrinkles-Forehead-Deep
Sourpussy_Wrinkles-Forehead-Light
Sourpussy_Wrinkles-NasalBridge-Deep
Sourpussy_Wrinkles-NasalBridge-Light
Sourpussy_Wrinkles-Nasobial-Deep
Sourpussy_Wrinkles-Nasobial-Light
Sourpussy_Wrinkles-Smirk-Deep
Sourpussy_Wrinkles-Smirk-Light

Disemporium - clothing: service sims by Di at Disemporium
http://disemporium.dreamwidth.org/9716.html
Police_Helmet_MESH_Dicreasy
PoliceHelmet (black hair only)
Uniform_Tunic_MESH_Dicreasy

max_PoliceUniformTraditional (me)

max_GodsKnickers2
max_VicarSkin
(me too)

Street Furniture by Maylin
Maylin-DecorativePostBox-071107
http://modthesims.info/download.php?t=257399
Maylin-DecorativePublicPhone-311007
http://modthesims.info/download.php?t=255454


Walls
All by me

If you don't like downloading extra CC (and I know this is an issue for some), you should know that the neighbourhood has been destruction tested and it will mostly load without CC in place (though it looks bloody odd). Leaving out CC will affect the atmosphere, appearance or functioning of Polgannon. Some of it is minor, some of it will make a big difference. If you don't want all the CC that comes with the neighbourhood, that is up to you but my advice is to pay attention to these items in particular and do something about them if you want the neighbourhood to be workable and look finished.

Invisibleironfence - the layered High Street/Moonraker's Inn arrangement will not work properly without this

Plants. They were used extensively in every lot build. You can leave them out for the most part without problem but you're going to be going round the entire place and removing a lot of EAxis stuff. However, two lots will sometimes crash without the CC present (the High Street and Boathouse Lets). I think it is because the game struggles to substitute the original items for the CC. Specifically, two pieces of CC seem to cause trouble - that is the Anemones and Small Shrubby Shrub by Gwenke. I think it is because they are slave meshes. I can't see anything wrong with the files and the crashes happen at some times but not others. I recommend always playing the neighbourhood with the requisite CC and especially the plant CC.

Miaokitty_Cashregister_DecorativeMESH - probably not a problem to remove but if it reverts back to the standard cash register, you will have quite a bunch of cashiers in the neighbourhood if you load the High Street in live mode. If you don't want this, I'd suggest editing the High Street lot. It's the only one affected

Police Uniform and Vicar skins - you'll lose part of the visual characterisation of Len and Breoc

Walls - not important if you leave them out but the Horton walls in particular were used on a lot of lots and will need to be replaced. The plaster and lathe walls are only used on the 2, Church Lane lot and the Moonraker's Arms
Congratulations need to go to successful solvers:
Jojoa777
koololdster
bloodstained_black_lace
Amairani
vllygrl
Lord St.Croix
lorinsv60 & Little Nemo
vaayvaay
Sims2 4ever
Medollga
notreallifeliving
letmereadinpeace4
Paolopollo
TeaAddict and all members of her stream community (especially Jo)
Additional Credits:
Thank you to
SimPE
creators (Numenor and R Giles) — not possible to do this without SimPE.
My testers who include JoandSarah77, PeniGriffin, HugeLunatic, Klaartje, Marka93
In particular:
JoandSarah77 for the lot no. 1, Lanscumbe Road (was no.1, Tregannon Road and is available as a standalone lot here: modthesims.info/d/523196) and general just being Jo-ness (which is to say very supportive)
Mootilda (for the Lot Adjustor, other modder utilities and general helpfulness and usefulness — we surely miss you)
Jawusa and Marka for helpful information
Peni — for writerly support
Simmer22 for helping a fellow simmer out with the brilliant strollers — looking forward to seeing those available for download
PlatinumPlumbob, NewSimgirl2011, lauratje86, vllygrl, Sunbee
Ovenhole for help testing the extra families
Queen of France for pursuing an issue for me
(I think that's all guys — if I missed someone = SORRY)
Finally: a thread has been opened on the Sims2 forum - I think they're going to compare notes. If you're interested, head on over

My Policy
I no longer come over to MTS very often and have moved all my stuff to my own site at tflc: https://littlecarping.com/mybb/ - all files here on MTS are no longer supported here and any updates to files will be posted at tflc. If you have any questions, you can also contact me on tumblr: https://www.tumblr.com/blog/tflc

BE WARNED - I probably won't see any personal messages posted to me on this site.

Policy:
Please use my creations freely for your own purposes though don't upload to any paysites.

The only exception to this is Polgannon. As Polgannon is such a large project and as it specifically contains a complete story which I spent a long time writing, I do not want to see this uploaded anywhere else or converted into a sub-hood or gender-swapped version or anything like that. It's a standalone project and I think it needs to stay that way. Thank you.