>

Multi-family homes/For Apartment Life EP/Annoying neighbors.
Hallelujah Square - Little Christmas Village - NO CC
MTS has all free content, all the time. Find out how YOU can help to keep it running.
Tell me how...
4,297

Downloads
235

Thanks Thanks
76

Favourited
23,174

Views
Picked Upload! This is a picked upload! It showcases some of the best talent and creativity available on MTS and in the community.


Uploaded: 2nd Dec 2015 at 4:40 PM
Updated: 23rd Dec 2016 at 6:10 AM
A little Christmas village is a widespread tradition
So for Sims it seems only a fitting addition
And for a lot that I'm sharing with you at Christmastime
When you read the description, I've made a holiday rhyme!

* * *
The night before, the Sims had slept
The presents wrapped, the sidewalk swept
The dinner planned, the family tired
The holiday spirit in all inspired.
An evening caroling with the choir,
Or curling up beside the fire
And waiting there for Santa Claus
To land upon the roof, and pause-
And down the chimney then to come
To carry gifts into the home
And eat the cookies, baked with care
and left for him by children there.
When dawn's first gleam ended the night
And brought the village into its light
The snow was piled in glittering drifts
And around each tree were Christmas gifts!
Shouts of joy were heard on the air
As families unwrapped gifts everywhere
The children shrieked and jumped with joy
To have finally gotten that long-sought toy.
The parents smiled and laughed happily
Remembering long-ago Christmas glee
And looked outside, at all the snow
Clad in morning's golden glow.
* * *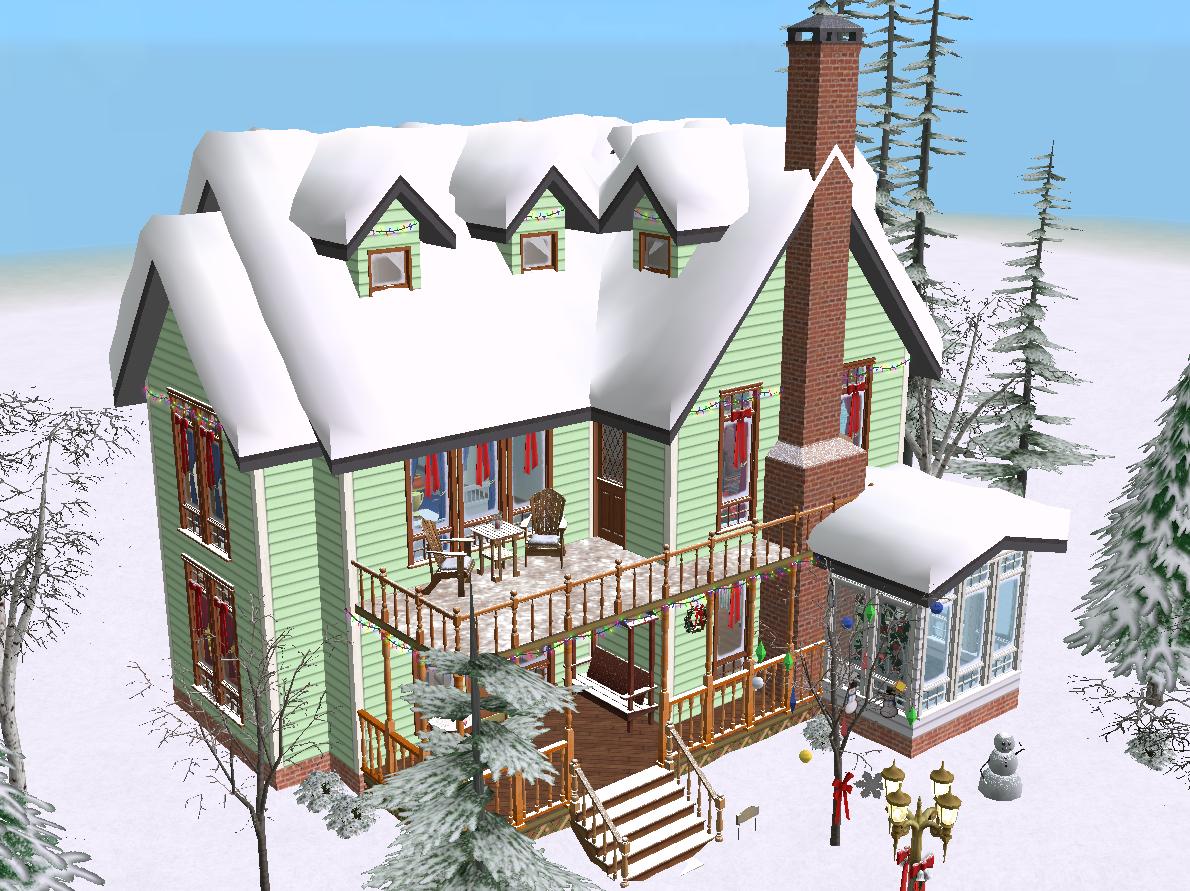 A cottage nestled in the trees
now gleamed with ice from night's cold freeze.
But warm inside sat a cheerful young pair
Who'd waited all year for the clear, frosty air.

The forest around them was pristine and white
And the icicles hung from the rafters just right.
The wintery scene filled them both with delight
And they hoped it would last there for many a night.

Just down the path was a family home
Where out in front, the children roam
Making snowmen and having a fun snowball fight
And throwing those snowballs with all of their might.

While back in the house, a dinner was baking
With stuffings and gravies and pies for the taking
The table was laden with holiday fare
And glorious smells wafted into the air.

Across the cold stream, a small plume of smoke
Gave word that the occupants finally awoke
In a quaint old log cabin, that'd stood there for years
Since the pond had been settled by the first pioneers.

This cabin too was filled with good cheer
As the family inside shifted into high gear
And shared presents and drink with the ones they did love
While their laughter was heard echoing out far above.

* * *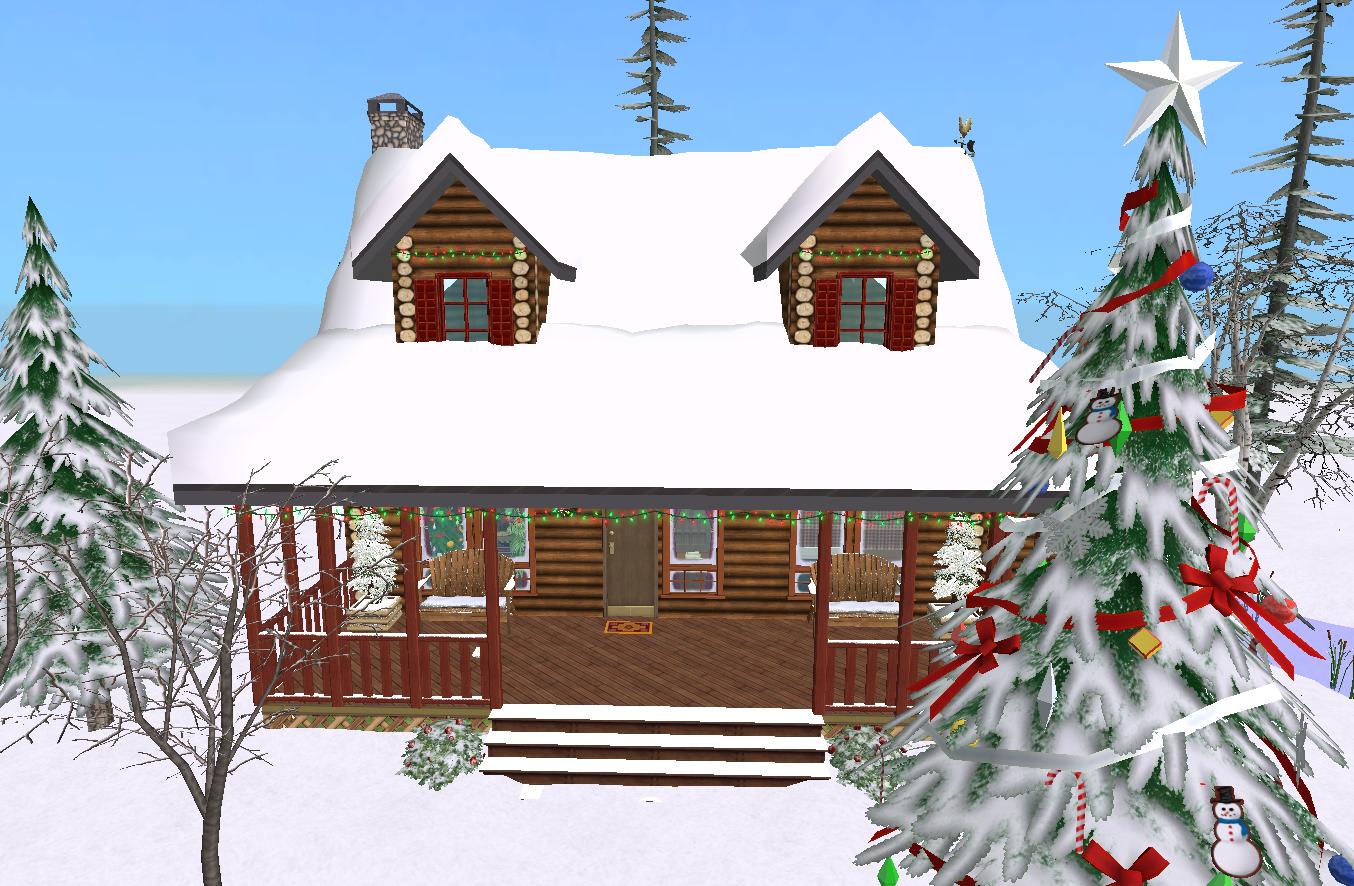 By the road a white house stood there proud in the snow
With white Christmas lights putting on quite a show.
Inside, Grandma and Grandpa were quite nearly done
Putting up decorations to make the house look more fun.

For soon, they expected, the kids would arrive
All bursting with energy from a long dull car drive.
But when they would see what was under the tree
Those kids would reach a new level of glee.

And the dinner'd be served, and the roast would be carved
And the whole entire family would dig in as if starved
For a taste of the stuffing and potatoes and pies
While the sun's golden light filled the holiday skies.

As evening approaches, these families all
Would put away their new toys, and walk down the hall
Putting on their best clothes, and combing their hair
And stepping back out into the clear, freezing air.

And to the church they would walk, from youngest to old
To hear a time-honored Christmastime story be told
In the church, whose steeple towered o'er them all
With a welcoming spirit from eldest to small.

The piano would play, and the choir would sing
And through the cold winter night, the church bells would ring.
In friendship and fellowship and gay Christmas cheer
With joyous hymns and carols sung for all 'round to hear.

* * *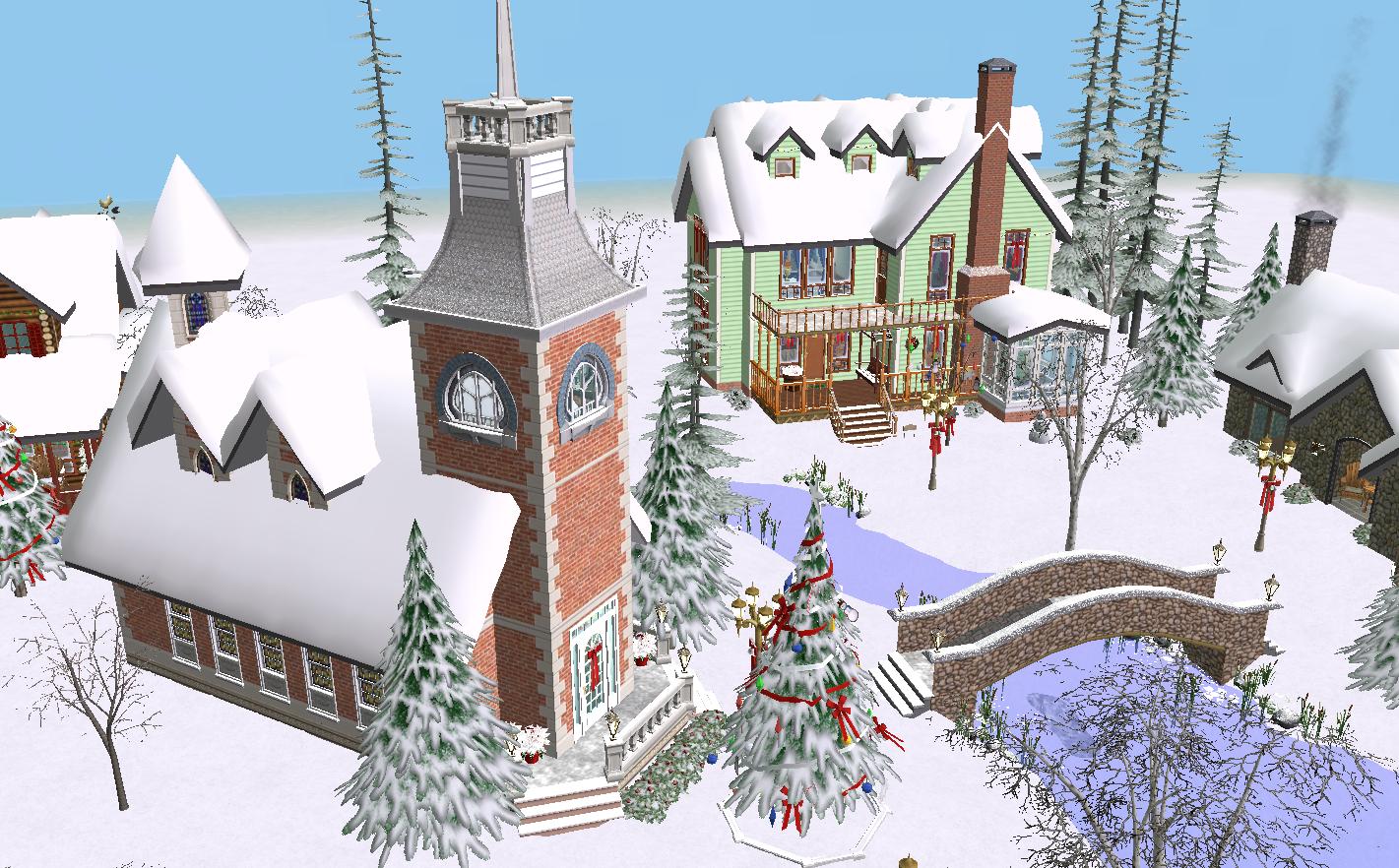 And when the service was over, the congregation dispersed
And the young children raced to see who'd get home first.
While some others went off to the bright village square
And the glittering ice rink that beckoned them there.

And into the night some would skate 'round and glide
While others were holed up, warm and toasty inside
And all would be happy, as the day had been fun
Yet all were a bit sad to see Christmas Day done.

But in just one single short year, 365 days
Once again they would break out the presents and praise
And look out the window at a town snowy and cold
And bedeck their whole village in crimson and gold.

And children's eyes would look skyward, all hoping to see
A fat man in red flying over the trees
And a holiday cheer would settle over the town
As a Christmastime snowfall softly, gently, came down.

* * *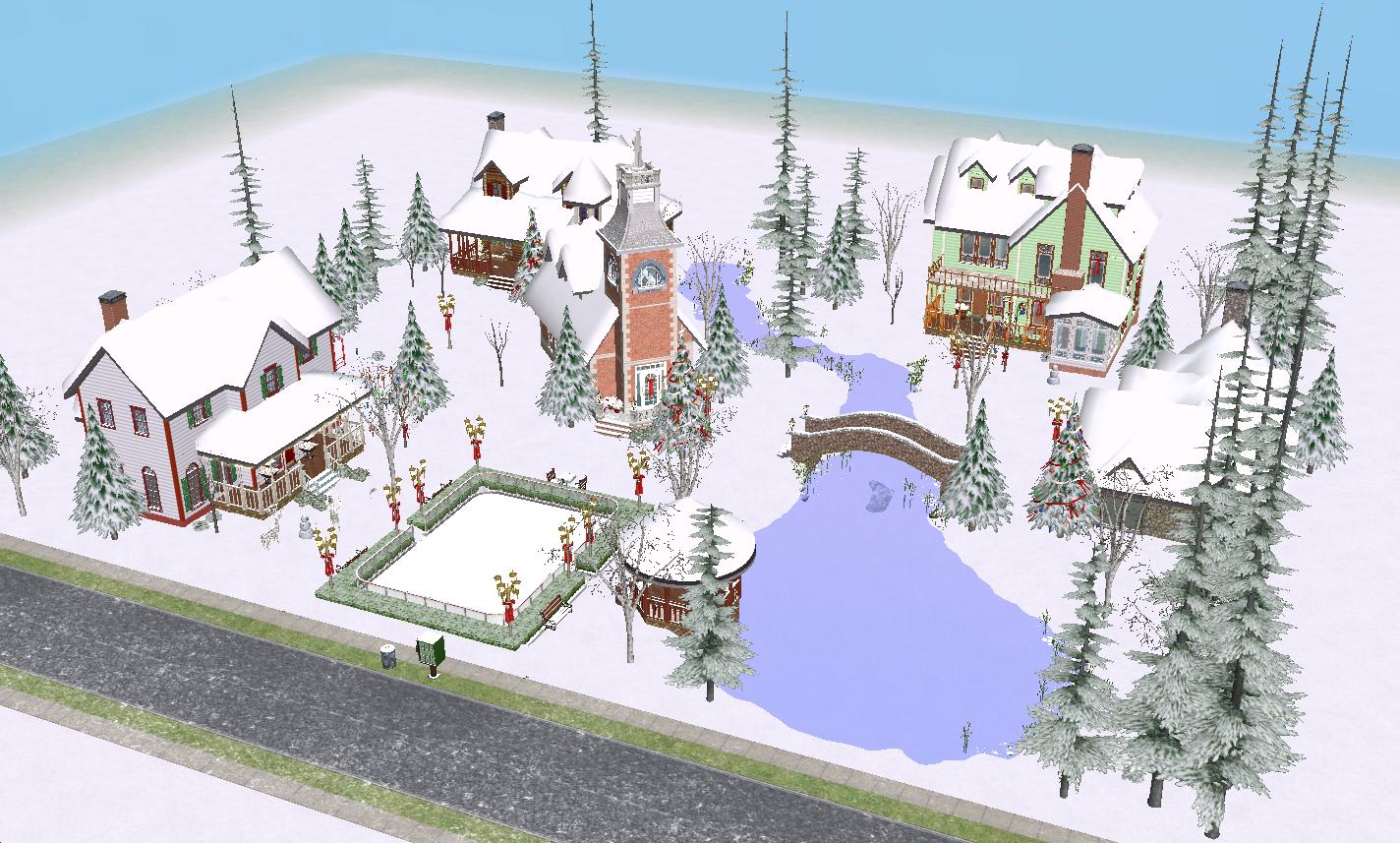 A Holiday Lot's been one I've wanted to add
For many a year now, but each year, seem's I've had
The idea too late, with my time all but gone
To finish it off before the New Year comes on.

But this year I did it! Hallelujah! Hooray!
And in a bright winter wonderland your Sims now can play!
There's four different houses for your families to live in
And dozens of presents for them all to be given.

From cottage to cabin to Colonial fare
And even a Craftsman, you'll find it all there.
Each fully furnished, and ready to play
And all set to ring in a bright Christmas Day.

The smallest will cost just below thirteen hundred
While some of the largest, just in case you had wondered
Are a little more pricey, so if the family expands
For these you'll have to pay a bit over three grand.

Now, each one's been tested, and played as a clone
So here's hoping the problems I found are all gone
But if it happens they're not, and you find something wrong
Please do let me know, for that doesn't belong!

And as quick as you please, I'll find a solution
Or replace the bad part with a good substitution.
For I want you to enjoy when you download my lots
And I'd hate for your game to be tied up in knots!

And with that, it would seem, I've said all I should say
So I'll let you decide if it's a lot you will play!
And so now we can all get right back into business
But- before you take off, well of course, MERRY CHRISTMAS!

* * *
Lot Size:
5x6
Lot Price (furnished):
$1,350 - $3,060
About Me
Sims? What are Sims? I almost always just use this game to create buildings!

You might call me a CC-atheist. While I'll use every cheat code in the book, I won't use anything that Maxis didn't ship with the game in one fashion or another. Ergo, you can rest assured that all my lots are CC-free.

Some creators describe themselves as constantly juggling projects. I suppose I do that too, except I'm really really bad at juggling, so I just throw lots of projects as high as I can, and sometimes forget all about them until they come crashing down on my head!

I won't *exactly* do requests, but since I pivot from lot to lot constantly, if there's a place you hope to see from me, there's a good chance that I've already started it! I make no promises, but feel free to ask about lots you want to see- you might inspire me to finish something!

My lots are my own work- I put a lot of effort into them, so have fun with them, use them for storytelling or making Sim movies, but please don't reupload them, in whole or in part, anywhere, including here on MTS!

One day I will rule the world with an iron fist and all will kneel before me.