>

More types of food for your hungry Sims!
Grape Sherbet! (Sherbet Collection Pt.6) w/Simlish & English Buckets
MTS has all free content, all the time. Find out how YOU can help to keep it running.
Tell me how...
5,536

Downloads
163

Thanks Thanks
15

Favourited
20,061

Views

Uploaded: 11th Sep 2016 at 10:23 PM
Updated: 23rd Oct 2016 at 10:47 PM


*facepalms* It has come to my attention that I made a slight editing error when creating this grape sherbet. Everything was made fine, but I forgot to assign a very crucial guid to the sherbet. Anyways, I have since edited the sherbets and posted a clean, fixed version. Everything should be in proper order now! Sorry for the inconvenience!!

Hello everyone! I'm back in action! I sent an upload to moderation queue ages ago, and I still haven't heard back from them. I understand that they are very busy people and so in the meantime, I thought I'd upload this! I received a request for Grape Sherbet from @Goldenbtrfly along with a few others so I thought I'd finally fulfill the order by recoloring crocobaura's original
Mango & Watermelon Ice Cream
.
I personally haven't had Grape Sherbet before, but I have heard it's really good. Here, I topped the sherbet with blueberries and added some on the side being inspired by @KittyKatty and their request for blueberries. I am extremely proud of how these textures turned out.


Wait, what is this?
Sherbet is essentially a sweet frozen dessert made with fruit and some sort of dairy product such as milk or cream. It's similar to ice cream in consistency but has a fruit base to it. So, pretty much complete deliciousness.


Details you SHOULD know...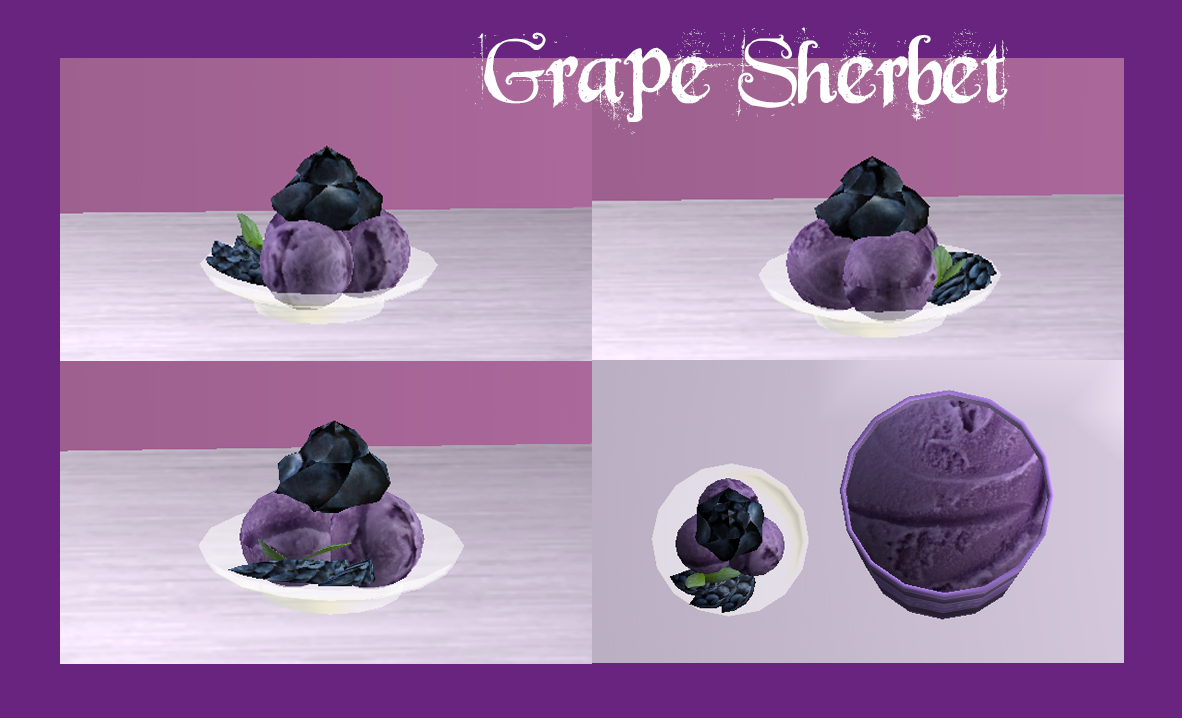 Downloading:
I have created two different buckets to contain this dish of Grape Sherbet, a Simlish and English version. DOWNLOAD ONLY ONE TYPE. Both buckets have the same guids so for your own sanity, please download only one zip. Both contain everything you need for the sherbet to work in game so there's nothing to worry about. (They are very clearly marked)
What You Are Getting:
Each zipped file has 3 items:
-a mesh of the sherbet itself
-an English/Simlish bucket
-a custom plate for the sherbet
The original creator of this mesh, crocobaura, designed a custom plate and you need it in your downloads folder for this to work. But like I mentioned before, everything you need is in each zip.
Cooking/Serving:
The sherbet has been cloned from base game gelatin, and so your sim won't need any cooking skill to pop it out of the fridge. You will find it under "Serve Dessert..." and "Make/Make Many..." if you have the OFB expansion pack. And as per the norm, it serves 6 sims.
Fork vs. Spoon Dilemma:
I can't make it with a spoon, I simply just can't. My computer supposedly hates spoons and so I cannot test it correctly. Therefore, your sim will eat it with a fork. If you want to try and change it yourself, I suggest checking out
this thread
. I apologize for any inconvenience.

Final Thoughts...
I am very proud of this sherbet so please let me know what you guys think! I love your feedback!

Furthermore, I plan on creating two more sherbets for this collection (for now) and if anyone has any suggestions, please PM me. Just know, I cannot create sherbets the same color as ones I have made in the past because they would look too similar. Thanks everyone!

Curious to what I'm working on next? I keep a brief and updated segment dedicated to this on my profile page.
Additional Credits:
Custom Content Featured in Pictures: I just love custom content, don't you?

Anyways, you'll find the Purple Recolor of Maxis Curtain,
"Hippo Nursery Set" by @Bubblebeam
, the Purple Painting from
"Painting collection 'Collage'" by @AdeLanaSP
and 'Rosita' Purple Wallpaper from
@artemisnapolla's "Fruity Wallpapers"
on my upload pictures. It's thanks to them my staging looks good!

Design: A big thanks to pd4pic.com and clipartlord.com for the public domain pictures featured on my work.
Technical: And finally, a huge thanks to SimPE.78, Adobe Photoshop Elements 13, FRAPS (Screenshots), Nvidia DDS Utilities (SimPE work), Mod The Sims,
SIMale (Simlish Font Download)
,
crocobaura
(original mango & watermelon ice cream and ice cream plate meshes),
AriesFlare
(amazing info and pdf doc. tutorial on creating custom foods), goldenbtrfly for originally suggesting grape sherbet, and KittyKatty for inspiring me with the blueberry suggestion.
I could not have done this without all of their hard work before me!

About Me
Policy: Feel free to use whatever recolors of mine you want on MTS. But if you use my work, I'd like credit for it listed in the description etc. Also, if you do end up using my work for something and posting it, let me know :) I'd like to be aware of it and see what kinds of cool things you've created with my work :) On a further note, feel free to use my uploads to go inside of your pictures, uploads, or things like that. But once again, please let me know that you've done so. Thank you so much!

What am I working on now? Took a short hiatus but am slowly getting back into the creating zone. It's been hard for everyone. Anyways, I've taken a break from the giant bout of cards for Mog's Postal System I was working now. Instead I posted crew neck recolors for adult males I had been working on (they're so neglected!) and I'm looking through old files to finish up forgotten projects. [Updated as of 11/7/20]

Love,
Red