>

Community lots/For when sims leave their houses/It's scary outside
FEEDBACK REQUESTED - Campus Performing Arts Hall - NO CC
MTS has all free content, all the time. Find out how YOU can help to keep it running.
Tell me how...
1,961

Downloads
113

Thanks Thanks
41

Favourited
16,267

Views


Uploaded: 1st Jul 2017 at 10:47 PM
Updated: 2nd Jul 2017 at 6:44 PM by Karen Lorraine
Some of you may have seen various comments I've made about my ongoing project of designing an Ivy-League-esque university campus, and today, I present to you two of the lots that will eventually comprise part of that school! (This also means that these two lots are less distinctive in their own right, and thus there's less to talk up in the descriptions, as I have tried to make them a fair representation of the spaces to be found around campus!)
These lots are both complete in their own right (I wouldn't have uploaded them if they weren't!), but I am still in the relatively early stages of furnishing and decorating most of the campus buildings you see in the wider neighborhood screenshots above. As such, while I encourage you to enjoy them, I would also like to specifically request feedback on what you think works, what you think doesn't, what seems most Ivy-League, what seems out of place, etc.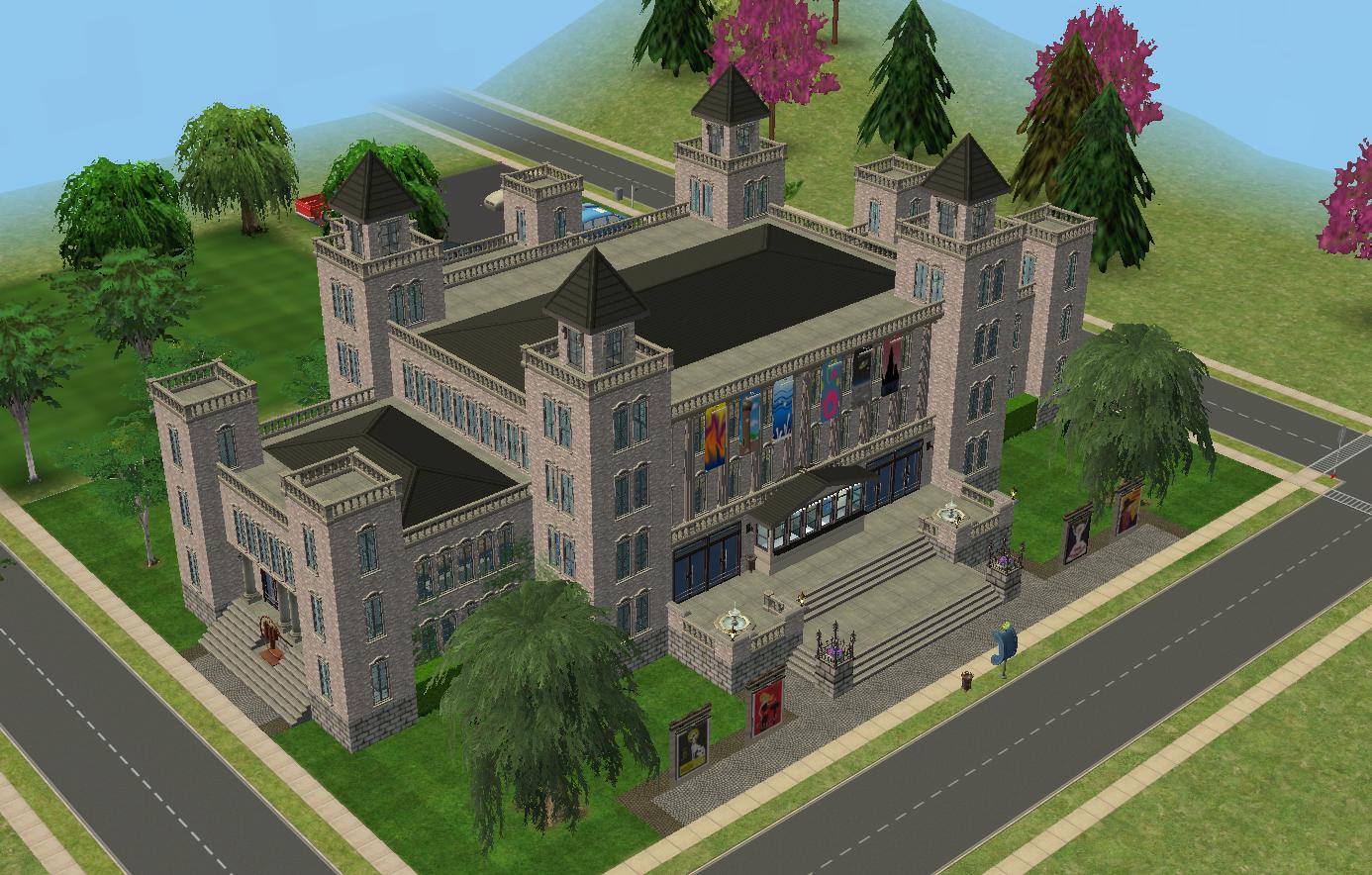 It was the Performing Arts theme for these two months that really kind of prompted me to finish up these two lots in the first place, since this performing arts hall was already close to finished. As one of the main student centers on campus, this is one of the 'grander' lots that makes up the university, with a towering columnar facade on the main entrance above the box office, and elegant side entrances providing access from neighboring streets as well, and the main auditorium with its more than 300 seats (yes, really- good luck filling all of them!

) carries this grandiose effect over to the interior as well.
This concert hall itself is more than three stories high, and acoustically designed so as to ensure ideal sound quality to each and every seat in the house. The stage is defined by panels which reflect the sounds of the orchestra outward into the audience, and provides seating for a fair-sized student orchestra (or plenty of space for soloists, if you prefer). At the rear is the university's own pipe organ, designed in a modern style to complement the interior of the building. An instrument of this size obviously cannot be removed when not in use, but it is possible to hang additional curtains towards the rear of the stage if a performance in which the organ would seem out of place is being put on. (just add in a few more walls and put the curtain wallpaper on them- it actually looks pretty convincing!)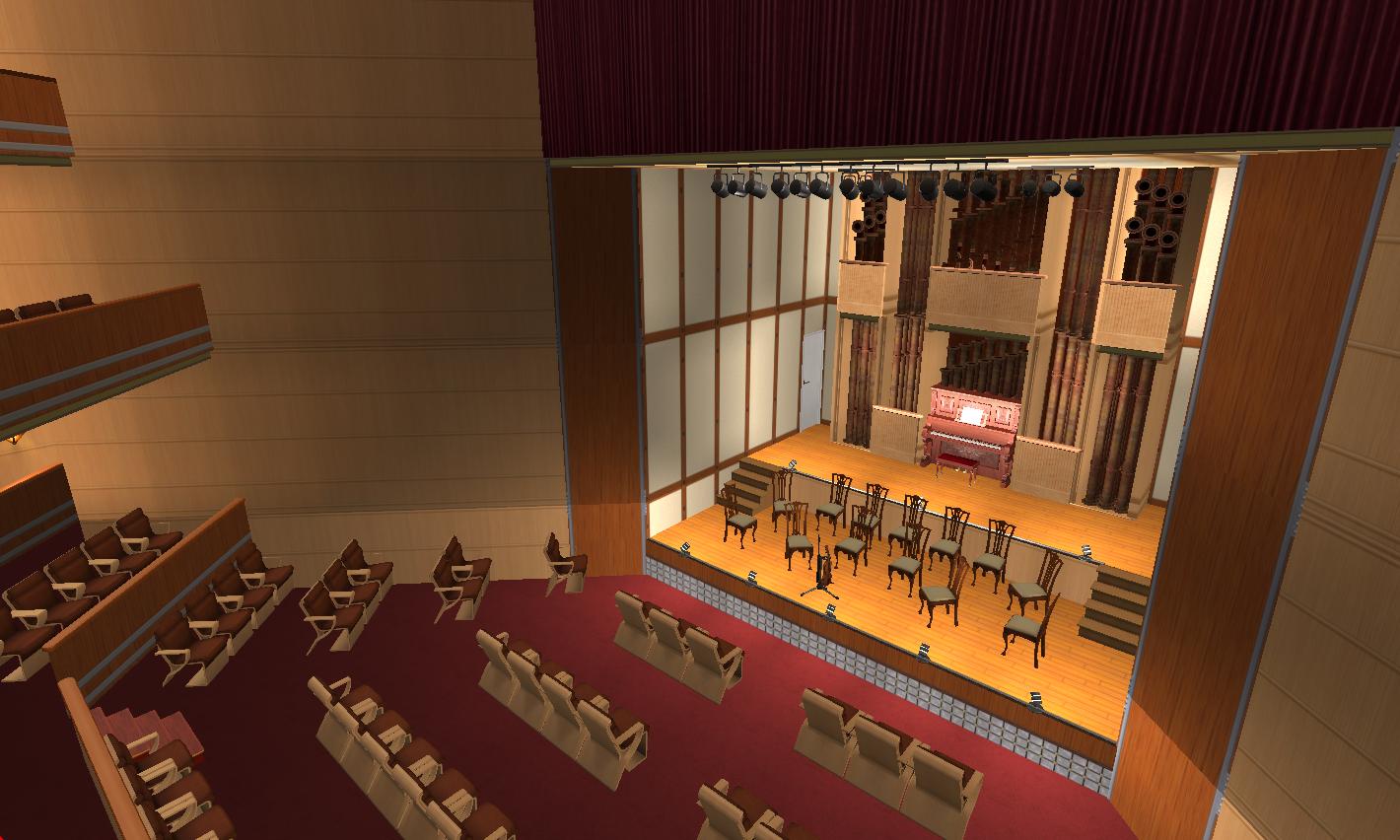 Backstage, dressing rooms, greenrooms, and administrative offices can be found for the staff of the latest performances, each one with its own distinct personality. Each dressing room does include a personal vanity for performers to prepare for their acts, as well as various opportunities for relaxation before and after shows. There is also space for storing props and instruments not currently in use on-stage, on the balcony area which runs behind the main stage on the second floor.
(The more public side of the amenities available from this building is largely limited to the men's and women's restrooms, which can be found on either side of the stage on the second floor mezzanine.)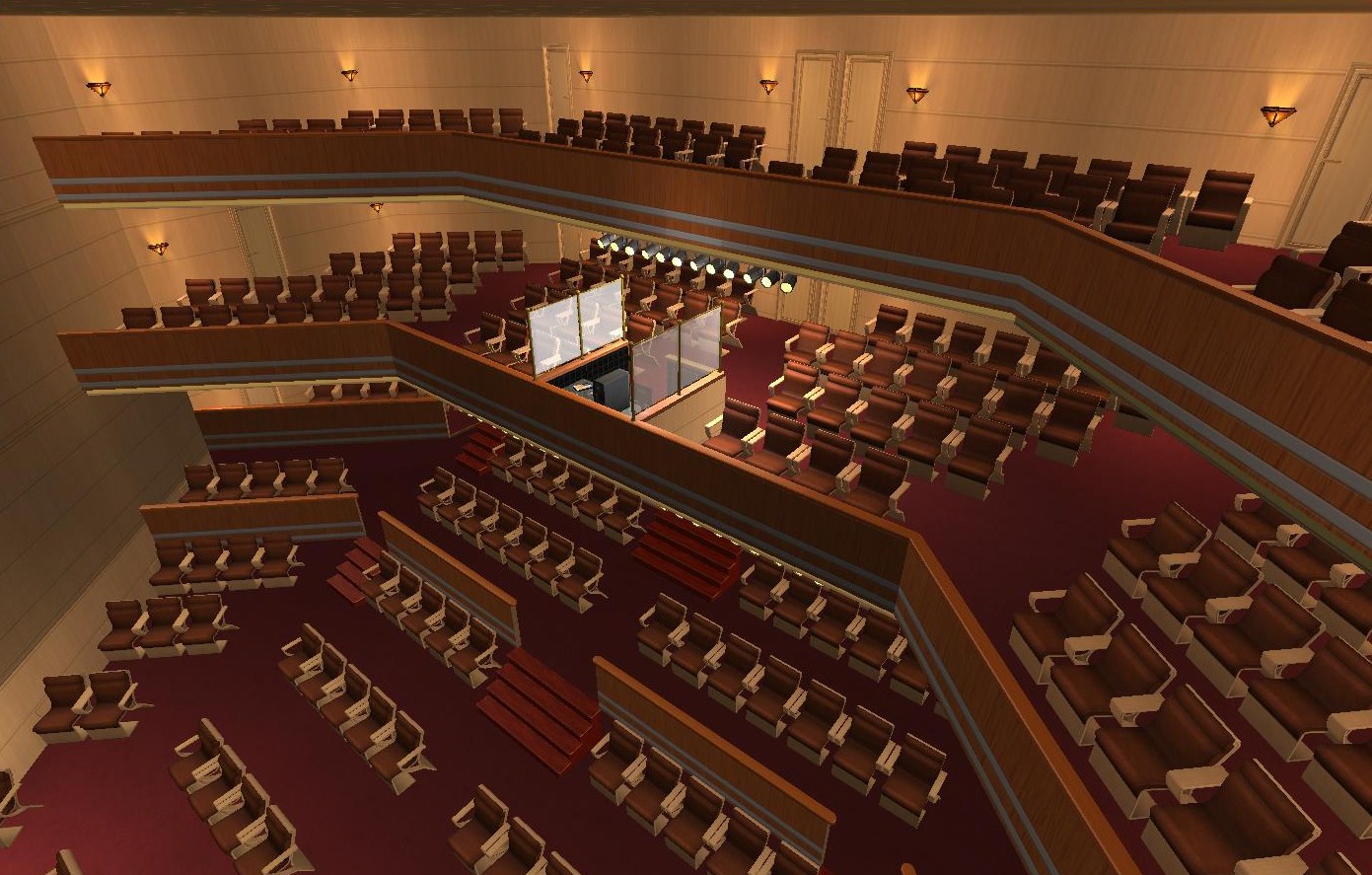 As one might expect with a concert hall of this size, there is a good deal of space simply left open in the public lobbies of the building, with elegant staircases and a coffee shop available for patrons of the arts who feel the need to get up and stretch their legs during intermission or after a concert.
In each lobby is also found a mezzanine area with ample seating, as well as being a decent area simply to walk about for audience members trying to keep their legs from falling asleep (or performers suffering from a brief bout of stage-fright prior to their debut!) Finally, on the ceiling of each is found a hand-painted abstract fresco, updated each year in a style determined by the incoming classes of performing and visual arts majors.
These same students will often later go on to perform their very own compositions and stage shows in this building as part of their senior recitals, and their classmates can often be seen attending various staff performances throughout the academic year (students are often allowed to purchase tickets at substantially reduced prices from the box office in the days leading up to a performance- take advantage of it!)
While this lot is a more effective standalone entity than many others that will eventually comprise the university campus it's part of, I would encourage you to consider the wider-angle screenshots that show how this building fits into the larger world around it! It occupies a central location on campus, just behind the historic Old Main building, and on one of the main cross streets that provide access to the university.
While pricing for a community lot on a university campus is largely irrelevant, if you choose to use this lot elsewhere, it will ring in at $572,974 (all that empty space makes this a substantially cheaper building than many its size!) This is true for both university and other neighborhood pricing, in contrast to dormitories.
As should come as no surprise by now, no CC was used anywhere on this lot.
Finally, I would highly encourage you to visit the CFF thread (
http://modthesims.info/showthread.php?t=574743
) on the larger project this lot comes from, and also to look at the dormitory I have also uploaded, and please give me as much feedback as you can! While I'm always happy hearing things like "this is awesome, thanks!" in this case, I would really really like to have more detailed suggestions from those of you who download these lots, in the hopes that I can use your feedback to make the eventual university campus even better!
Lot Size:
5x4
Lot Price (furnished):
$572,974
About Me
Sims? What are Sims? I almost always just use this game to create buildings!

You might call me a CC-atheist. While I'll use every cheat code in the book, I won't use anything that Maxis didn't ship with the game in one fashion or another. Ergo, you can rest assured that all my lots are CC-free.

Some creators describe themselves as constantly juggling projects. I suppose I do that too, except I'm really really bad at juggling, so I just throw lots of projects as high as I can, and sometimes forget all about them until they come crashing down on my head!

I won't *exactly* do requests, but since I pivot from lot to lot constantly, if there's a place you hope to see from me, there's a good chance that I've already started it! I make no promises, but feel free to ask about lots you want to see- you might inspire me to finish something!

My lots are my own work- I put a lot of effort into them, so have fun with them, use them for storytelling or making Sim movies, but please don't reupload them, in whole or in part, anywhere, including here on MTS!

One day I will rule the world with an iron fist and all will kneel before me.