Mommy's Makeover: 8 Maternity-friendly Outfits
5,994

Downloads
142

Thanks Thanks
16

Favourited
20,067

Views

Uploaded: 10th Aug 2017 at 8:45 PM
Updated: 13th Aug 2017 at 1:47 AM
Hello fellow Simmers! Inspired by the 'Maternity and Beyond' theme for August/September, I created
eight different maternity-friendly outfits for EVERYDAY
(not maternity) for your fashionable and trendy pregnant sims. The styles vary so there are plenty of options for all tastes.


Mesh?
All three meshes that you need are
INCLUDED IN ZIP
All three meshes are from the Boutique "Imaginary" blog created by Alice and Illary and are from their
Maternity collection (part 1)
and can be downloaded under the 1st, 2nd, and 5th photos for those who are curious. But, like I said they are
all included in the upload.

Generic Information:
All 8 outfits can be found in the
"Everyday" category
and although focused on working for pregnant sims, they look great on other sizes as well! (thin/fit/fat) And if there was a question, these are made only for the
Adult Female
sim.

FAQ:
Please note that your pregnant sim will not automatically wear these. They are maternity-friendly which means the bump will show up on your pregnant Sim, but are still in the Everyday category. I suggest a mod that allows pregnant Sims to Wear normal clothing (I.E Everyday, Formal etc.) Otherwise, these will just work as normal Everyday clothes!



Look One: Mint patchwork-styled regal dress with matching heels
Look Two: Pink dress with netted/intricate gold design and matching gladiator flats
Look Three: Pink dress with regal design and gladiator flats (same texture as Boutique "Imaginary")
Look Four: Repeated floral pattern over turquoise short dress and matching heels
Look Five: Jean button up shirt with kiwi leggings and black boots (same shirt as Boutique "Imaginary," only changed leggings)
Look Six: Jean button up shirt with mint genie pattern and black boots (same shirt as Boutique "Imaginary," only changed leggings)
Look Seven: Upscale geometric patterned dress with black tights and heels
Look Eight: Pink floral short dress and long maroon stockings with matching shoes (same texture as Boutique "Imaginary," only recolored and added detail)

Please Note: The accessories in photos (earrings/necklace/hairband/book/purse) are merely for aesthetic purposes and are not included in outfits.


All photos were taken at varying times of pregnancy.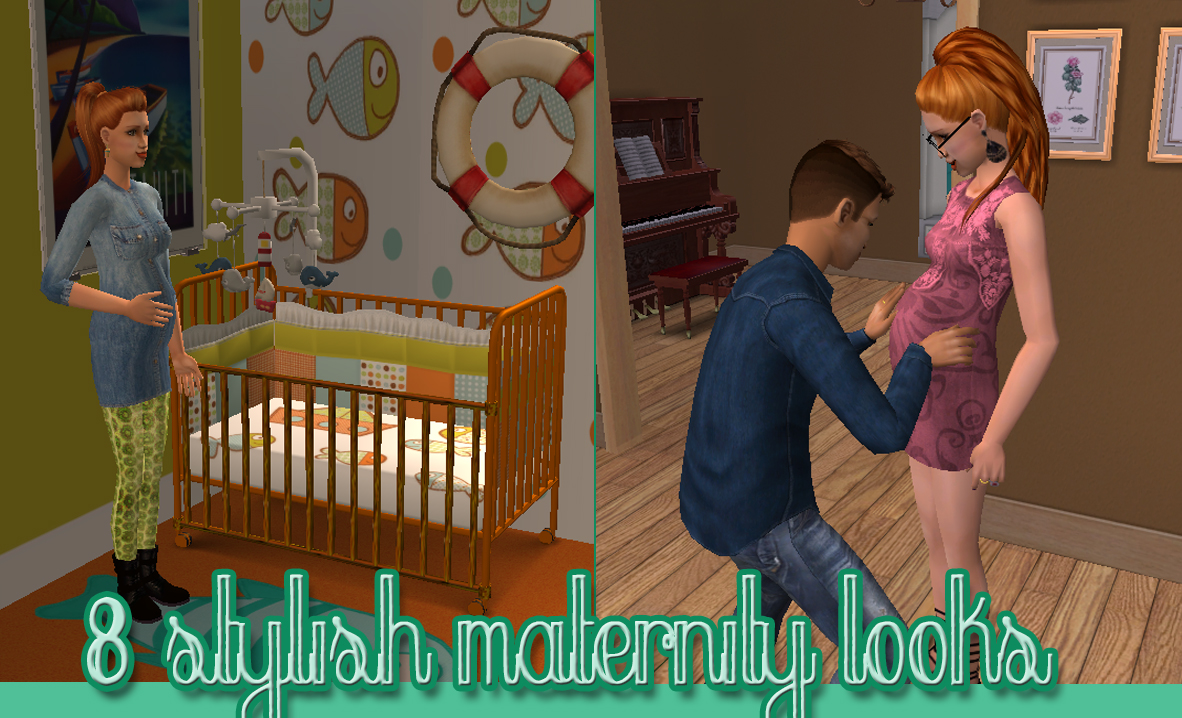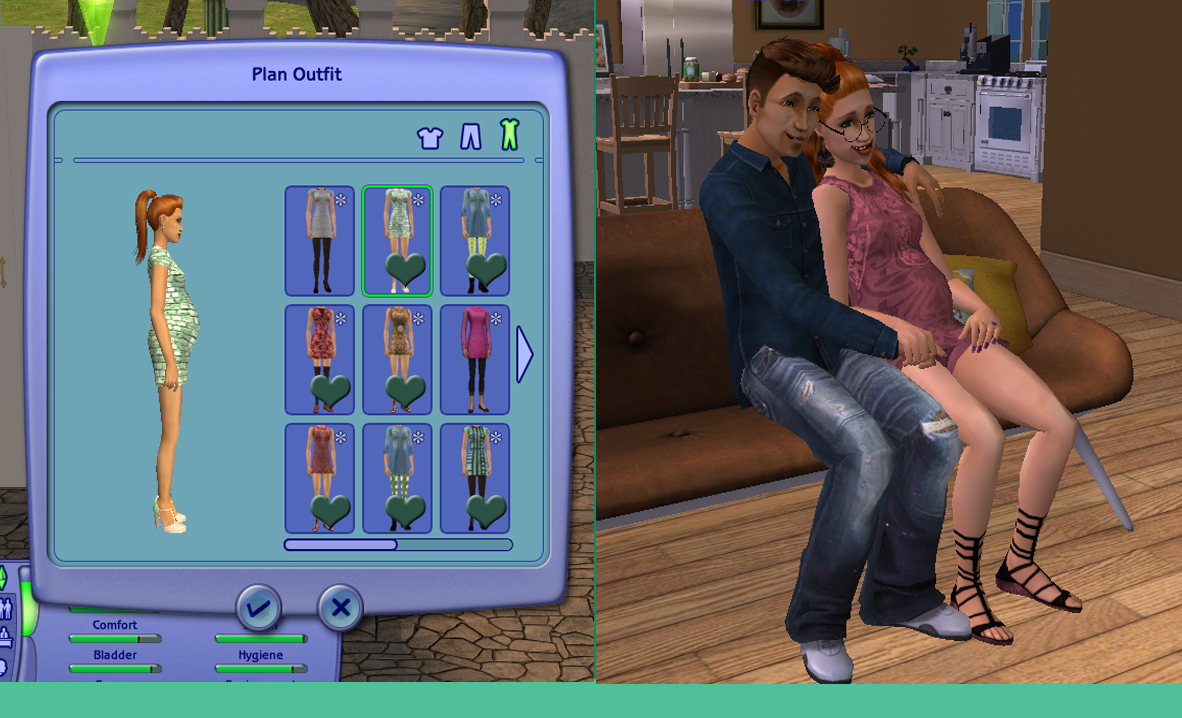 Final Thoughts...
I was so glad this was the theme for August/September! I had been wanting to do something like this for awhile and had not gotten around to it yet. I cannot wait to see what everyone else has made

As always, all smilies/comments/thanks/in-game photos are welcome! Sim on!
Curious to what I am working on next? I keep a brief and updated segment on my profile page.
Additional Credits:
Design:
-The mint floral pattern on Look 4 and the patchwork pattern on Look 1 were from the design team at webtreats in the
'Cool Mint Green Tileable Grunge Patterns Pack'
-The
kiwi swatch
on Look Five comes from the pattern library but was originally created by Natalia De Frutos
-The
teal/gold genie pattern
on Look Six, the
blue geometric pattern
on Look Seven, the
ornate pink/gold pattern
on Look Two, and the
decal overlay
on Look Three all come from
the Fat Strawberry
(love that site!)
Technical:
A HUGE thanks to Sims 2 Body Shop, Adobe Photoshop Elements 13, FRAPS (Screenshots), Boutique "Imaginary" for the updated meshes and textures, Mod the Sims, and the wonderful cable guys who fixed my internet!

I could never have done this without all of their hard work before me!

Packs Needed
None, this is Sims 2 base game compatible!
Other Information
Clothing Type
:
– Everyday
Other Type
:
– Not Applicable
– Maternity
Maxis Flags
:
– Not Applicable
Outfit Type
:
– Full Outfit
About Me
Policy: Feel free to use whatever recolors of mine you want on MTS. But if you use my work, I'd like credit for it listed in the description etc. Also, if you do end up using my work for something and posting it, let me know :) I'd like to be aware of it and see what kinds of cool things you've created with my work :) On a further note, feel free to use my uploads to go inside of your pictures, uploads, or things like that. But once again, please let me know that you've done so. Thank you so much!

What am I working on now? I've been out of creating practice the last few years but am looking to get back into it. Who knows? [Updated as of 11/27/22]

Love,
Red