Sims 2

>

>

Community lots/For when sims leave their houses/It's scary outside
Rabbie the Bear Family Center
394

Downloads
29

Thanks Thanks
6

Favourited
7,193

Views
Uploaded: 13th Sep 2017 at 1:55 AM
Updated: 13th Sep 2017 at 8:46 AM
Inspired by the popular show "Rabbie the Bear" on the KidzTube channel, the SimKidz company opened a group of small family fun centers inspired by the beloved Sim toddler program. Unlike a famous TV show many years ago named after a dinosaur, this program emphasizes parent/grandparent/caretaker interaction as well as toddler participation. Siblings are encouraged to play along as well.
There are four main rooms for toddlers: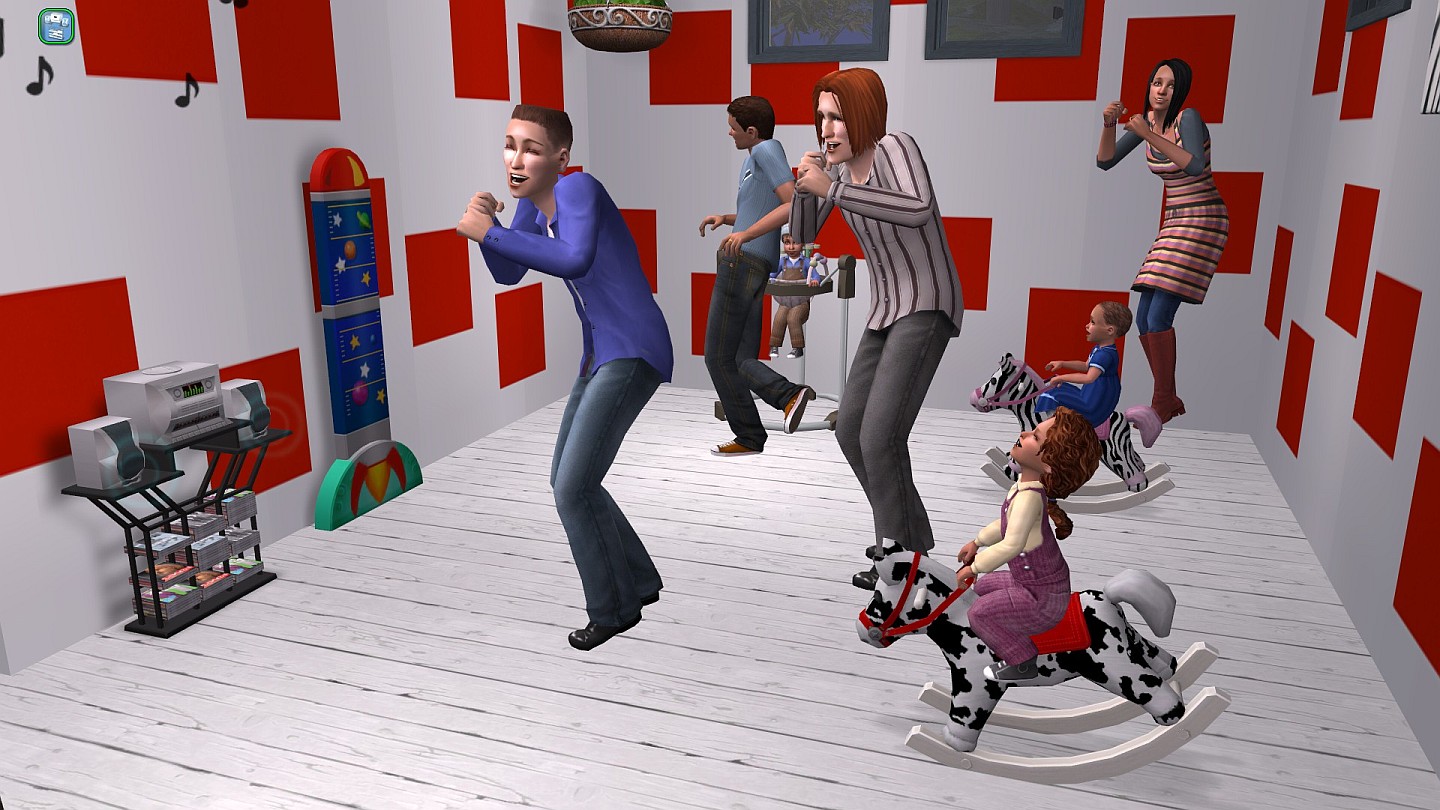 Shake it Up! contains two jumparoos, three rocking horses and a radio for Sims to schmustle.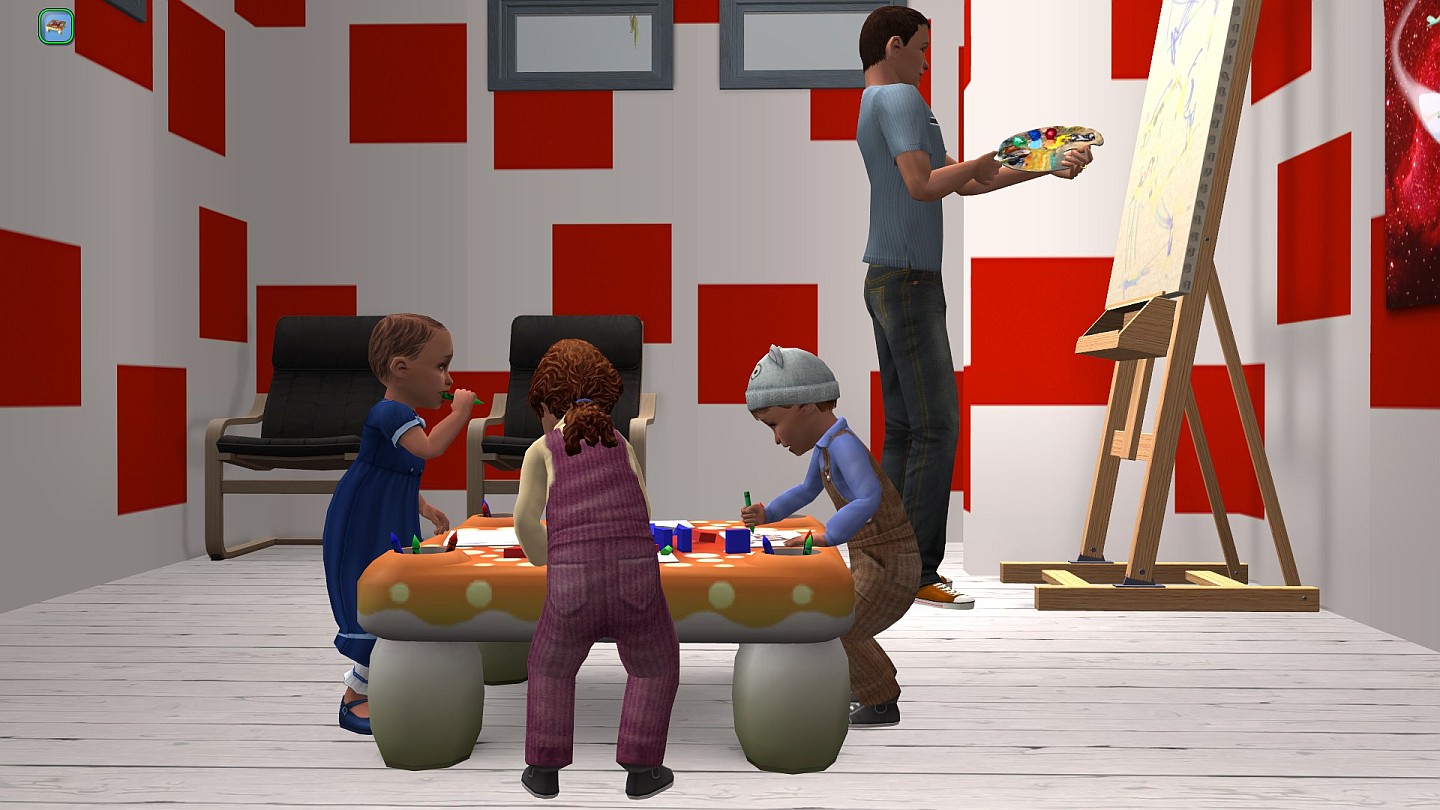 True Colors has the Free Time activity table and two easels for adults and children.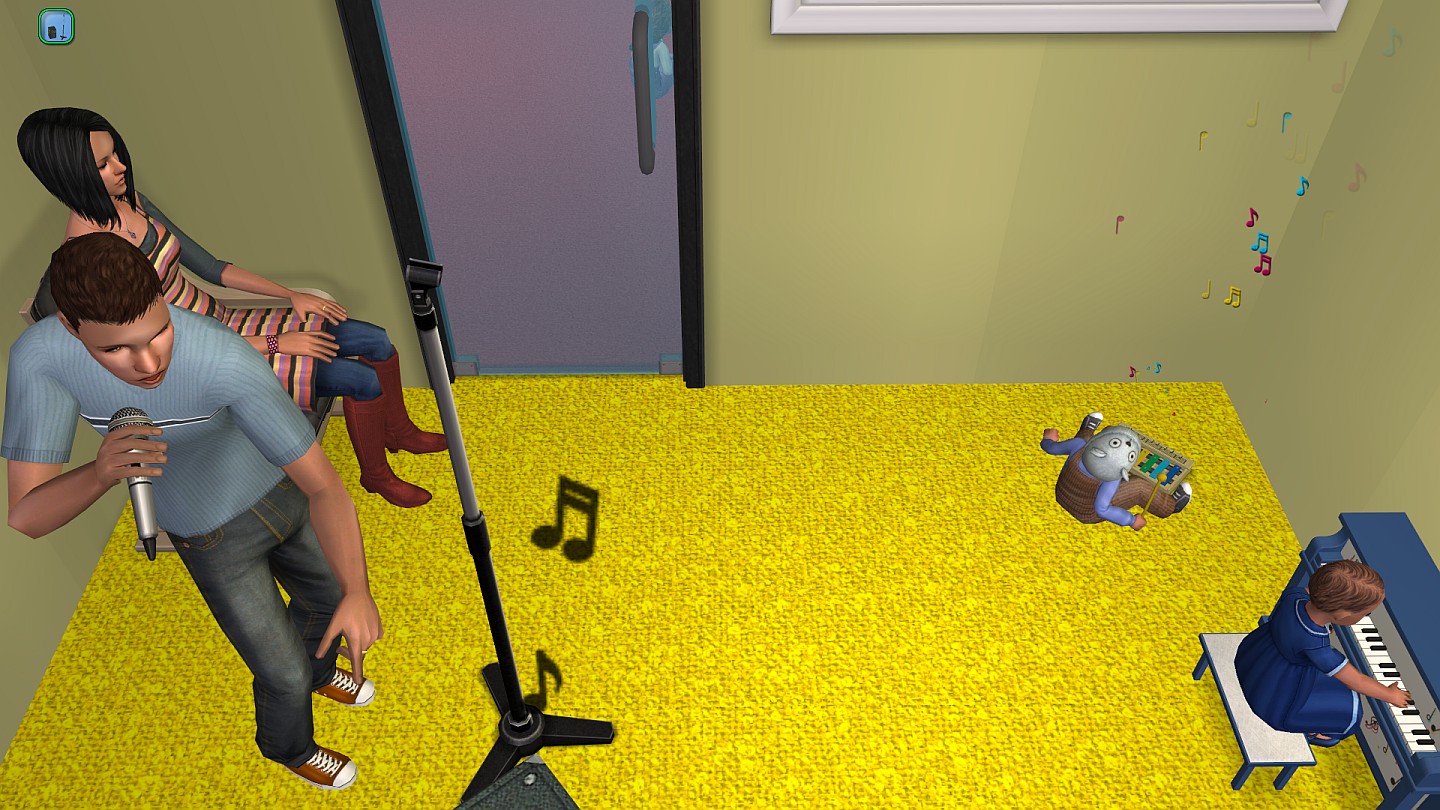 In the Sing a Song room, adults can sing or try a comedy routine or poetry reading (family-friendly, please), and toddlers can find their inner muse on the xylophone or piano. The link to TotsInc's Toddler Piano is listed below.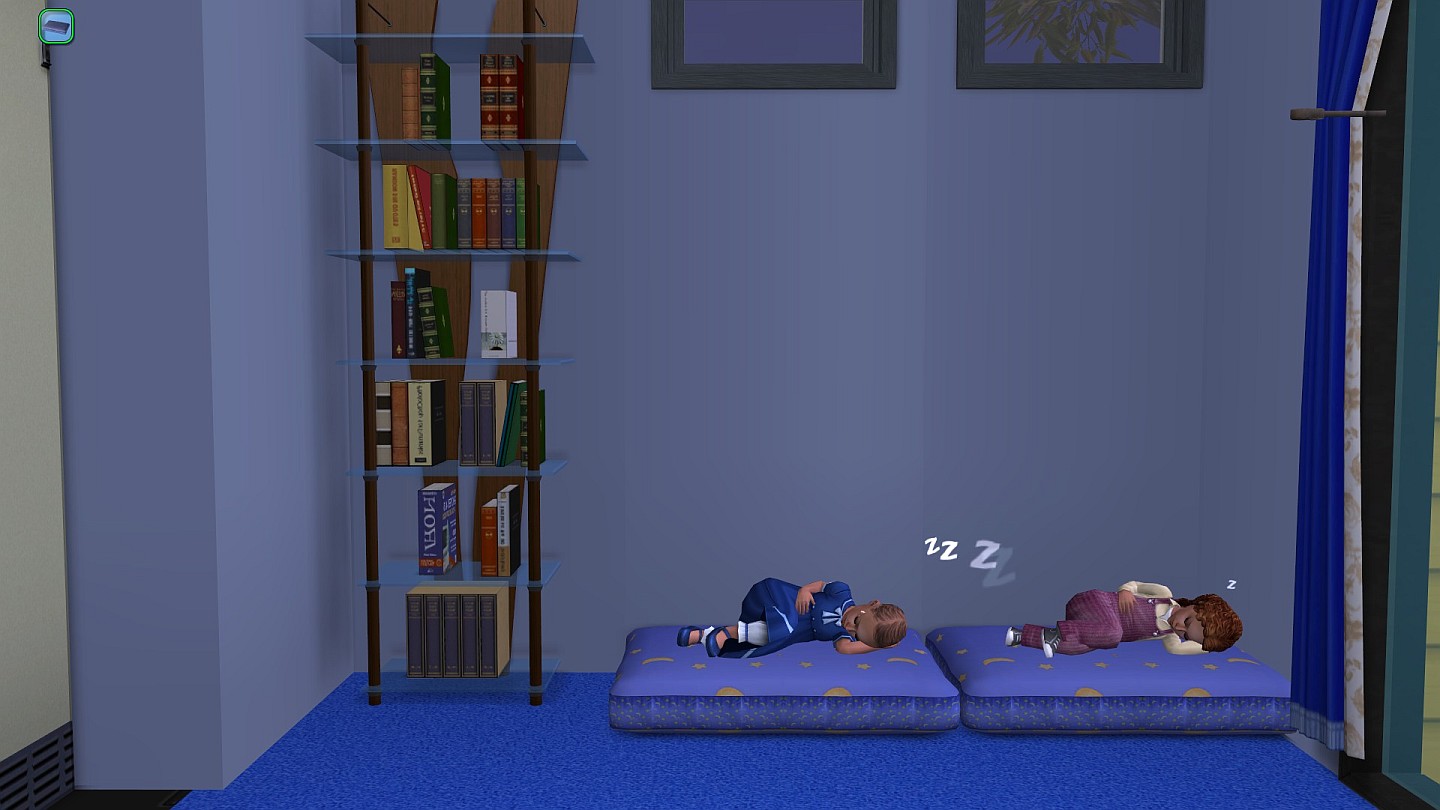 The fourth room, Golden Slumbers, is a quiet room with a refrigerator for that bedtime bottle, a bookcase with books to read before nap time, two toddler mats and a toy box. I listed the link for Phaenoh's toddler mats below.
There are two bathrooms, each with a toddler potty chair, a single toilet, a sink with a mirror, a garbage bin and a changing table. In addition, there is a small office with a Wobbly Wabbit Head toy.
The hallway has a coffee maker and a hot chocolate maker, with a counter in-between in case a Sim wishes to prepare a light snack. There is also a snack vending machine by the left side door. Toddlers can watch the fish in the tank in the hallway. Without a mod, a Sim will have to pay to put fish in there.
I thought the original lot needed more of a side yard, so I expanded it with Lot Adjuster. The yard has three toddler Bouncy Bork Springs, two Sim Bouncers, a mat with two Magical Mystery's Shape, Rattle & Roll boxes, a MYSHUNO game and two swings. There are three benches where visitors can rest.
I have all EPs and SPs on disks.
This lot has been unplayed in a fresh game created specifically for this upload. A copy has been tested in two other games and three different hoods for at least two human weeks (not Sim weeks). If you don't want toddlers on community lots, I found you could convert this to a child's play place fairly easily.
Shown but Not Included:
- Toddler Piano by Totsinc. You will need all the files specified as necessary in the description:
http://www.modthesims.info/download.php?t=596907
- Tiny Tikes Sleepy Mat by Phaenoh:
http://www.modthesims.info/download.php?t=316656
Required Mod to Get Toddlers to Visit Community Lots:
- Allow Puppy Kitten Toddler Riders by dickhurt:
http://modthesims.info/d/303968
. This requires the Game Edition addon for it to work, as specified in the directions:
http://www.modthesims.info/download.php?t=303431
.
Highly Suggested Mods:
- Perfect Plants by twojeffs:
http://www.simbology.com/smf/index.php?topic=13.0
- Visitor Controller by twojeffs:
http://www.simbology.com/smf/index.php?topic=17.0
(unless you want the Charlatan to fleece your toddlers' parents while their youngsters play!)
-
CEP
by Numenor:
http://www.modthesims.info/download.php?t=92541
. Without this, because of a Maxis OFB glitch, you will have red windows in the front. You can fix these easily, but
CEP
is really a must anyway for custom content.
- No Sim Loaded by BoilingOil:
http://www.leefish.nl/mybb/thread-1665.html
. This requires Cyjon's Smarter EP Check to work:
http://cyjon.net/node/323
. I have repeatedly checked OETreeDetail logs for anything worrisome several times in the three different hoods (and three different games) where I placed this lot and the logs were clean, but this mod is important for anyone downloading any lots or social mods, no matter who uploaded them.
Optional Mods:
- Aquariums Create Community Dummies by Richi3frog:
http://www.modthesims.info/download.php?t=314002
. The fish can disappear, but this is very rare. Most of the time, they stay put.
- Lunartech Lighten-Up Ceiling Replacement Fix:
http://www.modthesims.info/download.php?t=315720
Lot Size:
3x2
Lot Price (furnished):
101,065
Custom Content Included:
- HBAubreeAnimatedJumperoo by
hopebayler and Rebecah
- Giddy-Up Rocker by
Honeywell
- Functional 1-Tile Baby Changing Station by
mustluvcatz
- The Sim Bouncer by
NixNivis
Additional Credits:
To joandsarah77, justpetro, and the other great posters who convinced me to give this lot a shot on MTS, and for putting up with a number of questions about it.
To Chris Hatch, for the Orb. Without it, I would not know what to look for in the OETreeDetail logs.
To Mootilda, whose LotExpander has helped me so often; also for the Turn On All Lights mod.
To all free CC creators who have kept this game alive and thriving after all these years.
Packs Needed








+
9 SPs
For a full list of packs with names, see the Packs Needed popup.
Other Information
Number of bedrooms
:
– Not Applicable : For Commercial Lots
Custom Content Included
:
– Build and Buy Mode Content : Furniture, decorations, etc.
Furnishings
:
– Fully Furnished : Lot is completely decked out in furnishings
Special Flags
:
– Not Applicable
Packs Needed
| | Base Game |
| --- | --- |
| | Sims 2 |
| | Expansion Pack |
| --- | --- |
| | University |
| | Nightlife |
| | Open for Business |
| | Pets |
| | Seasons |
| | Bon Voyage |
| | Free Time |
| | Apartment Life |
| | Stuff Pack |
| --- | --- |
| | Happy Holiday |
| | Family Fun |
| | Glamour Life |
| | Celebration |
| | H&M Fashion |
| | Teen Style |
| | Kitchen & Bath |
| | Ikea Home |
| | Mansion and Garden |