>

Mods that replace game resources other than the script core.
[v1.1] Vampires: Stop Pestering Me (No More Drama & More!)
MTS has all free content, all the time. Find out how YOU can help to keep it running.
Tell me how...
13,751

Downloads
211

Thanks Thanks
75

Favourited
42,363

Views

QUICK STATUS UPDATE 10/2018

A fully updated version of this mod will be postponed until after the Sims 4: Get Famous patch.
_____________________________________________________________________
About
Vampires are something you either love or you hate. And even when you love them they can be quite annoying.
Especially when they make creepy calls, sketchy invitations and terrorise your home to throw a one man feast.

Well, no more for you, little suckers!

Versions & Effects
"Stop Pestering Me" v1.1 will do the following:
.
Stop Vampire Home Invasions (Vampires won't invade your home for a drink)
Stop Vampire Night Time Visits (Vampires will no longer autonomously visit your home at night)
Stop Vlad's Personal Introduction (No creepy 'tasty neck' introduction)
Stop Vampire Transformation Invitations (No invitations to be transformed)
Stop Vlads 'Intro to Vampires' (No vampire tutorial after being turned)
"Stop Pestering Me + No Whims" v1.1 includes:
Stop Whims: "Search Vampire Info on PC", "Read a Vampire book" and "Ask to be turned into a Vampire"
No quite yours?
I take request to include/exclude situations and scenarios or create altered mod versions
to suit everybodies needs. Only to a certain extent of course, the change must reasonable and fitting.
Known Bugs & Workarounds
There is
currently
only 2 known bugs:
Sims cannot be turned into Vampires at their active home They'll enter the uncomfortable mood permanently
but have no transformation related moodlets and will never turn into a vampire.
Workaround A: To have a Sim be turned into a Vampire with the Mod active, simply travel to another Lot or
another household and ask to be turned there and then travel back home. From there on the Sim will go through the usual
transformation phases and be fully functional with other Vampires at your active home!
Workaround B:: Alternatively use the cheat traits.equip_trait trait_OccultVampire to turn your Sim immediately.

Vampire Rank Up Cheats do not work in first "Fledging Vampire" Rank. Currently an absolute mystery to me why my
mod is causing this problem, but the bar in the power board fills up to the rank cheated but the Vampire does not receive the
appropriate Power Points and the progress bar in the Needs tab fills up but the vampire can't rank up. (thanks Tysakasa)
Workaround: To use cheats to rank up your Vampire all you have to do is let the Vampire rank up to "Minor Vampire"
naturally (drinking from Sims, receiving training, dark meditation etc.). Once your Sim reached that rank cheats are fully functional.
Installation Reminder
- Only ONE Version (with or without whims) can be used at a time!
-
Clear your Sims 4 Cache
regularly to fix gameplay issues and prevent possible conflicts.
- Make sure you don't have a mod that modifies the same resources as mine (check below).
Conflicts & Modified Resources
Built with game version 1.36. (Cats & Dogs Update). Only requires the
Vampires GP
but compatible with any.
Mods modifying the same resources below will conflict:
"Stop Pestering Me" v1.1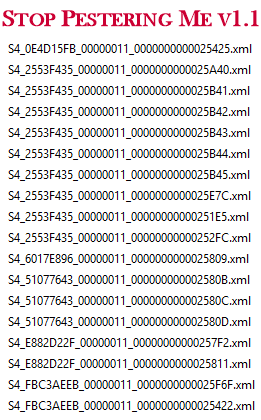 "Stop Pestering Me + No Whims" v1.1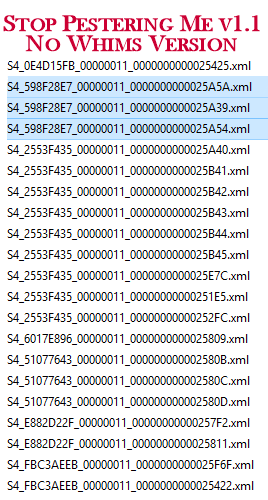 Additional Credits:
Tysakasa
(for helping me test v1.1)
Sims 4 Package Editor
Scumbumbo's XML Extractor