>

Mods that run in the background that modify game play in all lots without player intervention.
New Mod: Sims Work Every Day
MTS has all free content, all the time. Find out how YOU can help to keep it running.
Tell me how...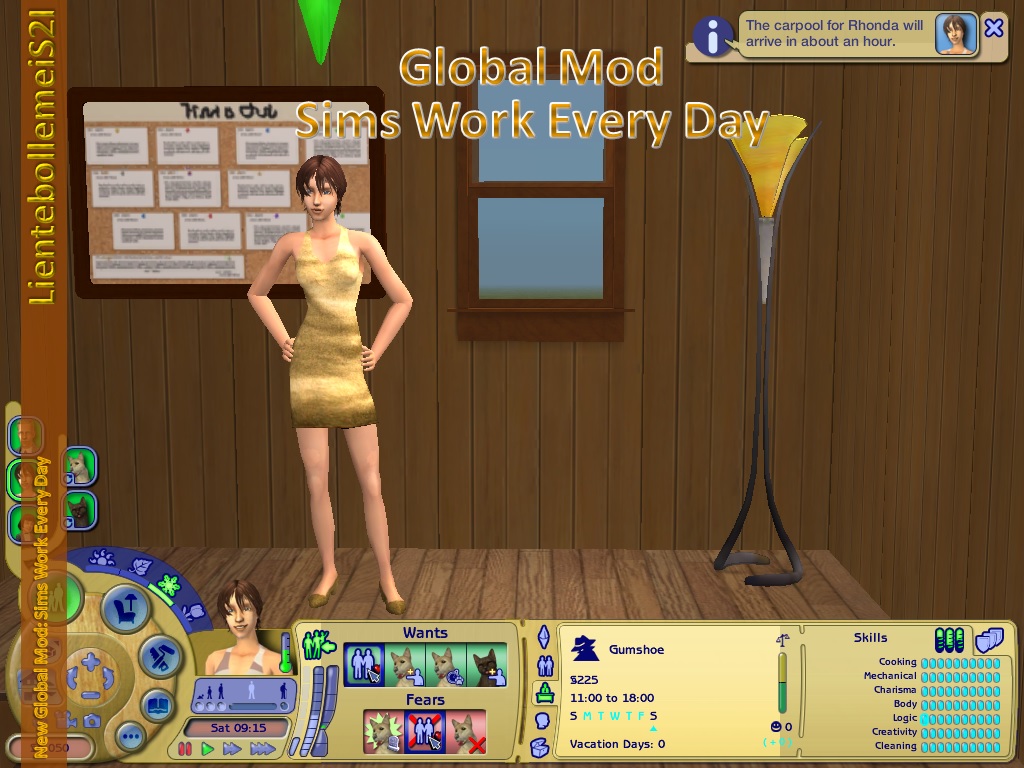 Created by lientebollemeis View Policy / About Me View Downloads Home Twitter Tumblr
Uploaded 23rd Dec 2017 at 10:42 AM · Updated 24th Jan 2021 at 11:24 AM by lientebollemeis
I wanted a mod that goes with all my careers at once. So this is a global mod that affects all Maxis and custom careers (all ages).
When you go to the jobs panel you can see which days your sim has to go to work and when they have a day off.
But when they have a day off by default, it's an
unpaid day off.
The way I play the game is with the
career version I made PTO3
. Then it takes only 3 workdays before the sim has a day
Paid Time Off.
With this mod the sim goes to work every day even if the flag is not set to work that day.
So my sim has to go to work for six days in a row for starters, but then can have at least
every weekend off and being paid.
I just don't want my sim to have unpaid time off.
Screenshot
As you can see in the screenshot: It's Saturday. Normally Rhonda doesn't have to work (unpaid time off), but the carpool will arrive. Rhonda can still call in sick or take a Paid Time Off (if available).
I tested this thoroughly (+50 simsdays in +5 households) with a lot of downloads (+12,000) and there are no conflicts.
Warnings and issues
Of course a global mod does always come with some issues.
It will most likely conflict with any mod that changes the BHAV "Function - Does Sim Work Today?" 'cause that's the only BHAV found in this mod.
This mod is made by borrowing the code made by whoward69's mod Duvet Days:
http://www.picknmixmods.com/Sims2/D.../DuvetDays.html
It most likely will conflict with that mod.
I recommend to use the Hack Conflict Detection Utility found here:
http://www.leefish.nl/mybb/showthread.php?tid=2063
Warning about gameplay
When a sim normally has a unpaid day off the carpool will still come so your sim can go to work, but only with the carpool. If the sim misses the carpool or the settings (or with a mod) are in any way that the carpool doesn't show, then the sim can't go to work. So make sure the carpool comes and that the sim doesn't miss it.
If you notice any conflicts, please, let me know so I can add that mod to the list.
Essential (for me) other downloads
These are all the essential downloads (for me), including ones related to this upload
https://s2idownloads.blogspot.be/p/the-essentials.html
Thank you's
I'd like to thank both Whoward69 and Gummilutt at MTS.
Whoward69 because he gave permission to alter his mod and to use it to create this.
And Gummilutt because she explained to me how to find the correct BHAV and how to alter it to make this work. She also warned me for the conflicts it might cause.
Additional Credits:
Wooden UI by Calidan (MTS)
http://bit.ly/1aKIKpW
SimPE
Numenor's Anygamestarter
The dress is found here:
http://bit.ly/lblOnlyOnS2I
Type: Global Mods

Tags: #global, #mod, #duvet, #days, #paid, #time, #off, #lientebollemeis, #sims, #work, #every, #day
My creations are only supported on my blog:
http://s2idownloads.blogspot.com
Contact me:
The most chance I won't miss your message is to
contact me on my blog. Or on MTS by e-mail (not PM)
:
http://s2idownloads.blogspot.com
(
There's an easy contactform on the left.
)
FAQ
Go to FAQ
The careers don't show up in my game.
What is PTO?
Can you create a career for me?
The lifespan doesn't work.
Could you create a career for Sims 3 or Sims 4?
Download all creations
A lot of my creations like TS3, TS4, clothing, food, lots, tutorials, ideas and careers
and any future creations since April 2018
are only found on my blog:
http://s2idownloads.blogspot.com
You can find an overview of all creations ever made and where to download them on my blog. You can there also download them all at once.
General Policy:
1. Only share the link to my work. Don't upload my creations anywhere!
2. Don't modify my work without permission. Just send me an e-mail.
2a. This also regards conversions to any other game.
2b. From the moment you use part of my creation you need permission to upload it.
2c. You can always contact me on my blog.
3. Do NOT use my creations as a base to make edits and reupload, anywhere. (e.g. PTO careers)
4. When using my work in your pictures, please, give credit (name and link to my blog (link to creation itself is not necessary. A link to my blog is enough)) so people know where to download it.
5. Respect my ideas. Please, don't copy my ideas for your own projects and claim it as your own. Give credit (link to my blog
http://s2idownloads.blogspot.com
) in every upload linked to my idea! (e.g. PTO careers)
6. Please, don't link to MTS. Link to my blog: http://s2idownloads.blogspot.com