>

Bon Voyage type lots/Such as hotels and camp grounds/Home away from home
The Lucky Lady Hotel and Casino (CC Free)
MTS has all free content, all the time. Find out how YOU can help to keep it running.
Tell me how...
3,167

Downloads
71

Thanks Thanks
16

Favourited
16,887

Views

Uploaded: 26th Feb 2018 at 9:33 PM
Welcome to the Lucky Lady Hotel and Casino! Our slots are hot and our tables are paying out! This five-star resort has everything you need for a vacation the whole family will love!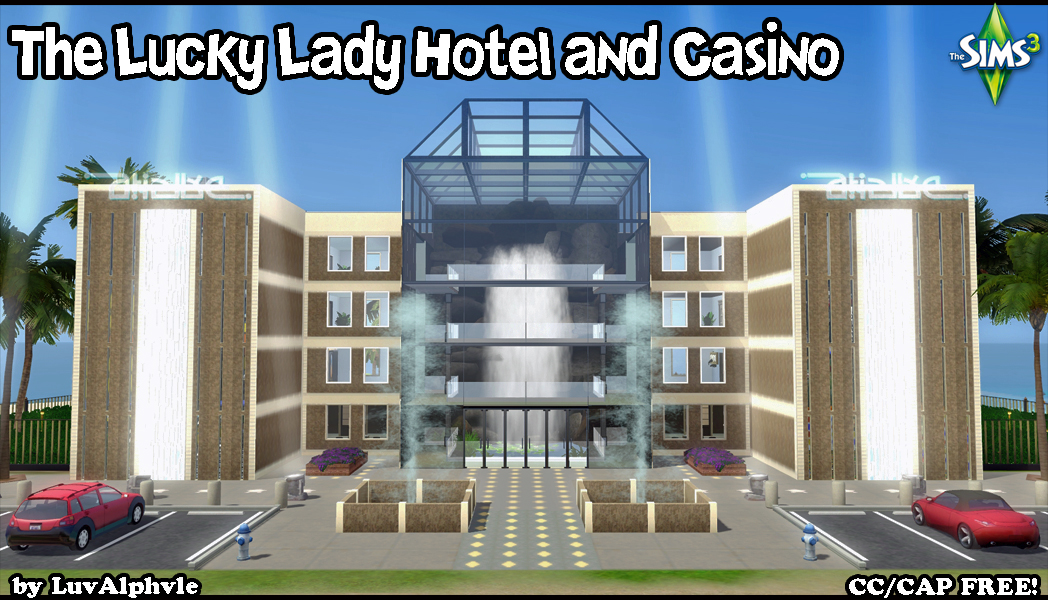 ● First Floor Amenities: Your vacation begins when you walk in the door and experience our exquisite four-story indoor waterfall, which cascades into a tranquil goldfish pool. Our check-in desk personnel are available to make your arrival quick and pleasant. They are knowledgeable about the area so if you have any questions, ask! Mosquito spray is available here for a small fee if you forgot to pack it in your luggage. Our chefs have worked tirelessly to create a menu everyone will love and our dining room is open 24 hours a day to cater to your cravings. If you prefer to work up a sweat, visit the exercise room and afterward enjoy a refreshing steam to recuperate. For those of you who are traveling with little ones, our toddler room is also on this floor.
● Second Floor Amenities: Our casino is the place to be to place your bets! Come try your luck at our poker, roulette, and blackjack tables. Our dealers are the hottest bots in town! We have a great selection of slot machines and they're all on fire! If you need a break from gaming, walk up to the bar and order the special. Doors are set specifically for adults - no kids allowed in the casino! But we haven't forgotten the younger vacationers - on this floor we have the first floor of our two-story game room. Try your skill on our rock walls - even race your friends! - or challenge them to a game of pool. Show off your skills on the Buck & Chuck Bronco. Also available are dominoes, table tennis, foosball, and gyroscope - but make sure you're not prone to motion sickness for that last one!
● Third Floor Amenities: The second floor of our two-story game room is packed full of electronics to buzz and ping and whir their way into your perfect vacation! Enjoy skee ball, basketball, pinball, whack-a-mole, and plenty of arcade games. Here you'll get a bird's-eye view of those brave souls attempting the summit of the rock wall. Are you feeling particularly lovey-dovey and reckless? This floor is where you'll find our wedding chapel. Reservations are encouraged but not required, because we understand that sometimes these decisions are made spur-of-the-moment. (Divorce attorneys not provided on site.) A party room with bar and dance floor is attached to the chapel so you can boogie down with your new spouse after you say "I do!"
● Fourth Floor Amenities: After your day of fun, retire to one of our eight themed VIP rooms. Six of the rooms are double-occupancy; two rooms are family suites.
● Basement: Five fully upgraded beach towers are down below, accessible by elevator. Spa treatments and spray tans galore! You can't go home without a tan - how will your friends be able to tell you went somewhere expensive?
● Pool Area: If you're looking for your vacation to go swimmingly, you've come to the right place! Dive right in and enjoy some of our pool activities. Our wave station allows you to to hone your surfing skills without that long drive to the ocean or the crowds o the beach. Enjoy a long, hot soak in our hot tubs or relax under our poolside cabanas. If you're thirsty, don't bother leaving the pool - swim right up to the pool bar and place your order! Poolside food stations are available so you can refuel without breaking stride. Do you think you're brave? Prove it with a brisk stroll over hot coals. Other available activities include horseshoes, golf, Gnubb, and more!
To look like the photos you have to have the items listed below. If not, the game will replace them with comparable items. (Check out the list to see what was used where. You still may be able to download even if you're missing some things.) All appliances upgraded.

If you find yourself waiting around for a check-in attendant, delete the front desks and replace them with new ones, then assign new attendants to them. You can do this even if you don't own the resort:
● Open your command window (control+shift+C) and type
testingcheatsenabled true
and hit enter.
● Control+shift+click anywhere on the floor of the resort. Select "Buy on this lot". It may take a few seconds to load because it's a large lot.
● Select "Sort by Function" and arrow down until you see the "Resorts" category. Delete the current front desks and replace them.
● Control+shift+click on the front desk and select "Hire New Employee for Front Desk". Choose anybody you want.
● Once you're back in live mode, the new attendants should take their posts shortly.
LIST OF ITEMS USED:
"WORLD ADVENTURES" EXPANSION PACK
Landscaping Rock - Large Horizontal
Landscaping Rock - Large Oval
Landscaping Rock - Large Round
Landscaping Rock - Large Square
Landscaping Rock - Large Vertical
Chinese Water Lily
Dark Limestone Terrain Paint
"AMBITIONS" EXPANSION PACK
Caesar's Pathway
Portable Gnubb Set
Cozy Counter
Simple Paneling with Crown and Baseboard Moulding - Left Edge
Simple Paneling with Crown and Baseboard Moulding - Right Edge
Simple Paneling with Crown and Baseboard Moulding
"LATE NIGHT" EXPANSION PACK
Elitissimo At-Home Barista
Custer's Sectional Lounge Seating
City Fire Hydrant
Nectar Nest
Pane de Pain Shelving
Freezer Bunny Adventures
Synesthesia
Deco Elevator
Familiar Fencing
Large Bricks
Wizard's Waves
Light Catcher by Ice Lightning
Fiery Glow Light
Insignia Neon Sign
Barney's Trash Chute
City Planter Box - Square
Cyllindrical Bollards
The Maelstrom Hot Tub
Custer's Sectional Lounge Seating Table
The Duke Counter Island
The Duke Professional Juice Bar
"GENERATIONS" EXPANSION PACK
Dream of the Windrunner
Frilly Framed Picture
Olivia Octopi
Paintings of Medieval Adventures
The Baronet's Fiefdom TV
Rib-It Rib-It Froggy McFrog Slide
Dreamer's Costume Chest
Sweet Cupcake Painting
Lil' Rebel Clothing Chucker
"SHOWTIME" EXPANSION PACK
Sleek Bistro Seat
Sleek Lounge
The Light Fantastic Downtown Neon
Las Palmas Palms Planter
Trapezium Double Doors
Satellite Speaker by NuSound
PlasmaPunch Gyroscopic Conductor
Gigi Photo Booth
Kingdomino Table
Side Pocket Pool Table
Super Skee Ball
Star Lite 5000
Buck & Chuck Bronco
PowerMax 50x120
Slice of Life Golf Driving Range
Simply Stylish Wall
Simply Stylish Wall Light
Sidewalk Star
Short Skinny Sago Palm Tree
"SUPERNATURAL" EXPANSION PACK
Smack-a-Gnome!
The Claaaaw
"SEASONS" EXPANSION PACK
Knobbs Double Door
Horseshoe Court
Family Fun Water Arena
Snow Cone Machine Cart
Boulder Built Patio Table
"UNIVERSITY LIFE" EXPANSION PACK
Choosy Choices Vending Machine
Fizzy Festival Vending Machine
Sugar Slide Vending Machine
Fire in the Skies Arcade Machine
Longhorns and Laser Beams Arcade Machine
Night of the Shambling Shades IV Arcade Machine
Parked Car Coupe B
Parked Car Hatchback A
Parked Car Hatchback B
Parked Car Sport Utility
Parked Car Sports
Sandy Sand Terrain Paint
Side to Walk On Terrain Paint
Bumper Buffer Parking Stripe (Double Line)
Bumper Buffer Parking Stripe (Single Line)
"ISLAND PARADISE" EXPANSION PACK
Sleek Plastic Chair
Cateraction Waterfall
Hydroglide Waterslide by DeLuge Inc.
Island Canopy
Patio Umbrella
Festive Potted Plant
Traveler's Palm
Coal Stroll Firewalk Pit
Flameo Firepit
"The Perfect Warm" Hot Tub
Penultimate Deluxe
Eco Modern Food Counter
The Beachside Food Stand
Contemplative Stone
Stacked Boulders
Island Bistro Table
Date Palm Tree
Queen Palm
"INTO THE FUTURE" EXPANSION PACK
BiPod Bunk Bed by Wiggin Youth Architecture
Flash Wall Sign by Corebital Designs
Ferning Over New Leaves Houseplant
Nature's Soil Rug (1X1)
Nature's Soil Rug (2X2)
Amundsen Single Door by Hill Gultch Furnishings
"Music Moves" Arcade Console by Korben Computing
Montgomery's Transparent Fencing by Modern Arcology
Fun Fugues Crib by Wiggin Youth Architecture
Lil' Kepler Ceiling Mobile by Wiggin Youth Architecture
Clean and Clear Wall Window by Modern Arcology
Fields Without Fences Wall Window by Modern Arcology
"OUTDOOR LIVING" STUFF PACK
Rock 'n Rock Stereo
The Rustique Wall Lantern
"TOWN LIFE" STUFF PACK
Workout Safety Quik-Tips
Ionu Spotlight
From the world of Aurora Skies
Solar Stone - Panels
From the world of Monte Vista
The Forgery Elite
From the world of Roaring Heights
Planted Palm Tree
Liquid Light Neon Tubes 1
Liquid Light Neon Tubes 2
Liquid Light Neon Tubes 3
Liquid Light Neon Tubes 4
Liquid Light Neon Tubes 5
The Great Tree Grate
Extra Tall Palm Tree
Fruitless Palm Tree
From the world of Sunlit Tides
Large Lava Boulder
Medium Lava Boulder
Small Lava Boulder
From the venue "The Boardwalk"
Flipper Flapper Pinball
From the venue "Skylight Studio for the Performing Arts"
Sharper Edge Skylights: Part VII
Sharper Edge Skylights: Part VIII
Flex and Stretch Wall Poster
PREMIUM CONTENT:
Atomic Jack Planet AttackPinball Machine
Barrier to Entry System
Buzzer Beater Free Throw Machine
Classic Gumball Machine
Dead Man's Hand Poker Table
Frost-Bite Pro Ice Cream Machine
Head Start Playpen
Hit 'Em Harder Blackjack Table
Keep Me Clean Outdoor Shower
Let It Ride Roulette Table
Light as a Feather Ballet Barre
Local Motion Toddler Walker
Sizzle Baby Pro Deep Dryer
Surf's Up Sun & Fun Wave Station
The World of Wonder Popcorn Machine and Cotton Candy Maker
Whack-A-Chicken
Whack-A-Clown
Whack-A-Corndog
INDIVIDUAL STORE ITEMS:
Glass Flowers Column
High-Low Column
Three Strikes Double Bed
Winner's Spot
Clay's Collection
Feelin' Lucky Wedding Arch
Playing with Trumps
Tower of Flower Power
City Never Sleeps
Payline Print
VIPs This Way
Bellies of the Cow Plant Beast Arcade Machine
Galactic Simball Arcade
Rocket Johnny's Retro Ride
Visions of Grandeur
Playing for Keeps
Roulette Radiance Ceiling Lamp
Luck Be a Light
Joy of Jackpots
The Right-O Wall Lamp
On the Rocks
Concrete Boarder Window
Scopophobic's Window
Timeless Views Window
Lot Size:
60x60
Lot Price (furnished):
§772,045
Lot Price (unfurnished):
N/A
About Me
Welcome to my page! Enjoy my builds but please don't re-upload without permission.