Buy Mode

>

>

Toys and food dishes/Scratching posts and dog houses/Stuff for your sim pets
TS2 > TS4 Galactix Animal Home Conversion
MTS has all free content, all the time. Find out how YOU can help to keep it running.
Tell me how...

Created by Menaceman44 View Policy / About Me View Downloads Home Patreon Twitter Tumblr
Uploaded 19th May 2018 at 1:43 PM · Updated 27th Aug 2018 at 5:55 PM by Menaceman44
Description
Today I am offering you my third and final pet house conversion. This time it is of the Galactix Animal Home from The Sims 2 for use in your Sims 4 game.
I felt this one would be good for mad scientists, aliens, or owners of unconventional pets.
For this converson I have had to recreate all of the textures from scratch and do some substantial UV remapping to make it look better.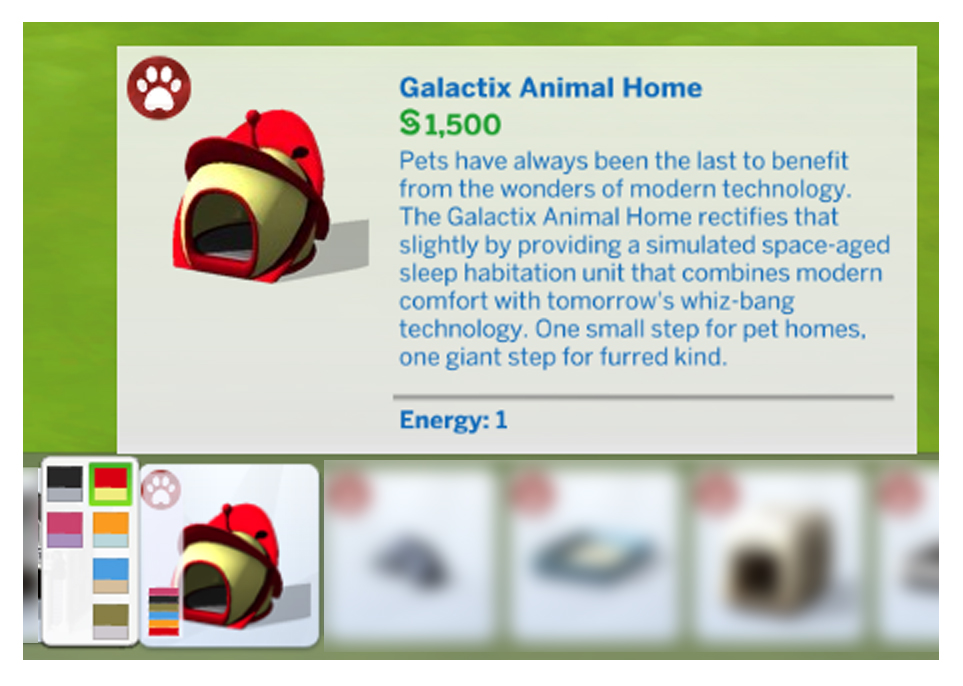 Info
The Galactix Animal Home comes in a total of 6 colour choices as can be seen in the attached images. The designs are all based on the original colours from TS2 with the addition of a purple/pink version as well.
Large dogs, small dogs, and cats call ALL sleep in this pet house. It can only be used by one pet at a time though. This means that the object also uses a custom tuning.
Pets will only enter the object from the front, as intended. They should not be able to jump through the walls.
The pet house can be found under the Pets Object sort or any of the pet icons found in Room sort for a cost of 1,500 simoleons.
Installation -

Important

Inside the .zip archive there are two files.
If you DO NOT already have my Low Country Living Pet House conversion in your game then install BOTH files as the tuning is required for the object to work. Otherwise you will just have a pretty decorative object that can't be used.
If you DO already have my Low Country Living Pet House conversion in your game then you do not need to use the tuning file as it is already included in my first pet house conversion.
Notes

The pet house now features a custom snowcover texture so that snow no longer collects inside the pet house when placed outside in Winter.
Pets may stand at any side of the pet house when attempting to shoo another pet from it.
When a Sim directs a pet to use the house, they may clip their hand through the roof depending on where they stand for the interaction. See the attached image.
There is also slight clipping with the back legs of large dogs when exiting the house.
Polygon Counts:
LOD0 (High) - 2198
LOD1 (Medium) - 1504
Additional Credits:
SimPE,
s4studio,
blender,
Photoshop.
Style: Retro Modern Sci-Fi
Room: Outdoor
Maxis Flags: Not Applicable

Tags: #pet, #dog, #cat, #house, #space, #conversion, #sleep, #doghouse, #converted
Info
If you would like to support what I do you can do so by buying me a
ko-fi
.
I also have a
Patreon
page if you would like to make your support ongoing.
Please do not comment on my downloads asking if they need updating for new patches. By all means. please DO post if you have tried them in your game and find them to be broken. Make sure to include details of what is wrong though. Just telling me something needs updating is not helpful.
Comments are always welcome, good or bad. Although I prefer the good ones, heheh!
As I have now moved over to playing TS4, my TS3 and TS2 creations should be considered mostly unsupported.
Please see the Policy tab above if you are wanting to use any of my creations.