Female Waist and Hip Height Slider (Updated 20th July 2022
372,247

Downloads
1,168

Thanks Thanks
271

Favourited
483,560

Views


Uploaded: 5th Jun 2018 at 2:44 AM
Updated: 20th Jul 2022 at 3:59 PM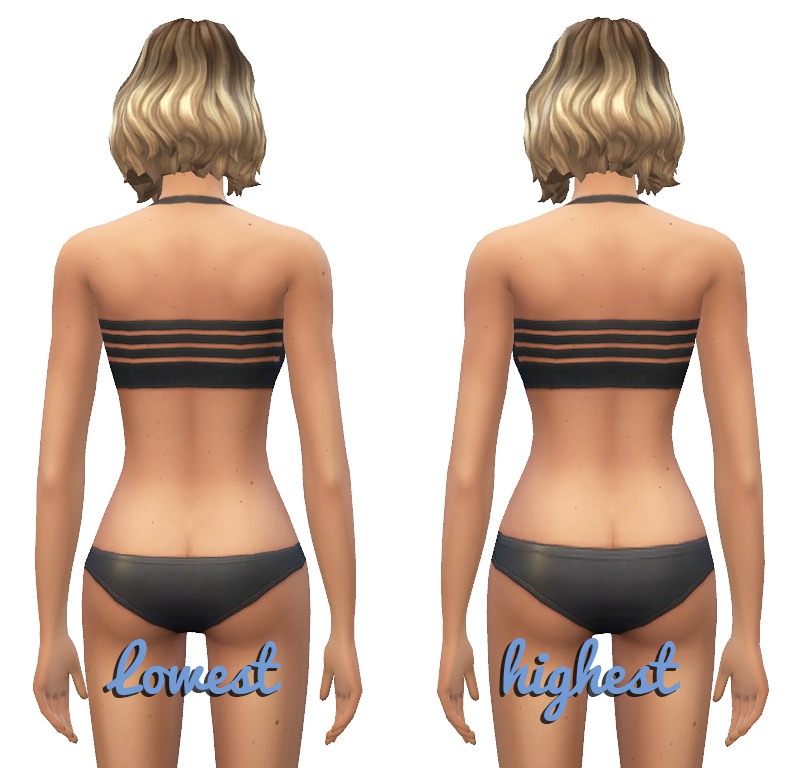 This slider adds a hip and waist height slider to CAS. It's fairly subtle, but it's something that I wanted for the game for a little more body diversity.
It can be found by pulling up and down instead of left and right when altering the sim's waist size. The original waist size slider works as normal.
Conflicts: This slider will conflict with any other mod or slider that replaces the resource 8B18FF6E!00000000_00000000000023EA, the female waist hot spot controls.
There is some slight distortion when a sim is wearing horizontal stripes, but otherwise, there are no issues.
Please redownload if you had issues with the stomach size slider!!
Created using the TS4 MorphMaker
Additional Credits:
CmarNYC for creating the amazing TS4 MorphMaker and providing easy to follow tutorials!
Packs Needed
None, this is Sims 4 base game compatible!
Hellfrozeover
Yes! (with credit) - CC

Recolours
Retextures
Mesh Conversions (within the Sims series)
Mesh Edits
Reuploads on foreign language sites to make it easier for non English speaking players to access it. A link to my own site is preferable if you could, but this is okay as long as you provide credit and a link back to the original.
Including the mesh in your recolour as long as you credit and link back.
Optional (nice, but not necessary)

Tagging when you use my CC if you want me to see it. I love seeing what you all create and do with it :)
Comments and feedback
No!

Taking credit for my CC or claiming it as your own
Converting my CC outwith the Sims series without my permission
Using my CC or any part of it (including textures) to make money, including Patreon Early Releases
Uploading my CC to Paysites or putting it behind a pay wall (looking at you, Simsdom)
Anything to do with TSR
Reuploading my CC to English language sites. What's the point? Just link to the original!
If I leave the simming community, my CC may be uploaded to a free, adlink-free graveyard site.

Yes - Sims

Change their names/traits etc
Make them over
Edit them with sliders
Use them in your stories

No - Sims

Reupload them
Claim them as your own
Anything to do with T$R, the Gallery or Sims 3 Studio
Involve them in Simumblr blogs, because no

Don't punch dolphins