Ask for treats and satisfy trick or treat holiday tradition.
13,665

Downloads
378

Thanks Thanks
117

Favourited
46,373

Views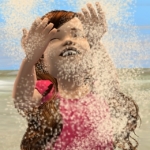 Uploaded: 21st Aug 2018 at 10:28 PM
Updated: 12th Jul 2023 at 2:16 PM

Updated for the sims 1.98 patch. The mod should now work again. Also removed one of the treat interactions to help c lean up the pie menu.

Does the trick or treat holiday tradition bother you because almost no kids come to your house and therefore many sims won't be able to satisfy it? Does it seem stupid that kids love the trick or treat tradition, but can't get any candy themselves.
This mod unlocks the ask for party treats interaction outside of spooky day parties and modifies the autonomy of the interaction. Furthermore, doing this social will satisfy the trick or treat holiday tradition.
The ask for party treats allows sims (child and older) to ask another sim for a treat (teen and older)
this interactions is animated and includes one sim giving a treat to the other, and than that sim eating the treat immediately.
the ask for party treats interaction is allowed for autonomous, but edited so older older sims are less likely to perform it autonomously as well as sims in certain emotions.
With this mod, you can simulate your sims trick or treating by going to a community lot (or walking around the public space) and asking other sims for party treats (i.e. candy)
The mod edits the following resources.
<T>125362<!--mixer_social_AskforPartyTreat--></T>
<187746> holidayTraditionGoal_GiveTrickorTreat
Hope you enjoy the mod and have fun trick or treating.
Packs Needed
| | Base Game |
| --- | --- |
| | Sims 4 |
| | Expansion Pack |
| --- | --- |
| | Seasons |
| | Stuff Pack |
| --- | --- |
| | Spooky Stuff |
I make small mods for the sims of things that annoy me.
I got into modding after realizing that it is easier to fix things yourself than wait for mods to fix it. I have almost no experience in modding but through reverse engineering other mods and fooling around in sims 4 studio, and
SimPE
I have found out how to make simple edits and the like. I try to keep my mods updated when possible. Feel free to update, take apart, or modify my content in any way. Just make sure to credit me if you post it online.