Sims

>

>

Get your celebs here/Lots of Angelina sims/And not a lot else
Tom Welling, prettiest man on Earth
MTS has all free content, all the time. Find out how YOU can help to keep it running.
Tell me how...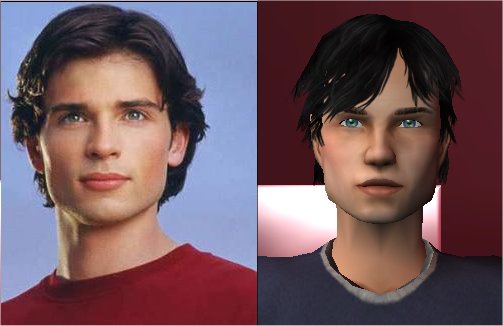 Created by unseelie_sidhe View Policy / About Me View Downloads Home
Uploaded 7th May 2005 at 8:59 PM · Updated 15th Nov 2008 at 11:51 PM by unseelie_sidhe
I know, I know, others have done sims of Mr. Welling, including soulvoice, whose version of Tom I used as a starting point. I've never been able to skin a celeb from scratch, but I've seen several that made me think "That's great, but what if they had just tweaked this bit here...."

So anyway, soulvoice's Tom was the best I'd seen so far, but I wanted to see if I could get a closer likeness. So I started tinkering, and thought I'd share what I came up with.
And again, I'd be nowhere without soulvoice's Tom as a starting point.
Tags: #smallville, #superman
The Unseelie Sidhe pauses to discuss his favorite subject... himself!
Welcome. Please be seated. Just brush that goblin out of the way... that's better.

I'd just like to say that you're always welcome here among the wicked faeries. After all, life's not all stealing babies and poisoning princesses. Which reminds me, you might want to stop nibbling on that apple. Try the wine instead. No, even a Goblin King must occassionally stop for a brief rest. Putting all those curses on royalty can be so exhausting.

While you're here, feel free to help yourself to any little goodies you find, just please don't repost them as your own. Credit where credit is due, and all that. If I have to confess to where I might have... borrowed... this or that, well, then so do you. Otherwise, I'll be forced to transform you into something unpleasant, or put you to sleep for a hundred years, and that's so cliché. So let's avoid all that shall we.

Well, it's been pleasant, but I must be off again. Some poor peasant is lost in the woods, and I've got to make sure they're never heard from again. Tah!