Sims 4

>

>

Custom careers - more choice for your working Sim!
Perfumer Career (Base or Seasons) UPDATED 4/29/19
27,329

Downloads
174

Thanks Thanks
46

Favourited
32,278

Views
Uploaded: 11th Sep 2018 at 3:15 PM
Updated: 29th Apr 2019 at 8:17 AM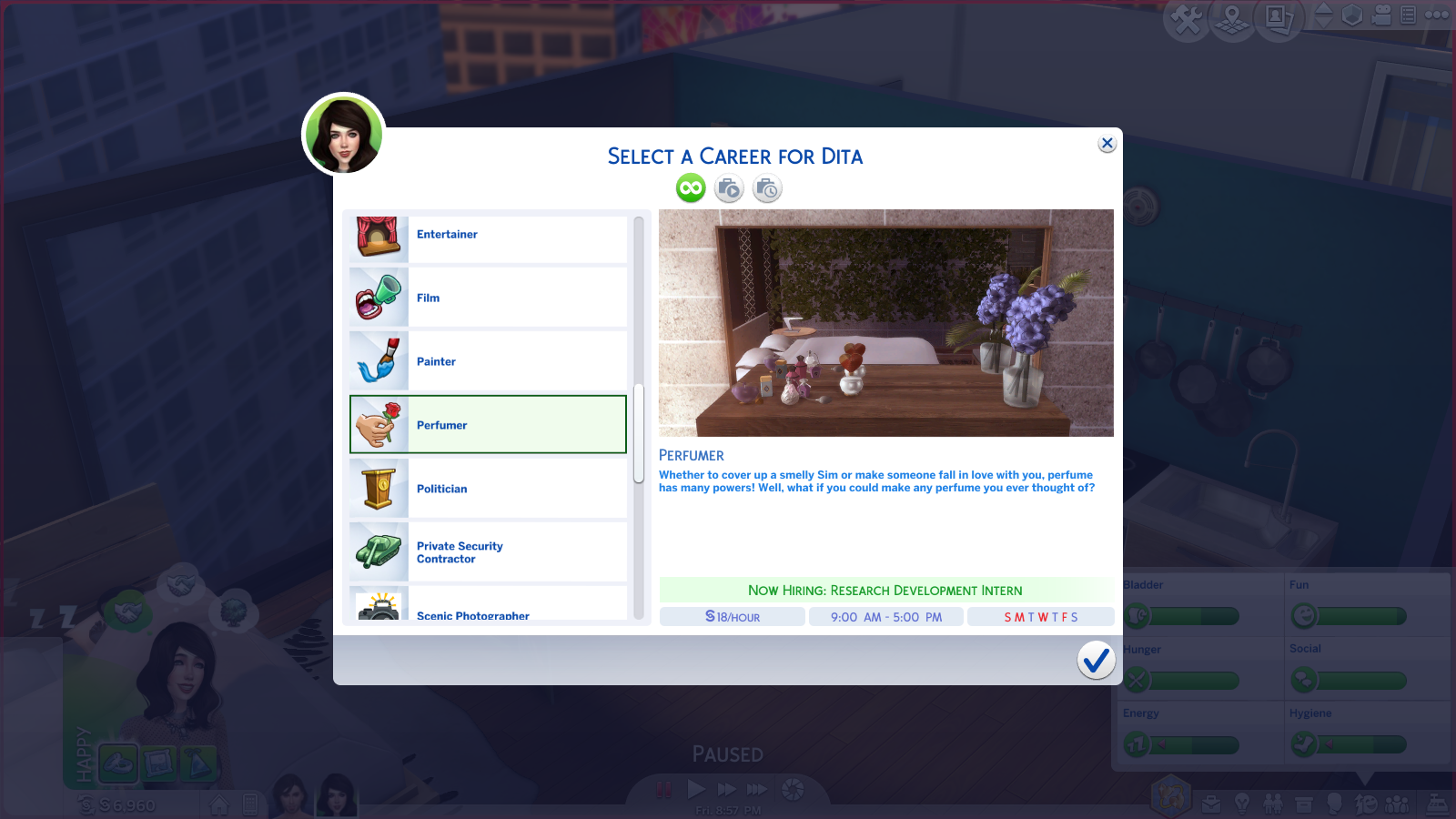 UPDATED 4/29/2019 - For game patched to 1.51.77.1020, base or with seasons

Sul sul! This is my first cc and I'm super excited to share with you a custom career of a Perfumer!
Although we have 'scents' with the flower arranging skill, I wanted to send my sim away like all the other careers! Made it so in the beginning of the career you spend your time improving skills, and near the end you can combine this with Get to Work and open your own Perfumery/Florist~
* Although I spent hours researching what a real world perfumer's career path is like, I'm still unsure if what I have here makes sense, so if there are any out there who can correct me please do! *
Zip includes:
Neia_Careers_Commons.package (if you don't have this already)
Perfumer package
Perfumer ts4script
- Put all three into your Mods folder, or in one folder deep
DOWNLOAD ONE zip ONLY
(Base for everyone without Seasons, Seasons for seasons. I've only used traits from those specifically so other EPs will work)

Research Development Intern
Tues, Thurs, Sat - $18/hour
- Logic 2 (Base/Seasons)
Congratulations! You've landed that coveted research internship while you complete your bachelors degree in chemistry. Did they hire your brain, or...was it the size of your nose?

Lab Technician
Mon, Wed, Fri - $25/hour
- Logic 4, Mixology 2 (Base)
- Charisma 2 (Seasons)
Finally, you get to see the inside of a lab, try not to break anything! You'll be working alongside brilliant minds…. and noses. No garlic allowed for lunch!

Formulation Chemist
Mon - Fri - $35/hour
- Logic 6, Mixology 4 (Base)
- Flower Arranging 2, Gardening 2, Logic 4 (Seasons)
You better make use of your shiny degree and noggin, now working with percentages, creating formulas, and fixing failed batches.

Scent Engineer
Mon - Fri - $58/hour
- Gardening 2, Mixology 6 (Base)
- Flower Arranging 4, Gardening 4 (Seasons)
Ready to unleash all the scents you're dreaming about and been jotting down in your notebook? Even in your free time you are growing new flowers and analyzing their scent qualities. You may have shown up to work once or twice (ok..everyday) with some in your hair.

Private Label Manufacturer
Mon - Fri - $62/hour
- Mixology 8, Gardening 4 (Base)
- Flower Arranging 6 (Seasons)
Your scent designs are a hit with your boss, they recommended you to lead on a private label! You get your first hands on experience overseeing the whole creation process, from lab to large scale manufacturing.

Fashion House Perfumer
Mon - Sat - $70/hour
- Gardening 6, Mixology 10 (Base)
- Charisma 4 , Flower Arranging 8 (Seasons)
Out of the lab bubble, and into the world of fashion perfume! Not only do your creations need to smell good, they have to reflect the upcoming fashion line! There's a lot of deadline stress, but hey, you'll be the best dressed perfumer in town!

Fine Fragrance Perfumer
Mon - Fri - $93/hour
- Charisma 4, Gardening 8 (Base)
- Gardening 10 (Seasons)
Your scents have been a hit and you've been contacted to join a prestigious perfume label. You need to step up and find the rarest flowers in the world to create something truly special to stand out. Sims everywhere will go nuts for a bottle!

Fragrance Evaluator
Mon - Fri - $105/hour
- Gardening 10, Charisma 6 (Base)
- Charisma 6 (Seasons)
Ahh the nose knows what's good. People listen to your nose, you know what the consumers buy. Overseeing other perfumers however, is a challenge. How will you deal with stuffy Noses?!

Independent Brand Founder
Mon - Sat - $125/hour
- Charisma 8 (Base)
- Flower Arranging 10, Charisma 8 (Seasons)
It's time to have a go at it on your own, after years (sim days?) of working for others. You've got the industry know-how, insider connections, and your trusty schnoz. Brush up on your negotiating skills and snag a loan to get your business started!

Ascent Parfum CEO
Mon, Wed, Fri - $500/hour
- Charisma 10 (Base/Seasons)
You're taking over the world, one scent at a time. The brand has been so successful everyone wants to collaborate. Don't let it get to your head, remember to spend some time cultivating those rare flowers between meetings, and flying to your several offices.


Additional Credits:
Thanks to:
Neia's Create-A-Career Beta Tool -
http://www.simneia.fr/home.html
S4PE -
https://github.com/s4ptacle/Sims4Tools
Python -
https://www.python.org/
Neia's Career Tool Tutorial
Packs Needed
None, this is Sims 4 base game compatible!