Sims 4

>

>

Mods that replace game resources other than the script core.
Patchy The Scarecrow Behaviour (Updated 1.51.75.1020 Patch)
13,707

Downloads
175

Thanks Thanks
79

Favourited
43,019

Views

Uploaded: 21st Oct 2018 at 4:52 PM
Updated: 18th Apr 2019 at 12:59 AM

This mod needs to be updated to fix the blank text issue in the string tables for 1.51.75.1020 Patch.

Mod Last Update: 04/17/2019
Update History
Updated 04/17/2019
Fixed the blank text issue in the string tables for 1.51.75.1020 Patch.
Version 1.1
Updated to Game Version 1.47.49.1020
Added new actions: more Clean ones and Laundry.
Description:
This mod adds some options that I wanted to perfome with Patchy since I started playing with him. They are in 4 sections, they don't need each other to work, they can work by themselves. They are the following ones:
A Lillte More Actions
This adds some extra actions to Patchy as cook by himself for you, more autonomy on cleaning and repair when something is broken.
This adds the option "Ask To Leave" to tell to Patchy that it is time to go.
There are a list of packages that you need to choose according to your preference:
Cook, Repair, Clean and Laundry
Descriptions:
Clean:
Patchy now perfoms with more diligence clean stuff like wash the dishes, pick up the trash, mop the floor, etc.
Rapair:
If Patchy sees something broken in your lot, he immediately repairs it.
Cook:
Patchy will cook for you by himself like buttlers do.
Laundry:
Patchy will collect your laundry.

Note that the "Normal" package only has "Ask To Leave" option. The rest have "Ask To Leave" option and the actions that is intended to.

The "Cook" version ones need Vintage Glamour Stuff to work, so if you don't have it, you can just download the other versions. You can choose only one package.
Call Forth
This adds an option to "Call Forth" Patchy, so with this you can call over to Patchy whenever you want. This complements very well with "Ask to Leave".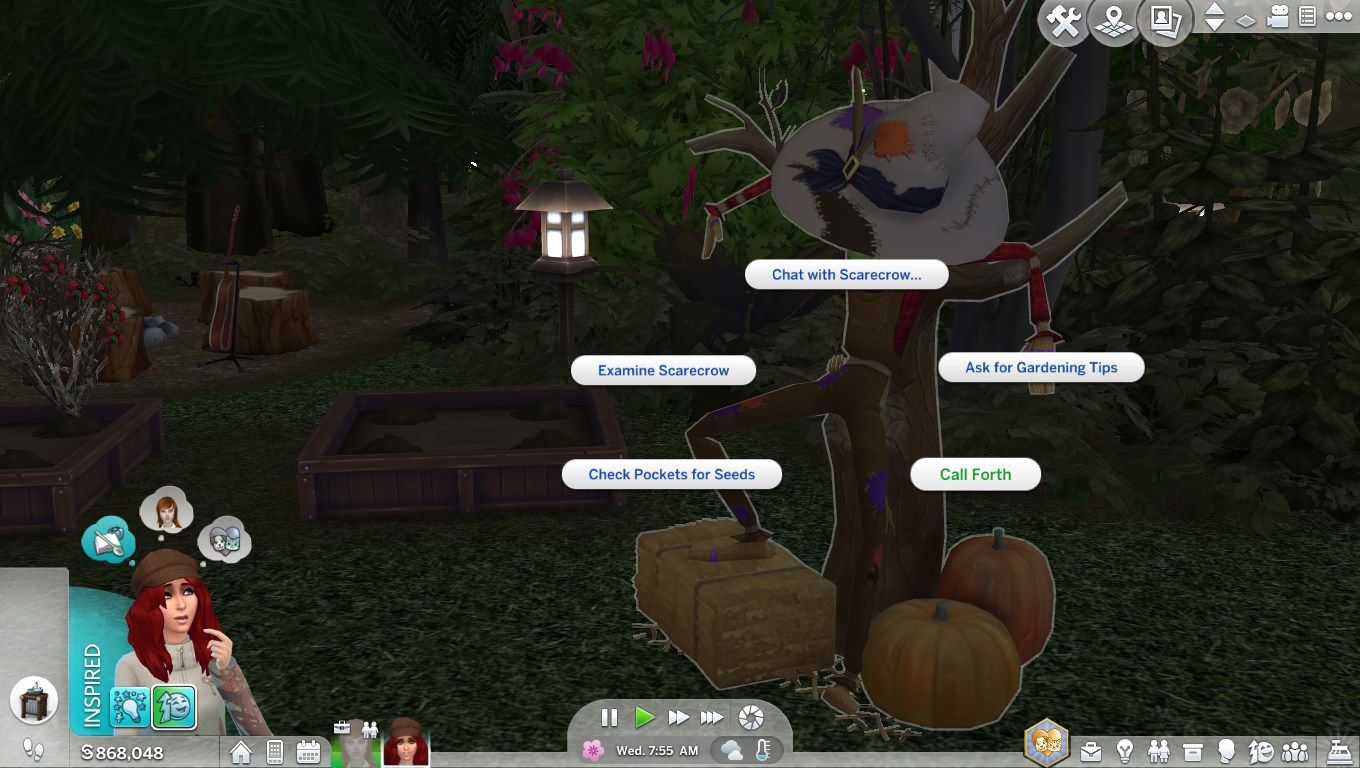 Duration Time
This manages the duration time (hour) that you want Patchy to stay in alive state. There are a list of packages that you need to choose according to your preference:
Remember that Patchy leaves depending on his activities plus the hour, so it can happen that he delays on it. But this is a general "map" of his time. So "Ask to Leave" it will be very helpful.

You can choose only one package.
Unlocked Features
There are actions locked to Patchy to perform, so it has unlocked to accomplish some storylines or gameplays. They are the following ones:
Ask to Move
:You can have Patchy as member of your household with cheats, but this is the one that appears in sims to perform such action without them.
Ghost State Unlocked
: When I was playing with Patchy and he died, he didn't perform the "ghost" behaviour, so I realized that it was locked. Now with this mod he can perform them in ghost state.
Wedding and Dates
: I noticed that it was not possible to perform a date with Patchy because he leaves the lot due to he doesn't have the role and he was locked; so with this, he can play his role so he never leaves it . Now you can have a date with him with no issues.
And it was not possible to perform a wedding with him for similar reasons, so it has unlocked that feature and now we can have a very happy wedding.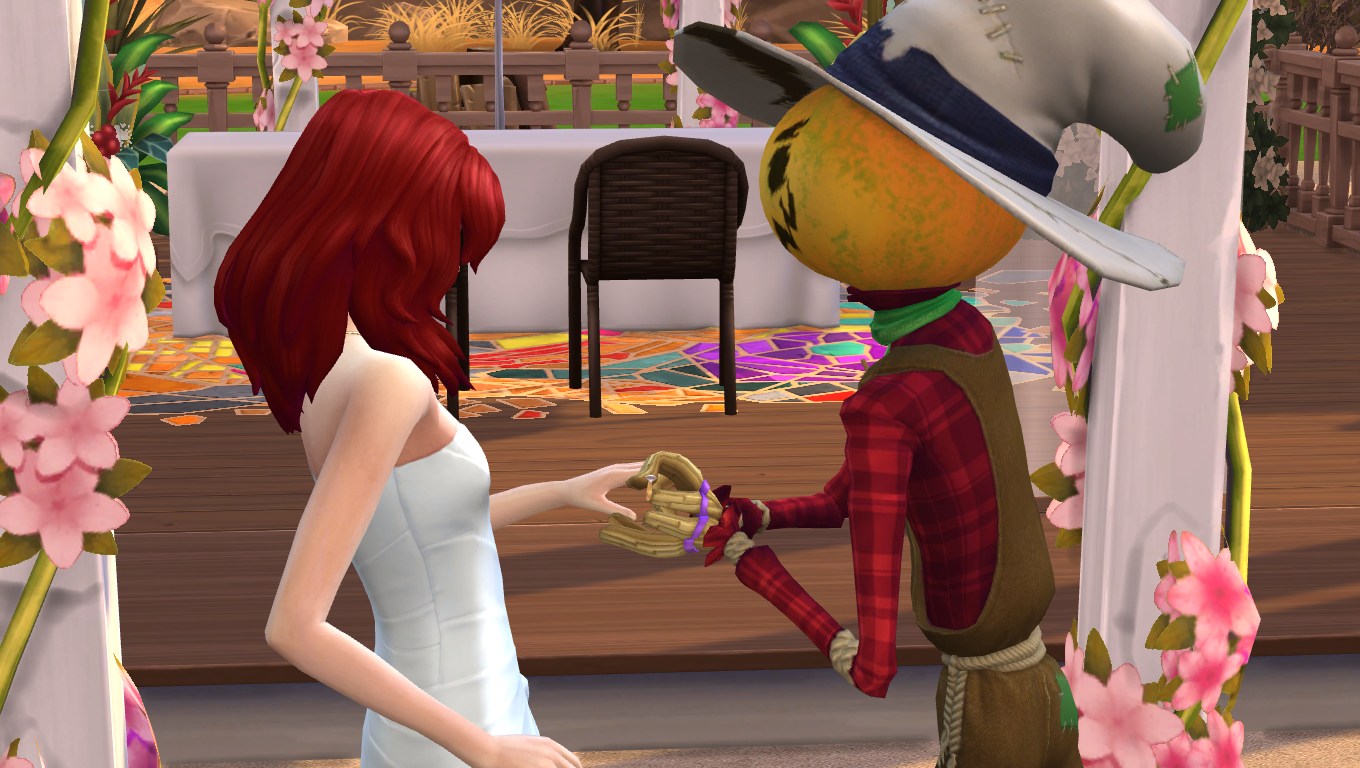 Known Issues
This mod helps to have a little more options with Pacthy but it has two things you need to know:
When you marry to Patchy and if you move him to your household, it can happen that the game genarates another Patchy since he is a NPC supposed to be when you have his object (tree) and a good relantionship so his situation could run.
"Ask to Live" interaction is a general NPC leave lot, so it can happen that Patchy leaves the lot like a general NPC, but he will come back to his object, don't worry. And this is the reason I recommend of having only one Patchy object (tree) to avoid doubles Patchy.
Conflicts
This mod can coflict with any other mod that changes the same tuning files listed below:

A Lillte More Actions Mod:

0E4D15FB!0000001A!000000000002DAD2.roles_Scarecrow_DoThings.RoleStateTuning
545AC67A!0017E8F6!000000000002E66B.buff_AutonomyMod_Scarecrow.SimData
6017E896!0000001A!000000000002E66B.buff_AutonomyMod_Scarecrow.BuffTuning

Call Forth Mod:

B61DE6B4!0000001A!000000000002DDDB.object_Scarecrow.ObjectTuning

Scarecrow Duration Time Mod:

2553F435!0000001A!000000000002E1B1.situationDramaNode_Scarecrow.DramaNodeTuning
2553F435!0000001A!000000000002EA46.situationDramaNode_Scarecrow_Red.DramaNodeTuning
2553F435!0000001A!000000000002EA47.situationDramaNode_Scarecrow_Purple.DramaNodeTuning
FBC3AEEB!0000001A!000000000002DAC0.scarecrow_situation.SituationTuning
FBC3AEEB!0000001A!000000000002EA43.scarecrow_situation_Red.SituationTuning
FBC3AEEB!0000001A!000000000002EA44.scarecrow_situation_Purple.SituationTuning

Unlocked Features Mod:

6E0DDA9F!00000000!000000000001EAFA.filter_IsFriend_NotEngagedToActor.SimFilterTuning
6E0DDA9F!00000000!000000000001EAFC.filter_IsFriend_NotMarriedToActor.SimFilterTuning
6E0DDA9F!00000000!000000000001ED88.filter_ages_tyae_HasRomanticRelationship_NotBusy.SimFilterTuning
6E0DDA9F!00000000!000000000001ED89.filter_ages_tyae_HasRomanticRelationship_withSim.SimFilterTuning
6E0DDA9F!00000000!000000000002E35B.filter_ages_tyae_HasRomanticRelationship.SimFilterTuning
6E0DDA9F!00000000!0000000000008C55.filter_IsMarried.SimFilterTuning
6E0DDA9F!00000000!0000000000008C56.filter_IsMarriedToActor.SimFilterTuning
6E0DDA9F!00000000!0000000000012E00.filter_BetrothedJob.SimFilterTuning
6E0DDA9F!00000000!0000000000028DAE.filter_ages_tyae_HasRomanticRelationship_withSim_RelOnly.SimFilterTuning
6E0DDA9F!00000000!00000000000078C7.filter_IsEngaged.SimFilterTuning
6E0DDA9F!00000000!000000000001999F.filter_ages_YoungAdult_Elder_Allow_Ghosts.SimFilterTuning
6E0DDA9F!00000000!0000000000006309.filter_IsNotMarried.SimFilterTuning
6E0DDA9F!00000000!0000000000007299.filter_yae_engaged.SimFilterTuning
6E0DDA9F!00000000!0000000000019406.filter_IsGhost.SimFilterTuning
6E0DDA9F!00000000!0000000000019413.filter_IsNotGhost.SimFilterTuning
6E0DDA9F!00000000!0000000000025677.filter_ages_yae_NotInFamily_HasMet_AllowedInDay.SimFilterTuning
6E0DDA9F!00000009!000000000001DEF4.barfly_Filters_ghost.SimFilterTuning
E882D22F!00000000!0000000000017FFC.mixer_social_AskMoveIn_targeted_Friendly_alwaysOn.InteractionTuning
E882D22F!00000000!000000000000661B.mixer_social_Propose_targeted_romance_relationship.InteractionTuning

Additional Credits:
Sims4studio
Packs Needed
| | Base Game |
| --- | --- |
| | Sims 4 |
| | Expansion Pack |
| --- | --- |
| | Cats and Dogs |
| | Seasons |
| | Game Pack |
| --- | --- |
| | Parenthood |
| | Stuff Pack |
| --- | --- |
| | Vintage Glamour Stuff |
| | Toddler Stuff |
| | Laundry Day Stuff |
Welcome to my profile
- You can suggest or make recommendations.
- I need translators for my mods, so if you can help here, it will be appreciated. I will give the appropriate credits.
- If you have an issue, I will answer more quickly from here.
Itsmysimmod Discord Server
Terms:
- Now you can update my mods but giving the credits from MTS.
- You can share my mods but linking MTS link.
Hi! I want to inform I can't make mods anymore, even so I have new ideas in mind, but due to illness, I will not. I know we were few here, but I felt the need to explain my reasons. I don't know if you know about Dermatomyositis. It is an autoinmune desease. All my body hurts, literally, I can't be in a PC all day. I live in Venezuela and the process will be very slow due to the economic/social situation in this country, we have a hyperinflation and everything is very expensive or difficult to find. I can't lie to you all, I feel very sad and deppressed, I wanted to still play this game and make more mods. This was my out of reallity time, with you all and many other simmers around the world. It was very difficult for me to write this. You know where I am, at MTS. So... goodbye and my best wishes to all.
MODDERS IF YOU WANT TO UPDATE MY MODS, YOU ARE FREE OF DOING IT BUT GIVING THE ORIGINAL CREATOR CREDITS. THANKS.