Sims 4

>

Buy Mode

>

>

Plants, sculptures, wall hangings & paintings, mirrors, curtains, and miscellaneous.
Emotional Art - Enable Moods, or Don't
MTS has all free content, all the time. Find out how YOU can help to keep it running.
Tell me how...
11,114

Downloads
128

Thanks Thanks
36

Favourited
33,568

Views

Uploaded: 1st Jan 2019 at 12:27 AM
Updated: 3rd Jan 2019 at 6:02 PM
Hello Everyone!

Emotional Art - Enable Moods, or Don't - Base Game Compatible
Ever have an emotional challenge you can't quite meet? Like at a party you need some playful Sims and you don't have any statues?
Want to make life easier for yourself and your Sims to reach certain emotions in a whole new way? Have a story line and you need some screenshots of Sims in a particular mood?
I have just the thing!
This is a set of paintings cloned from the Base Game painting Saxophone in Silhouette, with added Emotional Auras that you can Enable and/or Disable at will.
There are
14
packages available in this upload:
The first is called
Enable Emotional Auras
which has
12
paintings.
Only install and use this set if you are super comfortable with enabling objects' auras and their quirks.
The second is called
That Is Not a Mood
which has
19
moodlet based paintings with no effects.
The rest are
12 individual packages
for the paintings included in the
Enable Emotional Auras
collection.
Install these if you want to be able to enable multiple emotional auras at once.
All are located in the catalog in Buy Mode in byFunction/Decorations/Paintings and Posters, or byRoom then clicking on the painting icon, at a cost of §200 each.
Conflicts:
There are no conflicts! You can install all 14 packages without worries, just beware of the order of effects as stated below with regards to the
Enable Emotional Auras
12 painting collection.

Please see the Special Notes regarding enabling auras. This is important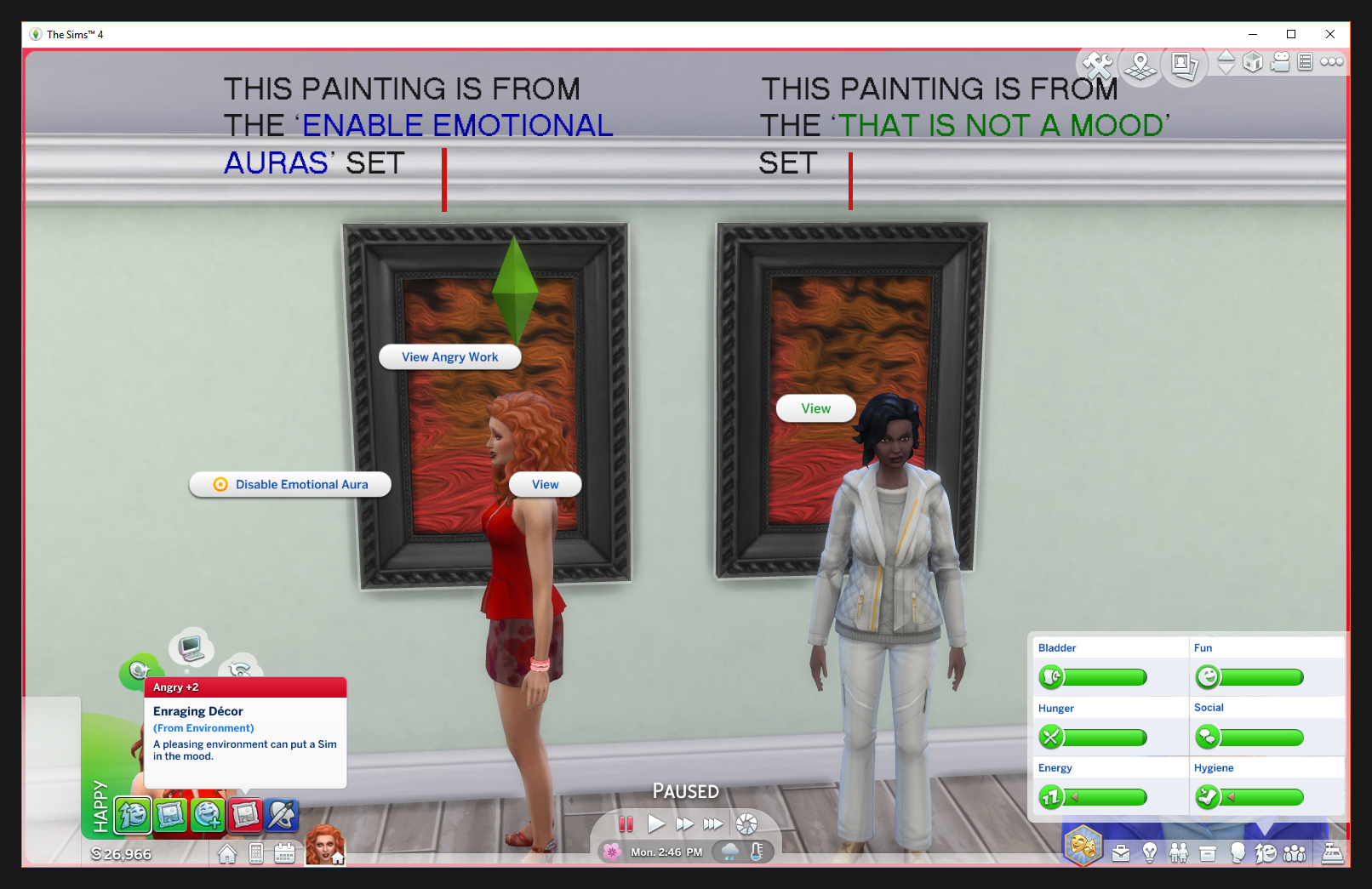 Set 1 - Enable Emotional Auras
This set of paintings contains all the emotions that are capable of being enabled by objects, and
will provide a +2 corresponding buff when enabled,
which lasts only until disabled, and affects all Sims in the area.
-Angry
-Bored
-Confident
-Embarrassed
-Energized
-Flirty
-Focused
-Happy
-Imaginative (Inspired)
-Playful
-Sad
-Tense
---You can compound the effects by purchasing more than one painting with the same emotional aura and enabling them all, as long as none or only one of them come from the 12 painting inclusive package.
---You can also have more than one aura enabled by purchasing paintings from the individually wrapped catalog items.
Some of these may also be
viewed as Emotional works
. These are the emotions that are attached to the Painting Skill, will provide a
+1 corresponding buff
which lasts 4 hours when viewed and only affects the Sim you've instructed to view the work, and include:
-Angry
-Confident
-Energized
-Flirty
-Focused
-Happy (shows up as Enjoy instead of View Happy work)
-Inspired (Imaginative)
-Playful
-Sad
---These work any time and do not require special instructions unless you use the design tool.
See the Special Notes.
Set 2 - That Is Not a Mood
This set of paintings provides
no environmental values or mood buffs
whatsoever. They are simply based on all of the game's possible moods and are for
decorative purposes only
.
These include:
-Angry
-Bored
-Confident
-Cranky
-Depressed
-Drunk
-Embarrassed
-Energized
-Fine
-Flirty
-Focused
-Happy
-Imaginative (Inspired)
-Optimism
-Playful
-Sad
-Sloshed
-Tense
-Uncomfortable
Special Notes I like to call EA Glitches when Enabling Auras and/or using the Design Tool


When purchasing paintings from the
full set of 12 Enable Emotional Auras catalog item,
only the first enabled aura will affect Sims, and only when paintings are purchased separately, not changed using the design tool.
These quirks are not present when you install the Enable Emotional Auras paintings individually by moodlet name!
Here are some examples:
1.
You purchase an Angry painting and a Bored painting.
You need an angry Sim so you enable the Angry aura, then decide you also want the Bored aura enabled, so you enable that one as well.
All Sims in the area will now have a +2 Angry moodlet for as long as it is enabled. But wait! There's no Bored buff!
There will not be any effect from the enabled Bored painting's aura until you Disable the Angry painting's aura.
2.
You have purchased a Tense painting, and have enabled it's aura.
At this point, it doesn't matter if you disable the painting's aura or not.
You go into Build/Buy mode and use the
design tool
to change the painting from Tense to Flirty, because now you want Flirty Sims, and go back into live mode.
You enable the Flirty painting's aura, expecting the Flirty buff. But wait! You still get the Tense buff!
You must go into Build/Buy mode and delete/sell the Tense painting and buy a Flirty painting before you can enable and use the Flirty painting's aura.
3.
You have purchased Confident, Flirty, and Playful paintings (or even just the Confident one),
and have viewed the Confident painting in live gameplay using the View Confident Work feature.
You now have a +1 Confident buff for your Sim that will last 4 hours, no matter what.
You decide you don't want it, and use the
design tool
in Build/Buy mode to change it to an Energized painting.
You go to enable the new painting's aura, expecting to be Energized. But wait! You get nothing! From
any
painting! And you still have the +1 Confident buff for any applicable remaining time.
Now, to get the auras working again, you must go into Build/Buy mode and delete/sell all previously purchased Enable Emotional Aura paintings on the lot, and buy an Energized painting before you can enable and use the Energized painting's aura.
Finally,
4.Let's say you want the Confident aura buff, but you don't like that painting
. Perhaps, the Flirty painting better suits your design needs.
Here's what you do:
Go into Build/Buy mode and buy the Confident painting from the
Enable Emotional Aura full set of 12 catalog item
, and place it where you want it on the wall.
Go back into live gameplay.
This sets the aura permanently on the painting while it is on the lot.
Go back into Build/Buy mode and
use the design tool
to change the painting to the Flirty design.
Once back in live gameplay, the Flirty design is what you see, but the effects remain the same as the Confident painting!
Only the buffs associated with the original painting purchased will work, including the View (Emotional) Work feature!

The moral of the story is
do not use the design tool on the Enable Emotional Auras
paintings from the set that contains all 12 paintings in the catalog if you want to use the Enable Aura or View (Emotional) Work features on subsequent designs as intended!

This is why the Enable Emotional Auras paintings are also available in individual packages, so there is less gameplay confusion.
Note:
You will sometimes see the game give you a buff related to viewing an emotional work when you've enabled more than one aura with the individual packages. This is another quirk of the game which I haven't been able to counter.

This is also why I made the
That Is Not a Mood
set, so you can use the design tool and not worry about buffs at all, and to give you the option of designs related to all 19 of the games' moodlets


FINAL NOTE:
I have endeavoured to create multiple situations with these paintings in order to bring you concise information on their effects. It is entirely possible and plausible that I have missed something. I truly hope I haven't! However, if you come across something that's not stated here, or conflicts with my testing results, please do tell me in the comments.

Additional Credits:
Photoshop CC
Sims4Studio
Brusheezy.com:
Photoshop Education Brushes at Brusheezy
Photoshop Bubble Brushes at Brusheezy
Photoshop Female Eyes Brushes at Brusheezy
DeviantArt.com:
Photoshop Lips and Mouth Brushes by redheadstock at DeviantArt
Photoshop Rose Brushes by lyotta at DeviantArt
The Magic Uncomfortable Bean image
from SimsVIP Plant Challenge information page, which also looks like they got directly from EA, but I couldn't find on TheSims4.com
Beer images by Sandy at Around the Sims 4
Packs Needed
None, this is Sims 4 base game compatible!
Other Information
Style:
Retro
Contemporary
Modern
Ultra Modern
Fantasy: Fantasy styled things
Sci-Fi: Science Fiction
Room:
Kitchen
Living: Living Room
Dining: Dining Room
Bedroom
Nursery
Bathroom
Study: Study/Office
Outdoor
Maxis Flags:
Not Applicable

Welcome to my world!
***THANKS TO EVERYONE WHO HAS DOWNLOADED ANY OF MY CREATIONS! YOU HAVE HELPED ME REACH 3,000,000 DOWNLOADS! MUCH LOVE***
16AUG2022:
It has come to my attention that it's difficult to navigate my mods on other sites, and I agree. I have a listing with links on my Tumblr directly to my content, so feel free to check that out :)
CLICK HERE
21JUN2022:
There are no hats allowed for random in the new Werewolves GP :)
SPECIAL NOTE:
You may have noticed I'm linking some of my mods to my Patreon. This is because it's a lot of work maintaining mods across multiple platforms. I truly appreciate all the MTS members who have supported me over the years, and I hope it isn't too much trouble for you to find me there (link also at the bottom of this profile blurb). Any game mods that have recently been updated have a link in the comments to the mod's page on my Patreon, including careers. Everything is still FREE! Not to worry :)
Feel free to use my stuff in your pictures and whatnot. I don't need a link back for stuff like that, but it's always a nice gesture :)
Please always link back to the download page of anything you might use as part of a creation, though. For example, makeup on a Sim you're uploading, or a recolour as part of a lot, etc.
You MAY NOT upload my creations anywhere else unless you link back to the original post for download. You MAY ONLY provide direct links to my uploads on other sites that
do not
require a paid membership. My content is free. Access to my content should also be free. Please respect this.
Please, please, please leave any feedback in the comments section of a particular upload. I do my best to stay on top of my mods, but if for some reason I've missed something I rely on all of you to let me know, and it's greatly appreciated, along with your continued support!
CC SIMS R US ON FACEBOOK
Simmiller on Patreon - All FREE content!
**Neia's Create-a-Career Tutorial** by Simmiller