>

Programs and utilities either to mod the game or to make it easier to install content.
[Outdated] Blender GEOM Tools v1.10 (Blender 2.8x-2.9x)
MTS has all free content, all the time. Find out how YOU can help to keep it running.
Tell me how...
2,489

Downloads
111

Thanks Thanks
34

Favourited
30,134

Views
Featured Upload! This is a featured upload! It showcases the best talent and creativity available on MTS and in the community.


Uploaded: 27th May 2019 at 9:09 PM
Updated: 23rd Dec 2021 at 4:09 PM - Link to v2.0 testing thread

An updated version of this mod is available here!
This version is now outdated and will no longer be updated, download the one linked above instead if you want to use new features.
Quote:
Update 25/04/2021 - Version 1.10
Added ability to remove assigned vertex ids
Added ability to transfer GEOM data between objects
Removed faulty code resulting in broken mesh on import when mesh doesn't have recalculated vertex ids
Quote:
Update 14/12/2019 - Version 1.02
Fixed a division-by-zero error when UVs overlap in a single triangle
Quote:
Update 30/5/2019 - Version 1.01
Modified code to work with the final API changes, export works again


This tool aims to be a fully functional GEOM Import and export for Blender 2.8.
You should be able to work with any Sim/Pet mesh, for example; clothes, hair, accessories.

If something doesn't work please let me know and send me a private message with your blend file and traceback, without those I can't fix anything

This is an add-on for Blender 2.8 and will not work on older versions.
Blender 2.8 now has a stable release, get it at https://www.blender.org/

Add-on Installation
This add-on is installed like any other Blender add-on, to install it follow the menus as shown below.
Edit > Preferences > Add-ons > Install

Tools

Tool Panel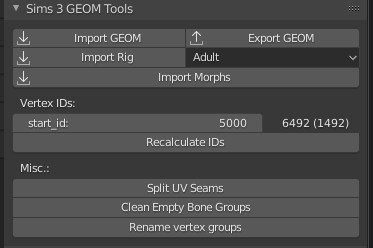 Morphs
Morphs can be imported from GEOM morph meshes, these can be extracted from BGEO files and the base GEOM file with Cmar's tool
Make sure you have your base mesh selected and import the morphs, you can select all morphs and import them all in one go, the morphs are imported as shape keys

Splitting UV seams
While Blender assigns UVs per polygon, GEOM files store them per vertex to save on performance. This means that every vertex can only have 1 UV coordinate. If the UV seams are not split you will probably find your exported UV maps all messed up.
Doing this changes the vertex order, make sure to renumber the vertices after this as described below.

Renumbering vertices
start_id tells the add-on the vertex ID to start renumbering at.
Displayed to the right of it is the highest vertex ID and the amount of unique vertex IDs, these are updated after the 'Recalculate IDs' button is pressed.
Don't touch these if you don't plan on adding/removing vertices, this way the original vertex IDs are preserved.

Cleaning empty groups
TS3 does not seem to like GEOM files having bones that have no vertices assigned to them, pressing this button will remove these pesky empty bones from your mesh.

Rebuilding the FNV map
If you ever import something and vertex groups have names like 0xef89a3e3, you'll probably want to change those to their proper names.
To do this, you'll have to import the rig for the mesh in question, make sure the rig is selected and press the 'Rebuild Bonehash Database' button on the panel. After doing that select the mesh and press the 'Rename Vertex Groups' button on the same panel.
You will only have to do this once, as the bone names are added to a json file mapping the fnv32 hashes to names.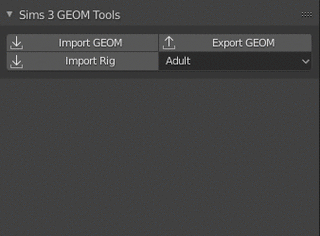 Export
To export a mesh along with all it's morphs simply press the export button, on the export panel you will be able to choose your seam fix type.
Pick your age/gender group and LOD group and your seams will be fixed.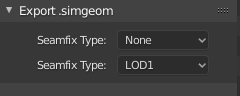 Credits
cmomoney
for the original rig importer that I adapted into this one, can be found
here
Creator Policy
Redistribution of my software must adhere to their individual license, it will overwrite anything stated below.
If no license is provided, please adhere to what's stated below.

NOT ALLOWED:
Reposting my work on paysites is not allowed under any circumstances.
Reposting my work with in general is not allowed.

ALLOWED
Recolors are allowed, but do make sure to link to my original meshes.

Please don't use my things as a base for anything unless I've given permission on the download page.
An exception to this are EA/Maxis conversions, do whatever you want with those. :)