Buy Mode

>

>

Entertainment, TVs & computers, audio, and small electronics.
Realm of Magic Familiar Orb Computer [optional off the grid version]
MTS has all free content, all the time. Find out how YOU can help to keep it running.
Tell me how...
7,667

Downloads
222

Thanks Thanks
60

Favourited
19,601

Views

Uploaded: 15th Sep 2019 at 10:34 PM
Updated: 3rd Aug 2022 at 8:32 PM - added warning in decription

Please be aware that I have not worked on this for a long time and it is
incredibly out of date
so it probably doesn't function properly


I have completely started again, please see my journal for reason and update progress


Uploaded WIP file.
This file includes interractions I feel some might appreciate to have for the time being whilst I finish the main version -
some things may not work properly!!!
I would also appreciate if anyone downloads this version, that you could please let me know of any issues. So I can fix them in the main file before I finish and upload it. If you do so, please try and be as specific as you can as it makes it easier for me to locate the interaction tuning that isn't working out of a list of 400+ !!!

Read my journal for this mod to stay up-to-date with update progress
Optional off-the-grid version

please choose only
one
file, they will overwrite each other

Quote:
Originally Posted by theflyinghipy
OMG yes! Amazing work! Is it possible to have these be enabled as a computer? I have a crystal ball mod I use but this mesh is so much nicer!
As requested by theflyinghipy on my
Realm of Magic Familiar Orb Light
, I have edited the familiar orbs from Realm of Magic to have computer functionality

At the moment your sims will just tap the desk, so it looks a bit strange. I will look at improving this if I am able (I only started modding July 2019!

)
Plans:
• Change the animation
(WIP)

Make functional off-the-grid

Update for Discover University

Current issue(s):

Quote:
Originally Posted by Spider9271
I discovered another issue. If a vampire uses this to Research Vampires, they will not get credit for doing so for the Master Vampire Aspiration. This is true for the off the grid version. I do not have the normal version installed.
You can find these here:
Electronics > Computers
for
§750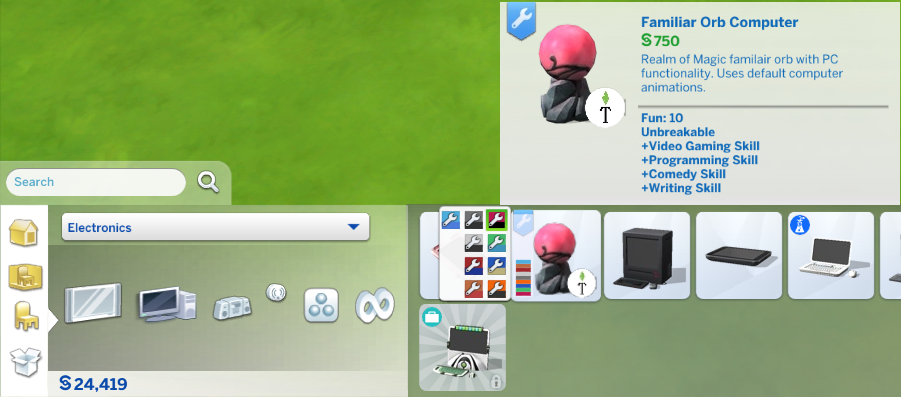 Technical details (for creators):

For making it function off-the-grid:

Sims 4 Studio Post

Opened the interaction tuning I wanted to change, in this case it was computer_Chat

I added this code at the bottom of the xml:


Code:
<V t="zone">
    <U n="zone">
      <U n="zone_tests">
        <V n="zone_modifiers" t="enabled">
          <U n="enabled">
            <V n="whitelist" t="specify">
              <U n="specify">
                <L n="whitelist">
                  <T>206665<!--zoneModifier_lotTrait_OffTheGrid--></T>
                  </L>
                </U>
              </V>
            </U>
          </V>
        </U>
      </U>
    </V>


I also deleted this code from the same xml (it was at the bottom just above where I pasted the code above):


Code:
<V n="utility_info" t="enabled">
    <L n="enabled">
      <E>POWER</E>
    </L>
  </V>

Additional Credits:
Sims 4 Studio
SrslySims
for helping me with the coding on the OTG version

Updates:

• 20/09/2019 - Off-the-grid version
• 09/10/2019 - Enabled live drag on off-the-grid and powered version
• 14/12/2019 - Powered version update for Discover University
• 16/12/2019 - Off-the-grid version update for Discover University

About me/my creations/permissions
If you would like to support me,
please visit my patreon page
. I would be forever grateful if you feel my creations are worthy of support.
Another way you can support me is by downloading my creations from
Nexus Mods
. I can earn donation points for each unique download on my items.
Other places you can find my creations:
-
Nexus Mods (Username: charlyxx)
-
Sims 4 Studio (Username: Teknikah)
-
The Sims Resource (Username: Teknikah)
(
I have requested deletion of all of my creations from here
)
All of my creations will be uploaded here on MTS, other sites listed previously might not have all of them and may not be kept updated.
You MAY NOT upload/share my creations to any paid sites or anything of the sort (ad.fly, paid mods, etc)
Using and sharing my creations:
- You can use, and share a link to any of my creations anywhere you like, just as long as you don't try and pass it off as your own, or if it will cost/earn money (as mentioned above)
- You MAY NOT upload/re-upload my creations anywhere, unless it is a translation file.
- Credits: If you include my creations in your lots/sims/etc credits are not required, but are always appreciated. If you upload a translation, please do credit.
Recolouring and altering my creations:
- If you want something altered/recoloured you can leave a comment and suggest your idea, I will try to honour all of these requests. I apologise in advance if I somehow miss a request and don't see it. If you request something and it's been a while since you posted with no reply, don't worry about asking again :) (I will accept private messages)
- Feel free to recolour and alter anything I share, but please credit and link to the original item if you do this.
Translating my creations:
- Feel free to translate any of my creations. Could I please ask that you send the translation file to me? Just so I can upload it to the original page and keep everything together. If you do not wish to send it to me, that's okay, just please send me links/etc so I can credit you properly and direct users to the translation file.
- If you could also provide some information in the target language please? Just so I can provide a correct translation on the page explaining what translation it is, who translated it, and what the user needs to do/etc. Example: "French Translation by TRANSLATOR, requires original file."