>

Pixel dollhouses/For sims to live their lives in/Nice houses for sims
Father Winter's Workshop - NO CC
MTS has all free content, all the time. Find out how YOU can help to keep it running.
Tell me how...
971

Downloads
95

Thanks Thanks
19

Favourited
5,651

Views


Uploaded: 24th Dec 2019 at 9:36 PM
* * *

Before dawn Christmas morning Saint Nick returned home
His sleigh gliding down 'neath the star-frosted dome
The reindeer had carried him all 'round the world
Through cold wintry snow as it howled and swirled

As daylight's first rays touched the holiday skies
Santa knew that the children all soon would arise
Running downstairs and delighted to see
A great heap of presents stacked under the tree

Another year's work was now come to a close
As Saint Nick headed home to the far northern snows
A little log cabin tucked back in the trees
Warm and dry all throughout the cold Winter's long freeze.

The sleigh floated gracefully down from the sky
Landing smooth by the stables, with hay warm and dry
The reindeer had pulled all throughout the long night
And were happy to rest from another year's flight

Brushing snow from his coat Saint Nick strode 'cross the floor
With a musical creak he swung open the door
Mrs. Claus stirred from her nap upon Santa's return
And built up the fire that now brightly did burn

She called to the elves that now Santa was back
and they dashed down the stairs, the whole cheerful pack
In their bright Christmas best the elves were quite a sight
With hats freshly pointed and bells shining bright

Nearly a year they had spent crafting toys
For Santa to bring to the young girls and boys
But that work was over, and it was time for some fun
Since now Christmas Day had just barely begun

* * *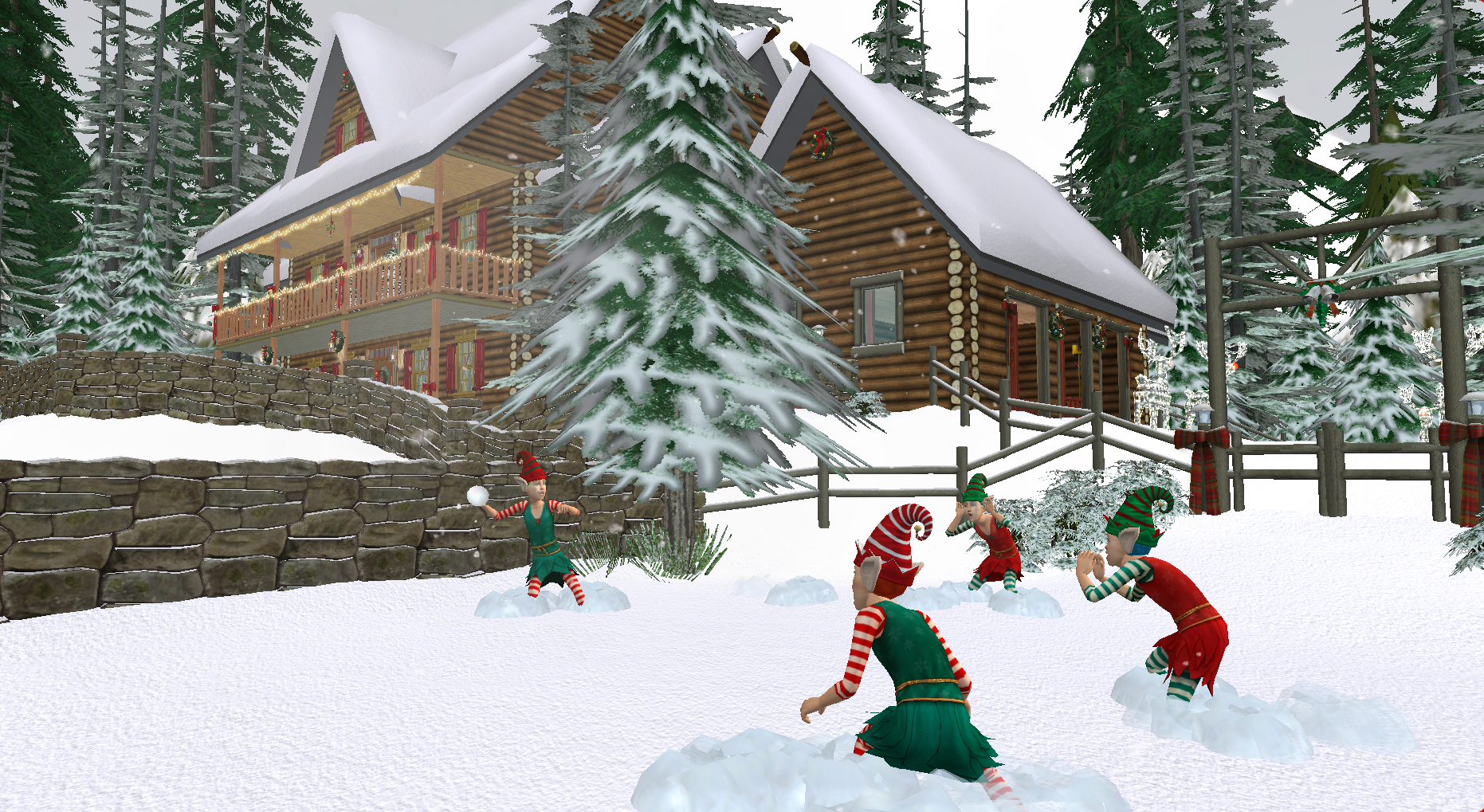 * * *

The new-fallen snow still lay thick on the ground
And the flakes in the air were still dancing around
A white Christmas beckoned the elves out to play
And they all ran outdoors, not a second's delay

Elves at play in the snow is a sight to be seen
Tiny figures all clad in bright red and bright green
Making snow-men or angels in a blanket of snow
With never a care for the wind's frosty blow

But for elves there is nothing to ever compare
To a snowball fight held in the cold morning air
And this Christmas morn now would be no exception
Of that there can truly be no misperception

It was many an hour 'fore the elves came back in
And on each rosy face was the same happy grin
But Christmas Day's more than just play in the snow
Which is something each elf could be trusted to know

* * *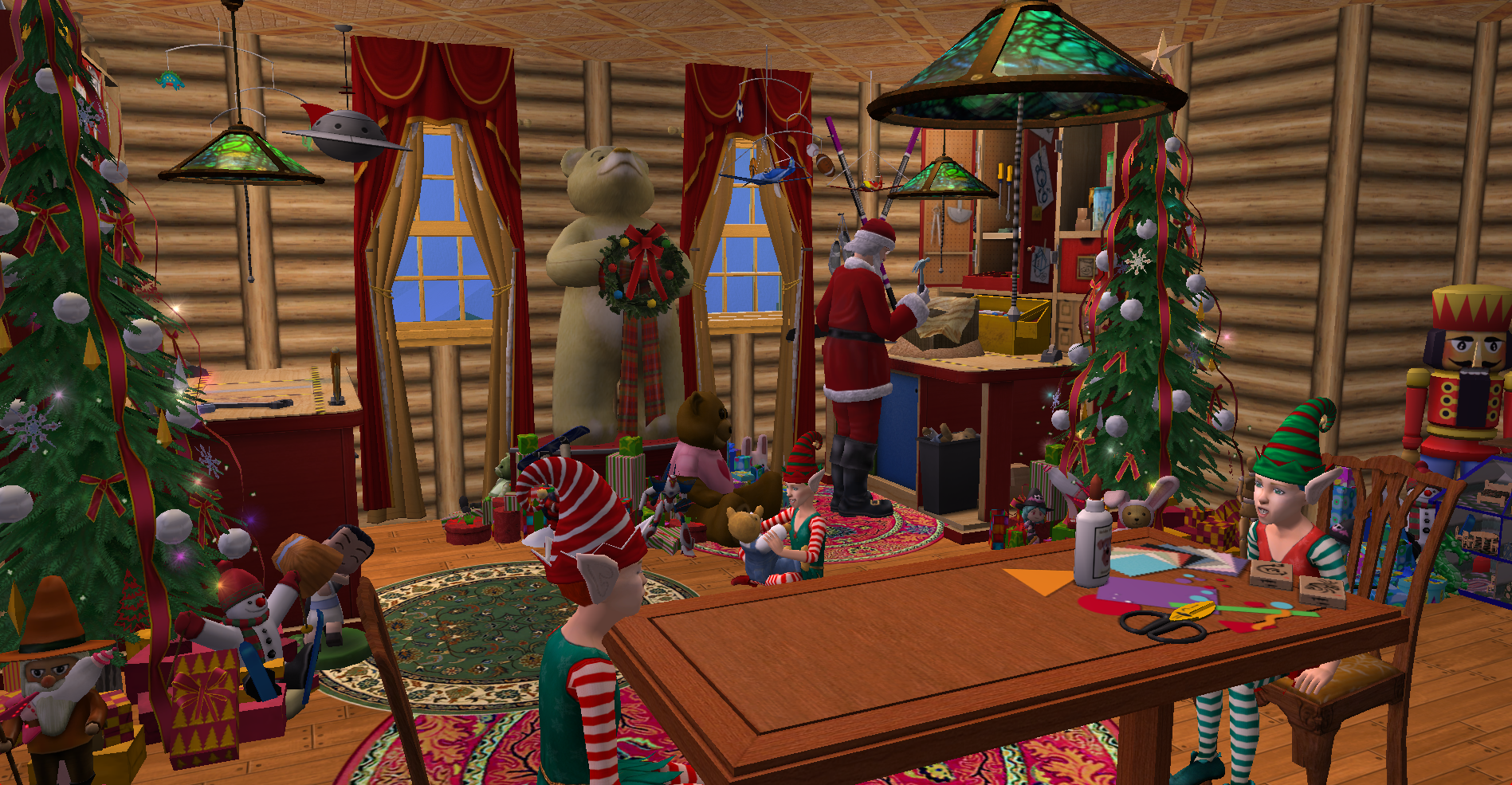 * * *

Mrs. Claus had been working away in the kitchen
On her very own personal Christmas Day mission
Baking sauces and stuffings and rolls and roast beef
'Til the food on the counters just beggared belief

A holiday feast can be no small affair
(which explains why they seem to be so very rare)
But this table was laden with treats to delight
In the fire's warm glow and soft flickering light

The warmth of the fire filled the cabin's main hall
And holiday ribbons adorned every wall
The table was groaning from the lavish feast's weight
As Saint Nick and the elves each filled up a plate

And after the main course was all cleared away
It was time for desserts to be put on display
With cookies and puddings and candies and pies
The Elves jumped with joy at this festive surprise

* * *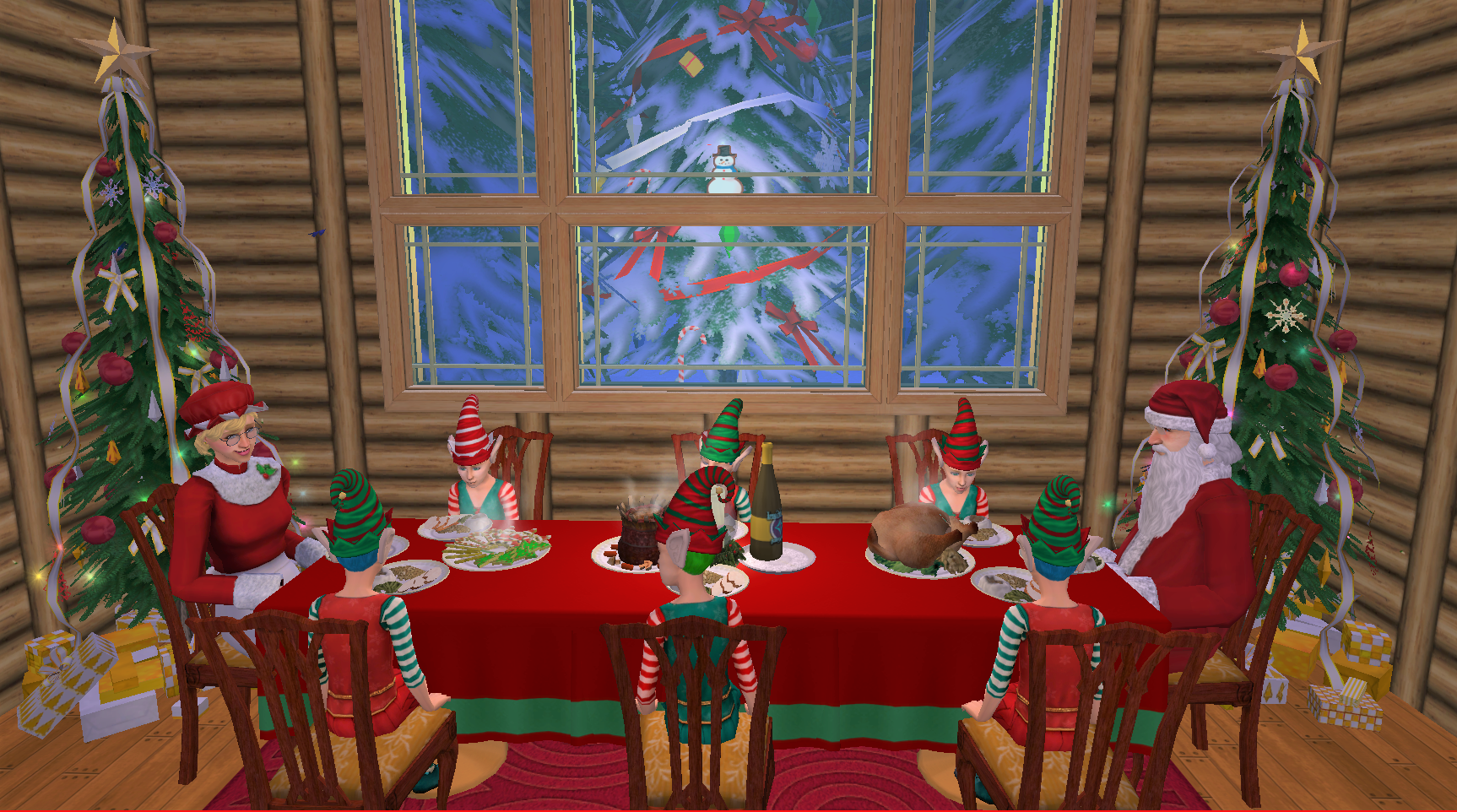 * * *

Later that evening they sat 'round the fire
As the snow out the window piled up ever higher
All opening gifts they had made one another
Sharing toys and good cheer between sister and brother

As the evening wore on on that cold Christmas night
And the sky outside danced in the bright northern lights
Saint Nick and the elves, they sang songs and played games
And stories were shared 'round the crackling flames

Later that night as the fire burned lower
The elves' singing voices rang out a bit slower
And as stars twinkled bright in the sky overhead
The elves one by one headed on up to bed.

And just like good children the whole world 'round
Soon each elf was tucked into bed safe and sound
And Santa himself soon was starting to yawn
Another wonderful Christmas was now come and gone

As Christmas day finally draws to a close
The cabin sleeps peaceful 'neath wintery snows
And the flakes drifting down catch a magical light
As they cover the world in a blanket of white.

* * *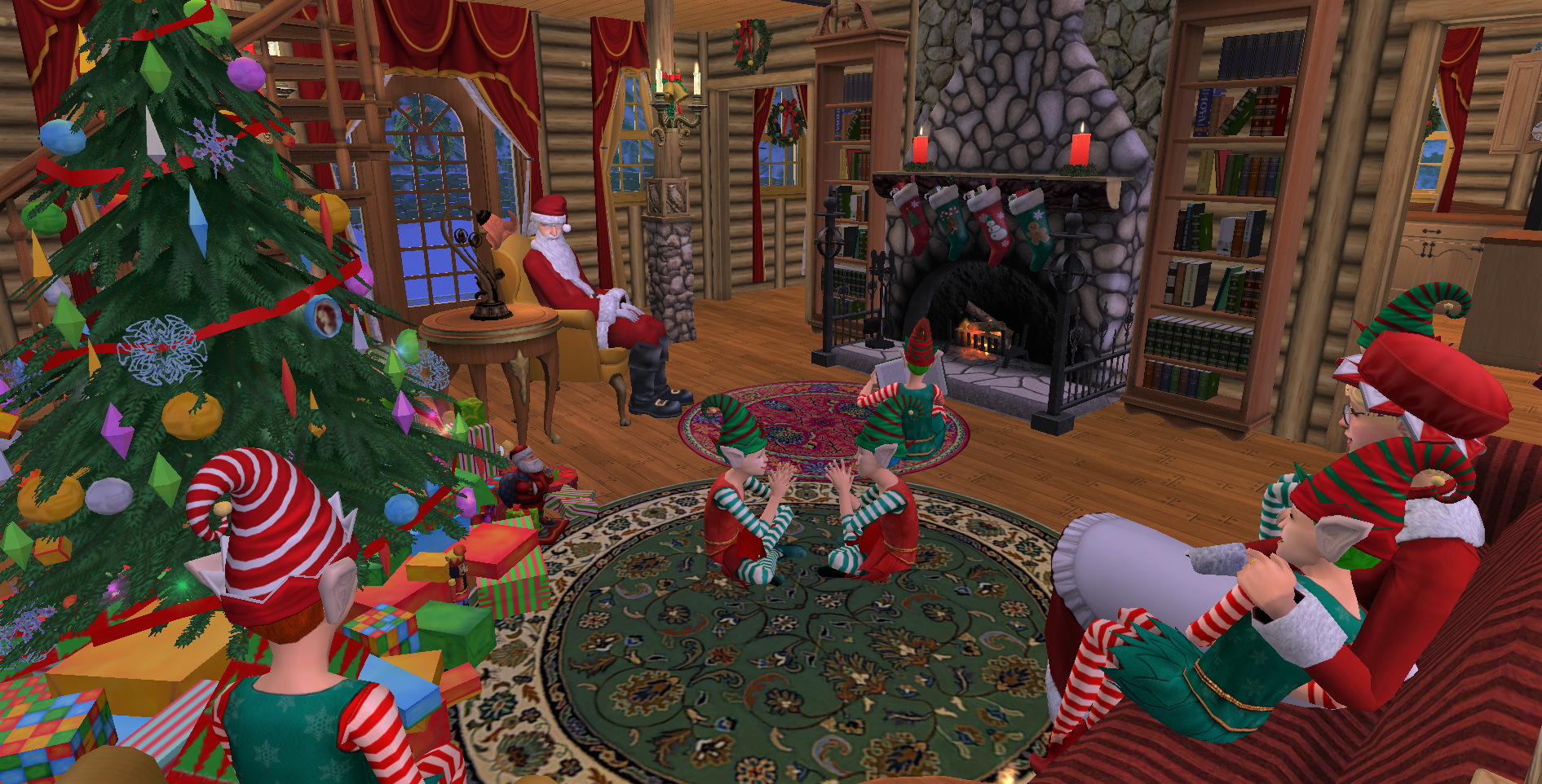 * * *

So it seems Christmastime is now once again here
And all of your Sims are of holiday cheer
But Santa himself, why, that jolly old elf
He too needs a place to call home for himself!

And a contest and catchup were so great a prize
That a two-years-old theme became worth a reprise
And because of the standard I've set here before
Surely you'd guessed I'd a poem in store?

And you thought that Santa lived at the north pole!
(To be fair, that's become part of his mythical role)
But log cabins don't tend to fare well out at sea
(a point I'm sure on which we all can agree)

So Santa packed up and moved south last July
(For moving is easy with reindeer that fly)
The holiday season was barely begun
When the cabin was finished, the work all but done

With space for the elves and a stable out back
For the reindeer to sleep in, and hay for their snack
Not to mention a workshop for good old Saint Nick
To make Christmastime gifts, so nimble and quick.

Now clearly the pictures that go with this tale
All come from a clone, so YOUR lot won't fail
(It just didn't seem right, to post pics without snow
And the elves and Saint Nick in a Christmas-y show)

And you'll need no CC for this lot to work right
Just yuletide sprit and snow shining bright!
For like all of my lots there is nothing placed here
That's not from the game, so you have naught to fear.

A cabin this size won't be too hard to play
On even most older computers today
So you shouldn't find problems, you shouldn't find fault
And nothing here should bring your game to a halt!

If you find such a grinch somewhere hidden within
Well then just let me know, and I'll track down the sin
That's ruining your holiday Simming delight
With its very un-Christmas-y 'bah-humbug' spite

For a Christmas creation should always be fun
And cheerful and bright, and so easy to run
On Christmas day there should be naught to annoy
For all you should feel is great wonder and joy.

And this holiday night, I now wish you the best
May your carols be merry, your family blessed
May all of your holiday feasts be delicious
And last but not least, I'll just say MERRY CHRISTMAS!!!

* * *
Lot Size:
4x5
Lot Price (furnished):
$252,449
About Me
Sims? What are Sims? I almost always just use this game to create buildings!

You might call me a CC-atheist. While I'll use every cheat code in the book, I won't use anything that Maxis didn't ship with the game in one fashion or another. Ergo, you can rest assured that all my lots are CC-free.

Some creators describe themselves as constantly juggling projects. I suppose I do that too, except I'm really really bad at juggling, so I just throw lots of projects as high as I can, and sometimes forget all about them until they come crashing down on my head!

I won't *exactly* do requests, but since I pivot from lot to lot constantly, if there's a place you hope to see from me, there's a good chance that I've already started it! I make no promises, but feel free to ask about lots you want to see- you might inspire me to finish something!

My lots are my own work- I put a lot of effort into them, so have fun with them, use them for storytelling or making Sim movies, but please don't reupload them, in whole or in part, anywhere, including here on MTS!

One day I will rule the world with an iron fist and all will kneel before me.