Sims 4

>

>

Mods that don't fit in any other category.
Off grid Toddler/Pet Washtub
55,442

Downloads
1,034

Thanks Thanks
233

Favourited
66,008

Views
Uploaded: 15th Feb 2020 at 5:38 PM
Updated: 2nd Oct 2020 at 1:13 AM
Hi guys!
Compatible with game version: 1.66.139.1020
(Batuu Patch)
- Looks like an EA bug, but here's a work around : to "
Give toddler bubble bath
" after the upgrade your sim has to be holding the toddler.
Update:
- Base game compatible
So...you finished your laundry? Why not scrub your muddy toddler or dog in the tub next?
Features:
- A washtub for all your toddler/small dog bathing needs. (Technically you can wash large dogs in it too, but they don't fit...I'm working on some off grid large tubs for sims and their large dogs next...wish me luck!)
- Functions both "off the grid" and "on the grid" (There will be duplicate grayed out interactions when "off grid", these are the ones that use the normal "on the grid" water and produce bills...so you still have that option when "on the grid")
- Is unbreakable
- Can be upgraded for self cleaning and clean coat
- All the colours from the Laundry Day tub are available.
- The footprint arrow indicates the best position for your sims to access the tub so toddlers will be placed in the center. Toddlers placed from the other side will be slightly off center.
For more Off grid/tiny home combo items:
-
Classic Toilet/Sink Combo
-
Modern Toilet/Sink Combo
-
Tiny Spa Toilet/Sink Combo
-
Off grid, one tile shower toddler/pet tub combo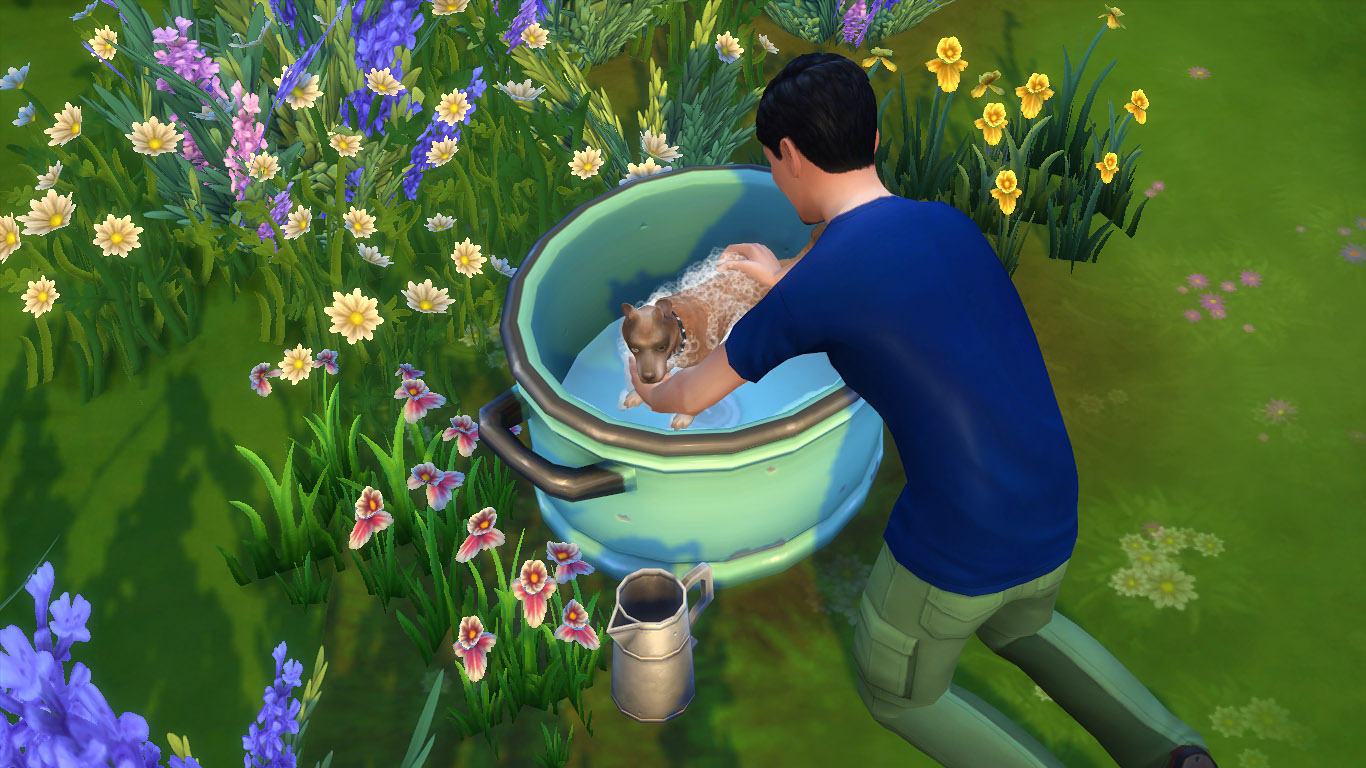 You'll notice that the "footprint" is off center...not to worry, the actual object footprint is correct, but the game always puts the reference of it directly on a square. Unfortunately I couldn't center it because of the way sims are programmed to position/use the tub. Just hold down the "alt" key when placing.
Enjoy!

object_bathtubC_01
simPickerInteraction_PetBath
simPicker_giveToddlerBath_Adult_Bubbles
simPicker_giveToddlerBath_Adult
simPicker_giveToddlerBath

Polycount:
High: 499
Medium: 251
Additional Credits:
Made using Sims 4 Studio, Notepad++, Blender and S4PE
Packs Needed
None, this is Sims 4 base game compatible!
Tags
#Off the grid, #off grid, #tiny living, #tiny home, #tiny house, #toddler, #pet, #tub, #bathtub, #laundry day, #K9DB, #DB
Hi guys,
So sorry I haven't been here in so long. Haven't been doing so well, not ill from Corona, but it's been hard to get things done.
Going through my mods now...and wow, just about everything is majorly different..and I am majorly annoyed, lol! It might take a while, but I'll get it done!