>

Pixel dollhouses/For sims to live their lives in/Nice houses for sims
View Old Style
1920's Vintage Home Design ~ 1-click Foundation Cheap 2B Bungalow, 50th in the Series
MTS has all free content, all the time. Find out how YOU can help to keep it running.
Tell me how...

Created by CatherineTCJD View Policy / About Me View Downloads Home Twitter Tumblr
Uploaded 18th May 2020 at 9:17 PM
The fiftieth house in my "1920s Series" - inspired by
62 Beautiful Vintage Home Designs from the 1920s
- is the single story "Cheney," a two bedroom bungalow, with a full basement and detached garage. This house is built on a partial 1-click foundation - it has one step up to the front door, but the rest of the house has a regular foundation. The basement stairs are interesting too - they 'wrap around' the back corner of the house. The stairway is completely covered, but separate from the rest of the house. So the basement could be used as a completely separate living quarters for someone... hmmm, it's pretty dark down there too. Cheney/Chaney... didn't Lon Chaney (Sr or Jr) play Dracula?

This is a combination of both plans for this house. I used the option with a basement (so no screen porch,) but then added the dining booth to the kitchen. It seemed too crowded combining the living and dining rooms.
This not the least expensive house in this series (that would be
House #34
, at $26K) but it is close! This one comes in at just over $27K. I hope you have a family that will enjoy this house

This lot has been adjusted with Mootilda's
GridAdjuster
to have a
partial
cute little 1-click foundation.
AND it has a basement (a regular dug-out basement, not a no-slope/page-down-to-the-Nether basement.)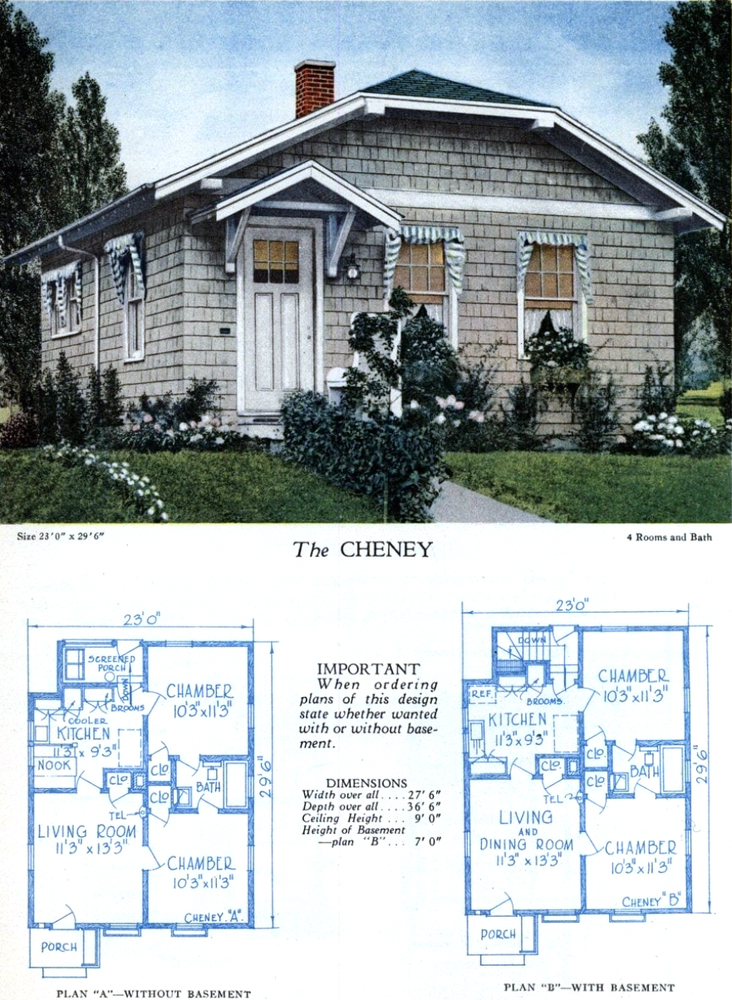 I have to point out the pretty pink bathroom (below.)

Isn't it great! It is an homage to my great grandmother... her teeny tiny bathroom was shocking pink everything. Tile, porcelain, towels... even the toiletpaper, was violently pink. This is a much gentler pink; but it is still in memory of her. I couldn't resist.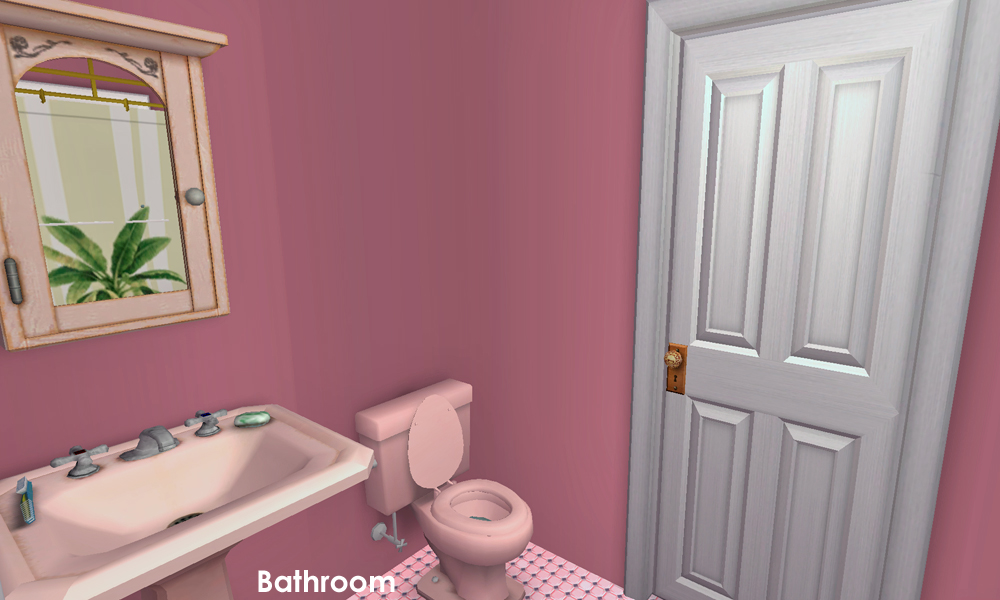 Please scroll through all the above pictures to see everything this house has to offer. Furniture includes a double bed, a nightstand with an alarm clock, two closets, and a dining booth. All appliances, plumbing and lighting are included. The telephone is located in the living room. The front door is burglar alarmed. The stove has a smoke alarm.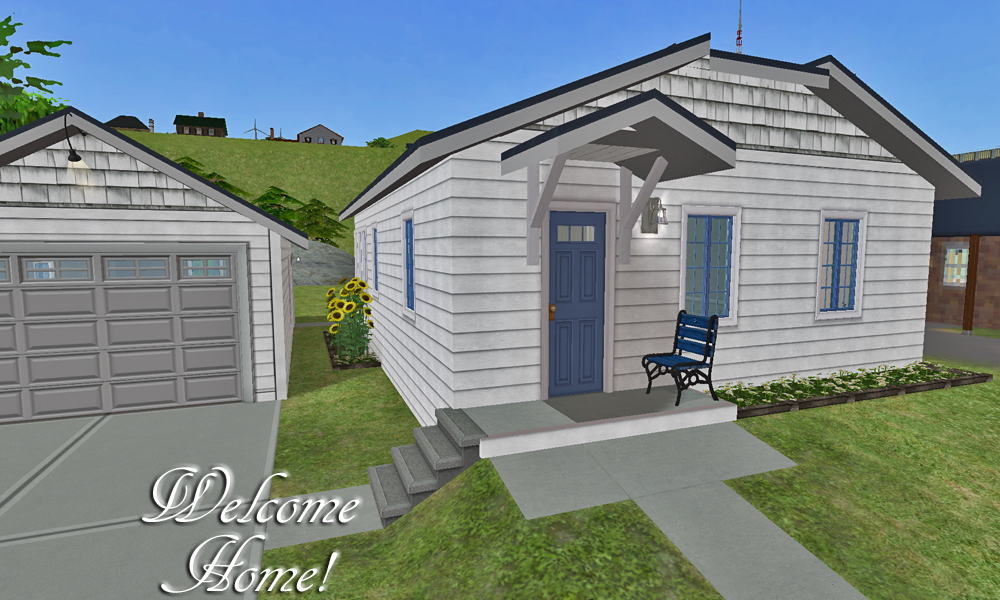 This is a clean copy of this house/lot; no sim has ever lived here. The package has been cleaned with Mootilda's
Clean Installer.
Pictures were taken with
Invisible Fire Alarms
in place, but the lot is packaged without that mod. So, you will see the fire alarm over the stove in the kitchen.
There is parking for two vehicles; one in the garage, and one on the driveway.

CC list
- used but
NOT included
- so,
GO
get it:

-
Unlevel Wall - #90
by Numenor @ MTS2 - used to fix wonky wall issues.
Some people weren't sure how to install this wall... Click the info button down below to see how I did it

-
Lifestyle Build Bundle
- It's the second link in the top post - extracted from Lifestyle Stories by Argon @ MATY. Many of the wallpapers used in this 1920s series come from this bundle.
-
Shiftable Support - MASTER
by mustluvcatz (MLC) @ MTS2 -
...without this the roof supports will flash blue.
-
Paneled Doors MASTER
(...apparently, I used every part of this set
EXCEPT
the master - sorry!) by Raynuss @ SFS
- without it the doors and windows will flash blue!
...and I highly recommend getting:
-
Invisible Smoke Alarm
by pfish @ MTS2
Custom Content Included:
- Simple Passage Modular by
HugeLunatic (HL) @ Sims2Artists
-
these do need a script file so follow the link and make sure you install them properly!
- SHIFTABLE Roof Support - SLAVE by
mustluvcatz (MLC) @ MTS2
- Paneled Doors and Windows Colonnade Set by
Raynuss (RDN) @ SFS

Standard mods I use that are
not
necessary nor included - but were probably used whilst building/photo-ing/prepping this house for upload...

If you need help installing Numenor's Unlevel Wall #90, click this info button:

If you don't already have it, go get and install the Scriptorium by Numenor - it makes it super easy to install Modular Stairs, Fireplaces, Custom Walls, Lights/lamp mods (You can read about the what/why/how of it on his post) To sum up - all these items use scripts to work properly in the game - and that means they have an extra .txt file along with the regular .package file. And, you don't just dump it all into your Downloads folder. Once you install the Scriptorium, it will install all the other stuff for you.

Then - go get 90_UnleveledWall also by Numenor. (This wall is amazing!) Numenor cautions on his post that some people have experienced problems with this wall; but, I've used it since he first released it in 2006, and I have NEVER had a problem with it - I've used it through various EP/SP disc installs on XP, Vista, 7, 8, and now on Windows 10 with UC.

Unpack the zip file and find two items:
90_UnleveledWall.txt
90_UnleveledWall.package

In your DL folder, find the Scriptorium shortcut labeled "Scriptorium_Walls-Fences-Arches" and drop the .txt file into it.
(If you open the shortcut, you'll see it's path goes to: C:\Program Files (x86)\Origin Games\The Sims 2 Ultimate Collection\Double Deluxe\Base\TSData\Res\Catalog\Scripts\Scriptorium_Walls-Fences-Arches - if you have the UC)

Numenor advises that you put BOTH the .txt and the .package in the shortcut folder. However, my 90_UnleveledWall.package file is in my documents/Downloads/zHacks folder - always has been, and, like I said, I've never had a problem with it.
==========================================================
I use Niol/Moi's
Roof Shader
for brighter roofs
And, HW/Honeywell's
A Little Greyer: Roof Trim Defaults
Then, if it's a Bespoke Roof recolor - it will be
THESE adjusted versions
by The Llama Park/Tumblr that you see used in the pictures.
(However, what you get in the packaged file, will either be the plain EA roof or the straight, un-modified Bespoke roof from the set here on MTS2.)
Maranatah's
White Wall Top
texture replacement
Moo's
Turn On/Off Lights
Menaceman's
Lunatech Lighting Fix
BeosBoxBoy's
no-red-pause-mod
Nopke's
Go Under Spiral Stairs
mod for proper spiral stair usage
And, of course, everyone needs Numenor's
CEP
and
SEP
!
I also use
FRAPs
to take in-game pictures, and
PhotoShop
to clean/collage said pictures.
And, I highly recommend using gummilutt's
Invisible Medicine Cabinet
to add features to any mirror - as per her policy, it's not used or included in this lot.
Lot Size:
2x2
Lot Price (furnished):
$27,316
Additional Credits:
Thank you EAxis for this wonderful game

And, MTS2 for this terrific website!

Number of bedrooms: 2 Bedrooms
Custom Content Included: Build content only
Furnishings: Starter Furnishings
Special Flags: Not Applicable

Tags: #1920s, #small house, #bungalow, #2 bedroom, #cheap, #vintage, #carriage house, #1-click foundation, #basement, #floor plans, #real life, #1920s Series, #CatherineTCJD
My TOU:
Play.
Smile.
Invent.
Don't steal.
Sims are FREE.