>

Stuff that isn't in any other category...
«Coloring drab existence» holiday tradition
MTS has all free content, all the time. Find out how YOU can help to keep it running.
Tell me how...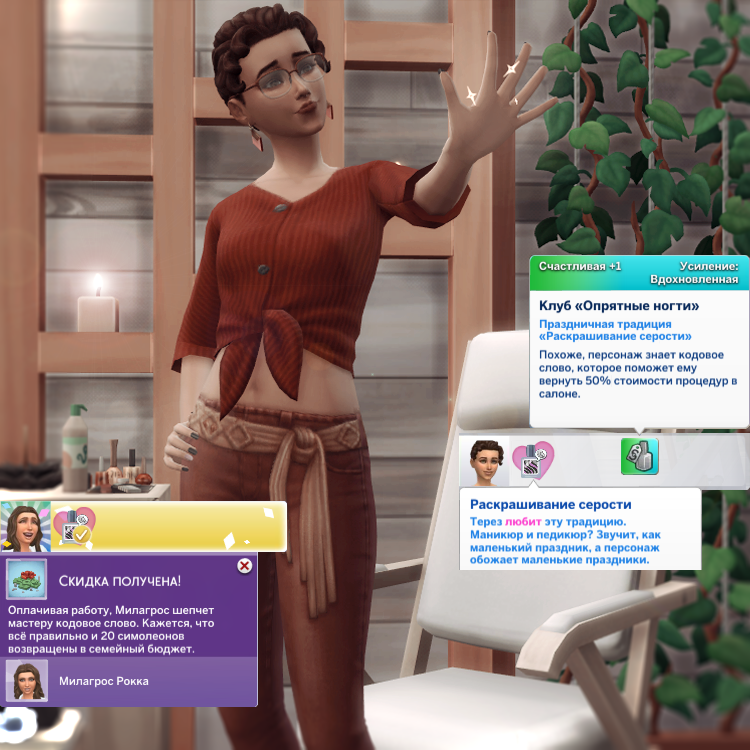 Created by CubiertoDeFlores View Policy / About Me View Downloads Home
Uploaded 23rd Dec 2021 at 12:48 PM · Updated 19th Dec 2021 at 8:08 PM by CubiertoDeFlores
Description | Описание
To complete the tradition, Sim must get a manicure and / or pedicure. This can be done in any convenient way, but nice discounts await Sim in a «Spa» venue type. | Чтобы выполнить традицию, персонаж должен получить маникюр и / или педикюр. Сделать это можно любым удобным способом, но на участке типа «Спа» его ждут приятные скидки.
How to download | Что скачивать
CDF_ColoringDrabExistence
Is standard version that contains 13 «loves» descriptions and 7 «ignores» descriptions, a moodlet and a reward. | Стандартная версия содержит 13 разных описаний для персонажей, которые любят традицию, 7 разных описаний для игнорирующих, мудлет и награду.
CDF_ColoringDrabExistence_wl
The version with likes contains everything the same, but some «loves» are replaced by «likes» (Sim's attitude to tradition, which I found in the game files). | Версия с лайками содержит всё то же самое, но некоторые «любит» заменены на «ценит» (промежуточное отношение персонажа к традиции, которое я нашла в файлах игры).
Choose only one file!
|
Устанавливайте только одну версию!
Unpack to your Mods folder. Default path: Documents –> Electronic Arts –> The Sims 4 –> Mods.
|
Распакуйте архив в Вашу папку Модс.
You need | Требуется
XML injector by Scumbumbo
Don't need to reinstall if you already have it.
Не нужно устанавливать повторно, если уже установлен.
Available languages | Доступные языки
English (is not my native language, sorry if something wrong)
Русский
TOU | Условия использования
Do not reupload | Не перезагружайте
Don't claim as your own | Не присваивайте авторство себе
If you would like to offer a translation, please contact me | Если вы желаете предложить перевод, свяжитесь со мной
Special thanks to
Have fun!
Tags: #traditions, #holidays, #HolidayTraditions, #HolidayTradition, #SpaDay
About me
Hi there! My name is Tata and I love holiday traditions in The Sims 4! Since the devs don't add them, I decided to write them by myself. Will be glad if you like my work. English is not my native language, sorry if something wrong.