Sims 2

>

>

Community lots/For when sims leave their houses/It's scary outside
A Small "Modern" Kingdom (No CC and Fewer EPs) Part 3 of 5
Downloads
280

Thanks Thanks
Favourited
26,385

Views


Uploaded: 31st Jul 2010 at 4:48 PM
Updated: 26th Nov 2010 at 6:58 PM
A Small "Modern" Kingdom (No CC and Fewer EPs) Part 3 of 5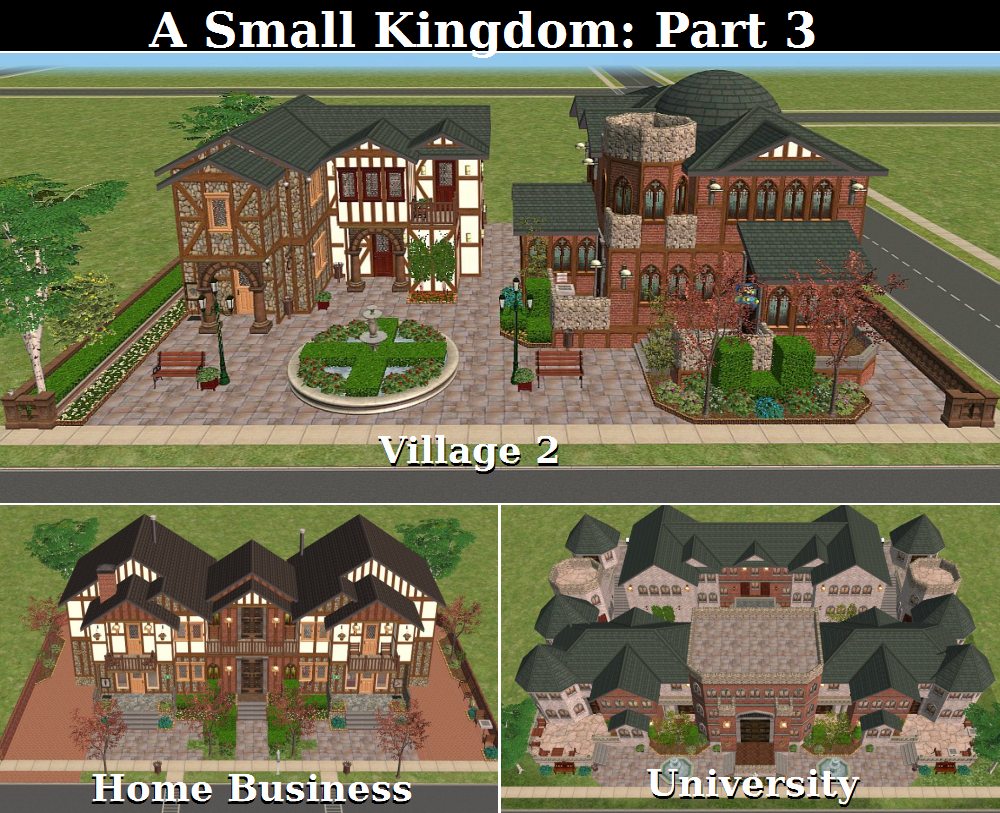 This is a small collection of Medieval/Castle lots for those Simmers who could not download the Gwrych Project or Simmers who prefer the medieval feel of castles without Custom Content and using minimal EPs.



INCLUDED IN THIS "SMALL KINGDOM" SET:


* VILLAGE 2 (Book Store, Clothing Store, Photography Studio/Gallery, Cyber Cafe/Restaurant)
* MEDIEVAL UNIVERSITY/COLLEGE LOT
* Home Business Lot (Home, Antique Furniture Shop, Beauty and Barber Shop)



******************************

A Small Kingdom - VILLAGE 2 Shops Lot Information

Lot Size: 3 x 2
Lot Cost: 0 Simoleons (Community Lot)
Total Bathrooms: 5 (With 5 Toilets)

Lot Description:
There are 4 seperate businesses on this lot. There is a Clothing Store (males downstairs/females upstairs). There is a Book Store (with a used books library upstairs). There is a small Photography Studio. There is a Cyber Cafe with Buffet Dining, Computers, Video Games and Conversation areas.



____________

A Small Kingdom - UNIVERSITY INFORMATION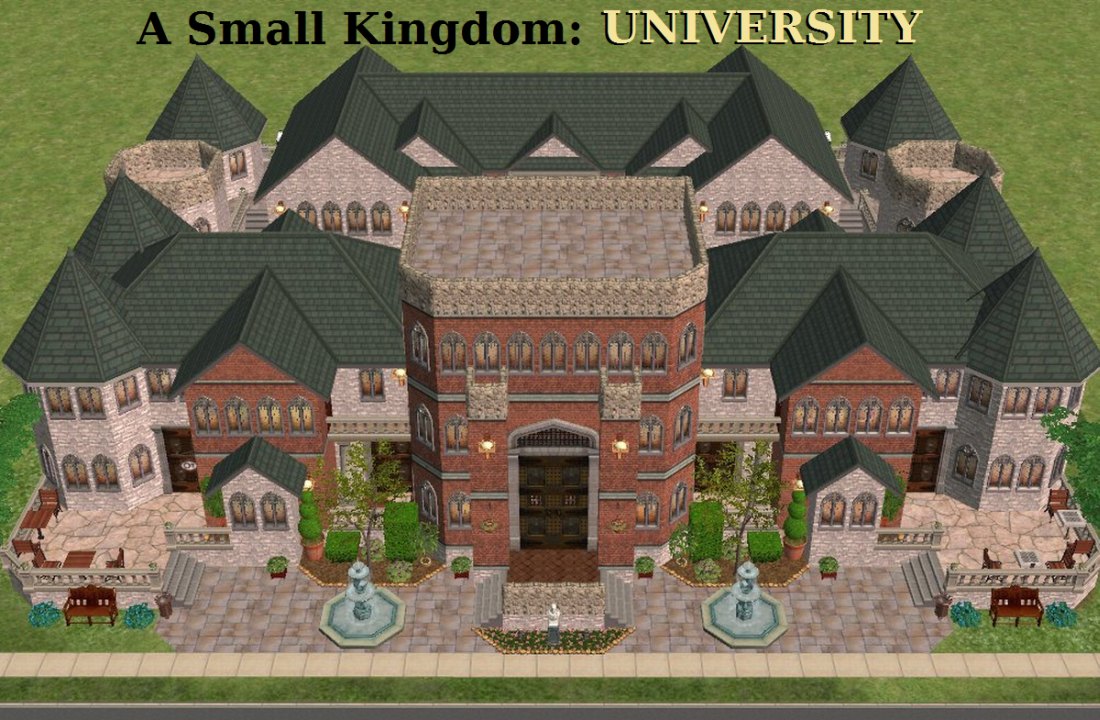 Lot Size: 4 x 3
Lot Cost: 0 Simoleons (Community Lot)
Total Bathrooms: 3 (With 9 Toilets and 4 Showers)

Lot Description:
This campus has everything EXCEPT dorms. There are an Admissions Desk/Lounge, 2 Campus Stores, a Student Lounge, 4 Classrooms, a Gym, a Library, a Study Hall, 2 Showering Restrooms, a Horticulture Room, a Music Lab, a Computer Lab, an Auditorium, a Cafeteria (Restaurant) and 4 Offices.

Note:
There are also Dorms for "A Small Kingdom" included in Part 2 of this Collection.



____________

A Small Kingdom - Home Business Lot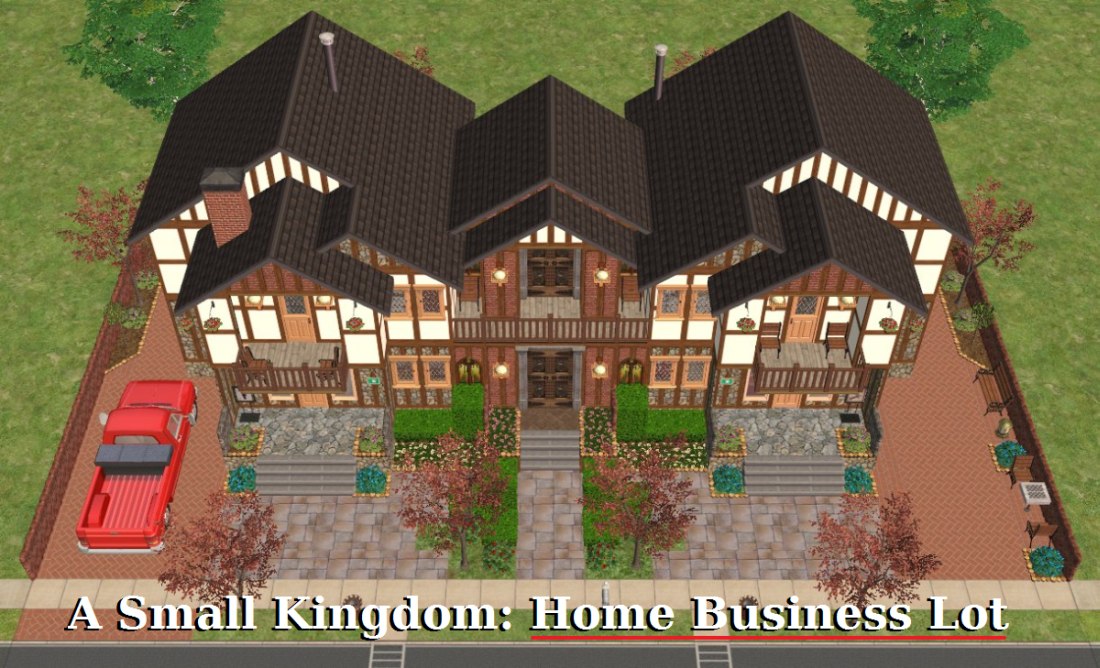 Lot Size: 3 x 2
Lot Cost: 221,678 Simoleons (Residential "Home Business" Lot)
Total Bedrooms: 2
Total Bathrooms: 4 (4 Toilets, 2 Showers/Tubs)

Lot Description:
This lot includes a family home (UPSTAIRS) and 2 small Home Businesses. The Living Space includes 2 bedrooms, 2 bathrooms and a Great Room (Kitchen, Dining and Living Room Space) with 3 exterior balconies. There is a small Antique Furniture Shop and a small Beauty and Barber Shop.

Tips for the Home Business
To run your own home business, you need to first click on the door on the 3 Stairwell Hall Doors (the Middle Exterior Door and the 2 hall doors that lead to the 2 shops from the stairwell) and LOCK them to keep customers out of the upstairs "family" area. Then, click on the telephone and "Business" to Start your own home business. Follow the instructions given using the Home Business icon at the upper right side of your screen to select the items for sale, etc. While there is no "Break Room" for the 4 workers you may hire (2 cashiers / 2 hair stylists), there is a backyard grill area with an outdoor mini-fridge.



******************************


Important Notes:
* This collection is being presented in 5 small parts due to the various EP combinations used to create each set of lots.
* No User Created Custom Content was used to create these lots. However, there is a small list of "suggested" items noted at the end of this thread.
* No Stuff Packs were used to create this collection.
* These lots have a medieval feel in modern times.
* These lots are fully furnished (with the exception of Part 5: A Small Kingdom Starter House Collection).
* These lots were created using Any Game Starter by Numenor found HERE.

* EPs USED: University, Night Life, Open For Business

Note:
If you would like to setup "A Small Kingdom" as a complete neighborhood, you will need University, Night Life, Open For Business, Apartment Life and Bon Voyage.



SPECIAL NOTE TO THOSE DOWNLOADING THE "REGULAR" GWRYCH COLLECTION


I am also releasing the GWRYCH MEDIEVAL MARCH (25 Lots) AFTER I upload the 5 Parts to this "A SMALL KINGDOM" set. The Gwrych Collection will include alternative and LOADED versions of several of the lots included in this set, but decorated with Medieval Decor. So...all you Gwrych fans, feel free to download these lots as well as there will be differences between the 2 sets. However, keep in mind that the bases for these lots were used to create the many of the in the Gwrych Medieval March lots. The LOADED versions will have all the usual Medieval Custom Content and use ALL EPs and Stuff Packs. Look for the Gwrych March Set soon.



******************************


SUGGESTED SMALL KINGDOM DOWNLOADS:

*FIREPLACE
I didn't include fireplaces in several of the lots (including the castle) because I feel it would conflict with the exterior "look". However, I do believe the Chimneyless fireplace by Mia found HERE will add a bit of "warmth" to your "Small Kingdom" lots.



*SEASONS BUYABLE WISHING WELL (IF YOU HAVE SEASONS)
I DID NOT use Seasons to create these lots, so I didn't include the Wishing Well. However, if you have Seasons, adding the wishing well to the lots will give them a bit more of a medieval feel. The extracted Seasons Buyable Wishing Well can be found HERE.

*SIGNS FOR BUILDINGS
I think the Doctor's Office can benefit from a few Business Signs (especially a Sim Visa sign behind the reception desk). SaraF created a few signs you may find useful that can be found HERE and HERE.
Packs Needed



For a full list of packs with names, see the Packs Needed popup.
Other Information
Number of bedrooms
:
– Not Applicable : For Commercial Lots
Custom Content Included
:
– None : No Custom Content included
Furnishings
:
– Fully Furnished : Lot is completely decked out in furnishings
Special Flags
:
– Home Business
Tags
#Kingdom, #kingdom, #A Small Kingdom, #Small Kingdom, #Medieval, #medieval, #modern, #village, #book store, #cyber cafe, #antiques, #photography, #clothing, #clothes, #home business, #No CC, #StephSim
Packs Needed
| | Base Game |
| --- | --- |
| | Sims 2 |
| | Expansion Pack |
| --- | --- |
| | University |
| | Nightlife |
| | Open for Business |
~*~StephSim's Creations~*~
❤ Welcome to my little space of the Simming Community!❤
As of July 2016, I've decided to reinvent myself (again). Basically, my Sim Creation Renaissance is long overdue! It's time to release the old and move forward, doing things that sustain me in meaningful ways. ◕‿◕
I shall start with a wonderful new Sim Place to call home! And now the Official Unveiling (....drum roll...):
CLICK HERE to experience StephSim's BRAND NEW SIMS 2 WEBSITE called *** Proudly Banished *** !!!
Proudly Banished is my little storage place for a select few of my Sims 2 creations. Since I will NOT be Simming as much, I wanted to provide a small landing pad for random creations I will be sharing. I will on occasion share NO CC/ LOW CC Lots and MTS related recolors here on MTS. However, my CC LOADED Lots will be Housed at Proudly Banished. I've also add the updated Fully Loaded Versions of the American Gothic Mansion. Be sure to click on the Slideshows when available! You will find a few lots, object recolors, clothing recolors and the Regina Mills Sim (from Once Upon a Time)! There should be a little something for everyone!
Take your time and explore the site and be sure to check out *Sherwood Forest* for my PBK Community Goodbyes!
See you there. (。♥‿♥。)
POLICY
All StephSim walls, floors, and ground covers can be freely used in lot creations on any free or pay site. Feel free to use my neighborhood maps/terrains for any and all of your Simming needs. Feel free to use any objects or object recolors shared on MTS or elsewhere in the Sims 2 community in your creations (lots, movies, stories) Feel free to recolor objects I upload and include the mesh. Feel free to use any Sims I create or my lots for your Sim movie making purposes! In using any of my creations. Credit is not necessary, but please do not claim any shared creations by myself,
Sophie-David
,
Jason Duskey
or anyone who I team with as your own.