>

Community lots/For when sims leave their houses/It's scary outside
View Old Style
The UCS Part 7: THE SISTINE CHAPEL Community Lot
MTS has all free content, all the time. Find out how YOU can help to keep it running.
Tell me how...
Personal Picked Upload! This is a personal favourite of the creator!


Created by StephSim View Policy / About Me View Downloads Home
Uploaded 26th Nov 2010 at 4:51 AM · Updated 13th Mar 2012 at 2:24 PM by StephSim : Updating Images and Editing Text

NOTE

This download contains the
SISTINE CHAPEL COMMUNITY LOT
! Be sure to download BOTH zips for your lot to show properly!
***********************************
The Ultimate Ceiling Superset (Part 7 of 7): THE SISTINE CHAPEL Community Lot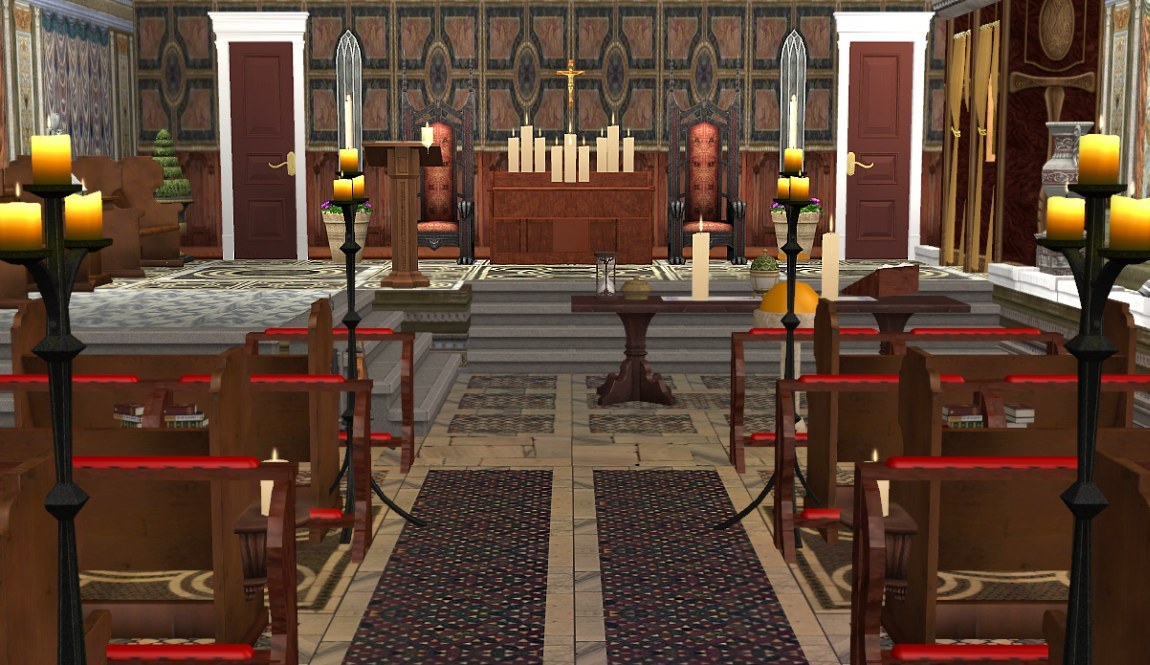 A Brief History
I know...I know...Ceiling SUPERSET? Really? It all started innocent enough with me needing a few ornate ceilings for my Gwrych Collection. Seeing that necessity is the mother of invention...I had to create what doesn't already exist in a complete set. Besides...methinks these sets are downloads you won't realize you need until you actually start using them. Ceilings and floor tiles are not quite the same and while some of the Maxis and User Created floor tiles are good enough to use as ceilings, ceiling tiles need a to be a bit more 3D. So, I sought out as many ceiling samples as I could find and created others to meet my current and future lot design needs. Basically, I needed a bit more variety. So...thus was born the Ultimate Ceiling Superset! The neat thing is these ceiling tiles are really floors...so most (but not all) would look WONDERFUL as floor tiles. There are also a few walls used in the Elemental Texture Set and the Sistine Chapel Texture Set. Basically, there is quite a bit of diversity to this collection which took weeks to pull together and make presentable as not only do you have hundreds of SEAMLESS ceilings, a few SEAMLESS walls and a few SEAMLESS terrains...but you also get the Sistine Chapel Community Lot, as well as sensible texture file names and collection files for each set! Anywho...do enjoy the downloads!





***********************************


About the Ultimate Ceiling Superset:
The Ultimate Ceiling Superset is massive collection of 632 Textures. There are 7 parts in this collection.
Part 1: CLICK the following LINK to See/Download

the 95 TEXTURED Ceiling Floor Textures!
Part 2: CLICK the following LINK to See/Download

the 212 TIN Ceiling Floor Textures!
Part 3: CLICK the following LINK to See/Download

the 48 WOOD Ceiling Floor Textures! (Includes 2 Complimentary Matching Walls)
Part 4: CLICK the following LINK to See/Download

the 60 STONE Ceiling Floor Textures!
Part 5: CLICK the following LINK to See/Download

the 80 ELEMENTAL FANTASY Wall, Ceiling/Floor and Terrain Textures!
Part 6: CLICK the following LINK to See/Download

the 137 SISTINE CHAPEL Wall and Ceiling/Floor Textures!
Part 7: This DOWNLOAD contains The Sistine Chapel Community Lot!



***********************************

NOTE: The Sistine Chapel COMMUNITY Lot is TEXTURE and OBJECT HEAVY.

***********************************
About This Collection: The Vatican's SISTINE CHAPEL Community Lot
This Post Contains the "ULTIMATE CEILING"...The Sistine Chapel Ceiling! BUT...I'm guessing you would like more than just the ceiling?

So...I give you a fully decorated Sistine Chapel Community lot!

"COMPARE THE ACTUAL SISTINE CHAPEL INTERIOR "
The Vatican's Virtual Sistine Chapel
Sistine Chapel Entrance View
Sistine Chapel Altar View
"TO MY IN-GAME VERSION"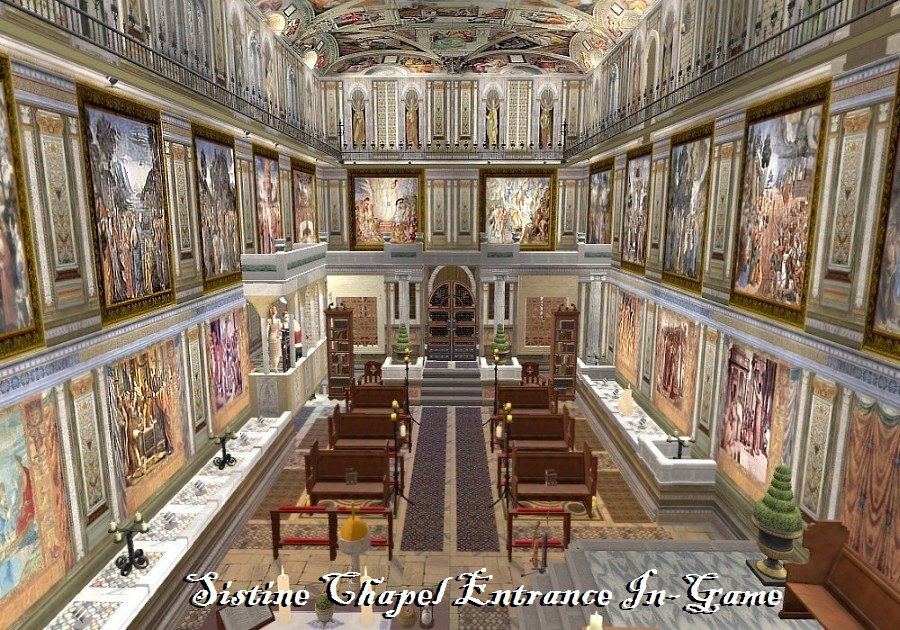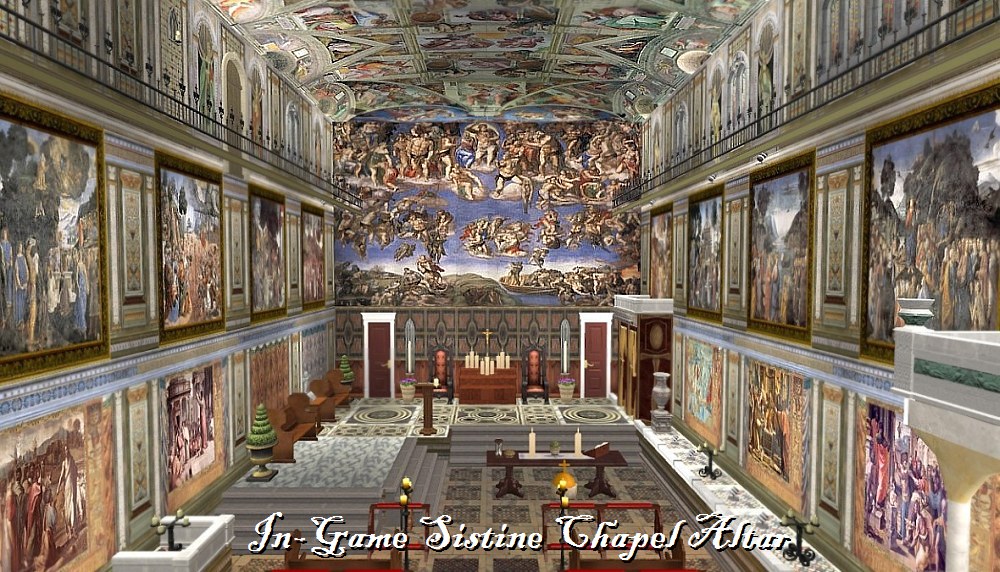 Note

:

Be sure to click on the OTHER Sistine Chapel IMAGES below to see more details about the lot!




***********************************


LOT DATA

Lot Size: 2 x 3
Lot Cost: 0 Simoleons (COMMUNITY LOT)

Lot Description:
This lot includes a 3 Story Chapel (with various activities including piano playing, violin playing, reading, singing, poetry recital and sitting pews) and the 4th floor contains the Offices (with computers and books), a Waiting Area (with a Television and Music), Restrooms, a Lounge (with a Buffet Table) and a Gift Shop (for Shopping). There is also a Snack Machine Hallway, an outdoor grill area and an outdoor wedding arch. For your convenience, I included the NPC Dishwasher by Sophie-David to keep your lot tidy!



***********************************

IMPORTANT NOTES

Now that I've got your attention...It's not a "MAJOR" deal...just

4 THINGS YOU SHOULD KNOW

!


* When you first arrive on this lot I advise clicking on a light or lamp and "Auto" ON all lights in the lot. Because the basement level and first floor level of the chapel have been boolpropped to function as one floor...the basement area is dark like a basement. Because of how low the actual first floor is, it does shed a bit of light on the basement. While I personally like the antiquated, vault-like atmosphere, it is not enough light to "see" everything. To truly appreciate The Chapel in it's entirety, it would be better to turn on the lights. For that too has a grand impact on the wallpaper artwork!



* There is an invisible mirror sharing a tile with the Witch Podium found on the Chapel Altar. If your Sims have "Witching" capabilities, you can click on the podium itself. However, if you would like for your Simmies to "Practice Speech" or to look as though they are delivering a sermon, click around the podium until you get the "Practice Speech" bubble.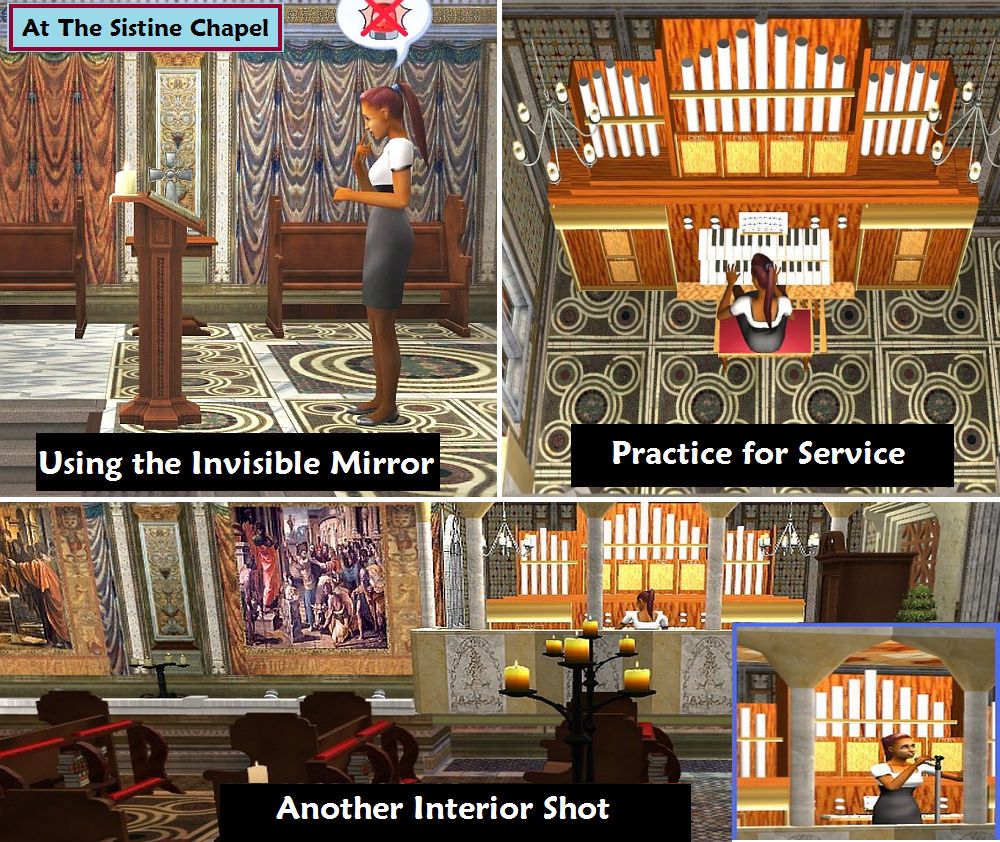 * Also upon entering this lot, I highly suggest filling the buffet table on the fourth floor and/or grilling food on the outside grill, so there will be food available for your Simmies to eat. Keep in mind, I also used the NPC Dishwasher by Sophie-David on this lot to keep the lot tidy.

* Be sure to download both files for your lot to show properly.



***********************************


General Creation Information
This was the most challenging and most intense Sim lot I've ever created (with the exception of Frank Lloyd Wright's "Fallingwater"). It was inspirational and even surreal at times. While I could not create an exact replica...this Sim version is absolutely breathtaking...but you can decide for yourself.

It started with a few ceilings and progressed to me using the Vatican's Virtual Sistine Chapel Tour and various other sites (see links below) to pull this together.

The exterior is simple and quite ordinary...but the inside adds much to the adage that you cannot judge a book by its cover. While I've never been to The Sistine Chapel, I feel as though I have after building this lot! Each layer of the chapel's interior has been included: The first level with curtains, Raphael's Tapestries, the Altar and the Choir Stage. The second level with the Life of Moses and Life of Jesus Paintings by artists Bernini, Botticelli, Ghirlandaio, Roselli, Perugino, Signorelli, Da Lecce and Van Den Broeck AND the third level with paintings of the various Pontiffs (Popes) involved with the Sistine Chapel at the time of it's conception. The fourth level is an addition I created to house a Gift Shop, Buffet Lounge, Restrooms and Papal Offices.



***********************************


Special Note:
I did alter Michelangelo's "The Last Judgement" images so they would be a bit more discreet and meet uploading standards. Please understand that my alterations are not meant to take away from the beauty of the human body as Michelangelo intended it to be.

An Interesting Sidenote About Sistine Chapel Nudity:
During the remodeling of the actual Sistine Chapel, professional artist were hired to cover much of the nudity in some small way. This was done so by using sashes and scarves. However, if you could compare the images before the restoration and after the restoration, you will notice that several artists must have been used. While some of the revisions done during restoration flow in the style of Michelangelo, others look quite awful. I found myself wondering if the artist (or artists) who painted the awful revisions were either not connecting with Michelangelo's style or if they out of respect for Michelangelo wanted to preserve as much of Michelangelo's original design and allow more flesh than revision to show. Either way...it makes the eyes focus more on the cover-ups than on the actual original artistry. In my version (which you will notice once you are in the Chapel), I tried to stay true to Michelangelo's style and created clothing or sashes that flowed with the painting instead of against it. Imagine...retouching Michelangelo? Totally awesome stuff! Nonetheless...do enjoy the revisions and the lot. Just for fun...you can get an original version of the chapel and compare my revisions. I can only do so from a distance in this post!





***********************************


SISTINE CHAPEL FACTS
The Sistine Chapel was commissioned by Pope Sixtus IV, designed by Baccio Pontelli and constructed by architect Giovanni dei Dolci. It was completed by 1483.

Originally, the ceiling had a starry sky painted by Pier Matteo d'Amelia. In 1508, Pope Julius II commissioned Michelangelo to repaint the ceiling. Thus was born an impressive vision of artistic interpretation of Biblical Scenes (notably from Genesis). Michelangelo finished the ceiling in 1512, but he was commissioned again in 1536 by Pope Paul III to paint "The Last Judgement" mural behind the altar.

While the Sistine Chapel Ceiling is indeed impressive, there is so much more history and artistry in The Sistine Chapel. The interior of the Sistine Chapel was sculpted and painted by several Artists and their affiliated workshops over many years. These artists include Bernini, Botticelli, Ghirlandaio, Roselli, Perugino, Signorelli, Da Lecce and Van Den Broeck.

Artist Raphael also contributed 10 Tapestry Cartoons on the lower walls of the chapel that depict scenes from the Gospels and Acts. Of the 10 Tapestries, 7 survive.

* 7 Tapestries Survive
"The Death of Ananias"
"The Miraculous Draught of Fishes"
"The Handing Over of the Keys"
"The Healing of the Lame Man"
"The Conversion of Saint Paul"
"Saint Paul Preaching in Athens"
"The Sacrifices in Lystra"

* 3 Were Destroyed
"The Stoning of Saint Peter"
"The Blinding of Elymas, the Sorcerer"
"Saint Paul in Prison"

*Matteo Da Lecce and Henrick Van De Broeck painted replacement Fresco Murals above the entry to the Sistine Chapel after the entrance collapsed and destroyed the original frescos by Ghirlandaio and Signorelli .



***********************************


SISTINE CHAPEL RESOURCES

http://www.wga.hu/frames-e.html?/ht...byls/index.html
http://www.artbible.info/art/sistine-chapel.html
http://www.thetapestryhouse.com/abo...tapestries.html
http://en.wikipedia.org/wiki/Sistine_Chapel
http://www.vatican.va/various/cappe...a_vr/index.html

Custom Content by Me:
- 8 Sistine Chapel Ceiling 5x5 Floors
- 3 Stone Ceiling Floors
- 1 Tin Ceiling Floor
- 16 Sistine Chapel 1x1 Floors
- 10 Sistine Chapel Curtained Walls
- 6 Walls of Sistine Chapel - 2 Entrance Murals
- Sistine Chapel Fresco Mural Divider
- Sistine Chapel Last Judgement Bottom Wall
- 20 Sistine Chapel Last Judgement Mural Walls
- 13 Sistine Chapel North Walls - 6 Murals
- 17 Sistine Chapel POPE Walls
- 13 Sistine Chapel South Walls - 6 Murals
- Sistine Chapel Raphael Tapestry 1A
- 13 Sistine Chapel - Raphael Cartoon Tapestries (7 Murals)

Custom Content Included:
- Bell & Recolour by -Maylin-
- "Elven" Window 02 by -Maylin-
- Lantern Mesh & (Black Recolour) by Maylin
- Medieval Loveseat Church Bench by Ailias
- Ailias Modern Round Bra by Ailias
- Russian Icons Painting 3,5 and 6 by XRAX
- Baptism Basin by Bino Maus
- Arch Candle Small by buggybooz
- Candid Tall Arch Candle and Chandelierby buggybooz
- Invisible Window and Double Window by rebecah
- Mass Bible by Bino Maus
- The Empty Cross by KevinsHope
- Georgian Manor House Interior Door by phoenix_phaerie
- Manor House Tree and 5 Topiaries by phoenix_phaerie
- Stone Border Door by crocobaura
- Church Altar and Statue by DBCAB
- Sexi Boi Picture Mesh by xrax
- Table Runner by Issy at Sims2Artists
- Jesus Wall Cross by KevinsHope
- "Eponymous Garden" Monkshood, Lily & Lily Recolour by Parsimonious Sims 2
- Decorative Community Pay Phone Cover & Rustic Recolour by Parsimonious Sims 2
- "Sultana" Bowl by Parsimonious Sims 2
- B-A-C - Chain Part by Khakidoo
- Kneebench for your church! by Bino Maus
- Kruzefix by feeEssen
- Extendable Table (Middle and End) by mia86
- Pediment Fence 2 by NaniSim
- Big Entry Portico by Parsimonious Sims 2
- Loggia Fence by nanisim
- Plaque 2 by nanisim
- Church Organ by feeEssen
- "Cloister" Column by BrassTex
- Roman Stone Bench by Tarox
- Roman Window by Tarox
- Holiday Candles 1, 2 and 3 by Reyn
- Celtic Daily Scripture Cross by KevinsHope
- NPC Dishwasher by Sophie-David
- End Table Barrel, Trash Barrel and Trash Barrel Recolour by Sophie-David
- Invisible Mirror of Past Reflections by Sophie-David
- Tiny Ceiling Light by senesi2003
- Turnglocke (Bell) by feeEssen
- Medieval Door 1 & Recolour by UK1967
- Medieval Roof Decoration Spire with Cross 1 by UK1967
- Invisible Buffet Tablecloth by pfish
- The Last Supper Painting by sophisim
- Tiger Lily Candle Recolour by Reyn
- Angel Painting by SvJW
- Cafe Curtain 2 by Sarah1141
- Georgian Entry Door & Window by Phoenix Phaerie

Additional Credits:
Thanks to Sophie-David for your love, support and helping me with the Collection Files.



Number of bedrooms: Not Applicable
Custom Content Included: Build and Buy Mode Content
Furnishings: Fully Furnished
Special Flags: Not Applicable


Tags: #The Ultimate Ceiling Superset, #UCS, #ceiling, #ceilings, #Sistine Chapel, #Sistine, #Michelangelo, #Vatican, #church, #chapel, #art, #StephSim
~*~StephSim's Creations~*~
❤ Welcome to my little space of the Simming Community!❤
As of July 2016, I've decided to reinvent myself (again). Basically, my Sim Creation Renaissance is long overdue! It's time to release the old and move forward, doing things that sustain me in meaningful ways. ◕‿◕
I shall start with a wonderful new Sim Place to call home! And now the Official Unveiling (....drum roll...):
CLICK HERE to experience StephSim's BRAND NEW SIMS 2 WEBSITE called *** Proudly Banished *** !!!
Proudly Banished is my little storage place for a select few of my Sims 2 creations. Since I will NOT be Simming as much, I wanted to provide a small landing pad for random creations I will be sharing. I will on occasion share NO CC/ LOW CC Lots and MTS related recolors here on MTS. However, my CC LOADED Lots will be Housed at Proudly Banished. I've also add the updated Fully Loaded Versions of the American Gothic Mansion. Be sure to click on the Slideshows when available! You will find a few lots, object recolors, clothing recolors and the Regina Mills Sim (from Once Upon a Time)! There should be a little something for everyone!
Take your time and explore the site and be sure to check out *Sherwood Forest* for my PBK Community Goodbyes!
See you there. (。♥‿♥。)
POLICY
All StephSim walls, floors, and ground covers can be freely used in lot creations on any free or pay site. Feel free to use my neighborhood maps/terrains for any and all of your Simming needs. Feel free to use any objects or object recolors shared on MTS or elsewhere in the Sims 2 community in your creations (lots, movies, stories) Feel free to recolor objects I upload and include the mesh. Feel free to use any Sims I create or my lots for your Sim movie making purposes! In using any of my creations. Credit is not necessary, but please do not claim any shared creations by myself,
Sophie-David
,
Jason Duskey
or anyone who I team with as your own.