Sims 2

>

>

Doors, Windows, Doorways, Arches
Modern Georgian Manor Set
43,318

Downloads
7,210

Thanks Thanks
486

Favourited
428,257

Views
Featured Upload! This is a featured upload! It showcases the best talent and creativity available on MTS and in the community.


Uploaded: 7th Sep 2006 at 3:59 AM
Updated: 13th Sep 2006 at 5:15 AM
My favorite style of architecture is Georgian, and with set, I decided to do a modern take on it.
Contained in this set is all you need to make your sims their very own Modern Georgian Manor.
For those unfamiliar with Georgian Architecture, it's named for the four monarchs of England named George that ruled during the height of this style's popularity during the 18th and 19th century (and NOT for the state of Georgia). Mostly Georgian-style has alot of balance and symmetry on the facade. You could actually draw an axis righ down the center of Georgian structures and each side would match the other exactly.
The Modern Georgian Manor Set is a re-imagining of
the very first build set
I did for TS1 which had alot of Georgian influences in it.
I am adding my standard disclaimer to this set:
Due to the ornate nature of this set, there are very high poly counts!
.
I'm not in the business of creating simplistic designs, so when you think of me, think of HIGH POLY COUNTS!
Each door features gold hardware accents, with the entry door featuring a kickplate, door knocker and peephole.
There are 6 doors and 4 windows to this set. Poly counts are in parenthesis:
arched window (2864)
palladian window (3808)
shuttered window (1476)
tall shuttered window (1587)
main entry door (3144)
double door set (2264)
french double door set (2296)
interior door (1652)
interior french door (1448)
2-tile doorway (732)
All the windows and doors are slaves to the SHORT SHUTTERED WINDOW and the ENTRY DOOR
. Deleting either of these from your downloads folder will remove all the color options for the other doors and windows!
The frame of each window and door comes with 5
built-in
color options (meaning you should try to delete any of them), and the shutters and main entry door also have 5 extra options of their own.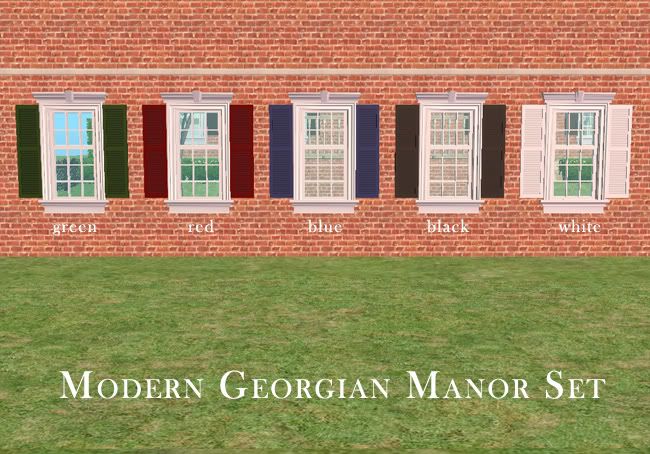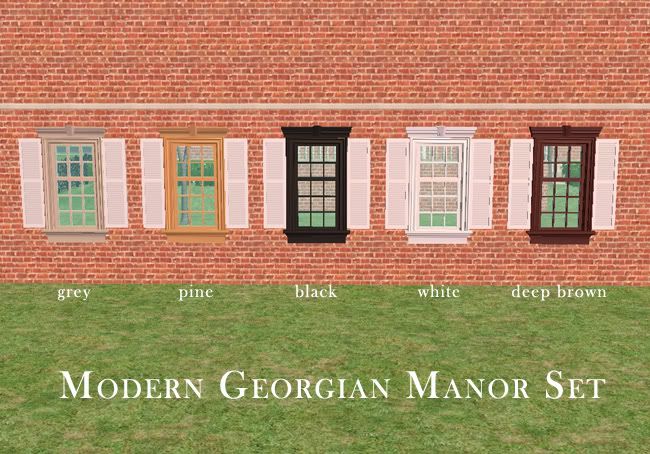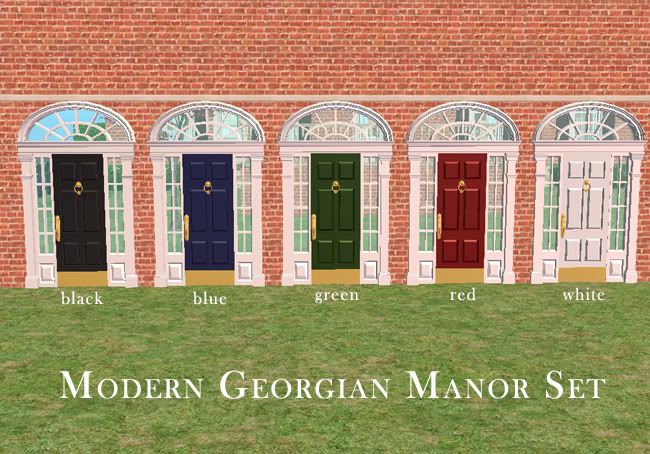 Note: if you plan to recolor any of the doors or windows for this set, you will have to recolor the repository objects (the SHORT SHUTTERED WINDOW and ENTRY DOOR), Since all the other windows and doors take their textures from these two items. Recoloring individual windows or doors will NOT work!
(Recolor templates coming soon)
Uh-oh, I forgot my terms of use

Please feel free to recolor this set, but do not host the actual files anywhere else. Please simply link back to this thread and allow users to download the actual set from here. If you'd like to include these pieces in a lot, that's fine, so long as they are NOT uploaded to ANY paysite (w/the exception of TSR). Please also give me full credit and a link back. Thanks.
I am NOT allowing this set to be cloned, hacked, or uploaded to the exchange.
Edit:
Alot of people are asking me to upload the house I used in the pictures. The house is just a shell and doesn't have anything in it except the rooms I photographed (I actually had to delete the study to build the kitchen "set"), so uploading it would be sort of pointless

This set was a toughie, so let me know what you think! (comments, questions , problems, etc)

Packs Needed
None, this is Sims 2 base game compatible!
Hey you!

***ANNOUNCEMENT***
Due to school obligations, I am taking a hiatus from creating until spring of 2010. Please see my journal for more details.
http://i29.photobucket.com/albums/c...mts2_policy.jpg
_______________________________
Thanks for visiting my page! I invite you to check out my journal, where you can find information on my current and upcoming work, or just head straight to the downloads area!
***Please Read***
I will not answer any PMs about downloading or questions about where to install downloaded files. If you are having problems
downloading
a file, that is a site issue I CANNOT help you with.
The 'Game Help' section of this website exists for that reason. It was put together by people who are heaps more knowledgeable than I am. Any questions about troubleshooting/the mechanics of downloading will be ignored and deleted.
However, if my files cause any in-game issues, I encourage you to PM me and chew my head off.