>

From perfectly tweezed eyebrows to bushy beards and moustaches, grow them out or tame them down with these selections.
Natural Redhead Project: 15 subtle unisex eyebrows for all skintones, plus DEFAULTS.
MTS has all free content, all the time. Find out how YOU can help to keep it running.
Tell me how...

Created by alkaloid View Policy / About Me View Downloads Home
Uploaded 23rd Nov 2007 at 5:11 PM · Updated 8th Mar 2008 at 1:15 PM by alkaloid

Terms of use for these textures/recolors:
These files may be redistributed via shared sims, so long as those sims are available in the free section of any site, and I am credited with a link back to my profile on this site. You may not charge money or a membership fee for my files: this includes "donation files" on an otherwise free site, and sites where my files would only periodically be free.
These files may also be shared via Neighborhood 99, so long as I am properly credited.
You may recolor these files so long as your derivative works are only posted on free sites with proper credit as described in the previous paragraph.
Part of the
Natural Redhead Project
.

Fifteen new eyebrows that work for both males and females.
All of the feathering and color blending are done with the alpha, so these can be placed on any skintone without weird shading effects. Also, the colors are all-ages and unbinned so you can get exactly the look you want.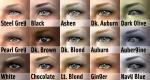 The default set replaces the "tweased" [
sic.
] eyebrows. The colors used are dark auburn, dark blond, dark brown, black and steel.
YOU CAN ONLY HAVE ONE DEFAULT REPLACEMENT SET PER ITEM. If you already have a default replacement set for the tweezed eyebrows, you need to remove them from your downloads folder before using this set.
Additional Credits:
Preview shot: skintone by Oepu, eyeliner by Bruno, eyeshadow by Helaene, lip color by RenSim, and blush by Barcelonista. Eyes, freckles, hair, and foundation by myself.
Color chart: skintones by Oepu, Louis and Enayla. Eyes by myself.
CAS shots: skintones by Enayla, eyeshadows by Helaene, lip color by AtomicSpaceKitty, hair by myself and HystericalParoxysm, foundations, freckles, and eyes by myself.
Tags: #natural redhead project, #all skintones, #realistic, #auburn, #blond, #blonde, #brown, #black, #fantasy, #sci-fi, #unisex, #alkaline defaults
Retired
Retired.
ToU:
Please see individual posts for my creation policies. IN GENERAL, I have fairly liberal policies, but there are a few items that are subject to other creators' policies. Therefore, I don't have a blanket ToU.
Future expansion packs:
due to the headaches I have experienced from SecurROM - including damage to my computer, a complete reinstall of my computer, and the need to buy a brand new antivirus program, and eventually the need to fully replace my computer due to unremovable rootkits that took advantage of the security loopholes caused by SecruROM - I will not purchase or install/reinstall any EA or Sony products. There are conditions that may cause me to change my mind, but I don't consider them likely. This means that if any of my CC is broken by an expansion or stuff pack, I won't know and I won't be able to work on fixing any potential problems. I grant anyone permission to patch my CC for compatibility with any Sims 2 expansion or stuff pack, as long as the patched items are 100% free.
Beyond that, I'm not interested in pirating securom-infested eps, and I would never help EA advertise malware-infested products by creating content for them, so please stop e-mailing me with 'helpful' information.
Which brings me to...
Take the SecuROM-free pledge!