>

Any combination of build mode items (not including doors & windows). Items made with Numenor's Wall/Window set.
**Outdated**: Set of 4 *linked* "Hardcore Stairs" PLUS hidden "Hardcore Fence" available for builds
MTS has all free content, all the time. Find out how YOU can help to keep it running.
Tell me how...
15,675

Downloads
894

Thanks Thanks
33

Favourited
66,626

Views


Uploaded: 28th Sep 2009 at 5:30 PM
Updated: 1st Mar 2012 at 9:47 AM - Outdated - Original (hidden) File is now recolourable in Game
*Edit (2012-03-01): The Hardcore Fence is still hidden in Game because EA still left this item set to "not shown in catalogue"- the files included in this download here are no replacements, however, they're also non-recolourable and therefore outdated. If you have built a lot with these files included you may still download and use them for your game, they still work fine (playtested with game patched to 11.0.84.014017).



*Please note that if you want to replace the original (CASTable) file you may download omegastarr82's Hardcore Fence Unlocked.

*Edit (2010-04-25): All files were checked with the newest update version (3.2.6.005001) - they still work fine in game and can be used both with the base game and also with the latest expansion pack "Luxury Accessoires", however, no expansion pack is required for these files. Please note that these files cannot be modified with the design tool in game (this option wasn't available when these files were uploaded in September 2009).
*Edit (2009): Upon request I added a clone of the ORIGINAL brownish black "Hardcore Fence" #02 - it's unchanged except for the price (changed from 25$ to 29$ so that it appears next to the recolours) - you might need it if you use the original "Hardcore Stair" in your game instead of my recolours.
~
At first it looked like this was just about another recolouring of stairs with linked railings, fences and all that, but when I wanted to recolour the matching fence for the Hardcore Stairs I
found out that there are two of them, actually, but only one of them is available in the fence category
of the build mode catalogue in game.
Maxis linked the brownish black "Hardcore Fence" with the "Hardcore Stairs" (#02), however, this fence doesn't show up in the fence category. Instead you'll find there a "Hardcore Fence" (#01) that is slightly different and not as massive as the other one.
If you haven't been aware of that in the past... no problem. You won't have to worry about that in future because with this download you'll not only be able to use both Hardcore Fences in game but you'll also have all that in 4 different colours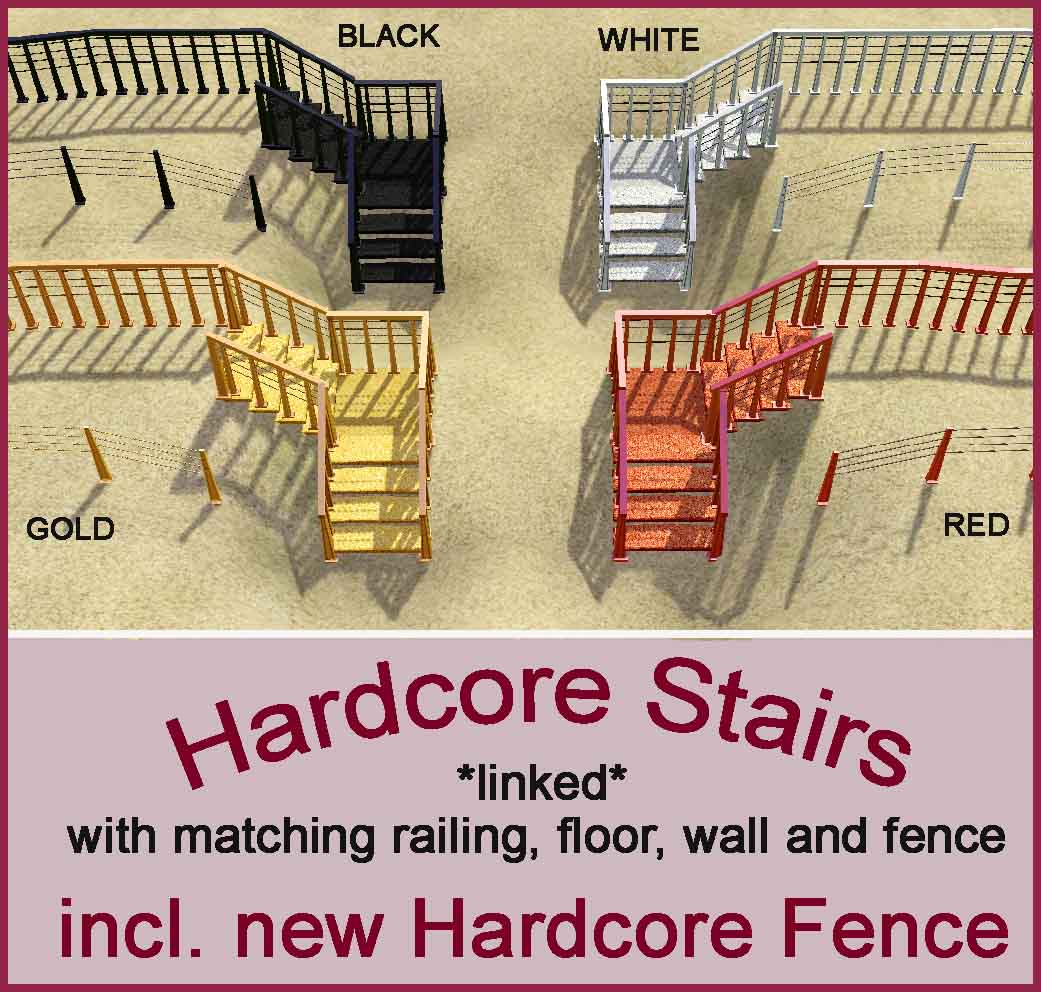 With this download you'll be able to chose from 4 different colours of the "Hardcore Stairs" all linked with matching railings, walls, floors and fences. If you want to use them as shown on the pictures, just enable the "auto-railing" funktion (as I did), however, you may also use the stairs, railings and/or both fences seperately.
The
BLACK
recolour is a pure black and not as brownish looking as the Maxis version.
The
GOLD
recolour is a warm golden colour with a shiny look.
The
RED
recolour is almost the same as the original but you'll need it because there's no such stair or Hardcore Fence #02 in the original game.
The
WHITE
recolour is much brighter and clearer than Maxis white colour.
Every colour is packaged seperately so that you won't have to download all colours if you don't want to use them in your game. Each package comes with the recolour of the "Hardcore Stair", the "Hardcore Railing", the "Hardcore Fence" #01 and #02 and matching wall and floor. If you never use the auto-railing funktion you can just install the package of the stairs (same for the railings and/or fences) - if you, however, want to use the stairs as shown on the pictures, make sure to install all five package files for each colour you want to use.
Absolutely NO original file will be replaced by these recolours. The stairs, railings and fences #01 and #02 all show up in game with their own thumbnail pictures.
You'll find all these recolours in build mode. The recolours of the "Hardcore Stair" can be found in the stairs category and they cost 80 $imoleons per step.
Click on the railings symbol of the same category to access the railing recolours. Railings don't cost any extra $imoleons - they appear in alphabetical order.
All recolours of the "Hardcore Fence" can be found in the fence category - I changed the price for fence #01 to 27 $imoleons and for fence #02 to 29 $imoleons so that they appear right after Maxis "Hardcore Fence" #01 colours which cost only 25 $imoleons.
File names of fence #01 = HardcoreFence[+colour name]
File names of fence #02 = StaircaseHardcoreFence[+colour name]
Please note that these new colours won't automatically be included in your packaged lot if you export it from your game. The new recolour packages need to be installed for showing up with your lot in game.
Enjoy the colours and the new fence in your fence category!
Additional Credits:
Peter and Inge Jones
for two great tools -
S3PE and S3OC
Xanathon
for the
Tutorial: Clone A Painting and change the Texture [...]
Srikandi
for the easy to understand
Mini-Tutorial: linking stairs, railings and fences
- without this tutorial I wouldn't have been able to make all stairs work in game.
Please note:
Due to some real life issues I'm currently not active and not online anymore. I will let you know when I'm back.

If you are seeking help, please ask in the Help Forum or elsewhere. I won't be able to respond to PMs. Sorry. :-(