Sims 3

>

>

Mods that replace game resources other than the script core.
Fresh Prince's Cars for Community Lots *no longer needed* Buzzler's mod does it all!
27,432

Downloads
405

Thanks Thanks
43

Favourited
83,765

Views

Uploaded: 27th Jun 2010 at 9:57 PM
Updated: 14th Jul 2011 at 6:03 AM - obsolete mod

This mod is no longer needed to have vehicles available on community lots. Buzzler's
Build/Buy Restriction Choker
mod makes everything available on both community and residential lots.

For all of you who are waiting for Fresh Prince's cars to be available for Community Lots, here they are!
I am very happy to have gotten his permission to make these mods for his cars. This not a single mod, it is 37 mods, 1 for each of Fresh Prince's cars. Each mod is no bigger than 4 kb which is a really tiny file. The advantage of the mods done this way is that you can choose exactly which ones you want.
**Important**
These are not stand alone mods. You must have Fresh Prince's cars also. If you don't have them you will only get pretty pictures, and won't be able to place the cars.
**How to use these mods**
1 .Choose the car you want from the list of cars in the
rar
files.
2. Download that
rar
file
2. If you already have the car you want in your game, skip to step 4
3. If you don't already have it, click on the car in the list to be taken to Fresh Prince's download for the car you want. (You must have his car package for my mode to work.)
3. Put the car package in your packages folder.
(I have them in a separate folder for Fresh Prince's cars)
4. Locate the "CL" package that matches the car package and put it in your packages Folder.
Example:
CL_ F-P1950FordF1puttruckts301.package (My "CL" package)
F-P1950FordF1puttruckts301.package (Fresh Prince's car package)
I split this into 4
rar
files.
Contents of Community Cars 01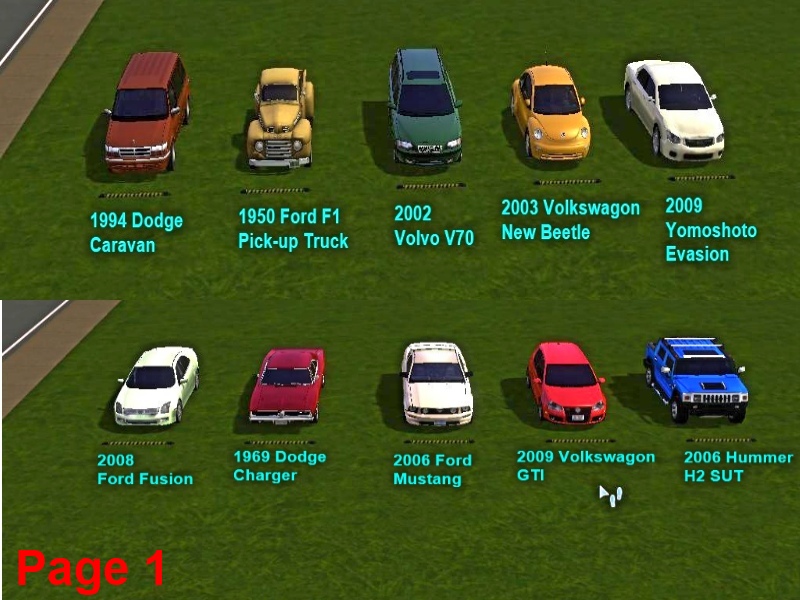 1994 Dodge Caravan
1950 Ford F1 Pick-up Truck
2002 Volvo V70
2003 Volkswagon New Beetle
2009 Yomoshoto Evasion
2008 Ford Fusion
1969 Dodge Charger
2006 Ford Mustang
2009 Volkswagon GTI
2009 Hummer H2 SUT
Contents of Community Cars 02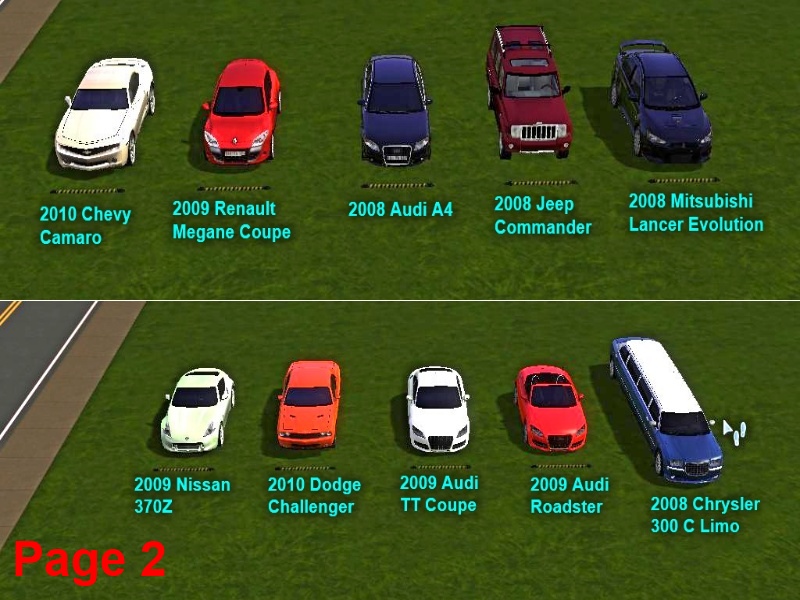 2010 Chevy Camaro
2009 Renault Megane Coupe
2008 Audi A4
2008 Jeep Commander
2008 Mitsubishi Lance Evolution
2009 Nissan 370z
2010 Dodge Challenger
2009 Audi TT Coupe
2009 Audi Roadster
2008 Chrysler 300 C Limo
Contents of Community Cars 03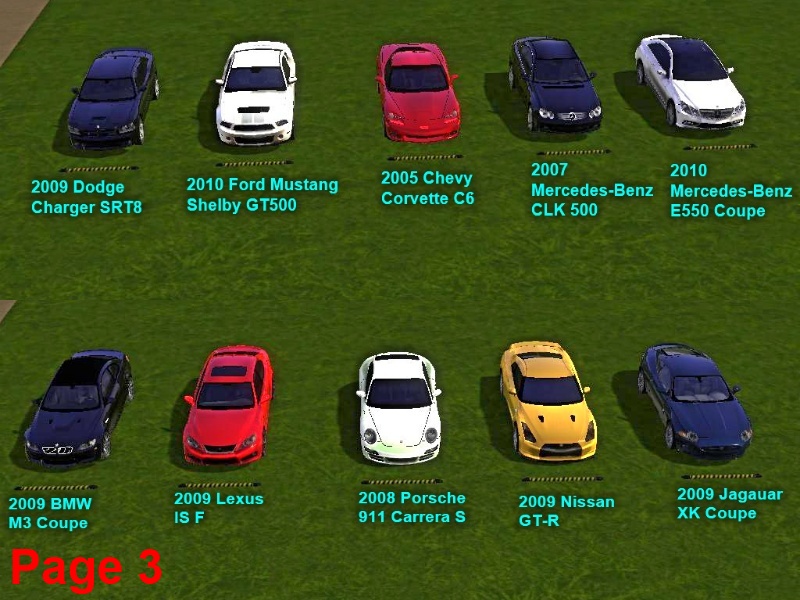 2009 Dodge Charger SRT8
2010 Ford Mustang Shelby GT500
2005 Chevy Corvette C6
2007 Mercedes-Benz CLK 500
2010 Mercedes-Benz E550 Coupe
2009 BMW M3 Coupe
2009 Lexus IS F
2008 Porsche 911 Carrera S
2009 Nissan GT-R
2009 Jagauar XK Coupe
Contents of Community Cars 04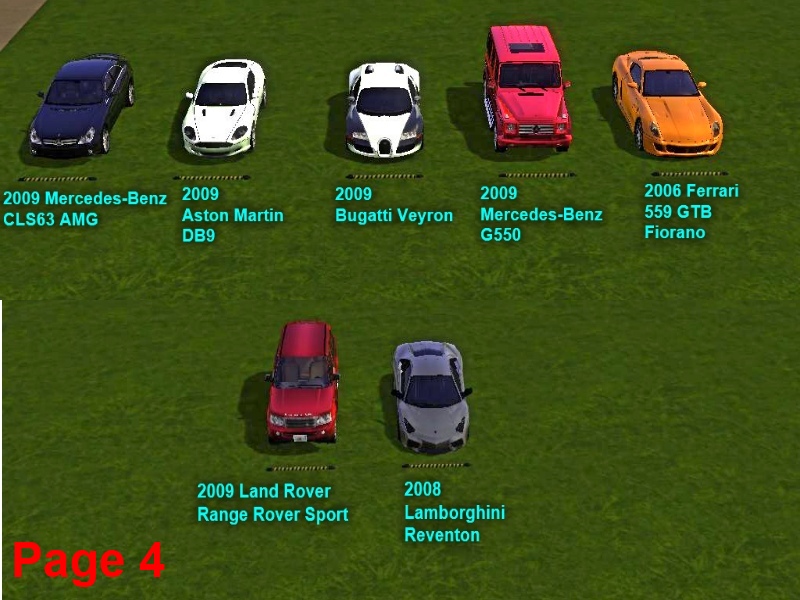 2009 Mercedes-Benz CLS63 AMG
2009 Bugatti Veyron
2009 Aston Martin DB9
2009 Mercedes-Benz G550
2006 Ferrari 559 GTB Fiorano
2009 Land Rover Range Rover Sport
2008 Lamborghini Reventon
***Compatability***
These mods were made by extracting and altering the object files from Fresh Prince's cars. They would conflict with any other mod that alters those specific object files.
Should work with all EP's and SP's
Additional Credits:
Thank you to the makers of
S3OC
and
S3PE
Thank you to Fresh Prince who graciously gave permission to play with his cars.
Packs Needed
None, this is Sims 3 base game compatible!
Winterhart's Dragon Lair
I moved Second Life! I am tired of EA's incredible greed and will not be putting any more money into this game. Sims 3 was supposed to be more flexible but it's really not.
I have enjoyed being a creator here but I am no longer taking requests or supporting mods. I will still be lurking here occasionally.
Please feel free to do anything you please with them. They are very, very simple and you are welcome to update for new expansions.
**Note**
You no longer need my mods to make Fresh Prince's cars show up on your Community lots.
Build/Buy Restriction Choker in Buzzler's Builder Stuff
makes any object available on both Community and Residential Lots!
--------------------------------------------------