Winterized Trusty Rustic Public Bathroom - Buyable and Recoloured
1,088

Downloads
51

Thanks Thanks
15

Favourited
5,790

Views

Uploaded: 2nd Nov 2017 at 8:10 PM
Updated: 19th Feb 2018 at 5:08 PM
Hello Everyone!
For your winter lots, I give you the
Winterized Trusty Rustic Public Bathroom
in 3 colours, and made buyable!
It comes in blue, red, and green, and has a few snow details to give it that Winter effect. This outdoor bathroom costs 1500 Simoleons, and can be found in the plumbing section of Buy Mode/by Function under toilets. I have it tagged for Park(Forest), Park, Lounge, and Ruins, so when creating those lots, you will see the option to buy this outdoor bathroom as well.
You must have Outdoor Retreat to have access to this bathroom.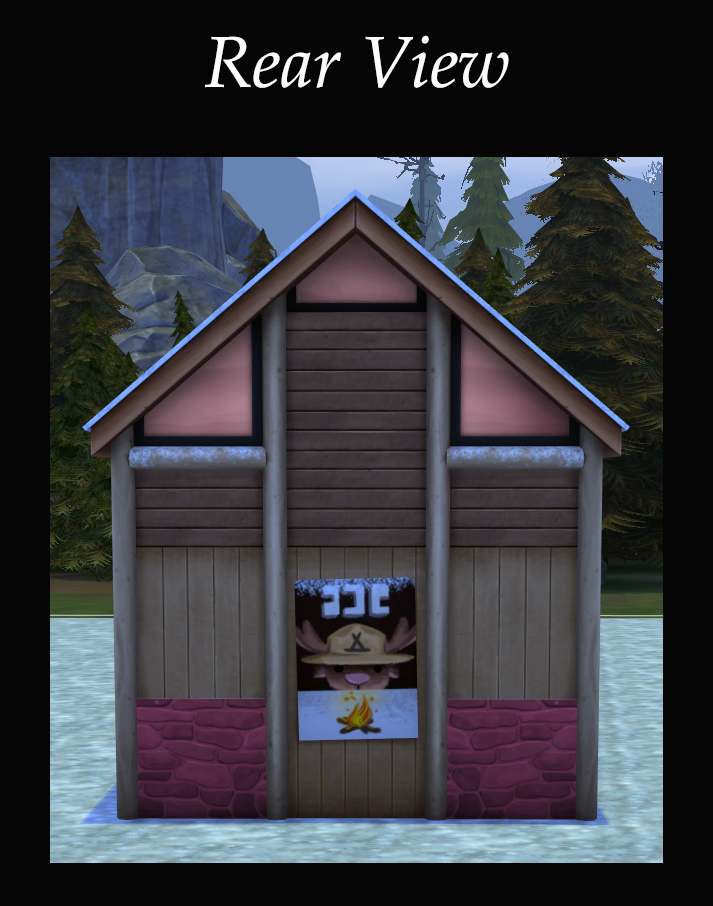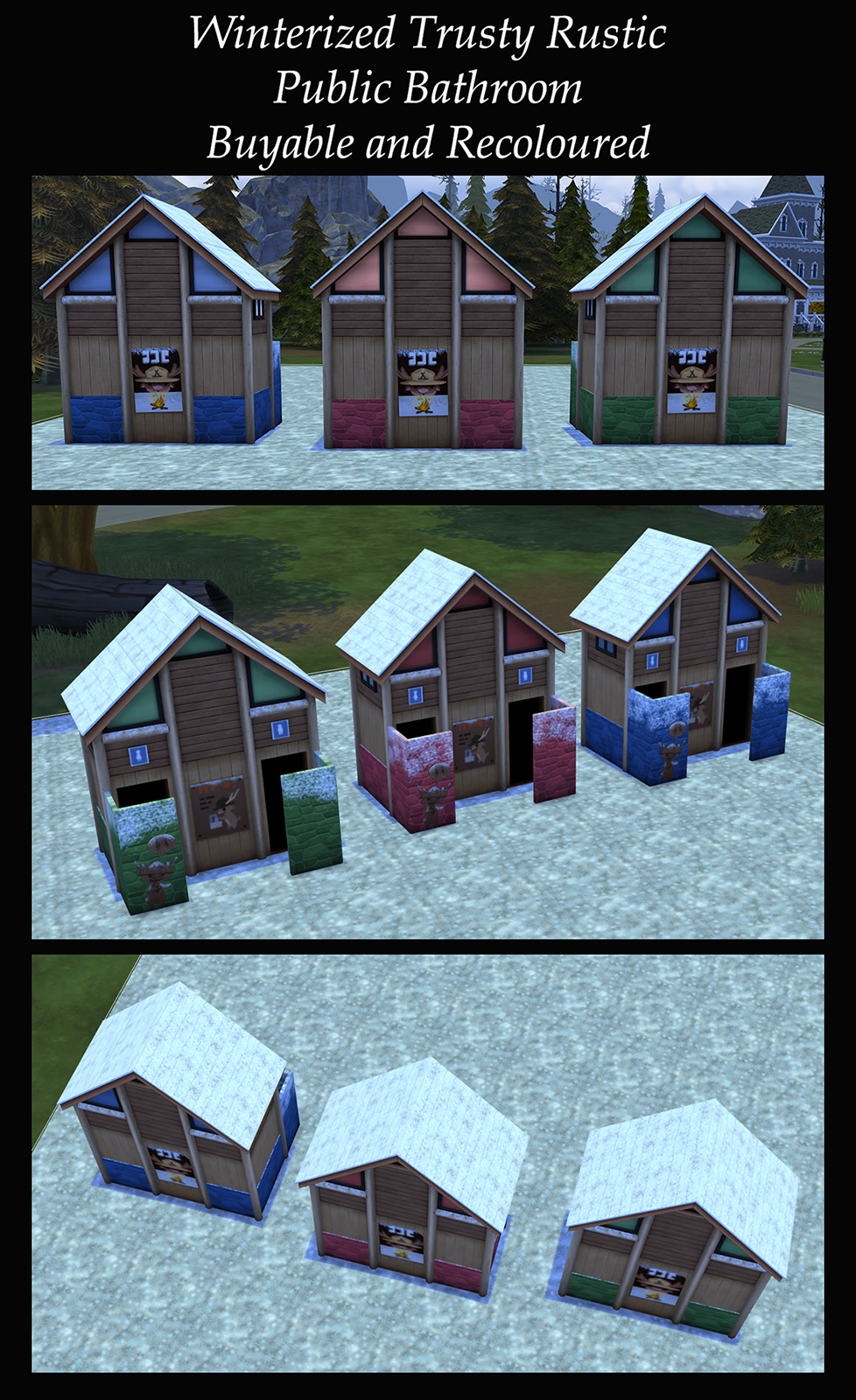 Additional Credits:
Photoshop CC
Sims4Studio
CC in photos:
Autumn in the Sims 4 by Dani Paradise for the Autumn trees
Snowflake Snow terrain by Simmiller
Packs Needed
| | Base Game |
| --- | --- |
| | Sims 4 |
| | Game Pack |
| --- | --- |
| | Outdoor Retreat |
Welcome to my world!
***THANKS TO EVERYONE WHO HAS DOWNLOADED ANY OF MY CREATIONS! YOU HAVE HELPED ME REACH 3,000,000 DOWNLOADS! MUCH LOVE***
16AUG2022:
It has come to my attention that it's difficult to navigate my mods on other sites, and I agree. I have a listing with links on my Tumblr directly to my content, so feel free to check that out :)
CLICK HERE
21JUN2022:
There are no hats allowed for random in the new Werewolves GP :)
SPECIAL NOTE:
You may have noticed I'm linking some of my mods to my Patreon. This is because it's a lot of work maintaining mods across multiple platforms. I truly appreciate all the MTS members who have supported me over the years, and I hope it isn't too much trouble for you to find me there (link also at the bottom of this profile blurb). Any game mods that have recently been updated have a link in the comments to the mod's page on my Patreon, including careers. Everything is still FREE! Not to worry :)
Feel free to use my stuff in your pictures and whatnot. I don't need a link back for stuff like that, but it's always a nice gesture :)
Please always link back to the download page of anything you might use as part of a creation, though. For example, makeup on a Sim you're uploading, or a recolour as part of a lot, etc.
You MAY NOT upload my creations anywhere else unless you link back to the original post for download. You MAY ONLY provide direct links to my uploads on other sites that
do not
require a paid membership. My content is free. Access to my content should also be free. Please respect this.
Please, please, please leave any feedback in the comments section of a particular upload. I do my best to stay on top of my mods, but if for some reason I've missed something I rely on all of you to let me know, and it's greatly appreciated, along with your continued support!
SIMS R US ON FACEBOOK
SimmillerCC on FaceBook
Simmiller on Patreon - Early Access Available
**Neia's Create-a-Career Tutorial** by Simmiller
CurseForge - All FREE content!