>

Doors, Windows, Doorways, Arches
View Old Style
54 Gender Neutral Bathroom Doors - Base Game Recolour
MTS has all free content, all the time. Find out how YOU can help to keep it running.
Tell me how...

Created by Simmiller View Policy / About Me View Downloads Home Patreon Tumblr
Uploaded 26th Feb 2020 at 11:49 PM
Hello Everyone!

54 Gender Neutral Bathroom Doors - Base Game Recolour
The game's unisex bathroom door is kind of boring. To keep up with the times, I've changed the male/female symbol with Finland's version.


Quote from this article: Gender Neutral Symbol of Finland

A Finnish NGO has launched a new gender-neutral symbol for use on bathroom doors. The organisation says the symbol is meant to indicate that people who identify as either male or female or neither can feel free to use the amenities.
According to the NGO Culture for All, the new symbol is designed to take gender diversity into account. The organisation said that the symbol is meant for use in areas such as washrooms and dressing rooms and to make it easier for people with different gender identities to use such amenities.

The symbol was designed by Pekka Piippo and can be downloaded from the organisation's website for free.

The graphic was originally intended for use on the premises of the Arts Promotion Space. The idea was that it would serve everyone and account for gender diversity. Designer Pekka Piippo collaborated with the Finnish LGBT rights organisation Seta to create the all-inclusive icon.

"According to the Seta working group, this symbol takes account of both the two main gender identities, the more fluid definitions between them, people who have undergone gender re-assignment procedures and people who define themselves as genderless," Piippo said.

Culture for All is encouraging individuals and organisations in the arts and culture sector to use the signage on the bathrooms and dressing rooms they provide for staff and customers. The NGO pointed out that the traditional male-female distinction does not serve people whose gender identity or gender expression is not explicitly male or female.

The group is hoping to apply the same thinking to facilities for disabled persons, as their assistants may be different genders.

According to Piippo the "WC" abbreviation isn't necessarily useful, since if people of a different gender are seen leaving a bathroom, the person waiting in line may be uncertain about whom it is meant for. "Good signage gives people confidence that they are doing the right thing," he added.

Culture for All aims to promote cultural services that are open and accessible to as diverse an audience as possible.
I've included the
zip
file found on the website here in case anyone wants to use the symbol for anything, it's free to use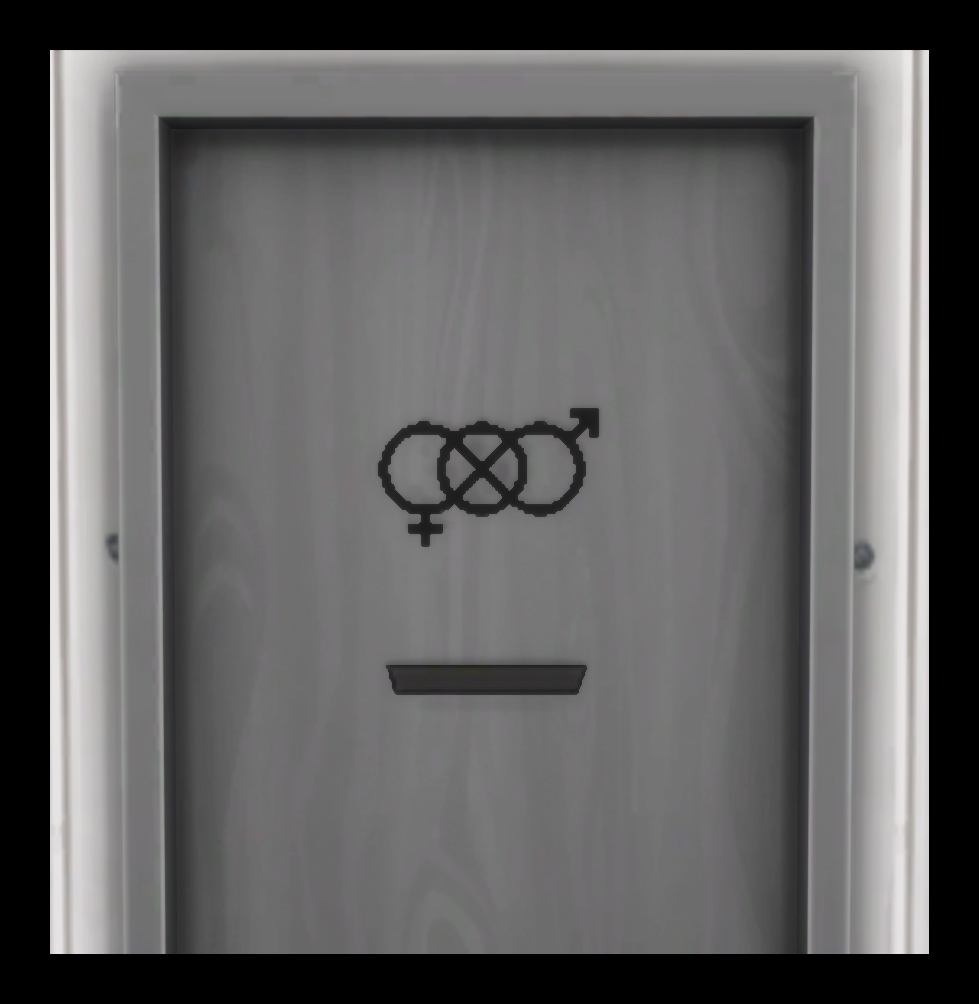 I changed the original 19 doors, and added 35 recolours! Variety is the spice of life, after all

The doors are found in
Build Mode > Doors at 50 simoleons
each, with their own icon as they are a standalone recolour.
As always, please enjoy!
Additional Credits:
Finland's unisex symbol by Pekka Piippo.
Style: Modern Ultra Modern
Maxis Flags: Not Applicable

Tags: #unisex, #gender neutral, #bathroom
Welcome to my world!
Feel free to use my stuff in your pictures and whatnot. I don't need a link back for stuff like that, but it's always a nice gesture :)
Please always link back to the download page of anything you might use as part of a creation, though. For example, makeup on a Sim you're uploading, or a recolour as part of a lot, etc.
You MAY NOT upload my creations anywhere else unless you link back to the original post for download. You MAY ONLY provide direct links to my uploads on other sites that
do not
require a paid membership. My content is free. Access to my content should also be free. Please respect this.
Please, please, please leave any feedback in the comments section of a particular upload. I do my best to stay on top of my mods, but if for some reason I've missed something I rely on all of you to let me know, and it's greatly appreciated, along with your continued support!
**Neia's Create-a-Career Tutorial** by Simmiller
Simmiller on Patreon - All FREE content!