Replies: 1537 (
Who?
), Viewed: 185157 times.
|
You are currently not a member of this group. Would you like to join it now?
Page 62 of 62
#1526

26th Dec 2020 at 2:31 AM
MERRY CHRISTMAS everyone!!!
#1527

28th Dec 2020 at 4:14 AM
Just started this contemporary style mansion. Its so not my own style but I finally like the way it looks. what you guys think?

Scholar

#1528

11th Jan 2021 at 6:18 PM Last edited by Ferguson Avenue : 11th Jan 2021 at
6:41 PM
.
Quote:
Originally Posted by ScaryRob
ReduxCozyKittenCondo-2+BR-NCC:
A rebuild of Maxis' 'Cozy Kitten Condo', from the Belladonna Cove neighborhood.
I added a second story with multiple rooms and tamed the out-of-control roof. It is now a two bedroom, with three full baths and a loft. An additional 4x4 spare room can be used as needed. The downstairs kitchen and dining area is large. I also added a driveway and backyard deck. Built from scratch on a new Lot, of course, this is a pretty good house now, imo. No Custom Content.
My first thought upon loading up that house and seeing the roofing situation was
"What were they thinking?!?"

Quote:
Originally Posted by Volvenom
I have downloaded some content and what do you think about the Venice windows?[/url]

They look really good, will you be building a venetian mansion to use them on?
New year, same old problems and unfinished creations...

My Baroque chateau and Victorian asylum are both coming along leaps and bounds.
Chateau:


I'm still undecided about the choice of windows though, and also the function of many of the ground floor rooms, so that's going to require further research to see how/if things differed on the continent to what I already know of for here in the UK.

Asylum:


I'm particularly pleased with how my chimney hiding experiments have turned out.




It now boasts two operating theatres!




And in the former Ballroom you'll find the tiled 'Floor of Madness'.




The decay is most definitely creeping in and I'm unsure how far to take it...


Scholar

#1529

11th Jan 2021 at 6:37 PM
But then I have some other projects that haven't fared so well...
18th Century Behemoth:

I realised I was going to need to extend upwards and create an attic in order to accommodate the servants' quarters.




The trouble is that I liked how low and inconspicuous the old roof was.




And I felt that the new mansard roof didn't quite look right as it was too prominent.

The other issues I've succumbed to are the amount of internal rooms without any sources of natural light. I really needed to create some internal courtyards and a designated servants' staircase accessing all of the floors. The trouble is that I can't bring myself to add either of these things as I like the existing rooms as they are.




Plus I'm just not used to furnishing rooms that large.


So I've kind of abandoned this project for the time being...

Gothic Folly:

This is another creation on the extravagant side that failed to live up to the image and back story I had in mind when creating it.




So in the end I demolished it and rebuilt it...




The replacement is much bigger and comes closer to living up to the design I had in mind, but it's still not there yet,


Alchemist

#1530

16th Jan 2021 at 3:11 PM
The Gothic castle looks intriguing
#1531

20th Jan 2021 at 5:49 PM
I finished this one the other day... I think it is a Toll Brothers design, but I can't find a link to it anywhere *
shrug
*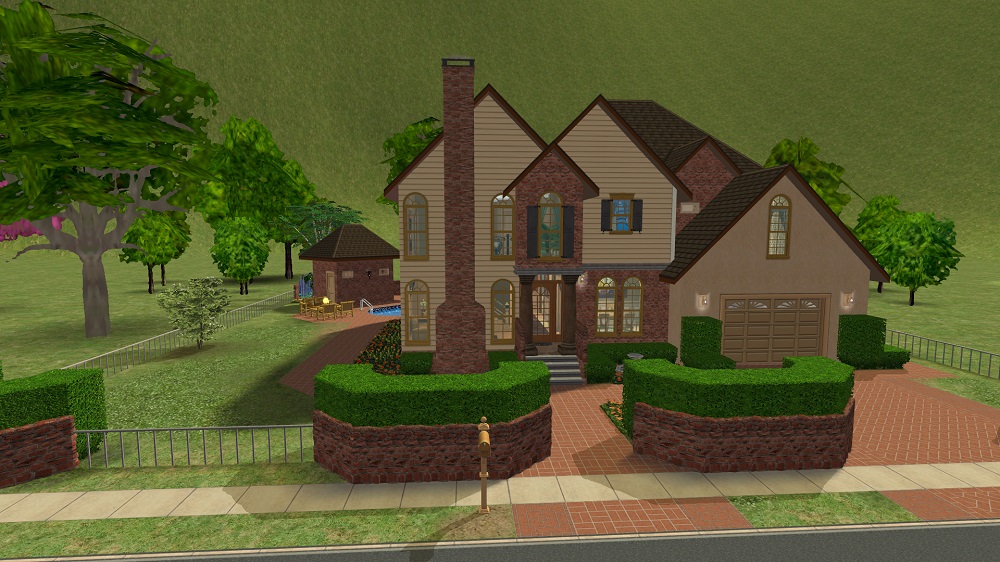 It's floor plan was stored in my hoard of interesting ideas folder. It'll be uploaded soon (I hope!)

Instructor




#1532

21st Jan 2021 at 6:12 AM
Looking nice, Ferg. Definitely digging the asylum.
During the summer I was playing around with making something in the 1980s and 1990s Postmodern style--kinda that Michael Graves vibe. Postmodern is a really wide genre, of sorts, but I really do like some of its revival elements. And to slowly work on my never-ending project of making community lots of rabbit hole buildings, I came up with a this:
It's a bit on the tame side (considering how batshit crazy some postmodern designs can go) with some art deco revival touches.
One of my favorite movies of all time is Soapdish, a silly comedy with Sally Field about soap operas. (Some plot elements have not completely aged perfectly from 1991.) I based the interior on the set from that movie, so lots of art deco and Memphis Group colors. A television studio with essentially a consistent set just seemed easier than a general movie lot. That's about it. Still have a few offices and all the individual dressing rooms to do, and whatever the heck I'm going to do with the very top floor. I don't know if I'll upload it because it is impractically large and detailed so far. Playing around with colored invisible lights to make the sunrise/sunset for the back drop was fun. The doors are colored coated based on what they lead into. Green->studio, Black->hallway, Gray->service, Yellow->office, Red->dressing room, Purple->wardrobe, Brown->props, Orange->health/wellness, Dark Blue->recreation, White->outside/exit, and Light Blue/Pink->restrooms. So all the doors essentially have different colors on each side. Why? Because CAST. :D
#1533

22nd Jan 2021 at 9:06 PM
So i have been working on this mid sized Second Empire Victorian for a while now! Almost ready to be uploaded! Just have to add a little landscaping!
#1534

26th Jan 2021 at 12:18 AM
I started these 2 suburban ranches yesterday - finished them today. They are boring... no CC, 2 click foundation, L-shaped houses. *
sigh
*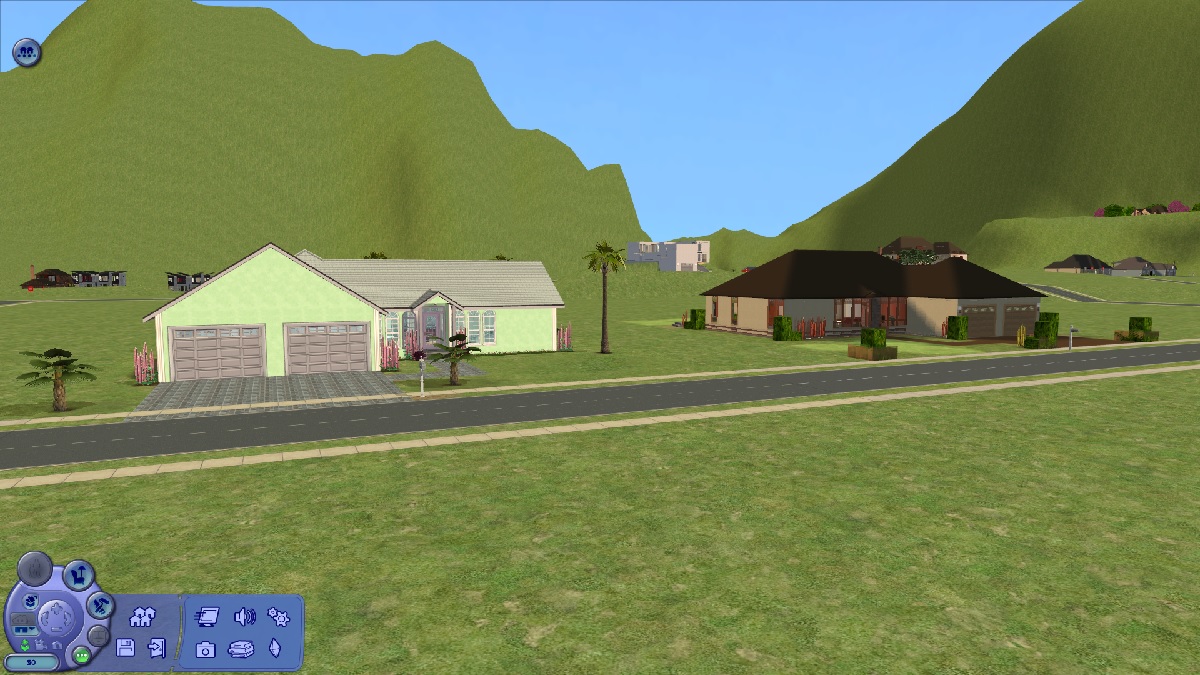 The white modern in back is done and about to be uploaded.
...and up on the ridge to the right are 2 more suburban ranches that are finished, but need photos/etc...
I just felt the need to build last week

.

Alchemist

#1535

26th Jan 2021 at 4:36 PM
Heh, I think I know the modern white's inspiration/floorplan.

Top Secret Researcher

#1536

Yesterday at 4:13 PM
Quote:
Originally Posted by CatherineTCJD
I started these 2 suburban ranches yesterday - finished them today. They are boring... no CC, 2 click foundation, L-shaped houses. *sigh*

If you make the roofs less steep, like the minimum 15 degrees, they might look a little less boring.
Here's something many people don't know. In the southern United States, building codes allow for fairly shallow pitched roofs, simply because there is infrequent snowfall. In the northern part of the country, building codes require steeper roofs because of the heavier snow and rainfall.
You can always tell when a homebuilding company from the northern US builds in the south because their houses will have the typical steep pitched roofs, even though they don't need to be. I know, I live in one.
I don't know how many times I've seen Sim lot makers make a desert or tropical-styled house with a steeply pitched roof, which doesn't make sense.
Also, I think the overall tendency of many lot makers is to use a too-steeply pitched roof. It's as if they don't know the roof angle tool exists.
#1537

Today at 4:57 AM
I think the roofs are at either 27 or 33 on those two... I needed to find a pitch that would blend two of the roof sections together alright (there's a 1T jog between them)

I'm not quite done with them yet... maybe I'll futz a bit more with the roofs?
This is the Floor plan for the white one: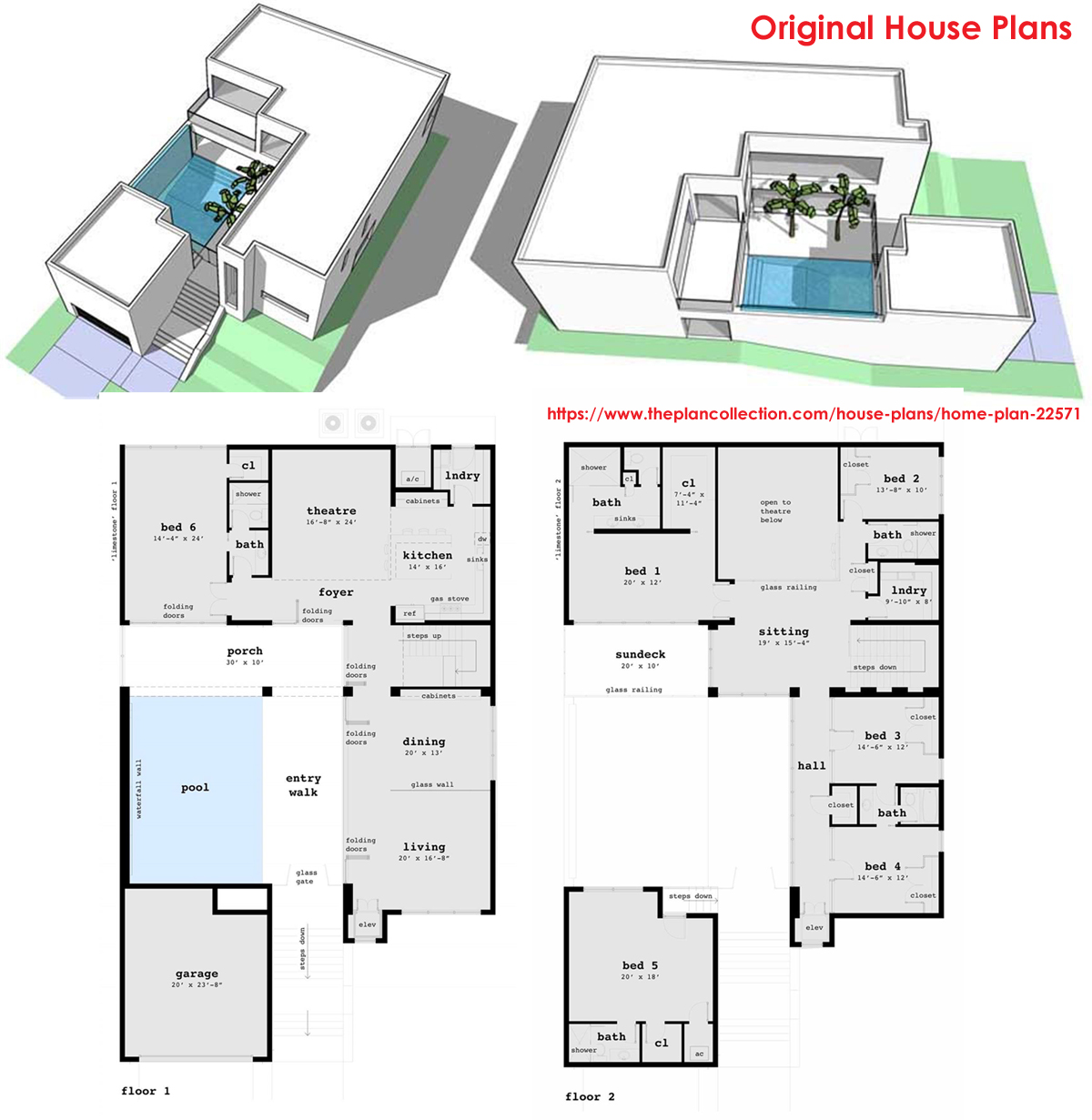 It's done/photoed/ready... I might get it uploaded tomorrow?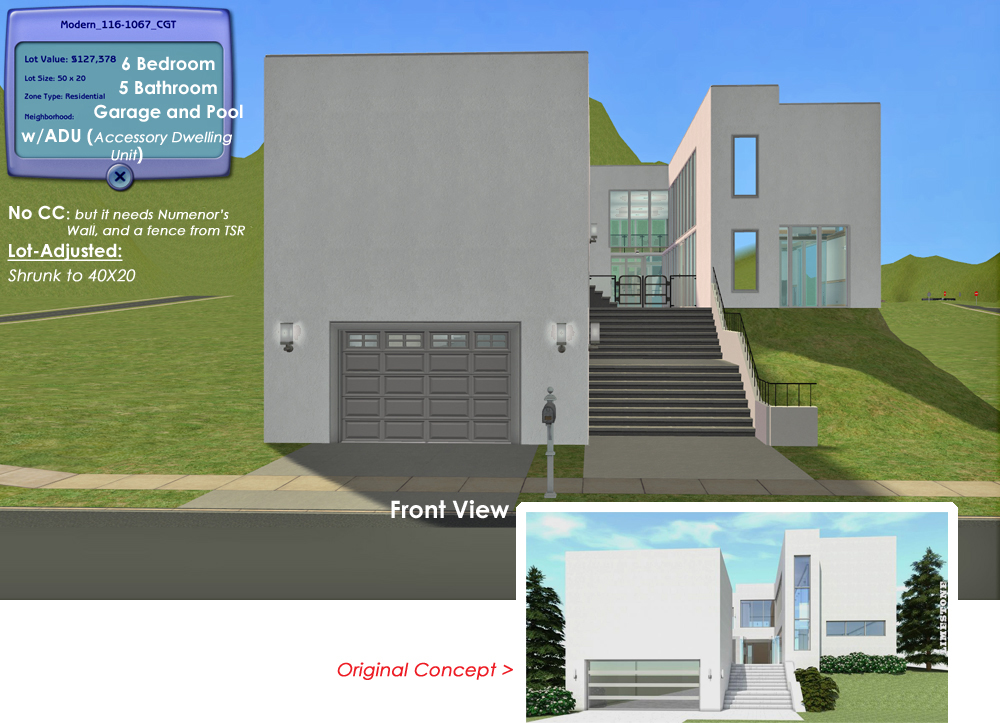 Inventor

#1538

Today at 9:47 AM
Quote:
Originally Posted by Johnny_Bravo
My pc somehow, somewhat works again. Just like the owner.
Anyway, started working on a cottage, in
City Tara
because the setting inspired me.
This is what I got so far, and if my inspiration and pc don't fail on me, I might get it done at some point.
Oh, Merry Christmas ya'll
Very Merry! Sorry I was late
Yay! Bast is from same country as me. I saw her world and read her threads. I can read her post without translation and I can say that English text is slightly different from Russian. But not less informative.
I told her in PM this city has French vibes. That reminds me of Luara Valley in France.
Oh. She published furnished world in her blog. Have you seen that?
---
Here
you can see more of my creations and conversions for sims 3. ;) I`ll glad to see your comments in.
Back to top