#9

13th Apr 2007 at 11:25 PM

Haskell University Dorm and Specialty Majors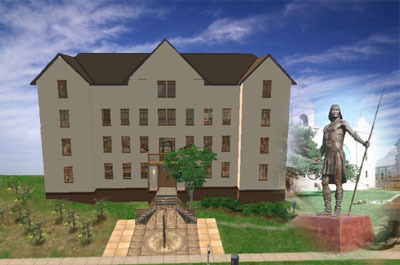 Welcome to Haskell University -- serving the educational needs of American Indian and Alaska Native people from across the United States.
Learning life skills is important to all people's around the world. With that in mind, N8ive Sims - Turtle Island Project will be bring some interesting University Majors to this thread. Later on we'll bring you some careers and menu food selections.
This list contains just some of the 'exclusive specialty' majors offered at our Turtle Island's Haskell University campus facility. We're always adding new majors to our curriculum, so come back and visit often. Enrollment is open now. Sign your young sims up now and give them that step up in life that they'll need to become successful.
The new curriculum was developed by Porkypine. All Majors have their own unique GUID and won't overwrite the default majors.
-
Tools to Live by
- You need them everyday. Why not learn how to make them? Bows, arrows, spears, fishing poles, froggers, traps, at'lat'ls, axes, knives and scrapers. (Cloned from History)
-
Hunting - "It's what for dinner"
How to track, trap and bring home dinner. (Cloned from Art)
-
Fisheries Management - "What is a fish and why would we want to save them?"
- Everything you need to know to help keep those fish swimming up the river every year. (Cloned from Biology)
-
Indian Gaming - "The purpose of and uses for Indian Gaming."
- Everything you need to know in order to set up your own NDN gaming venture. (Cloned from economics)
You need to install FrikaC's Majors Made Easier hack. It's 3 triangular flags that hang on a wall. Click on the flags to see the majors.
http://www.modthesims2.com/creator/FrikaC
Of course you will need a place to live while you are learning all these valuable life skills. You should feel right at home in this friendly, 9-student dorm, by bluetexasbonnie. It was inspired by the first permanent building of the educational facility that has grown into what is currently called Haskell University, in Lawrence, Kansas. It is on a 4x3 lot.
Custom Content:
-
MargieRytka
of MTS,
http://www.modthesims2.com/member.p...skyes_web_5.htm
: Floors, terrain paints, walls
-
Tkangie & Heidi
of Exotic Elements & Armchair Traveler,
http://www.scoggle.net/ee/
: Floor, décor, furniture, rug recolor
-
Khakidoo
of MTS,
http://www.modthesims2.com/member.php?u=325636
: Plants
-
DragonArts
of MTS,
http://www.modthesims2.com/member.php?u=199744
: Decor, columns
-
FeeEssen
of MTS,
http://www.modthesims2.com/member.php?u=112249
: Decorative
-
Ricci2882
of Simaholics R Us,
http://www.simaholicsrus.com/index.html
: Décor, furniture recolors
-
SunniSims
of SunniSims,
http://kimberspace.mattwork.potsdam...isims/index.php
: Stairs, object recolors
-
Echo
of MTS,
http://www.modthesims2.com/member.php?u=42165
: Harvestable crops-apple + basket, rug mesh
-
Marina Sims
,
http://www.marinasims.net/sims2.html
: Decor
-
DLMulsow
TS,
http://www.modthesims2.com/member.php?u=459109
: Decorative recolor, furniture recolors