#16

13th Apr 2007 at 10:26 PM

Hard Rock Casino - Commercial. Requires Uni, NL, OFB
Requires
University, NightLife & Open for Business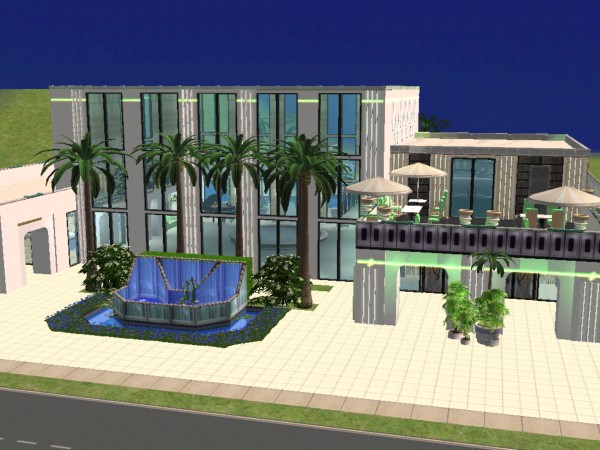 The Seminole Hard Rock Casinos have long been a 'must do' in Florida -- and they are now opening a branch in a neighborhood near you.
Come enjoy yourself and bring the whole family. In addition to the poker tables, there is a fantastic pool, and a chic boutique. At the end of the day, have everybody meet upstairs to have dinner on the terrace.
4x5 Community Lot
Warning
: This lot contains a special animated floor by Niol which may cause problems for Seasons owners. The floor was used to make the fountain in front. Please report any problems you encounter with the floor here:
http://www.modthesims2.com/showthread.php?t=187425
. If you have Seasons, check Niol's thread for updates -- I know he is working on it.
Custom Content Included:
-
Chrissie
of Pimp My Sims,
http://www.pimp-my-sims.com/
: Décor items
-
15PupMaus49
of MTS,
http://www.modthesims2.com/member.php?u=37706
: Furniture & Decor
-
HopeBayler
of MTS,
http://www.modthesims2.com/member.php?u=294733
: Furniture
-
CTNutmegger
of MTS,
http://www.modthesims2.com/member.php?u=19221
: Furniture & Decor
-
Fat D
of MTS,
http://www.modthesims2.com/member.php?u=26526
: DownShift
-
SimLin55
of KomoSims,
http://www.komosims.net/
: Floors, walls
-
KomoSims
of KomosSims,
http://www.komosims.net/
: Floors, walls
-
VonNdaSun
of KomoSims,
]http://www.komosims.net/
: Floors, walls
-
Funny
of Pimp My Sims,
http://www.pimp-my-sims.com/[/u...ber.php?u=95035
: Plants, furniture, décor, fencing
-
Moon_ez
of MTS,
http://www.modthesims2.com/creator/Moon_Ez
: gate
-
Niol
of MTS,
http://www.modthesims2.com/member.php?u=50257
: Floor
-
Murano
of Murano Mobilia,
http://www.muranomobilia.com/index.html
: furniture
-
Nanisim
of MTS,
http://www.muranomobilia.com/index.html
: Fence light
-
Skye
of Sterling Sims,
http://www.sterlingsims2.com/index.html
: Door & décor recolor, walls
-
Cheryl
of Sterling Sims,
http://www.sterlingsims2.com/index.html
: walls
-
Solander
of Pimp My Sims,
http://www.pimp-my-sims.com/
: Furniture & Décor
-
TA539
of MTS,
http://www.modthesims2.com/member.php?u=50503
: Plants
-
Targa
of MTS,
http://www.modthesims2.com/member.php?u=168777
: Ascension Elevator