Sunshine and Daisies
Okay, well, after - what, two days? - I managed to complete my very first house in Sims 3! Can we have a moment of silence in honour of this? *moment passes*
So, this is 365 Oak Grove Road in Sunset Valley - also known the
Sunshine and Daisies
house. It's currently priced at roughly 80,000$, and features two bedrooms, two and a half baths, a back porch and study.
It is called the 'Sunshine and Daisies' house because I tried to keep the decoration scheme inside the yellow-orange-brown colour spectrum. No custom content was used in the building of this house.
Ground Floor
: Consists of entry hall, living room, kitchen, dining room, master bedroom and bath, another half-bath.
Second Floor
: Consists of study, second full bath and second bedroom.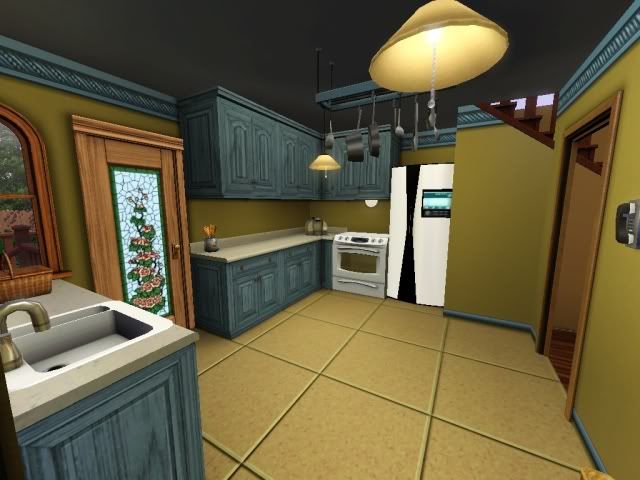 The kitchen - I like this best because it seems like the brightest, sunniest part of the house. I feel happy looking at that kitchen, just like sunshine and daisies should!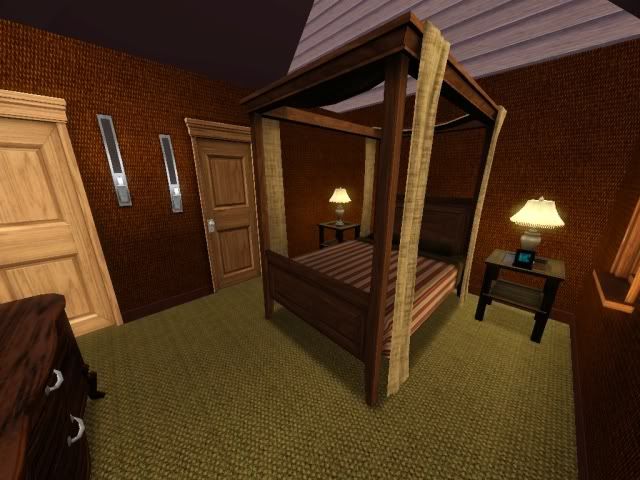 The master bedroom - this took on more of a dark, rich brown colour scheme, as opposed to the brighter yellows and orange that permeate the rest of the house. (Yes, I know, you can see the roof.

I kept looking for my ceiling toggle and then discovered it wasn't there, 'cause I was in Sims 3, not 2. Realized after my computer shut down my game in screaming protest that I probably could've put floor tiles above it... Oh well, live and learn for Foundation 2!)
The living room. Not much else to say on that one.
Now that I"m finished with this entry, I'm going to let my computer cry for a little while and then boot up Sims 2 to convert the plan for a little bit of fun building later! I have to de-stress from the learning curve and subsequent howls of "WTF IS WRONG WITH THIS CAMERA?!?!?!?!"