The Green House
I had a lot of fun with this one. I had intended to make it a house for a childish sim, but it just wasn't working the way I wanted, so I started over and came up with this:
When Dinah and Thomas married they had different ideas about a lot of things, especially the house they would live in together. Thomas wanted something modern and streamlined, Dinah wanted something woody, warm, and earthy. The one thing they did agree on was saving the planet by saving electricity. Their two story, one bedroom, one-and-a-half bath home was the perfect fit. From the outside it looks like the modern block that Thomas always wanted but the inside is woody and earthy like Dinah always dreamed. The inside furnishings were kept minimalist to please Thomas, and the outside features terrace gardens full of green leafy plants for Dinah. The windmills and solar panels installed around the property keep their electricity bills low and lets their environmentalist hearts rest peacefully. But the couple's favorite part of the house is the downstairs art gallery. Both being artists they adore having such a bright room to house the art of their favorite artists, other than each other of course.
Street View
Though the house may seem from the outside like every other dime-a-dozen modern home, the windmills as well as the leafy green plants suggest that this home may be different.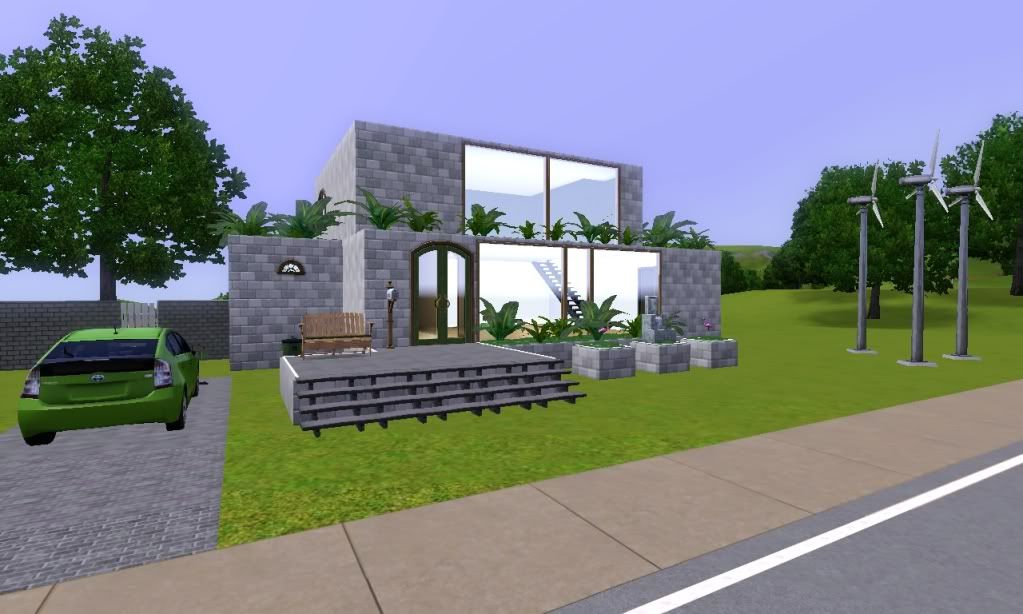 Floor Plans
The ground floor consists of an entry hall, half-bath, kitchen with cooking patio, dining room, small office, and large art gallery.
The top floor consists of a living/family room, a full bathroom, and a bedroom which has it's own seating area.
Living Room
The home's upstairs living room is perfect for curling up to watch a good movie or to read a great book. Even the young at heart will have fun here playing video games while looking out over a beautiful patch of land.
Kitchen
The kitchen is a place of cooking and work, but that doesn't mean it should be dreary! This kitchen features large windows, lots of room to maneuver and a outside patio for barbecuing!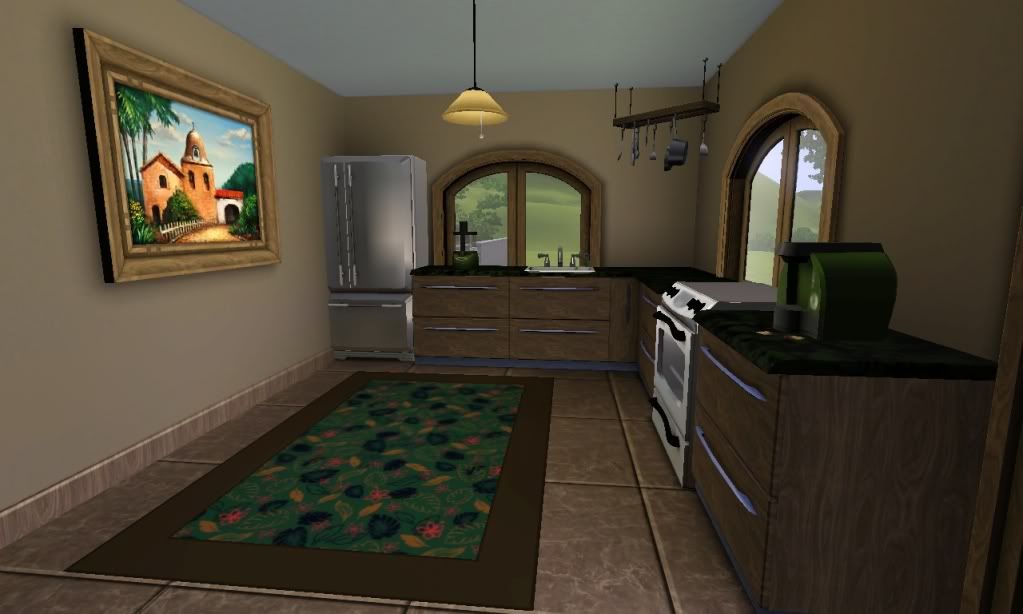 Bedroom
The home's large bedroom is designed to spend time in, not just sleep. There are the necessities such as bed, nightstand, and dresser, but the room also has it's own seating area for late night talks and a stereo for those late night dances with the one closest to your heart. And for those who stay up late the room's wide windows provide the perfect place to search the heavens with your very own telescope.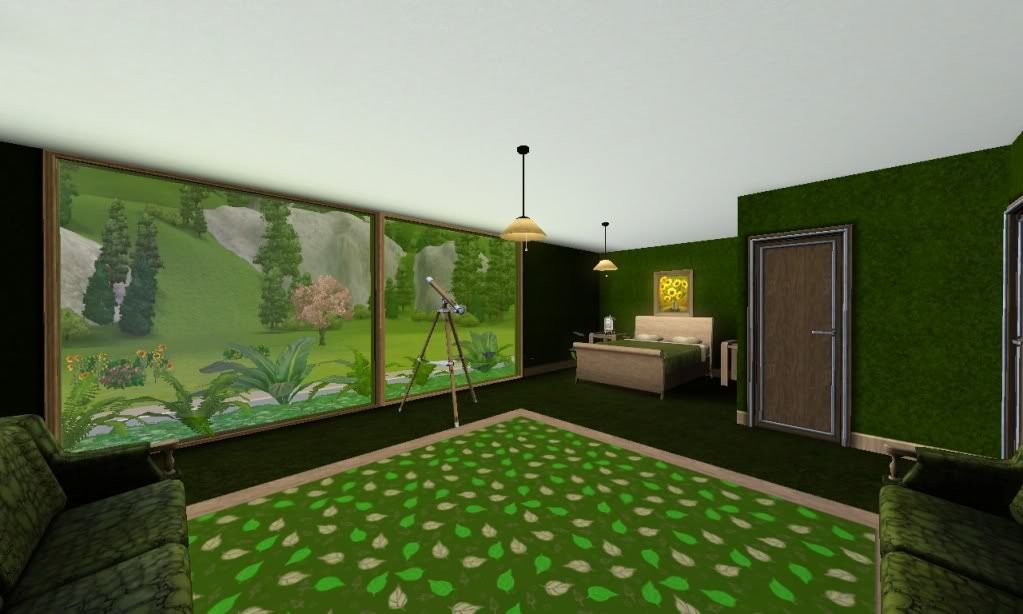 Dining Room
This home features a bright open dining room perfect for entertaining. The great view and full stocked bar make entertaining a breeze. Just try to remember to keep at least one day a week to yourself! The large windows and lively plants keep the spirit of the outdoors inside.
Gallery
Every artist dreams of having a sizable gallery in their own home. A place to show off your own art or a favorite featured artist. To not have to pay to enjoy the beauty of paintings and sculptures. This house makes that dream a reality with a spacious bright gallery. The wide windows give plenty of natural light so you can see the art the way it was meant to be seen.
Back Yard
The spacious back yard is great for entertaining featuring a barbecue, plenty of tables and seats for eating, and a fire pit. But it's also great for enjoying the outdoors alone complete with benches beneath old trees, a small pond for fishing, and a bounty of growing things for all to enjoy. The solar panels at the edge of the property only add to the green-ness of this home.
No CC was used in this home.
I am so proud of this one. I don't know why I just love it. Especially the garden terraces and the flamingo art out front